China leads world pump market
Rising sales and profits are moving the pump industry into a period of further consolidation, according to the 2002 World Pump Report, published by the McIlvaine Company.
Feb 1st, 2003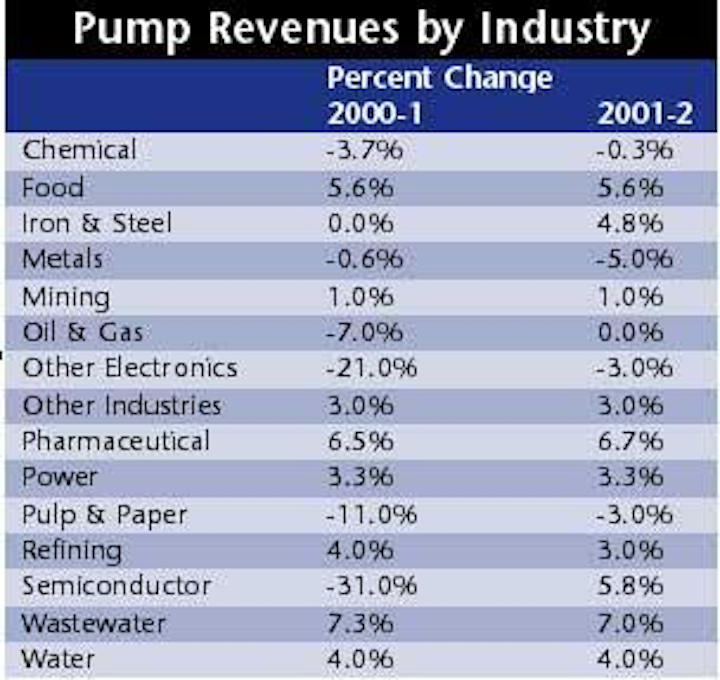 By Robert McIlvaine
Pump sales for the municipal water, wastewater and power industries are enjoying modest growth, according to the McIlvaine Company's 2002 World Pump Report, which forecasts sales to rise from US$ 26.5 billion in 2000 to more than US$ 34 billion in 2006. Centrifugal pumps will account for 80% of the total with the balance fairly evenly split among diaphragm, reciprocating and rotary types.
China leads all countries in pump purchases for new plants, although the replacement pump market is still modest. China increased it secondary wastewater treatment capacity by 2,000 mgd ( million gallons/day) in 2002, exceeding all other countries including the United States. US municipal wastewater plants spent US$ 121 million for pumps in new facilities. This compares to US$ 101 million spent by China for pumps in new facilities; however the US spent US$ 729 million and China spent only US$ 104 million for pump replacements and repairs. In the power sector, China is also a leader in pump purchases but represents a smaller market for replacements and repairs. Currently, China is developing its own pump manufacturing capabilities.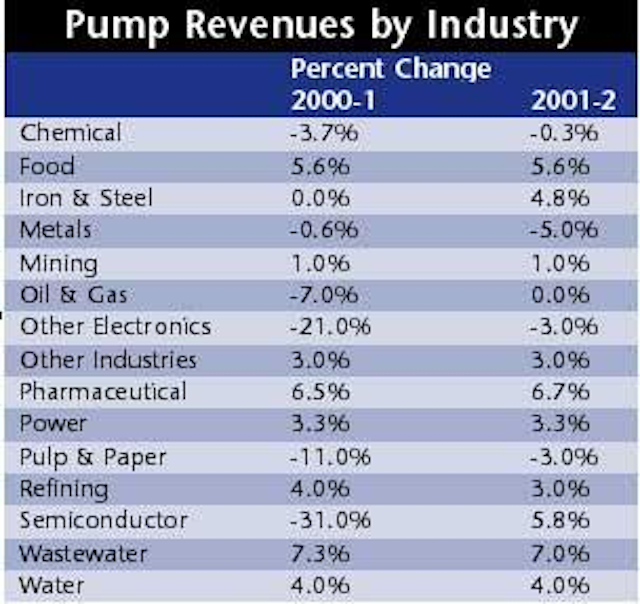 Click here to enlarge image
The pump industry continues to expand globally. French companies, Vivendi and Suez, are winning contracts to build, own, operate, and maintain municipal water and wastewater plants on all the continents, so pump suppliers must be able to offer these customers service throughout the world. The pump supplier must also satisfy the needs of large US and British power conglomerates who own plants in many countries. US companies remain the largest producers of pumps. The top five pump manufacturers worldwide are home based in the USA, Japan and Germany. Despite the presence of some large suppliers, the industry remains splintered with more than 1,000 pump manufacturers companies. No company controls more than five percent of the global market or ten percent of the market on any continent.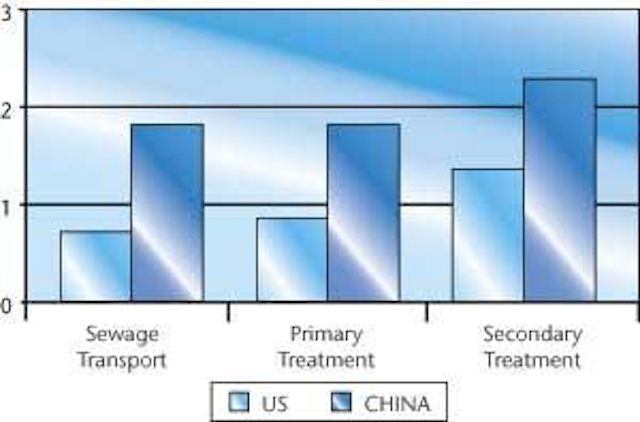 1000 MGD Additions in 2002
Click here to enlarge image
Large pump companies are diversifying into other products. US-based ITT Industries recently purchased filtration divisions from Waterlink. Pentair acquired the US water filtration products manufacturer, Plymouth Products, Inc. of Sheboygan, Wisconsin, from USF Consumer & Commercial WaterGroup, a unit of Vivendi Environnement. Plymouth Products manufactures water filtration products used in residential, commercial and industrial applications.
Pump companies are beginning to acquire filtration, instrumentation, and valve companies because these companies share many of the same customers. An added incentive is that the filtration market is growing faster than pump markets.

Click here to enlarge image
Rising sales and profits are moving the pump industry into a period of further consolidation, which should benefit from an economic rebound and general growth of the world economy.
---
Author's note
Robert W. McIlvaine is the president of the McIlvaine Company, based in Northbrook, Illinois, USA. The company provides technical and market information on pumps, valves, filters, and other manufactured products in the water and energy industries. Visit the website www.mcilvainecompany.com for continuously updated information on these markets.