Technologies & Products
EDAMS Technology, a company that specialises in the development and supply of integrated information systems and consulting services to utilities, will launch a novel no-obligation Diagnostic Pilot Study scheme
Feb 1st, 2003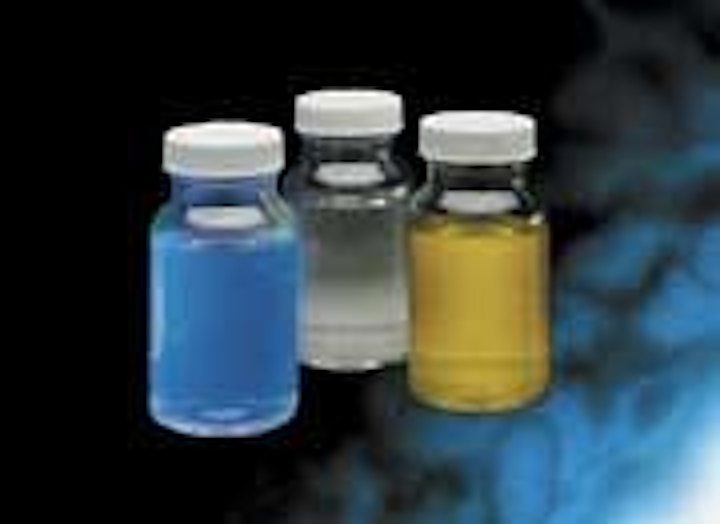 EDAMS launches Diagnostic Pilot Study scheme at Water & Wastewater Europe
EDAMS Technology, a company that specialises in the development and supply of integrated information systems and consulting services to utilities, will launch a novel no-obligation Diagnostic Pilot Study scheme at the Water & Wastewater Europe Conference and Exhibition that will be held in Nice, France from 4-6 March 2003.
The scheme allows the prospective user of information technology to quantify in real terms the benefits and advantages of a product without first having to invest substantial amounts of money in it," explained EDAMS' President Dr. Dinos Constantinides.
A suitable pilot study area should ideally have from 5,000 to 10,000 connections and should constitute a well-defined metered network zone. Data needed for the pilot study area can include different permutations of geography (cadastral and network), billing (meter readings and customer) and town planning data, in addition to zone meter readings.
The data is imported, structured and analysed using one or more EDAM products, and covers pilot study themes that range from commercial data analysis and network management to demand management and the reduction and control of non-revenue water. The outcome of the pilot studies are presented to involved parties through dedicated presentations and written reports with recommendations where applicable.
"This offer is a unique no-obligation opportunity for service providers in the water industry to test-drive our technology and at the same time assess the quality of their data and get an overall indication of their performance," said Dr. Constantinides. "The non-revenue (unaccounted for) water pilot study theme is of particular interest, since the outcome of the pilot study not only includes a summary of the performance indicators that constitute non-revenue water according to the International Water Association's (IWA) international standard for water balance, but also includes a cost-benefit analysis and a high level remedial plan for the rehabilitation of the network in question."
EDAMS software, techniques and methodologies have been used in a wide variety of applications, including autonomous billing systems in developing countries, country-wide unaccounted for water projects using commercial and engineering software and enterprise revenue management and asset management projects.
EDAMS Technology
Nicosia, Cyprus
Coliform test approved for compliance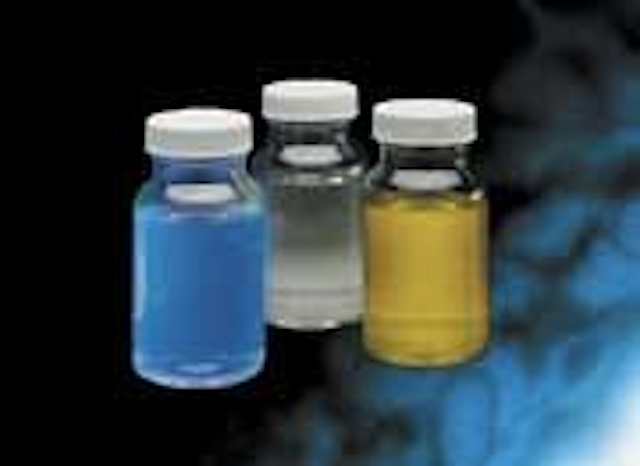 Click here to enlarge image
The Colilert®-18/Quanti-Tray® test method is accepted by government authorities for compliance testing in Germany, Hungary, Norway, United Kingdom and the United States. The method detects and enumerates total coliforms and E. coli simultaneously and produces confirmed results in 18 hours. The method requires the following steps: add the Colilert-18 reagent to a water sample, pour the mixture into an IDEXX Quanti-Tray® and incubate for 18 hours. The test is accurate to one organism per 100 ml, requires no media preparation, filtering, or confirmation and takes less than one-minute hands-on time. Results can produce counts up to 2,419 without dilutions.
IDEXX Laboratories, Inc.
Westbrook, Maine USA
Mini-analyser configured for specific tasks
The Actuator-Sensor Interface (AS-I) Bus Control System provides precise on/off control of multiple electric and pneumatic automated valves. The AS-I controls binary and analog devices, and can complement a higher-level bus control system in addition to stand-alone process control. By installing a gateway, the interface can expand existing systems.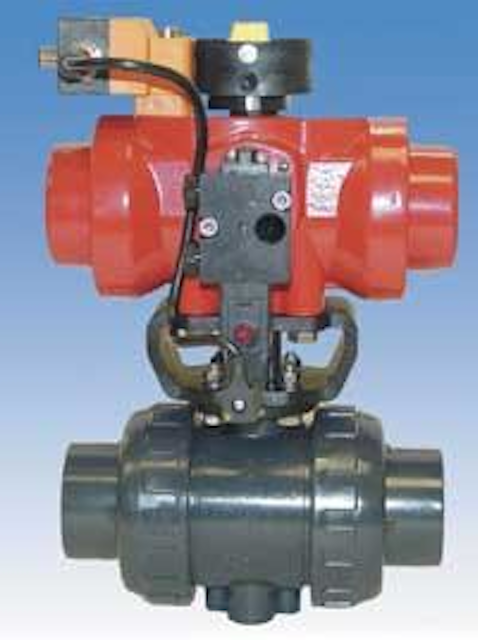 Click here to enlarge image
The AS-I system design consists of a single two-wire flat cable, which handles power and communications, controlling the network by "chaining" the actuators with the plc. Each actuator is equipped with a unique address for precision to ensure that only the device with the proper address will respond to system commands.
Asahi/America, Inc.
Malden, Massachusetts USA
AS-I controls multiple automated valves
The Mini-Analyser can be configured for environmental monitoring, industrial discharge or single point of source monitoring with its selection of physical or chemical parameters with on-board dynamic calibration. Its sample delivery system, with back-flushing of all sample and inlet lines, guarantees the elimination of sample carry-over and contamination.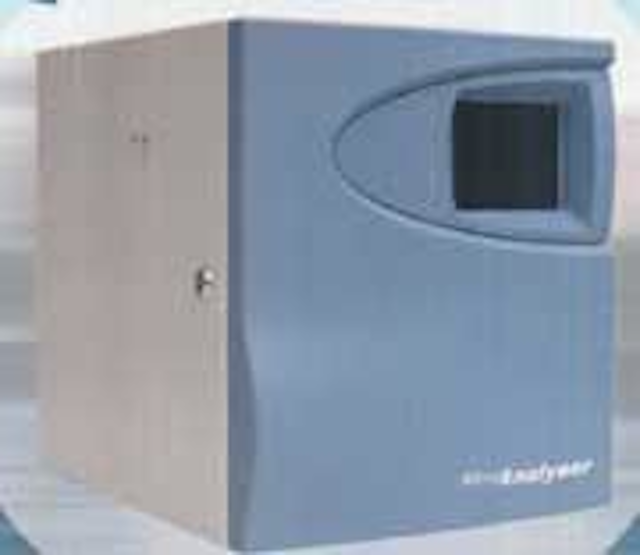 Click here to enlarge image
Evolved from the Aqualab, the Mini-Analyser provides the same functionality in respect of user definable settings and alarms. It can also provide system control and data acquisition from other instruments to optimise plant control.
Greenspan
Basingstoke, Hampshire UK
Ozone treatment degrades endocrine disruptors in pharmaceutical wastewater
The Danish city of Kalundborg awarded Wedeco Umweltechnologie GmbH a g6.5 million order to supply and install an innovative wastewater treatment plant that drastically reduces organic impurities, and probably endocrine disruptors.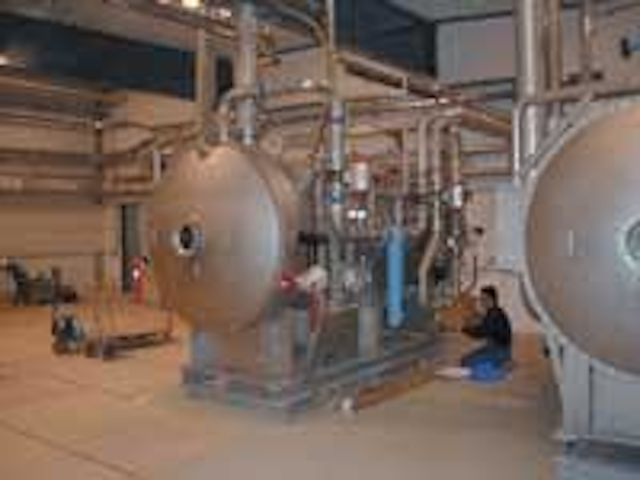 Click here to enlarge image
The Kalundborg plant purifies and clarifies combined sewage consisting of 20% municipal and 80% industrial wastewater. An international pharmaceutical company, which operates one of the largest insulin production plants in the world, contributes most of the industrial wastewater. The wastewater contains difficult-to-degrade organic impurities measured as monitory parameter COD.
Kalundborg is a small city, but the plant is designed to treat wastewater from nearly 350,000 residents because of the adjacent pharmaceutical company. City authorities decided to completely redevelop the treatment process because the pharmaceutical plant expanded its production capacity.
The last treatment stage, ozone treatment, is scheduled within the recirculation system and degrades a volume of up to 1,250 kg COD. After passing through the treatment stages typical for water treatment plants, the biologically preclarified wastewater undergoes treatment with ozone within the recirculation system, in six reaction vessels with a total volume of 300 m3. Within a period of 15 minutes of total contact, a drastic reduction of the stubborn organic impurities occurs, explained Werner Klink, chairman of the Wedeco management board.
He added: "Such types of wastewater not only contain the organic impurities mentioned above, but can also contain drugs and hormonally active residues which are called endocrine disruptors. With conventional purification and clarification process these impurities are not degraded sufficiently and pose a danger to the health of the population. Research results prove that ozone is an appropriate means to degrade these harmful substances in municipal wastewater."
Klink claims that Wedeco was awarded the order because of the economic viability and reliability of its Effizon® HP system, which is used for ozone generation.
Wedeco Umwelttechnologie GmbH
Düsseldorf, Germany
UK Environment Agency to showcase water conservation technology
British water companies are invited to enter the 2003 Water Efficiency Awards to showcase research projects that have raised awareness of water conservation. The Ofwat Economic Research Category recognises those water companies and operators whose projects have significantly improved customers' understanding of the economic benefits of being more water efficient.
Barbara Young, Chief Executive of the Environment Agency said: "Our nation sees so much rainfall and flooding occur, consumers assume that water shortages are a thing of the past. This is not the case and the more people are made aware of the need to be water efficient, the better. UK water companies can be instrumental in boosting this awareness and helping to educate their customers on the cost benefits of saving water."
In 2001, Southern Water was short listed for its project that tested retrofit dual flush conversion kits to establish how much they reduce domestic water consumption. The study identified average savings of 27% (2.6 litres) per flush, which equates to an eight percent saving of water used each year, with additional financial savings for metered customers.
Despite torrential winter rains, businesses should still be conscious of the potential for drought and limited water supplies. UK weather is naturally variable, but latest estimates suggest that winter rainfall will increase and volumes of rainfall in the summer will reduce, making extreme events such as floods and droughts more frequent. Higher temperatures will also mean that evaporation rates are more likely to increase, so if the country experiences a particularly dry year, water will be in very short supply.
Water companies and operators are also encouraged to enter the Education, Communication & Engagement category, which rewards organisations that raise awareness of water efficiency, whether amongst schoolchildren, students, local communities or the general public. More information is available on the website http://www.ukceed.org/waterawards.htm.
The Awards will also feature an overall winning initiative that demonstrates an outstanding contribution to water conservation and includes measures that can be replicated and shared throughout the UK. The closing date for the Awards is March 14, 2003. To find out more, email: c.saunders@ukceed.org
UK Centre for Economic and Environmental Development
London, England
Downhole camera works in small wells
The SlimCAM R22 Downhole Video Inspection Camera from Laval Underground Surveys allows on-demand downhole and side-view capabilities in water wells or boreholes as small as 2-inches (inside diameter).
Solid-state circuitry and full function remote controls for camera view, focus, light intensity, iris and side-view rotation make this camera applicable for use in water wells, boreholes or vertical shafts. Side-view lighting uses high-intensity LED technology. System can be operated in water or air without concern for overheating.
The SlimCAM is 1.85 inches in diameter, 33 inches long and weighs only 14 pounds. It fits most single conductor cable systems and integrates with most control systems. The camera operates to depths of 4,000 feet at temperatures from -32°F to 120°F.
Laval Underground Surveys
Fresno, California USA