Leveraging Their Expertise
Leveraging Their Expertise: German Water Parnership chairman Dr. Michael Beckereit, CEO of Hamburg Wasser, emphasize members' mutual efforts globally to be greater than sum of parts.
Sep 1st, 2009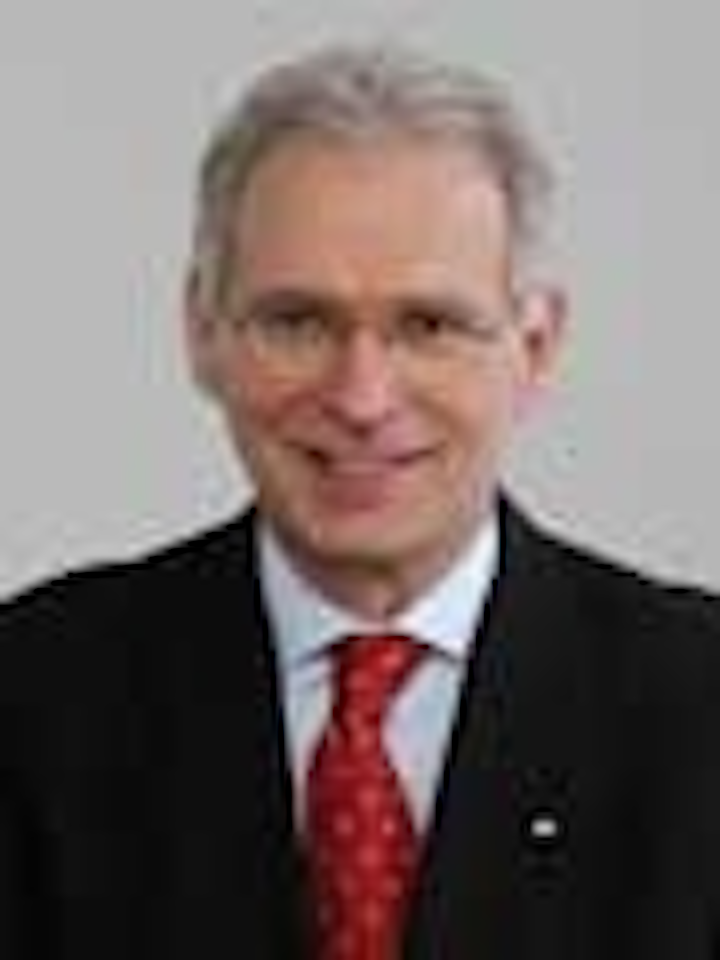 By Carlos David Mogollón, Managing Editor
• German Water Partnership chairman Michael Beckereit emphasizes efforts to broaden and deepen the level of member activities globally through cooperative ventures focused on shared knowledge.
Dr.-Ing. Michael Beckereit, CEO of Hamburg Wasser and German Water Partnership chairman
Little over a year ago, the German Water Partnership had only just begun as a newly formalized institution – and its most common refrain was, "No, we're not the Global Water Partnership."
Today, it's better known in its own right. It has doubled its membership from roughly 100 companies to 200. It has hosted German pavilions at IFAT in Munich, IWA World Water Congress in Vienna, World Future Energy Summit/Environment 2009 in Abu Dhabi, 5th World Water Forum in Istanbul, Turkey, and Wasser Berlin. These pavilions highlight member activities in spreading German solutions for water and wastewater problems worldwide and offer a focal point for meetings as well as presentations. And it's co-hosting an event Oct. 18-20 with Vodokanal in St. Petersburg.
At Wasser Berlin, WWi spoke with Dr. Michael Beckereit, CEO of Hamburg Wasser and current partnership chairman. This offered an update from a video interview done at IFAT with Peter Stamm, Germany sales manager for WILO AG and a GWP board member, on partnership activities. Beckereit reviewed the origins of the organization as German Water and realignment into a more active group in cooperation with related German government ministries in April 2008.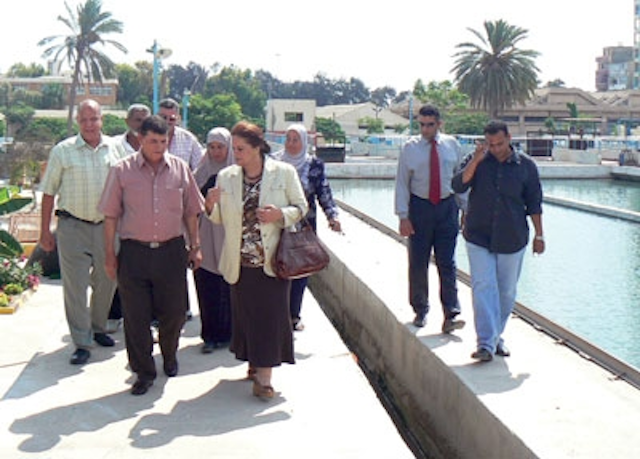 Michael Bekereit (second from right) at German Water Partnership's inaugural booth at IFAT 2008 in Munich.
Beckereit has an impressive water industry career accentuating his expertise. This includes a doctorate on "Costs of Anaerobic Wastewater Treatment" from the University of Hannover in 1987. Over the next decade, he worked for Siemens, Deutsche Babcock and Mannesmann as a managing director for plant engineering and construction. He served as CEO of Eurowasser for five years and three as a managing board member of Emschergenossenschaft und Lippeverband, before joining Hamburg Wasserworke GmbH (HWW) as managing director in 2005.
He became CEO in 2006 of the expanded Hamburg Wasser, which in 2005, took on wastewater services by adding Hamburger Stadtentwässerung (HSE) as a sister company. It also expanded its international consultancy, Consulaqua (begun in 1980), primarily in the Baltic region including St. Petersburg, the Near and Middle East, and China, in particular Shanghai. More recently, it's been involved in projects in Vietnam and Jordan as well, underscoring the cooperative nature of the ventures with other German water industry players as a model for German Water Partnership efforts.
Excerpts from his interview, which can be found in full in Q&A format by clicking here, follow below:
WWi:How would the approach German Water Partnership member companies takes in working globally differ from other places?
Beckereit: We also want to give added value to our outside customer. If you become a customer of Veolia, you get – let me say from the German view – at the end, a black box. You buy services which are internally organized (from start to finish) at Veolia and which are a black box. You put in some wastewater and, at the end, you get clean wastewater. You see the outside – what happens inside the box nobody knows. ...You don't have any inside information because they do not show their calculations. They do not tell you how many employees they're going to have. They can be all by themselves. A lot of customers do want to do most of the services by themselves, so they ask for information in the beginning, then finance and then construction of the wastewater treatment plant. Then, the people who want service want to be responsible for operation of the treatment plant, but they cannot in the beginning. Therefore, they ask for an operator like us to be involved for a five-year period, or something like that.
WWi: Also any given project may very well involve more than one member of the partnership?
Beckereit: You need more. You do need more because we are not SUEZ, we are not Veolia. We can't do everything individually. You need this internal cooperation. What we hear – and we get that from not only from the market view but also from potential customers – is that it's quite interesting for them not being in the hands of one Veolia, but having the chance to find out which could be the best partner. This could include taking on an American partner as well within the consortium.
WWi: To train the people locally...
Beckereit: It's a different approach. Of course, we can take the people to Germany to train them on plants here. That's the way that we want to approach it.
WWi:What are your thoughts on how global credit and financial issues affect this?
Beckereit: Of course, we discuss it very often. Up 'til now we didn't see that projects are limited or postponed or things like that. Up 'til now, we do not see those effects on projects that I personally know by myself or through my colleagues. We had this discussion with the Russian people. I had a meeting with some people from Iran involved with projects. Everybody is working on existing programs, normally subsidized through the states. And, until now, these countries haven't decided to stop they money. I do not know what will happen in the next months. Of course, we see surprises in the eastern area like this is surrounding countries of Russia, which do have their problems – but, until now, not to any significant effect.
WWi:With all of the economic stimulus plans announced by various countries, it would seem many are looking at infrastructure as a primary way of investing to boost their economies. That may be of benefit, correct?
Beckereit: Yes, I think this could be. And I also know from different countries trying to do it this way. The German government decided not to do it this way, because they know finance of infrastructure in the water and wastewater business is paid for by the customer... And therefore they decided in Germany not to subsidize the water.
More Water & WasteWater International Issue Articles
More Water & WasteWater International Archived Issue Articles