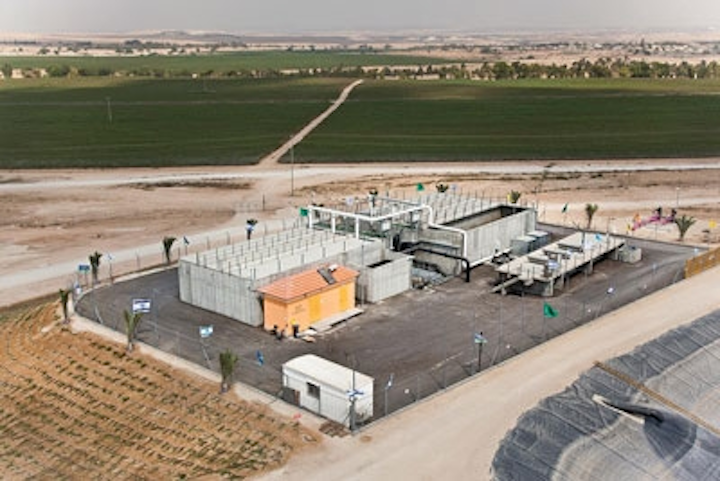 Field Notes
BRAZIL: The World Bank approved two loans for US$270.65 million for two projects aimed at improved transport and water pollution control in São Paulo state. The second involves the Integrated Water Management Project in Metropolitan São Paulo (US$104 million) to protect and maintain the quality of potable and other water sources.
COLOMBIA: Colombia's O-Tek, part of conglomerate Inversiones Mundial, has incorporated Newsan, a company from Brazil specialized in piping rehabilitation. In Brazil since 2007, O-Tek is the controlling company of Amitech, largest Brazilian manufacturer of fiberglass reinforced plastic (FRP) pipes, a type widely used by basic sanitation, agriculture, energy and industrial segments. Within the upcoming months, Newsan shall change its name to O-Tek Services Brazil.
BRAZIL: A consortium comprised of Andritz Hydro Brasil, Andritz Hydro Inepar, and IESA Projetos also won a a €44 million order to supply and install electromechanical equipment for the Batalha hydropower station from the Brazilian federal utility, Furnas Centrais Elétricas.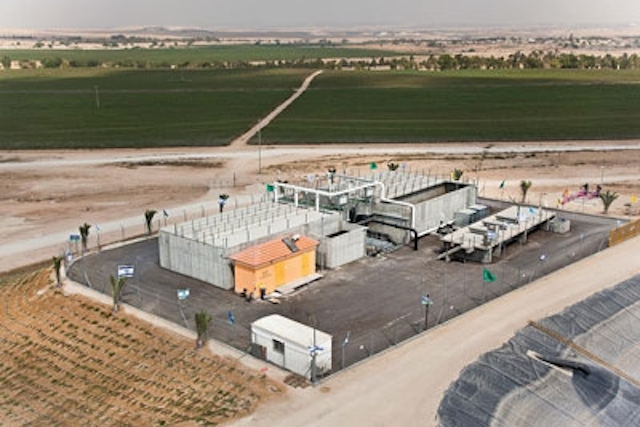 In February 2007, the Alvarado Water Plant in San Diego, California, USA, installed a solar electric generating system using Kyocera Solar modules. John Helminski, manager of the city's Emerging & Renewable Technologies Program in the Environmental Services Department's Energy Conservation Program, noted the system was overperforming by about 15%. He emphasized Renewable Energy Credits are going to be important in coming years as Cap & Trade programs create a potentially robust market for these credits - yet another revenue stream for a city to consider.
USA: Beijing BCEG Golden State Sources Environment Protection Development Co., Ltd. has selected the TETRA® Denite® System from Severn Trent Services for use at Phase III of the Huishan Wastewater Treatment Co. Ltd. project in the Huishan district of Wuxi City, China. The system is to remove nitrate-nitrogen and TSS at the 25,000 m³/d WWTP, meeting stringent Class IA effluent discharge standards enacted by the China Central Government. Construction is set for completion in November.
---
Peru, Brazil, Colombia to protect water resources with IDB financing
Peru will implement an integrated water resource management approach to protecting water and related ecosystems in three critical watersheds – the Chira-Piura, Santa and Tacna – with a $10 million loan from the Inter-American Development Bank and matching funds from the government. With only 1.8% of the nation's total water resources, the arid region is home to 70% of Peru's population and produces 80.4% of its GDP. The loan is the second of three loans, the first – for $200 million – approved in June 2007.
Brazil's northern state of Amazonas will get a $77 million supplementary loan from the IDB to complete environmental, urban and housing works to improve living conditions of poor living in areas prone to flooding in Manaus, the state capital. Works include construction of 33km of sanitary sewer collector networks.
The IDB also will support Colombian government efforts to improve water and sanitation services, reduce costs and rates, and expand coverage, particularly to poor, underserved districts with part of a US$250 million programmatic policy-based loan (PBL) approved June 30 – the second three IDB loans to support water and sanitation sector reform.
---
Water.org brings water, economic hope to S. Asia
Hollywood actor Matt Damon and Gary White, cofounders of USA-based Water.org – a new NGO formed in July by merging Damon's H2O Africa and White's Water Partners International – visited Kothampatti in India's Tamil Nadu state to meet with local partners, village residents and entrepreneurs about early success of its WaterCredit microfinance initiative. They also visited projects in densely populated slums of Tiruchirappalli and Hyderabad.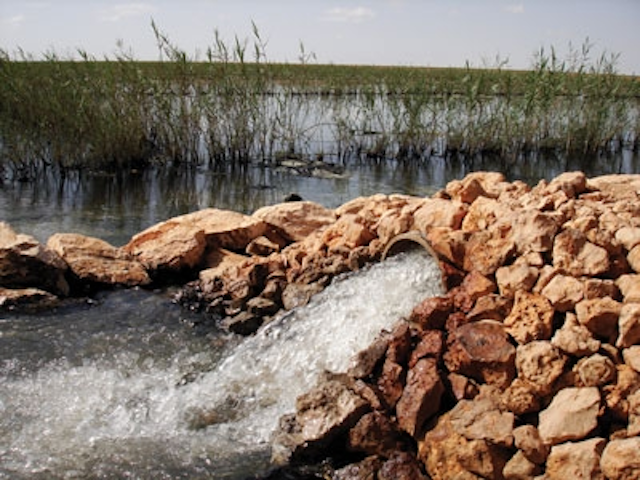 Water.org cofounders Gary White and Matt Damon discuss the water crisis with Mrs. T. Nanda Vardhan, secretary with Water.org's local partner SIDUR, in a slum of Hyderabad, India.
[Photo: BusinessWire]
WaterCredit lets clients take personal responsibility for their water and sanitation needs, builds creditworthiness for future loans, and helps create demand for new services. Damon and White visited met with the 12-member Sri Kirshna women's self-help group whose successful credit record, thanks to WaterCredit, allowed them to capitalize on a business opportunity. Sri Kirshna secured a $7,500 loan to open a cinder block making business that furnishes building materials for latrines.
White said, "Our early funding from Open Square Foundation and the Michael & Susan Dell Foundation, along with more recent funding from PepsiCo Foundation, has empowered these women to not just become entrepreneurs but to also set an example of what can happen through innovative solutions and partnerships." Water.org also operates in Africa and Latin America.
---
Making Waves
Among other recent water industry news items at www.wwinternational.com, see:
› Power-Gen Middle East changes dates for event in Qatar to Oct. 4-6, 2010

› Acromag signs ICSystems as distributor for Greece, Balkans, North Africa

› ADI wins wastewater contracts for Easter Island hotel, sixth Thai distillery

› Alfa Laval buys Brazilian heat exchanger company, wins $7.6M Petrobras refinery

› Arcadis acquires Malcolm Pirnie, which will become U.S. subsidiary

› Berson InLine+ UV units with advanced controllers save Cambridge Water money

› China joins World Water Council to promote sustainable water management

› Intellect Water picks ELGA to market industrial water monitors

› Frost: Economy restrains Middle East water, wastewater treatment market growth

› World Resources Institute: Meat eating, fossil fuel demand choking globe's waters

China recently signed on as member of the World Water Council, and the vice mayor of Shanghai met with council officials to define how wise water use can be promoted during the Shanghai World Expo 2010, in strong collaboration with the Chinese Ministry of Water Resources.
Siemens automates water plants in N. Ireland, Germany, Sweden, N. America

Watson-Marlow Pumps Group opens new offices in Zurich, Mexico City

Veolia's RWO Marine unit wins IMO approval for CleanBallast system

Toray picks Singapore for R&D center, with NTU as research partner

British pump maker, seller Tomlinson Hall celebrates 90th anniversary in June

GIC, GDF Suez sell stake in Bahrain's Al Dur IWPP, secure $1.6B in financing

Goldis wins third China water treatment deal to treat industrial park wastewater

Hogan & Hartson LLP advises on Hong Kong's Duoyuan Global Water IPO

Hydranautics/Nitto Denko first membrane manufacturer to join Climate Registry

Hydro International signs distribution deals in Saudi Arabia, Singapore, Australia

Oasis International opens relocated water bottling plant in southern Iraq

KSB Group to equip four pump stations at Tafsout project in Tlemcen, Algeria

Marubeni buys stakes in Peru's Consorcio Agua Azul, UAE's Shuweihat S2 IWPP

Metawater, I. Kruger Inc. ceramic membrane deal results in first USA orders

MIOX equips Macau's City of Dreams with disinfection technology for pools, spas

Mott MacDonald wins CIWEM award for river basin project in Moldova, Ukraine

Wessex Water standardises on MultiSmart manager for sewage pump stations

Oman to spread $109M over 15 municipal, water projects, reports ONA

SABMiller opens UK brewing research centre, sets 25% water use reduction goal

Switzerland's SAM to launch $300 million water venture finance fund

UN-HABITAT, Coca Cola partnership yields water in India, Nepal

Afghan water conference in July promotes sustainable water management - USAID

American Water gives $216K to Water For People, staff visit Malawi program

GE opens water technology center in Saudi Arabia, to supply Al Dur IWPP

ADB, UK provide Pakistan $45M; ADB, Japan give $850K to India, Nepal, Sri Lanka

Andritz Hydro wins €28M hydropower deal in Austria, loses export credit in Turkey

CarteGraph partners with ESRI, Trimble for mobile asset management solutions lab

UK's Hertel Solutions named sole distributor of Tristel Legionella product

AquaSure consortium awarded contract to build Australia's biggest desalination plant

H2O Innovation wins CAD$2.7M in contracts for projects in Canada, USA, Algeria
More Water & WasteWater International Issue Articles
More Water & WasteWater International Archived Issue Articles