Getting to the root of water reuse
G's Beetroot in UK gets tax break by reusing water with Aquabio aerobic digestion and activated sludge treatment processes.
May 1st, 2009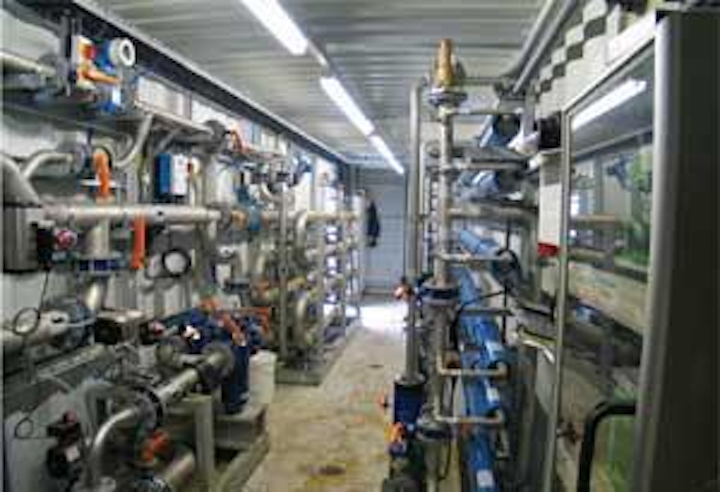 By Steve Goodwin
G's Beetroot in UK gets tax break by reusing water with Aquabio aerobic digestion and activated sludge treatment processes.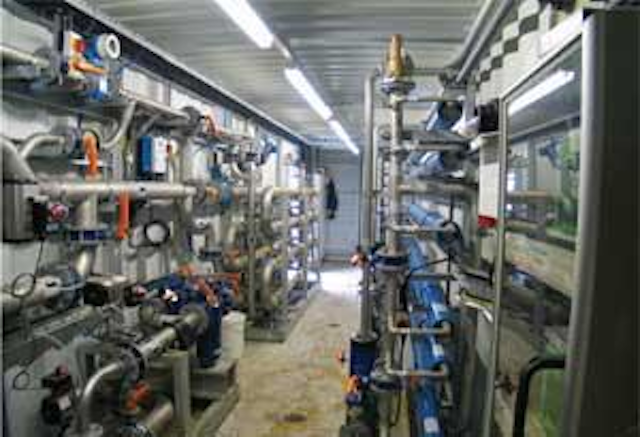 The AMBR & RO membrane systems
Click here to enlarge image
In 2007, Aquabio Ltd. completed and commissioned the wastewater treatment and reuse plant at G's Beetroot in March, Cambridgeshire. G's is one of the United Kingdom's most respected salads and vegetable processors. Their products are supplied to most of the major UK supermarkets as well as other large retail outlets.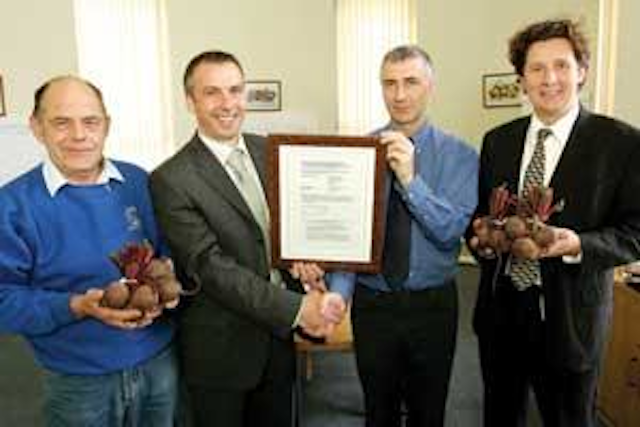 Award of the DTI's ECA eligibility Certificate by Stuart Ballinger to Graham Forber (G's Beetroot). Fred Foreman, G's Beetroot (left) and Steve Goodwin, Aquabio (right)
Click here to enlarge image
The treatment and reuse project was driven by factory expansion due to a rise in the demand for Beetroot products and increasing market share. This in turn resulted in very high and rising effluent treatment costs, as well as increasing water supply costs as the factory grew. Alongside consent compliance and operational cost savings, for G's the corporate goal of sustainable water use and process efficiency, coupled with water recycling, were important drivers.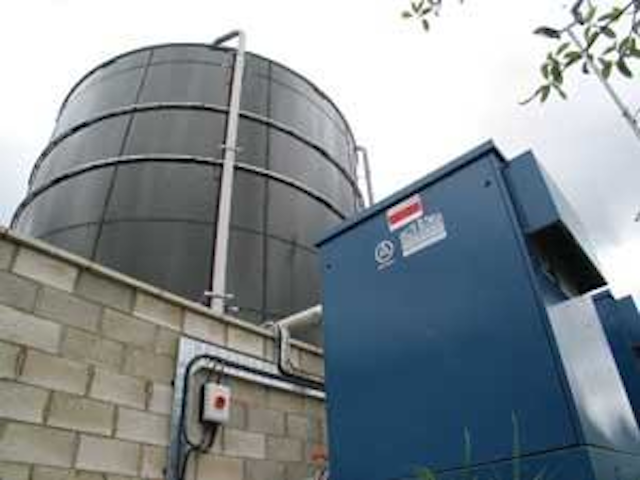 AMBR Bioreactor, air blowers and JETOX aeration
Click here to enlarge image
This was the first project to be awarded an eligibility certificate under the UK Government's Enhanced Capital Allowance (ECA) scheme — a key part of its programme to manage climate change — for efficient membrane systems (i.e., reusing greater than 40% of onsite wastewater). This enabled G's to obtain a complete wastewater treatment and water reuse system with a 100% tax allowance in the first year on all of the capital cost spent on the project. The Aquabio system has easily exceeded the ECA target for reuse, with up to 70% of the wastewater produced being reused as potable quality water to the factory, and as "soft" water to the boilers.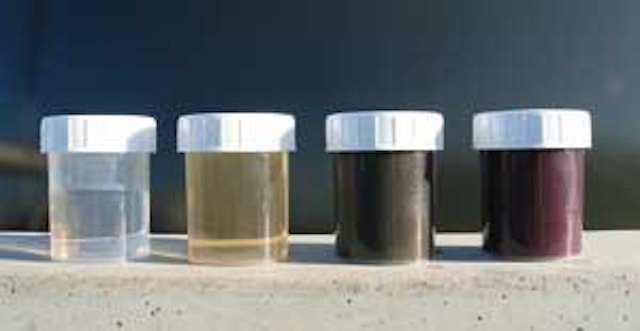 Process stages in reverse: (L–R) RO water, AMBR treated water, biomass, raw wastewater
Click here to enlarge image
Prior to commencing the project a pilot trial study was carried out onsite to fully evaluate the process in–situ. After a three–month trial period using Aquabio's technology — including aerobic membrane bioreactor (AMBR) and reverse osmosis (RO) — the system was successfully proven for full–scale design. Due to the use of large amounts of vinegar in the upstream process, and the washing, cutting and cooking of the beetroot, the raw wastewater is extremely strong, with a chemical oxygen demand (COD) between 5,000 mg/L and 20,000 mg/L — 15 to 70 times stronger than domestic sewage. The plant is designed to treat 130 m3/day of raw wastewater and produce a potable water volume of up to 90 m3/day. Most of the recycled water from the plant is returned to the factory mains water tank, where it's monitored for conductivity and "topped up" with towns water from Anglian Water. A proportion is also reused directly from the RO unit as demineralised boiler feed water, saving heat and softening/antiscalent chemicals, as well as significantly reducing boiler blowdown frequency — saving even more water, energy and treatment chemicals.
The treatment scheme is shown in the basic process flow diagram on the next page.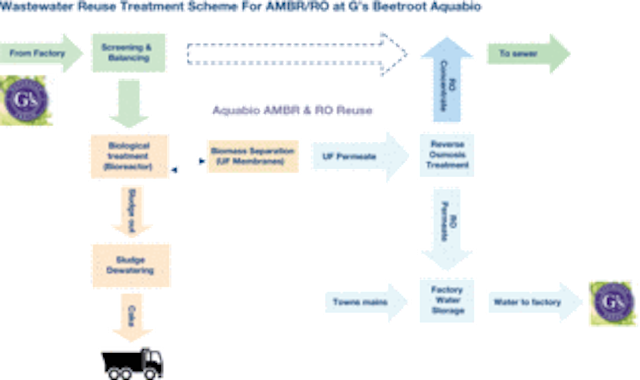 Process flow diagram of the G's Beetroot plant
Click here to enlarge image
Results of the treatment stages through the Aquabio plant are shown in the progressively cleaner water samples above. From right to left: raw wastewater; biomass; AMBR treated water and RO treated water for reuse.
Aquabio's AMBR Membrane Bioreactor technology has a number of specific benefits/advantages:
It is very compact, low footprint even compared to other MBR systems. This saves both space and cost.
Membrane costs are much less than other MBRs and modular standardisation of the setup allows a choice of membrane suppliers.
The AMBR has reliable and high flux performance and permits out–of–tank operation and maintenance of the membrane separation system, giving clean, fully automated and safe operation.
AMBR Membrane cleaning frequency is very low (i.e. once every three to four months).
At G's construction is modular and containerised — ideal for expansion at a later date.
High molecular 'cut off' (~0.04 micron) membranes are used to optimise good hydraulic performance with high quality treated water. This is particularly important when feeding on to the tertiary reverse osmosis system (reducing long term membrane fouling).
The Aquabio wastewater reuse plant at G's Beetroot has shown that very high strength food processing wastewater can be cost effectively treated to extremely demanding standards for reuse in a food factory environment. The product water is reliable, safe and of a higher standard than potable water available from the mains. The water returning to the factory consistently and reliably exceeds the prescribed concentrations, values (PCVs) and indicator values of UK Water Supply (Water Quality) Regulations.
Water efficiency is one of the key areas being tackled through the UK Environment Agency Integrated Pollution Prevention Control (IPPC) Process. It's increasingly important to closely monitor water used per tonne of product produced. Water recycling/reuse in internal loops and "end–of–pipe" becomes an important means of meeting stringent IPPC requirements. The reuse of water to process and softened recycled water to boilers for more efficient energy generation is particularly beneficial.
This project coupled with the high profile award of the UK Department of Technology & Industry's ECA eligibility certificate for environmentally critical areas (ECA), has directly resulted in an increasing level of interest of high quality water reuse in UK industry. Since the project at G's, a further certificate has been granted also to an Aquabio plant at Unilever Marmite and several other projects are now in the application stage under the scheme. Aquabio water reuse plants offer an environmentally and commercially attractive option for industrialists who are looking for local control over their water as a key sustainable resource in their factories.
---

Author's Note:
Steve Goodwin is director of Worcester, England–based Aquabio Ltd., which has been designing, supplying, installing and commissioning industrial wastewater treatment and water reuse systems since 1998. Pioneering a number of large scale installations in this field, it's a leading supplier of industrial MBR technology in the UK and Europe. Contact: +44 (0)1905 641966, info@aquabio.co.uk or www.aquabio.co.uk