Technology Roundup: Sludge Treatment
May 1st, 2009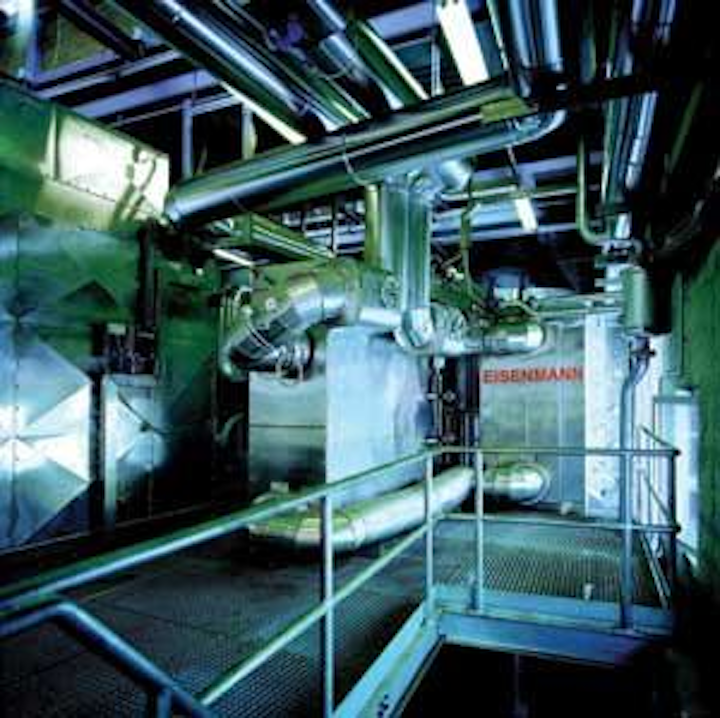 Eisenmann's U.S. biosolids debut spotlights Italy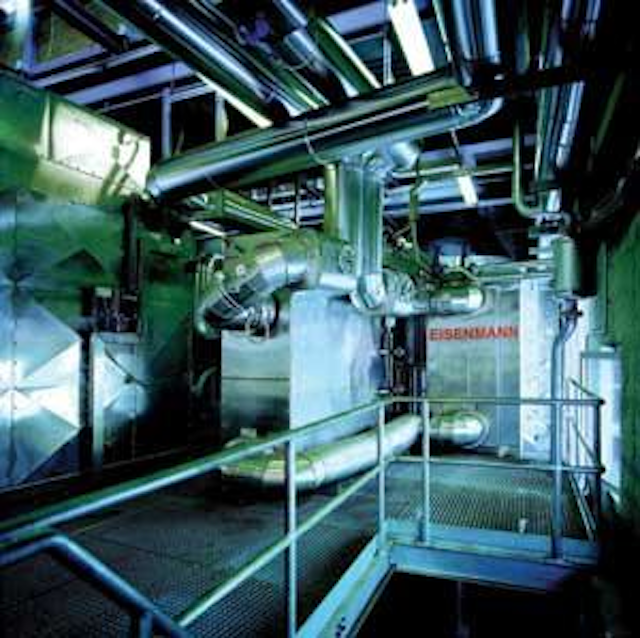 Click here to enlarge image
Announcing introduction of its Pyrobustor® thermal biosolids treatment system to the U.S. market and creation of a business unit in Crystal Lake, Illinois, near Chicago, Eisenmann Service GmbH released a case study on its first installation in the Pustertal valley in South Tyrol, Italy. The regional treatment plant was constructed in 1996 inside Tobl Mountain to treat residential wastewater from an association of then 14 municipalities in a collection area of 444 square miles. Installed and optimized in 2005, the thermal treatment system has been in continuous operation since early 2006. It converts dry sludge pellets with a calorific value of up to 5,160 BTU/lb and 10–20% residual moisture into ash in a continuous process sized for a throughput of 1,200 lb/h with 7,500 hours of operation per year. Fully automatic operations are controlled by a PLC system and monitored via PC plant visualization.
Dry sludge pellets are fed into the Pyrobustor from a storage container by a screw conveyor. They're first pyrolyzed, then oxidized into inert ash. At just 8—10% of original weight (compared to mechanically dewatered sludge), the ash is used as filler at a nearby brick–production facility. The energy side of this technical approach is net positive. Liberated heat of combustion from the sludge is used first to heat the thermal oil for heating the sewage sludge drier, then to heat process water for preheating the air of the drier. This concept yields savings of up to 65% compared to primary energy previously needed for the drying process. In 2008, plant operators replaced the outdated dryer/pelletizer system with a new convection belt dryer system further improving the operation's overall energy balance and performance.
Designed to treat biosolids streams up to one dry ton per hour, the full system employs a two–stage process, using pyrolysis in a proprietary rotary drum followed by a post combustion system. The system works in conjunction with a dryer to provide a 10:1 volume or mass reduction of dewatered biosolids. Residual non–volatile ash is suited for disposal in landfills as a non–hazardous material or filler for road construction, concrete products or similar applications. Eisenmann Service GmbH & Co. KG, Böblingen. Germany, www.eisenmann.com.

Enquiry No. 23
---

Bluewater Bio to roll out HYBACS technology across Saudi Arabia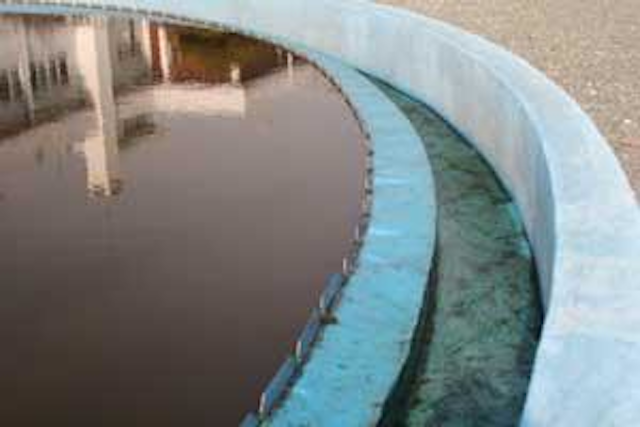 Click here to enlarge image
Bluewater Bio International signed an agreement with Nesma & Partners, a leading general contractor in Saudi Arabia and the engineering and construction division of Nesma Holding, a large diversified Saudi business group. With its partner Zero Waste Technology WLL of Bahrain, Bluewater Bio plans to roll out its HYBACS (Hybrid Bacillus Activated Sludge) wastewater treatment technology across Saudi Arabia with Nesma, which specialises in the oil and gas, petrochemical, power, water and commercial construction sectors. Nesma will initially be the exclusive HYBACS selling agent in the territory, with a joint venture to be established later. Through this joint venture, for which terms are agreed, the two will also pursue privatisation projects in the country as sponsors of consortia to provide project finance through long–term build–operate–transfer (BOT) projects. Nesma CEO Imad S. Gholmieh will head its management committee.
Bluewater Bio, Zero Waste and Nesma, together with Spain's Aqualia Gestión, a subsidiary of Spain's FCC Group, and the UK's Aqua Fund Resources, a water–dedicated investment fund managed by FourWinds Capital Management, have previously collaborated to successfully prequalify as a consortium bidder for the upcoming Muharraq sewage treatment plant tender in Bahrain, which is the first private sector wastewater treatment tender in the country. The tender will be for a 27–year sewage treatment deal for which upfront capital costs are expected to exceed $100 million.
Nesma and Bluewater Bio intend to establish a full–scale HYBACS reference plant in Saudi Arabia within six months, with a site already identified. Bluewater Bio now has commissioned a pilot–scale reference plant in collaboration with Severn Trent Water in the UK, and will begin commissioning a second European pilot plant with Aqualia in April at the city of ávila, northwest of Madrid.
Bluewater Bio recently announced details of an investment of £2.3 million by Aqua Fund Resources which included provisions for the fund to have the facility to co–invest and raise debt funding in precisely the type of private sector BOT projects which Bluewater Bio and Nesma now plan to engage in jointly in Saudi Arabia. Many will focus on reuse of treated wastewater in a part of the world where water's value as a life–critical scarce resource is accorded a priority that countries in more temperate regions are now only beginning to properly recognise. Bluewater Bio International, London, UK, www.bluewaterbio.com.

Enquiry No. 24
---

B&V wastewater project to protect coastline of Scotland's Cromarty Firth
Black & Veatch, with partner Scottish Water Solutions, began work on a new wastewater treatment works (WwTW) to protect the natural environment by ending discharges of raw sewage into the Cromarty Firth, a sheltered bay on Scotland's northeast coast famous for its birdlife and cruise liner visits. The £17 million project at Belleport, a greenfield site midway between Alness and Invergordon in the Scottish Highlands, comprises design, procurement, construction, commissioning, and handover of a new WwTW and sludge treatment center. Existing sewage sites at Alness Point and Rosskeen are being converted into pumping stations that will transfer wastewater to the new works for treatment before discharge to the Cromarty Firth. When complete, Alness and Invergordon WwTW will serve a population of 22,000. Sludge produced from conventional processes will be thickened and treated with lime to generate a recycled product for local use. The new works has been designed to ensure new homes being built and planned in the area can connect to the public sewer network. The 15–month project forms part of Scottish Water's "2010 Vision for the Highlands", a £200 million investment campaign of improvements across northern Scotland. Black & Veatch Ltd., Redhill, Surrey, UK, www.bvl.bv.com.

Enquiry No. 25
---

Cutting through sludge rag a challenge at Thames Water sewage works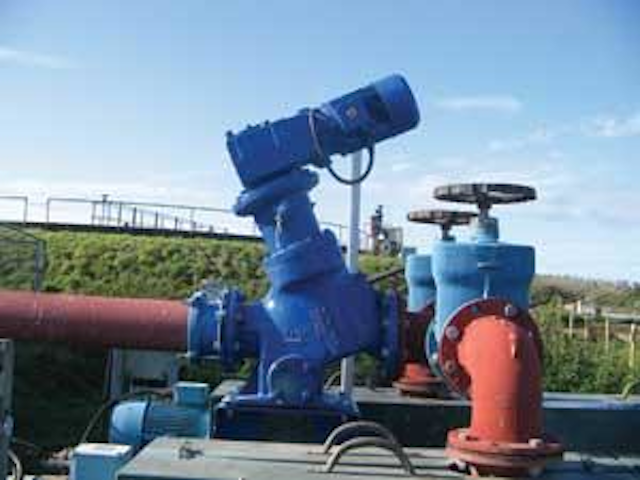 Click here to enlarge image
A high performance grinder pump from Mono NOV was installed last fall by Thames Water to improve efficiency at Bracknell Sewage Treatment Works by preventing pump blockages and minimising down time. One of Thames Water's 349 sewage treatment facilities, it features seven primary sludge tanks, which, due to high rag content, required frequent maintenance, cleaning and equipment repair. To provide a solution to this problem, Thames Water specified Mono's TR Muncher, which macerates heavy solids and rags to a small particle size to protect the plant's process equipment. The installation, together with re–location of existing Mono Munchers on the site, was undertaken by Mono's Projects & Installation team, and included mechanical and electric installation, commissioning and handover. With a capacity range of 0–500m3/h raw sewage, the TR Muncher features the latest generation of twin shaft grinders and is designed specifically for efficient treatment of abrasive sludges. Its cantilever shaft design eliminates need for bottom bearings and seals, significantly reducing wearing components. Each is supplied with a PLC to protect the machine against damage and overloads. Mono NOV, Audenshaw, Manchester, UK, www.mono–pumps.com.

Enquiry No. 26
---

Thermal belt dryer ideal for sludge cake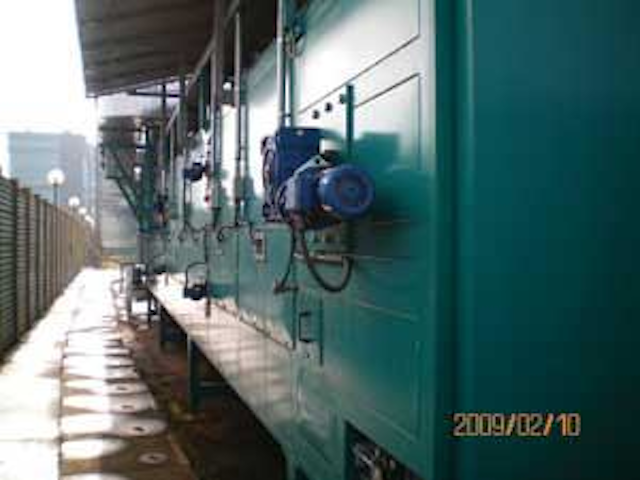 Click here to enlarge image
With over 50 systems installed worldwide, the multiple belt, variable speed, low temperature belt driven Convective Thermal Dryer (CTD) from Siemens Water Technologies offers advanced drying technology to municipal and industrial markets. The low profile, compact design provides operations with a system that's easy to operate and maintain. The belt dryer features evaporative capacities of 1,000–13,000 lb/h of water with round–the–clock operations. The system also performs well on what may be considered "waste heat" or "useless thermal energy". A 5:1 sludge cake volume turndown provides disposal cost savings or a "fuel" similar to low BTU coal, easily screwed or blown into a boiler. The latest safety codes are incorporated into the standard Siemens dryer offering. And an ability to operate dryer systems for years in accordance with Southern California's strict air standards speaks well of the process and mechanical design experience. A brochure and sizing datasheet available upon request. Siemens Water Technologies SpA, Casteggio, Italy, www.siemens.com/dryers.

Enquiry No. 27
---

Sampler suited for water/wastewater
In existence for 40 years now, the Duckbill® Sampling System is unique among samplers used to collect composite samples in water & wastewater. It has no pumps or scoops but uses compressed air to push the sample out at high velocities. Sample lifts of 80 feet or more are possible with long horizontal runs. The system is inherently explosion proof and the compressed air dries the sampling lines to prevent freezing and clogging. Markland Specialty Engineering Ltd., Georgetown, Ontario, Canada, www.sludgecontrols.com.

Enquiry No. 28
---

Hans Huber unveilsnew website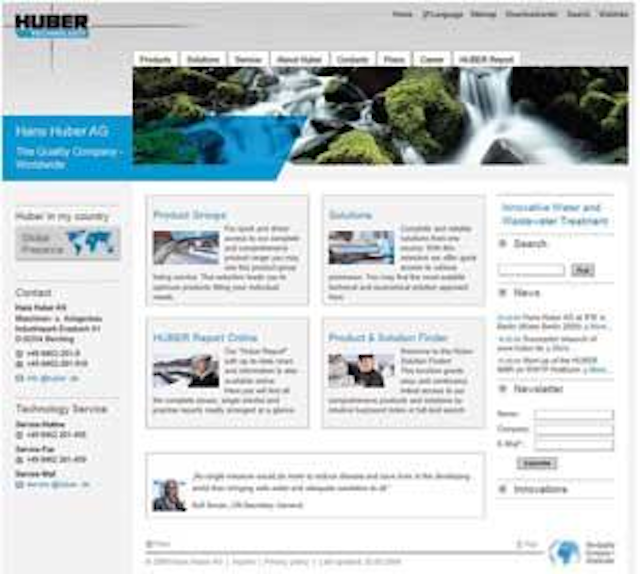 Click here to enlarge image
Global water and wastewater solutions provider and a leader in screening, grit removal and sludge processing, Hans Huber launched a new website March 16, redesigned to improve its structure and provide more content. Replete with information and links on all Huber Products, a new category Huber Solutions offers visitors a process–oriented approach and presents, in graphical form, a variety of processes for wastewater and sludge treatment, for municipal as well as industrial applications, for centralized and decentralized treatment, including water reuse options. Visitors are guided through processes and can easily identify suitable answers via an internal search engine in the Product & Solution Finder. Under Huber Report Online visitors can read the latest issue of its newspaper as well as archive editions. And the website offers the usual information about the company, with continued access to its popular download centre. Hans Huber AG, Berching, Germany, www.huber.de.

Enquiry No. 29
---

Wastewater service deals aid cost control at Southern Water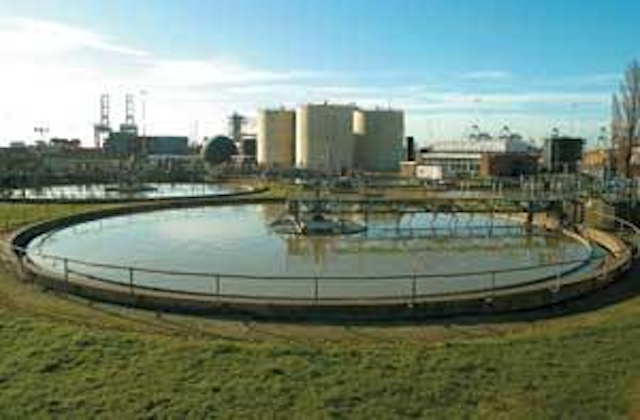 Click here to enlarge image
An example of utilities ncreasing external contracts for regular and preventive maintenance equipment in aging waste treatment plants, Southern Water operates nearly 60 Hydro SludgeScreen™ units from Hydro International at 30 WTPs across the region. These comprise 19 older chain driven machines (originally Picatec) and 37 modern, direct–drive units, all on sludge dewatering duties. A 2008–10 service agreement with an optional third year was just concluded with Hydro Wastewater Division's Spares & Service, removing responsibility for the screens from site maintenance teams required to complete lubrication and visual inspection duties. Advantages include excellent cost control, easier budget planning and reduced emergency outages and associated costs. The service includes an annual major strip down, clean and component assessment, and a six–monthly adjustment and check of any potential problems noted at the last visit. "When a site only has one machine, with no back–up, it's essential it doesn't break down; otherwise, the sludge may have to be tankered offsite for processing, with heavy extra costs," says Hydro's Neil Hobbs. "There is also the element of predictive maintenance and condition monitoring. We're able to spot wearing components, and suggest how soon they might need replacement, identifying a problem before it becomes a crisis." With a small footprint, low running costs and suitable for automatic continuous or intermittent operation, the Hydro screens provide screening, dewatering and coarse material discharge in one operation without requiring washwater. In other news, a major sustainable road drainage scheme being installed by Carillion provides stormwater control and reduces flooding risk as part of a £9.5 million improvement of the A340 Aldermaston Road, Basingstoke, using Hydro's Stormbloc® infiltration blocks and Downstream Defender® silt protection units. Infiltration basins and a wetland pond with Stormbloc units to manage stormwater runoff also just made 400 new South Coast homes economically viable. Hydro International, Clevedon, Somerset, UK, www.hydro–international.biz.

Enquiry No. 30