Europe/Middle East
May 1st, 2009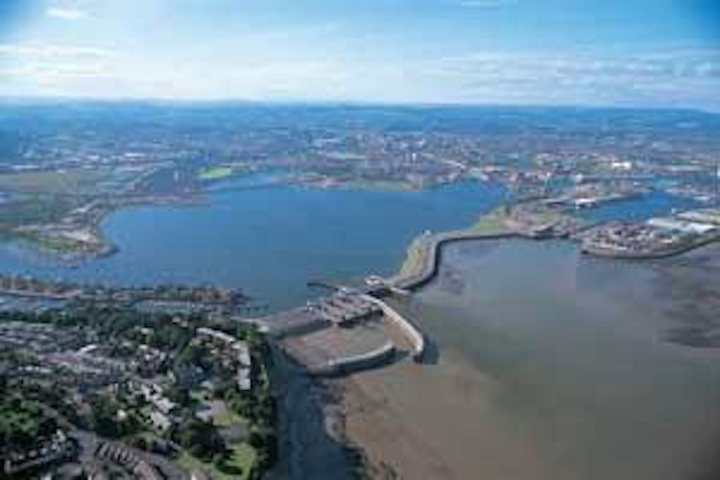 Making Waves
Among other recent water industry news items at www.wwinternational.com, see:
Halcrow to assess climate change impact on NYC drainage, wastewater systems
Colorado School of Mines tests Aqua-Aerobic MBR decentralized wastewater system
Cranfield U. awarded £80k from Leverhulme Trust to research resilience of water networks
Aconex management solution picked for $1.6B infrastructure phase of UAE's Al Zorah Coastal City
Alfa Laval wins SEK75 million power order for plate heat exchangers in Russia
Welsh Water opt for Siemens Automation & Drive Technologies as single supplier
Hanovia to supply UV disinfection equipment to bottled water producer in China
Lab-on-a-chip developed by Tel Aviv University professor latest weapon against pollution
UK's Watermark Place uses Siemens UV system for rainwater harvesting, greywater reuse
Stadtwerke Essen joins Bentley program to implement new multiutility GIS
Bonduelle chooses GWEs clean water, green energy biogas solutions in Hungary
Dresser Middle East expands in Dubai
Mono NOV upgrades CSO screening for South West Water in Cornwall
COHRE, RWP publication looks at Ghanaian water, sanitation sector
Bord na Mona to open innovation center in North Carolina
CSC signs IT framework agreement with United Utilities in UK
Ireland's BioTector engages U.S. distributor, nears done with U.S. R&D trial
---

Severn Trent sells SmartMeter, Ajusta business to Elster Group
Severn Trent Services agreed to sell its SmartMeter™ and Ajusta™ boundary box businesses to Germany's Elster Group, a leading supplier of metering solutions. The transaction encompasses the entire AMR–enabled range of SmartMeter technology, trademarks, production facilities and distribution channels.
In other news, STS unit Severn Trent Metering Services (STMS)–Integra, one of the UK's largest plumbing contractors, was awarded a three–year contract to install approximately 300,000 residential water meters throughout the Severn Trent Water service area. The UK Environment Agency recently recommended water meters be made compulsory for homes in southern England within six years and extended to the rest of England and Wales within 25 years.
Severn Trent Water also awarded contracts for major projects planned as part of its next asset management period (AMP5), beginning in April 2010. Eleven companies — Balfour Beatty, Barhale, Biwater, Costain, Enterprise, Interserve, LoRImtech, May Gurney, Mott MacDonald Bentley, Morgan Est and North Midland Construction — will handle the scope of work to be determined after Ofwat's decision on water and sewerage prices later this year. The AMP4 program (2005–10) value is £2.8 billion.
Severn Trent Services also won two Business Achievement Awards from Environmental Business Journal for advances in water and wastewater treatment technology, citing 1) a pilot project in Jiashan, China, involving a pre–denitrification process, biological aerated filter and Denite® denitrification filter, and 2) its MicroDynamics® microwave UV disinfection system which involves electrode–less lamps to generate monochromatic UV light.
---

Atlas Copco, ITT Corp. ally for energy efficient blowers
Atlas Copco and ITT Corp., both based in Stockholm, entered into a global strategic alliance to offer energy–saving solutions for municipal wastewater treatment plants. Energy–efficient blowers from Atlas Copco's Oil–free Air division are now being jointly offered with ITT aeration and mixer technologies, to reduce energy costs by an average of 40% in the secondary treatment phase. The ITT Water & Wastewater noted 55% of treatment plant energy costs are due to aeration blowers, which led to the decision to collaborate with a blower manufacturer that specified energy efficiency in its core design.
In other news, Gretchen McClain added Motion & Flow Control to her Fluid Technologies duties as president now of ITT Fluid & Motion Control. John P. Williamson is now president of ITT Water & Wastewater, replacing Per–Inge Biergersson who retired. Williamson most recently was president of ITT Residential & Commercial Water from 2007–2009. And Robert J. Pagano Jr. is now president of ITT Industrial Process in Seneca Falls, NY.
---

Field notes
TURKEY: Demand for water has never been as great as today, and will only increase due to population growth, mobility, rising living standards, food consumption, and increased energy production, especially biofuels. These are conclusions in the UN World Water Development Report 3, presented before the Fifth World Water Forum in Istanbul from March 16 to 22. Published every three years, it offers a comprehensive assessment of the planet's freshwater resources. This latest edition, "Water in a Changing World," emphasizes water's role in development and economic growth.
SPAIN: Dow Water Solutions began construction of its Water Technology Development Center at the Dow facilities in Tarragona, Spain, where it's investing US$15m and will employ 25 researchers for application development and component testing to accelerate commercialization of Dow's water treatment technologies. Set to open in 2010, Dow won subsidies from Spain's Ministry of Industry for the research programs which are inline with the government's commitment to R&D in sustainable water supplies. In other news, Dow Chemical completed its acquisition of Rohm & Haas, whose ion exchange strengths will add to its DOWEX product line offering.
NIGERIA: Atkins, in a joint venture with UK–based ITAD and Abuja, Nigeria's Enplan, won a €7.2m contract over two years to provide technical assistance to the Water Supply & Sanitation Sector Reform Programme (WSSSRP), funded by the European Union with the Nigerian government to potentially benefit over three million people in six states. The work fits in with other Atkins EU work in Nigeria, like the drafting of its National Water Resources Bill.
GERMANY: SIPOS Aktorik's actuators were picked by Mavel Srl for a solar system application to aid water management in the Aosta Valley, Italy. The installations are used to protect drains and pipes from debris during storm and flood conditions. SIPOS 5 Flash low current single–phase technology means no restrictions on cable length, so the solar system is independent of the actuator mounting — a plus because of the remote locations' woodland settings.
IRELAND: A big part of NI Water's £21.6m Londonderry Drainage Area Plan, managed by Faber Maunsell/AECOM and Halcrow, is ahead of schedule. The £3.9m Victoria Market Wastewater Pump Station is a key part of the ongoing LDAP improvements to alleviate flooding in the city.
---

ABB aids Cardiff Bay barrage, Andhra Pradesh irrigation
Operation of Wales' Cardiff Bay barrage is easier after an ABB upgrade of its automation control system. A £220m engineering project that took five years, the barrage is designed to regulate the level of a 500–acre lake, Cardiff Bay, by isolating it from the sea with five large sluice gates. It has three locks, one 40m X10.5m and two 40m X 8m, which allow 24–hour access to and from the bay, a step up from the earlier tide dependent bay.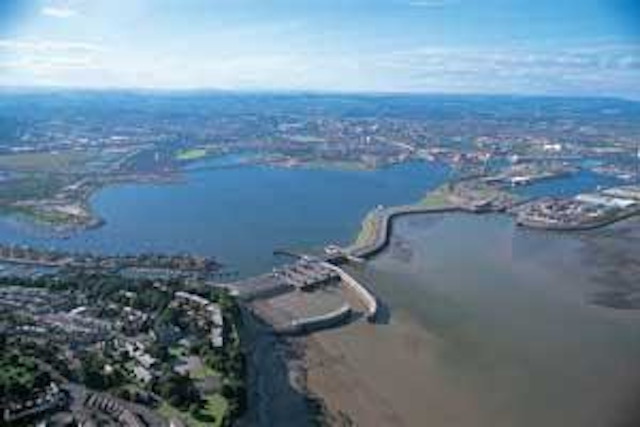 Click here to enlarge image
ABB also will supply power and automation for lift irrigation projects in the Indian state of Andhra Pradesh to give farmers much–needed water to increase agricultural productivity and raise family incomes. With pump maker Andritz, ABB will provide pumps and mechanical equipment, motors and variable speed drives to power and soft–start the pumps, as well as electrical and automation equipment for the irrigation system, including substations and SCADA control. Water is pumped from a low–lying river to a reservoir and, from there, released to flow by gravity into a network of canals or channels to irrigate surrounding fields.
In other news, ABB opened a global production site for low voltage generators in China, hit one million units on standard drives at its Helsinki factory, and was picked for videographic solutions to improve operations at two United Utilities–managed water works in South Wales .