A Key to Healthy and Eco-Friendly Wastewater Lagoon Systems
Windmills allow natural and plentiful aeration of wastewater lagoon systems, allowing nature to take its healthy course.
Jul 1st, 2009
By Bruce Boyers
Windmills allow natural and plentiful aeration of wastewater lagoon systems, allowing nature to take its healthy course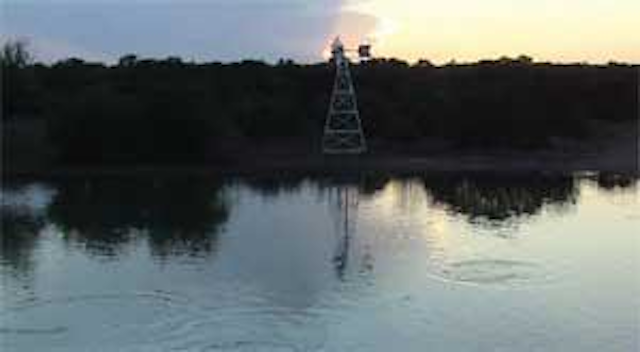 Aeration driven by windmill at Oklahoma wastewater lagoon
Click here to enlarge image
Conventional wastewater treatment lagoons encounter many problems that must be constantly solved. Among these is sludge that eventually settles to the bottom of a pond. Generally, this must be removed regularly so the sludge layer won't accumulate faster than it can biodegrade.
Slow degradation means odorous septic conditions that produce sulfuric acid and methane gas, and other gases that create low pH conditions and make the pond water more difficult to treat. Such ponds must often hold incoming sewage for six months or longer to achieve acceptable levels of pollution removal.
A fundamental reason these conditions occur is the lack of an ample oxygen supply to allow bacteria to do its proper job. Beneficial bacteria is aerobic – meaning it requires oxygen – and, in the presence of sufficient oxygen, material that settles to the bottom of a pond is eventually biodegraded into carbon dioxide and inert materials.
Since a large portion of municipal wastewater consists of biodegradable organic carbon matter, the remaining active bacteria can quickly decompose much of the settled sludge.
Plentiful oxygen can be supplied by a few different methods, but the most cost-effective – and cleanest – available today is that of windmills. Compressors are turned by wind, and oxygen is then pumped into the pond aerating the water.
Benefits of such aeration were recently realized by the U.S. city of Muldrow, Oklahoma. The town has a wastewater pond about 500 yards from a high school and directly adjacent to a baseball field. The lack of oxygen in the water was causing problems.
"When the weather started changing, the water would start getting septic," said Muldrow city manager David Taylor. "The smell would get pretty bad."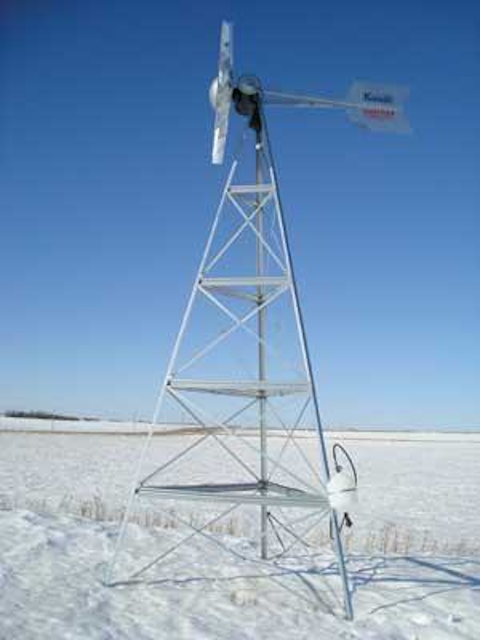 One of two installed windmills at a wastewater lagoon in Carlyle, Saskatchewan, with freeze control unit on the leg.
Click here to enlarge image
Driving down the highway one day, Taylor noticed a windmill on a pond. He observed that the pond water was very clean, and inquired about it. This led to the city being provided two 20-foot windmills on a trial basis by Koenders Windmills, parent company of Canada's Superior Windmills in Regina, Saskatchewan. The problem appears to have completely abated.
"The oxygen level is well up in the pond," Taylor said. "The smell has gone way down." And, it appears the trial was a success.
A prime indication of a pond's health is nature itself. "We have lots of turtles out there," said Taylor. "When you've got a lot of turtles in a holding pond, that indicates your water is in pretty good shape. We've got a lot of ducks and geese landing on it, too."
The health of Muldrow's wastewater pond has attracted attention of other municipalities interested in cost-effective and environmentally safe methods of treating wastewater lagoons. It even was recently paid a visit by officials of the Oklahoma Department of Environmental Quality.
The windmills installed were 20' double-diaphragm models, as company research found one such windmill per acre of wastewater lagoon produces the best results. The double diaphragm compressor allows pumping of double the air of a single-diaphragm model. The windmill can provide oxygen with as little as 3-5 MPH winds.
Adequate aeration is also important for keeping lagoon water mixed and in suspension. Insufficient mixing causes creation of thick solids that fall to the bottom of the lagoon before proper treatment has occurred.
Septic conditions then occur that pull available oxygen from upper layers of the pond and reduce overall effectiveness of treatment.
When water is in an ideal mixed condition, incoming pollutants and wastewater are more evenly distributed, resulting in uniform and efficient treatment. The action also causes settled solids to be re-suspended and brought back into contact with the microbial population floating throughout the pond.
Other methods of providing oxygen to wastewater ponds include powered aerators operating with motors. While these may be effective at pond aeration, they're expensive in terms of power consumption. A windmill obtains its power directly from the wind and consumes no electrical power – hence, it contributes to the environment not only by aerating the pond but by conserving vital energy.
Such windmills also are being successfully used in farm ponds, golf courses, stocked fishing ponds, residential ponds and even lakes. They restore water quality and reduce algae and mosquito problems. They truly are a case of using nature to restore nature.
Proper treatment of wastewater lagoon systems with windmills is another step in safely reclaiming our environment.
---
Acknowledgments:
The author would like to thank officials at Koenders Windmills Inc. (Contact: +1-306-721-1495 or www.koenderswindmills.com) and Superior Windmill Inc. (Contact: +1-888-821-5533 or www.superiorwindmill.com) for their assistance on this article. Both are located in Regina, Saskatchewan, Canada.
Author's Note:
Bruce Boyers is a freelance writer based in Glendale, California USA.