Asian Egg Digester Aided by Valve, Actuator Combo
Red Valve employs total system approach at Seletar, Singapore's 200-mgd wastewater reuse plant, on an enclosed egg digester to improve sludge processing flow management.
Jul 1st, 2009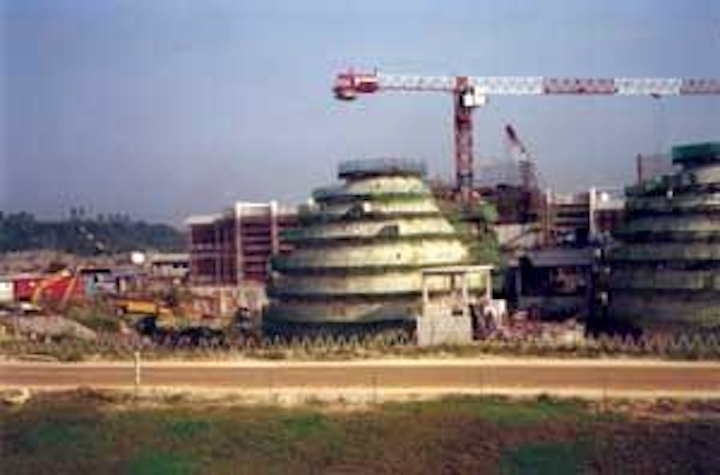 By Chris Raftis
Red Valve employs total system approach at Seletar, Singapore's 200-mgd wastewater reuse plant, on an enclosed egg digester to improve sludge processing flow management.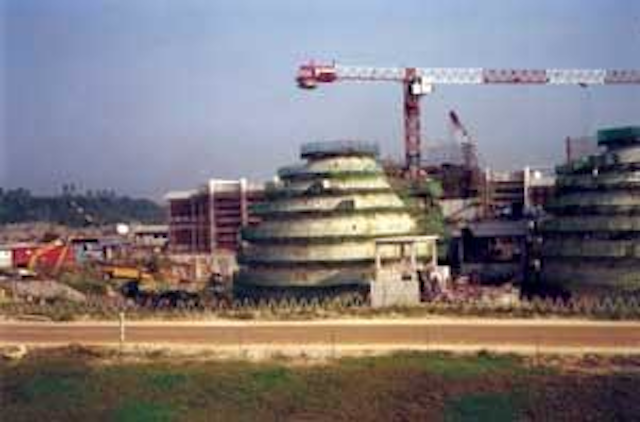 A view of one of Seletar's enormous egg digesters for sludge processing during plant construction.
Click here to enlarge image
Responding to steady population increases and overall city growth, the Singapore Ministry of Environment called on engineering firm Kinhill Tan Pte. Ltd., of Australia, for design and construction of a state-of-the-art, high-capacity wastewater treatment plant. Because the new facility was expected to meet Singapore's wastewater treatment needs for decades to come, the Ministry was primarily interested in long-term cost savings and reliability.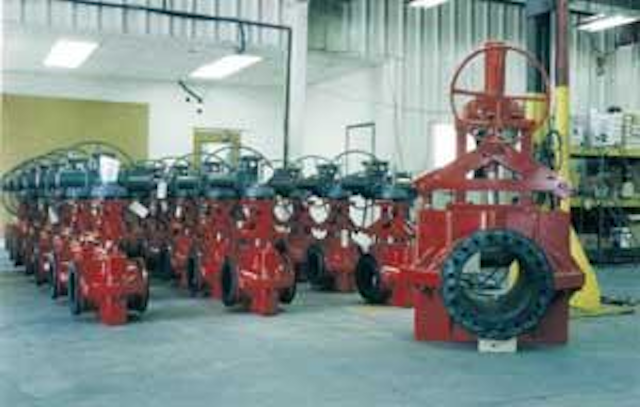 Large-diameter, 450-mm manually actuated pinch valves for sludge service at the Seletar Water Reclamation Plant.
Click here to enlarge image
Named the Seletar Water Reclamation Plant, this 200-mgd wastewater treatment facility – one of five NEWater plants to augment water supplies by recycling wastewater for indirect potable use – was designed to include only top-of-the-line equipment to keep maintenance costs and downtime to an absolute minimum. Knowing of Red Valve's expertise in all stages of a wastewater treatment plant and aware of its international reputation for manufacturing efficient, reliable and cost-effective valves, Kinhill Tan ultimately chose to install over 900 Red Valve manually and electrically operated pinch valves.
Singapore standardized on the Series 5400 control pinch valve for use on waste-activated sludge.
Click here to enlarge image
The plant's design incorporated an enclosed egg digester, a revolutionary trend in solid-waste treatment that improves sanitation, controls odor and allows for more accurate temperature manipulation. Egg digesters allow for complete sludge mixing. They eliminate dead spots and reduce solids accumulation. Mixing occurs throughout the entire tank, preventing settling and stratification.
To match this efficiency with the best available process equipment, designers of the egg digester made Red Valve pinch valves a standard specification for the egg digester. Many of the hundreds of such valves installed are involved in the circulation process of the plant's enormous egg digesters, where sludge is highly solidified and abrasive.
As word spread of the egg digester's many advantages, wastewater treatment plants in Los Angeles, Boston Harbor, Salt Lake City, Gwinnett County, Georgia, in the USA are also employing this design. Each plant, ranging in capacity from 20 to 200 mgd, is equipped with Red Valve pinch valves for throttling and isolation.
The Seletar plant in Singapore went online in the latter part of 2000. From the point at which the raw sewage enters the facility, across the headwork section, during all sludge-processing phases and onward through effluent discharge, Red Valve manual and control pinch valves are in use. Applications at Seletar include influent flow, primary sludge, primary scum, grit valves, digested sludge, blended scum, drain water, sampling lines and waste-activated sludge.
By employing a total-system approach, Red Valve ensured that the entire plant would reap the benefits of superior pinch valve technology, including excellent throttling characteristics for control applications and positive, drop-tight shutoff for isolation. It made use of its own expertise and worked closely with Kinhill Tan and the Ministry of Environment to provide Seletar with the best product selection for its myriad of needs. Elastomers for the rugged pinch sleeves were hand selected for compatibility in each individual process.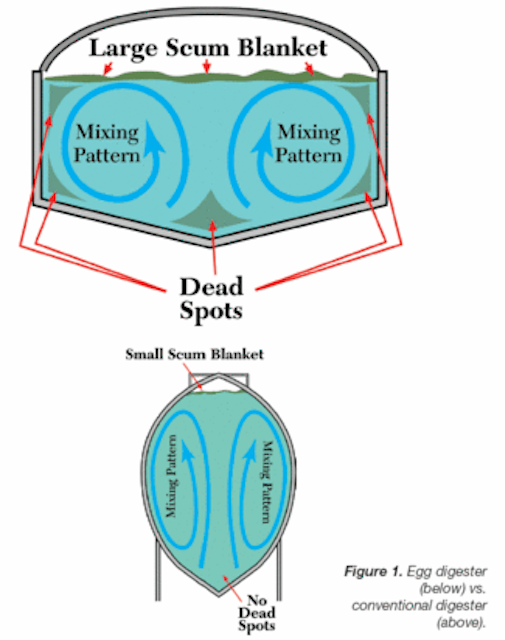 Click here to enlarge image
For throttling control of waste-activated sludge, equipping the Series 5400 control pinch valves with Rotork IQ-Series electric actuators was recommended due to the actuators' non-intrusive nature. Set-up, configurations, calibration, torque settings and diagnostics can be reviewed and changed without removing the actuator cover, simply by using an infrared setting tool similar to a television remote control.
The IQ has digital two-wire communication to allow control commands, position feedback and a host of other diagnostics to be transmitted digitally over a single pair of wires back to the control room. Combining the control valve with the Rotork actuator provides Singapore with one of the most advanced and reliable valve and actuator control systems in the world.
Shortly following Seletar's start-up, Red Valve officials, accompanied by the company's Australian representative, Flotech, visited Singapore to view the plant's operation and to conduct a valve-training seminar on the valves' and actuators' total-system capabilities.
---
Author's Note:
Chris Raftis is president of Red Valve Company Inc., based in Carnegie, Pennsylvania, USA, near Pittsburgh. Founded in 1953, it's a global solutions provider for valve and actuator needs. Brands include Red Valve, Tideflex and RKL Controls. Contact: +1-412-279-0044 or www.redvalve.com