Ensuring a steady water supply for African mine, community
DHV unit SSI completes construction supervision of Madagascar salinity control weir that will assist a mining operation as well as the nearby town of Fort Dauphin.
Feb 1st, 2009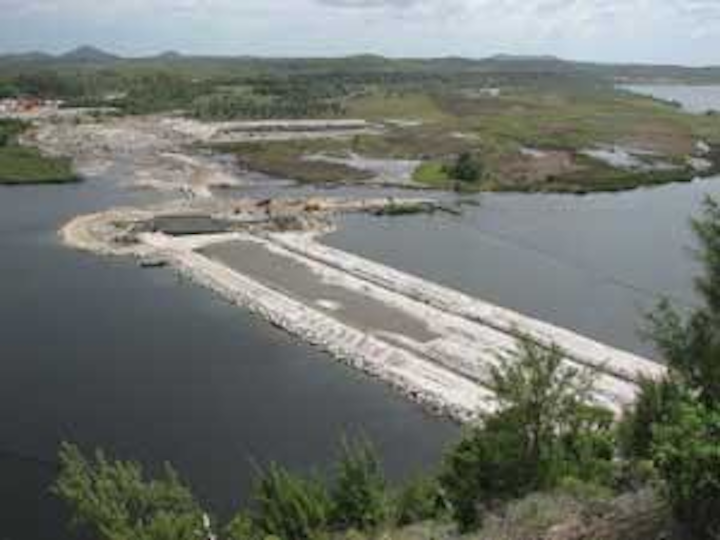 By Robin Hayes
DHV unit SSI completes construction supervision of Madagascar salinity control weir that will assist a mining operation as well as the nearby town of Fort Dauphin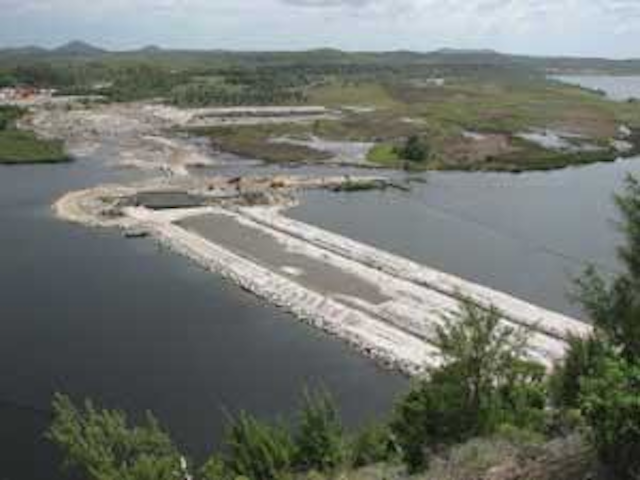 Weir construction on the QMM project is being carried out by Madagascar-based Colas.
Click here to enlarge image
Engineering and environmental consulting company SSI recently completed the construction phase of a multi-million contract awarded by QIT Madagascar Minerals (QMM) in Madagascar — QIT standing for Quebec Iron & Titanium.
SSI's services have included a water resources study for the mine, detailed design and supervision for a salinity control weir, bulk water supply and wastewater treatment design for the mine and its residential villages, a landfill design, preparation of the water management plan and a stormwater management plan for a quarry.
During the course of the contract SSI was also tasked with undertaking a review of the capacity and condition of local town, Fort Dauphin's water supply infrastructure with a view to QMM funding repairs and upgrades of this system. Detailed design of the repair and upgrade work for Fort Dauphin is currently under way.
Construction of the salinity control weir was completed in June 2008, ahead of the first production of ilmenite, or titanium dioxide, from the mine, which was expected in late 2008. The ilmenite will be smelted at Rio Tinto's facilities at Sorel in Quebec, Canada, to produce 475,000 tonnes a year of a new high grade, 91% titanium dioxide content, chloride slag by 2012. The mine's life is projected at 40 years from first production in 2008.
QMM is 80% owned by Rio Tinto, with the Madagascar government owning the other 20%. The mineral sands project represents the biggest investment made by a foreign company in the island and it is expected to be the catalyst for broader economic development in the country.
The design and installation of the mine itself and overall project management has been undertaken by a joint venture between Hatch and Flour.
SSI project manager Abhijatri Robinson says the work was awarded to SSI based on previous project work SSI completed for Rio Tinto's subsidiary Richards Bay Minerals. The Madagascan weir project was initiated to prevent seawater flowing back up the Anony River into Lake Ambavarano, the main water source for the mining operation.
"One of the main design objectives for the weir was to limit any increase upstream flooding, a critical issue in a coastal location with high storm frequency. SSI also had to optimise the height of the spillway by balancing the increased flooding versus the risk of overtopping from downstream initiated by wave, pressure and wind induced storm surge and the corresponding high tides," says Robinson.
Robinson says the detailed design of the weir's rockfill embankment was also a challenge, as it needed to be constructed on a sand foundation in a very remote area. A number of options for the embankment were reviewed and modeled using a finite element modeling package. The option finally selected could be constructed from local materials, such as rockfill flanks and a fine sand core with no coffer dam by carrying out critical underwater work during the three month drier season.
"The town of Fort Dauphin is very isolated, located on the southern tip of Madagascar, so the logistics of bringing construction equipment and material on site was also pretty challenging. For instance, SSI had to import the necessary pipes and fittings for the water supply contracts in over forty 12-m containers from South Africa," says Robinson.
Robinson adds that SSI's multidisciplinary team, backed up by its Dutch parent company DHV Group, has reveled in the broad challenges of this project, using a blend of the latest modeling and computer-aided design tools and good old fashioned engineering judgment to solve a host of complex problems.
SSI has a growing river and coastal engineering unit that has developed innovative and cost-effective solutions for clients throughout Africa. Today's engineering designs are increasingly required to meet strict environmental, social and economic criteria. Recent SSI river and coastal engineering projects have included the development of flood control options for the Coega River in the Eastern Cape, the Lourens River near Somerset West, river intakes and modelling for the Lesotho lowlands water supply project and hydraulic structures for a world bank funded roads project in Uganda and hydraulic design of bridge structures for a number of major South African freeways.
Author's Note:
Robin Hayes is group communications manager for SSI, a South Africa-based DHV company that's a black empowered, multi-disciplinary consultancy that tailors solutions for clients involved in infrastructure development. Operating from 20 offices in 10 African countries, its services cover all lifecycle needs within the sectors of transport, water, environmental, electrical power & building services, mining and project & construction management. Its majority shareholder is the DHV Group, one of Europe's leading engineering firms with representation in 30 countries. Contact: +27 (011) 798-6000 or www.ssi-dhv.com