Well driller makes Inc. Magazine list
Recently named by Inc. Magazine as one of America's 5,000 fastest growing private companies, WDC Exploration & Wells celebrated its 60th year in business in 2008.
Feb 1st, 2009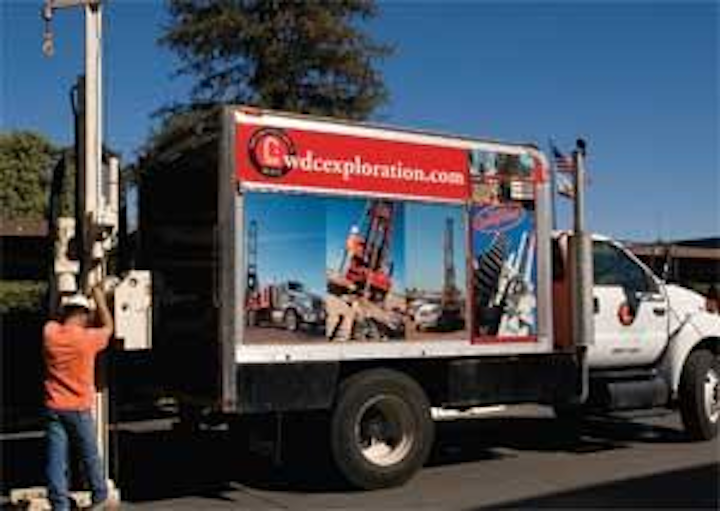 Recently named by Inc. Magazine as one of America's 5,000 fastest growing private companies, WDC Exploration & Wells celebrated its 60th year in business in 2008. Servicing agricultural and municipal markets, it's grown to become one of the largest privately owned full-service drilling company's in the United States.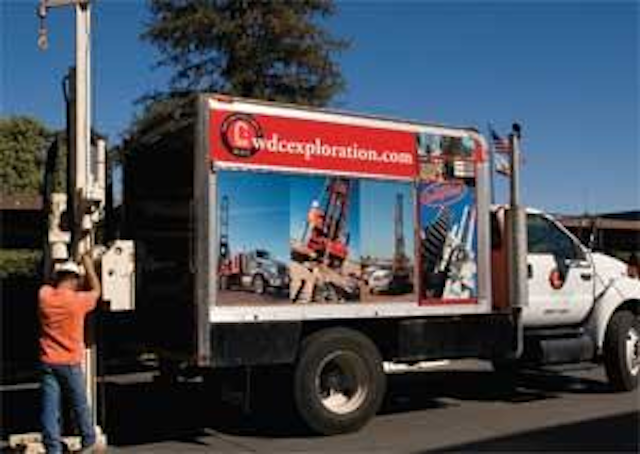 Geoprobe® 7700 machine, with direct push technology, and transport truck
Click here to enlarge image
Formed in 1949 to service needs of expanding Northern California agricultural and municipal markets, WDC now operates from offices throughout the U.S. West, Midwest, Southwest and Southeast. It drills large water supply wells and services the water supply industry while also serving environmental, geotechnical, mining, and energy and construction business sectors — providing efficient and reliable drilling through the most difficult and challenging environments.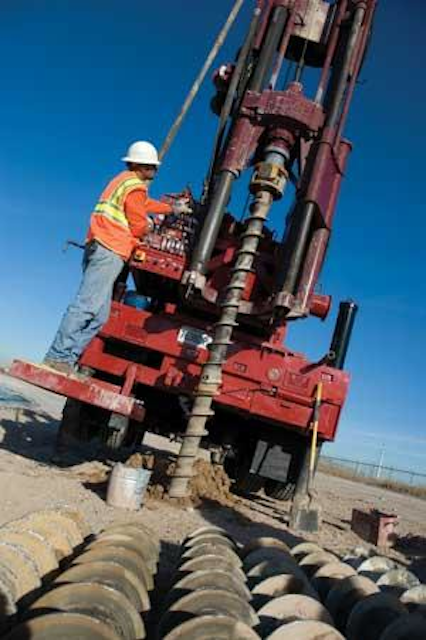 Auger drilling
Click here to enlarge image
Springs and wells have had cultural significance since prehistoric times. In West European countries, water wells were traditionally centers of social life and the community came together to build them using a traditional process. Today, a water well is managed through an excavation or structure put down by any method such as digging, driving, boring or drilling for the purpose of withdrawing water from underground aquifers (water that seeps into the ground and settles in the pores and cracks of underground rocks or other material that's water tight; this zone collects the groundwater and creates a saturated zone known as an aquifer — usually made from gravel, sandstone, limestone or volcanic rock) via pumps.
"The drilling industry is a unique combination of scientists, engineers and roughnecks. It's fascinating and rewarding work," states David Bardsley, company business development director.
WDC Exploration & Wells
Woodlands, California, USA
www.wdcexploration.com

Enquiry No. 30
---

A new slant on tank covers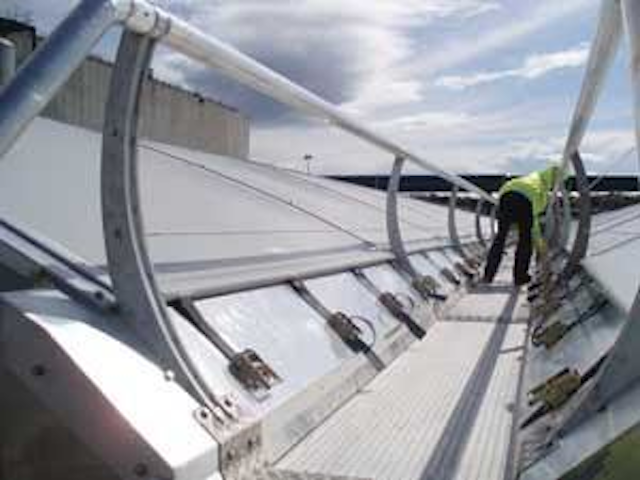 Easy access aids maintenance, odor control
Click here to enlarge image
Power Plastics recently won a contract to complete a unique odour control design, build and install project at the Ringsend Wastewater Treatment Works in Dublin Bay, Ireland, to cover 12 lamella tanks. A custom-fitted rigid curved modular aluminum framework mounts to each tank's perimeter creating 12 segmented bays into which pre-stressed PVC coated panels are inserted to allow the skimmer to operate on the tank's surface and accommodate pipework for a new air scrubber system. The panels were created from pre-stressed PVC coated with PVDF lacquer. Each has keder edging on two sides which allow it to slide into grooves in the aluminium frame. Power Plastics incorporated walkways and hand railings into the design — the railings being supported by plasma-cut struts — and created room for them by arcing the roof frame away towards the structure's centre. Removing one or more of the panels is a two-man operation performed entirely from the safety of the walkways. As a result, inspection, maintenance and cleaning with high-pressure hoses can all take place within the demands of current legislation, including "working in confined spaces" rules. Lift-up aluminium panels at the weir end allow waste to be hosed away and a gable end for each tank is removable which means the skimmer bridge can be hauled out completely and dealt with on safe ground. A benefit of the modular nature of the system is that installation took place without the need for a crane on-site, making it a faster process than traditional covers would demand — unaffected by wind and weather constraints — and offering significant cost-savings. At the time of going to press, Power Plastics have two similar installations of their unique design under way.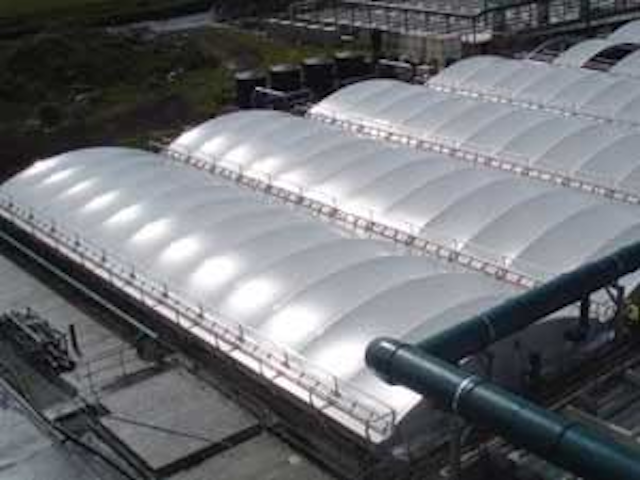 Power Plastics tank covers at Ringsend Wastewater Treatment Works in Dublin Bay, Ireland
Click here to enlarge image
null
Power Plastics Ltd.
Thirsk, N. Yorkshire, UK
www.powerplastics.co.uk

Enquiry No. 31
---

Isoil celebrates 50th with new factory, certifications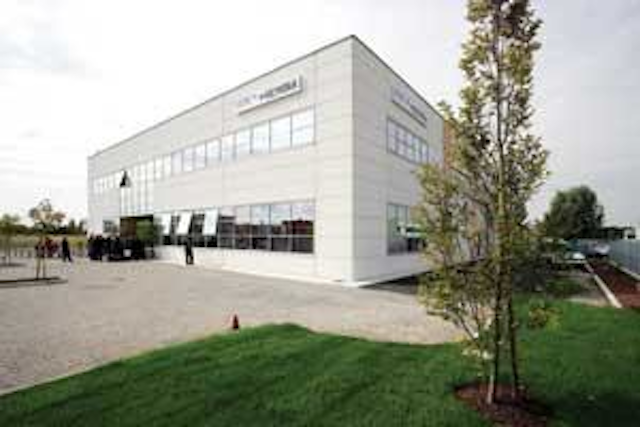 Isoil's Hemina production centre in Italy
Click here to enlarge image
To celebrate its 50th anniversary in 2008, Isoil Industria SpA chose to support the FAI (www.fondoambiente.it), an Italian NGO for the protection and development of the environment, with a personal contribution. The ISO 9001:2000 certified maker of magnetic flowmeters aims to concentrate more on the control and protection of the environment and to build up a solid know-how on liquids quality, especially in the water market, not only regarding leak detection during distribution but also with respect to external contamination. Operating in the flow, analysis, automation and controls markets, it's the first flowmeter company in Italy to obtain the MID and OIML R-49 certifications, which guarantee the correct water measuring. With its newly inaugurated Hemina production centre in Montagnana, near Padua, it recently launched — through the Isomag™ mark — the Flowiz™, a revolutionary battery flowmeter, equipped with a wireless communication system working through GPRS protocol. The new factory is a covered structure, double in size compared to the old one. New calibration lines will be SIT certified.
Isoil Industria SpA
Cinisello Balsamo, Italy
www.isomag.eu

Enquiry No. 32
---

Winning the battle to cut life cycle costs
Several years ago, P&M Pumps introduced its Rotamix and STM tank mixing systems to the UK for wastewater services — with an emphasis on efficiency and life cycle costs only too familiar today. These systems always use a Vaughan chopper pump to draw and return from the tank, vessel, lagoon, etc., with return flow distributed through strategically placed, high velocity nozzles, creating an important dual zone mixing pattern. The chopper pump reduces any solids to ensure free flow through nozzles and thus maximum homogenous mixing. To date, over 400 of these systems have been installed, with tank sizes ranging from 20-6,000 m3. The result in all cases was better quality sludge. This results in fewer pump failures in post mixing applications, less press or centrifuge maintenance and, often, a 25%+ increase of sludge dry solids (DS) though the system. These improvements resulted in significant cost savings and as a consequence, persuaded the operators to investigate other problem areas which would benefit from potential savings. One particular pump application which emerges time and again was digester heat exchange re-circulation, especially where spiral heat exchangers are installed, as there's a tendency for them to clog up with rag, fat and other rogue solids that account for most pump failures and downtime in water and waste applications. Using Vaughan chopper pumps in these applications, the need to clear either the pump or heat exchanger of regular blockages wasn't just reduced but eliminated.
P&M Pumps Ltd.
Huntingdon, UK
www.pandmpumps.co.uk
Vaughan Inc.
Montesano, Washington, USA
www.chopperpumps.com

Enquiry No. 33