PPPs help Czech Republic comply with EU directives
Managing Director Philippe Guitard and Technical Director Pavel Chudoba of Veolia Voda Central Europe and Russia report on the technical trends and challenges facing the water and wastewater treatment and distribution sector in the Czech Republic.
Aug 1st, 2006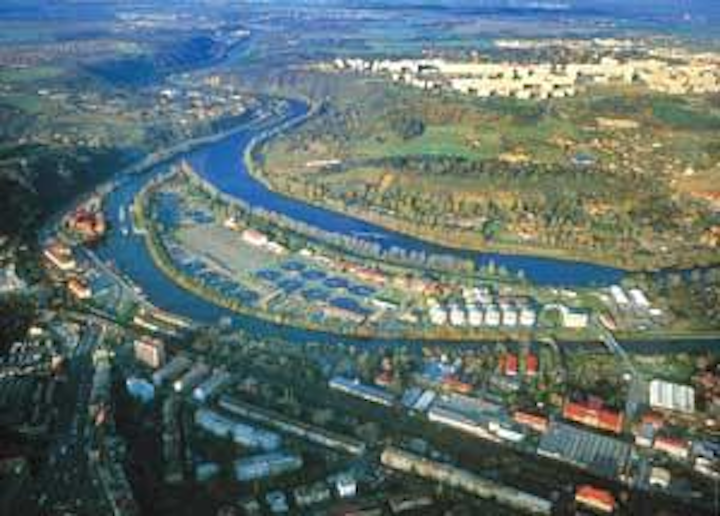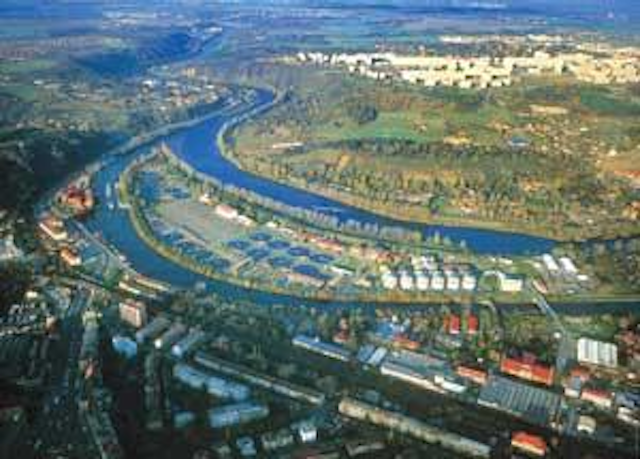 The Cisarksy Ostrov wastewater treatment plant in Prague treated 120 million cubic meters per year in 2005.
Click here to enlarge image
Managing Director Philippe Guitard and Technical Director Pavel Chudoba of Veolia Voda Central Europe and Russia report on the technical trends and challenges facing the water and wastewater treatment and distribution sector in the Czech Republic.
Philippe Guitard, Pavel Chudoba
Public private partnerships (PPP) in Central Europe present numerous advantages to municipalities, customers and employees, and can benefit all stakeholders.
In the Czech Republic, private companies supply 65% of the population; Veolia Water, through its subsidiary Veolia Voda, supplies 40 percent of the population with water and wastewater services.
Natural water resources, both underground and surface waters, in the Czech Republic are sufficient in quantity and quality. Few small local sources experience problems during hot summer weather, but large cities and regions enjoy continuous supplies of drinking water. More than 90 percent of the Czech population is connected to the public drinking water network, from which the quality of drinking water is controlled and monitored daily by water distribution companies. One key strategy of Czech water distribution companies, however, is the protection of natural water resources to preserve high water quality for future generations.
Drinking water plants, often built 20 to 30 years ago, were designed for a consumption rate of more than 250 liters per person per day. Today's average consumption rate is only half of the design capacity, i.e. 110 liters per person per day. Therefore, a serious operational problem of Czech drinking water treatment plants is that they often run at only 40 to 60 percent of their full capacity. This influences fixed operational costs, and consequently drinking water taxes.
The application of new EU regulations, requiring new quality parameters to be monitored and limited -- for example, pesticides, THM, and bromates -- affect drinking water quality. In order to cope with these new regulations, several drinking water plants have been upgraded with new, conventional technologies and operational approaches. Technologies, including flotation and lamella settling reactors of Veolia Water's Actiflo system, have been successfully used in several projects. During the last few years, chlorine dioxide, ultraviolet disinfection, and chloramines have replaced chlorine drinking water disinfection applications.
One of the largest projects that will be undertaken soon is the upgrading of ozonation and coagulation-flocculation stages at Zelivka drinking water plant in Prague that supplies 60 percent of the city population with water. Its capacity ranges from 3 to 3.5 cubic meters per second.
Municipalities are responsible for new investments, such as the rehabilitation of the drinking water network and asset management. Private water distribution companies are responsible for operation and maintenance of the network. For example, Veolia Voda started an ambitious program that reduced leakage from 38.2 percent to 23.9 percent within the past decade. The final target is set to reach below 20 percent.
As a member state of the European Union, the Czech Republic must implement EU standards, namely directive 91/271/EEC, in Czech legislation, and comply with these standards no later than the 31st December 2010. This compliance requires a large investment programme to construct new wastewater treatment plants and upgrade existing ones, to be able to treat nitrogen and phosphorus to a very low residual value. Most Czech wastewater treatment plants employ the activated sludge process in all its configurations, from which the most frequently used is the so-called R-D-N or R-An-D-N process.
The activated sludge process will probably remain the most frequently used technology, but will, in some cases, be completed by new, alternative technologies, such as biofiltration or membrane separation. Veolia Water's Biostyr® for post-denitrification or its Biosep® for small wastewater treatment plants with high quality effluent requirements will be implemented in some projects within a few years.
Biofiltration was not in the past considered as a technology suitable for the Czech wastewater treatment market, but recently the application of biofiltration for the post-denitrification stage was so recognized for its effectiveness that it is being installed in the Prague wastewater treatment plant.
Veolia helped municipalities solve a variety of operational problems by upgrading technology and processes in several wastewater treatment facilities. For example, the wastewater treatment plant in Olomouc, Czech Republic, now complies with effluent discharge regulations since the facility was reconstructed. Investment into the infrastructure in the Olomouc project involved the following:
Investment into infrastructure
Preferential loan during an operational contract period
Rent advance payment
Participation of Veolia on investment
Investment to operation:
Remote water flow meters readout
Application of new information technologies
Laboratories
Other major Veolia Voda projects in the Czech Republic include the Cisarksy Ostrov (Emperor Island) wastewater treatment plant in Prague, which treats a population of 1.2 million and treated 120 million m3/year in 2005. Another project in Prague is the Podoli water treatment plant, which acts as a standby regime (i.e. does not produce water continuously). The Synthesia wastewater treatment plant treats industrial wastewater from the Synthesia chemical factory and domestic wastewater from the city of Pardubice. It treated 12.3 million m3/year in 2005 and serves a population of 110,000 in addition to industrial clients.
Sludge treatment
Global production of waste sludge in the Czech Republic reached approximately 178,000 tonnes of dry solids in 2004. Approximately 65 percent of this production is used in agriculture, partly via composting, 21 percent is used for recultivation of old landfills and mines, and 14 percent is disposed at landfill. A common trend in the disposal of sludge to landfill is decreasing, while the proportion of sludge used to generate energy is increasing.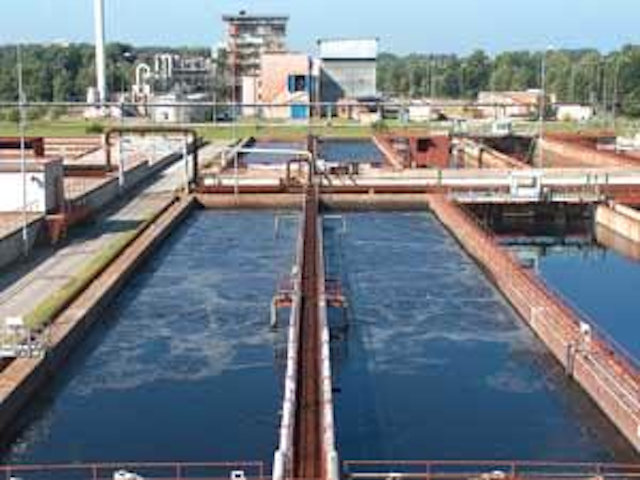 The Synthesia wastewater plant treats industrial and domestic wastewater from Pardubice.
Click here to enlarge image
Historically, anaerobic digestion of waste sludge has been implemented on a greater scale in the Czech Republic than many other countries. In the first stage of this sludge treatment process, primary and waste sludge is thickened and anaerobically stabilized at either 37°C or 55°C. Biogas generated from this process is used for heat and electricity production by cogeneration. Continuously increasing prices of fuel, coal, electricity, and gas, are making the energy potential of biogas even more valuable. Waste sludge from digestion can also be used for energy purposes, either via composting or by drying. It can be further co-incinerated in power plants together with coal, or co-incinerated in municipal waste incinerators.
The Veolia Voda Group has given high priority to the strategy of maximum energy valorization of sludge, some of which will be implemented in the upgrading of the Prague wastewater treatment plant.
Slovakia and Hungary
The Czech Republic shares similar conditions to the water sector in Slovakia where the PPP concept of private operator and municipal asset owner is the same and has started to be generally applied (for example, Poprad, Banska Bystrica). The Slovak Republic passed similar legislation implemented from EU directives, so technical priorities are the same. Consequently, new technologies including biofiltration or membrane separation and others will be progressively used in the upgrading of wastewater treatment projects. Much work is being achieved in sludge treatment and energy valorization of waste sludge, with higher electrical energy recovery from biogas.
In Hungary, legislation allows water companies based on the PPP strategy with minority participation of the private sector. Water companies are involved not only in operation, but also in asset management and investment strategy. The largest projects underway are the reconstruction of the Pest-North wastewater treatment plant and the construction of new facilities in Csepel. The strategy of sludge-to-energy has been progressively implemented at the Pest-South facility, where a new reception gate for food waste, constructed in 2005, increased biogas and electricity production by digestion of these wastes.
An expert network created two years ago by the technical director of Veolia Voda Central Europe and Russia, based in Prague, helps Czech and Hungarian operators in the field of anaerobic digestion, biogas and electrical energy production to learn from the experiences of other operational companies. The network's objective is to share information and operational experiences, and to look together for new progressive approaches to energy valorization of waste sludge.
Another example of Veolia's PPP experiences in Eastern Europe is the South wastewater treatment plant in the city of Pest, Hungary. The possibility of producing electricity from wastewater and organic waste, such as kitchen waste, would have been dismissed as ridiculous in the past; however this technology became a reality in 2000 at the South Pest plant of the Budapest Sewage Works Ltd.
This wastewater treatment plant now treats almost half of the capital's wastewater and uses more than a quarter of the organic matter content of the wastewater of Budapest to generate energy. Veolia invested its resources and technology into the new complex treatment line that receives organic matter content of 65,000 m3 of wastewater every day at the site, and uses it as a renewable source of energy. This installation saves 9,000 MW of electric energy and 11,000 MW of thermal energy every year. Veolia Voda is installing a similar installation at the North Pest plant of the Budapest Sewage Works Ltd. that will begin operating in 2007.
Veolia Water's successful service development within the Czech Republic has become the basis for related work in other Middle and East European countries. Active in the Czech Republic in the water environment since 1996, the company is the leader in Czech water management with a market share of 42 percent. Veolia Water operates water services for more than 1,200 cities and municipalities in the Czech Republic. In addition, the company operates the water management facilities of 19 industrial companies.
In Hungary, the company provides services to about two million people in the cities of Budapest, Szeged, Erd and Salgótarján. In Poland, Veolia Water manages PWiK, the operator of distribution and wastewater treatment in the towns of Tarnowskie Gory and Miastecko Slaskie, Silesia.
In May 2006, Veolia Water won the first two international calls for tenders issued by local authorities in Slovakia that cover all water services in the center of Slovakia (the Banska Bystrica district) and in the north of the country (the Poprad district). With these two contracts, Veolia Water will now manage water and wastewater services for 950,000 people in 750 towns and districts and will employ 2,000 people.
Authors' Note
Managing Director Philippe Guitard and Technical Director Pavel Chudoba of Veolia Voda Central Europe and Russia are based in Prague, Czech Republic. For more information, contact the authors at email: veolia@veoliavoda.cz.