Russian markets capture attention of European water companies
Growing opportunities in the Russian municipal water and wastewater markets depend on assurance of international investment and the demand for infrastructure development.
Apr 1st, 2006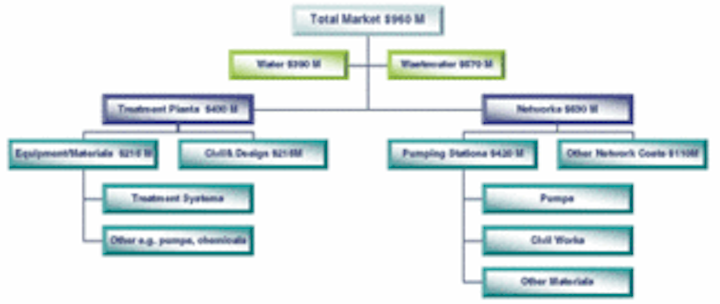 Growing opportunities in the Russian municipal water and wastewater markets depend on assurance of international investment and the demand for infrastructure development.
The Russian water and wastewater treatment markets have for some time now captured the attention of major water market players in Europe as a potentially large and expanding market.
Frost & Sullivan estimated that in 2005, the total revenues in the Russian water and wastewater treatment market, including networks and treatment plants, reached US$ 960 million. This indicates the budding promise of this market resting on the assurance of growing international investment, and the current established market demand for such infrastructural development.
Some of the key pointers to the growing demand base in Russia include:
• Increasing investment and financing programs (e.g. EBRD, World Bank, IFC, OECD, the EU, and the UNECE);
• Decentralization and increasing privatization of water facilities;
• Local business dynamics and budgetary restraints;
• Progressive legislation and improving implementation;
•Ageing infrastructure and major refurbishment needs in the cities:
• Growing awareness of environmental issues;
• Emerging demands for advanced and efficient technologies
The Russian government estimated international investment in 2004-05 to be about $1 billion principally from the EBRD, WB and other financial institutions in order to modernize facilities, improve operations and make them effective and efficient. In particular, this translates into interesting business opportunities for international water companies that manufacture equipment for the water and wastewater sector in Russia.
Growing internationalization and privatization
The Russian water and waste markets are increasingly buoyed by loans and investments from international financial institutions (IFIs) including the World Bank and European Bank for Reconstruction and Development (EBRD), which have assisted market development by ensuring a steady supply of funds into the region. A range of financing programs, including local, national and international agencies, are currently supporting the Russian water and wastewater treatment market. Most international agencies' efforts are concentrated on promoting the introduction of the private sector. Some of the key financing sources are: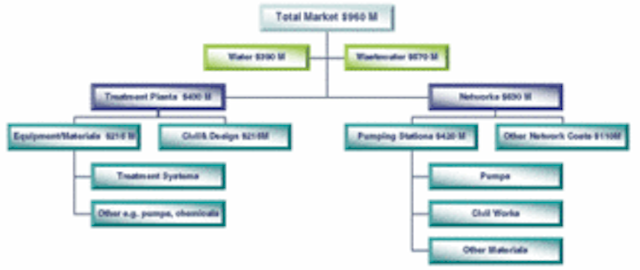 Figure 1. Overview of Russian municipal water and wastewater markets
Click here to enlarge image
a. Traditional annual subsidies from Russian federal and regional budgets, which are currently inadequate to meet the needs of reforming the ageing infrastructure. Most of the subsidies are allocated merely to emergency repair works such as patching leaking pipes and other actions.
b. Russian Big Business. In 2002, the so-called "oligarchs groups" entered the Russian public service industry with specific interest in the water and wastewater treatment market. These financial groups are actively involved or getting involved in Russian public utilities such as RAO UESR (Russian Joint Stock Company - Unified Energy System of Russia), which owns Rosiskiyi Komunalniyi Sistmi (Russian Communal System); and Alfa Group, which own RosVodokanal.
c. International aid agencies. Agencies including the International Finance Corporation (IFC), OECD, World Bank and European Bank for Reconstruction and Development (EBRD), EU have already formed investment programs to encourage market activity in the area.
Growing international investment is principally targeted at facilitating growing private sector participation in the Russian municipal water markets. As a result in the recent past, several private enterprises received management contracts to run large-scale municipal infrastructure facilities including "Russian Communal Systems" (Blagoveschensk, Tomsk, Tambov, Volgograd), "Rosvodokanal" (Orenburg), "Novogor-Prikamie" (Perm), and "Eurasian Water Partnership" (Omsk).
The debate continues...
Privatisation and growing internationalisation have not succeeded in winning over all the players in this region however. Local counterparts maintain a healthy degree of skepticism who view the participation of foreign companies as an unsteadying influence on local market conditions. International companies are viewed as concentrating their gains from only the major cities namely St. Petersburg and Moscow. To some extent, therefore, international investment and positive trends are also specific to these two regions leading to a concentrated and skewed market development in Russia.
Privatization has other enemies who oppose the ideological shift with respect to the government's responsibility and prerogative to cater to critical issues such as water and sanitation. Critics point to the many failures of private initiatives in this sector which have led to increasing prices and an undue emphasis on profit maximisation, all of which could potentially lead to a fall in the number of people covered under the sewage network pipelines.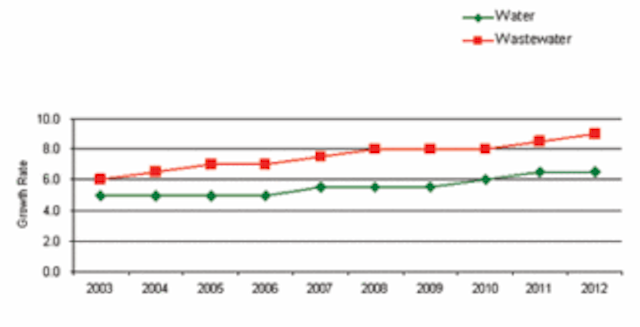 Figure 2. Growth rates for water and wastewater treatment in the Russian municipal market over the period 2002-2012.
Click here to enlarge image
While the ideological debate continues on the pros and cons of privatisation, a steady increase in the flow of international funds into this region is indicative of a future course of action. Evidence of growing market opportunities is provided by increasing participation and competition among large international conglomerates, including Degrémont, Veolia Water, WTE, YIT, SAUR and Severn Trent.
Current prospects and growth opportunities
The Russian water and wastewater treatment market provides diverse opportunities across a wide range of segments including networks and treatment plants. Current prospects are in favor of networks owing to the considerable need for investment in repair, replacement and maintenance of the existing networks. Figure 1 presents an overview of the total Russian municipal water and wastewater markets.
Overall, the wastewater treatment segment leads market revenues owing to the need for urgent investments in the sector, which has suffered many decades of neglect and severe under-capacities. The water sector on the other hand is driven mainly by the need for upgrades and replacements.
Significant potential exists across the municipal water and wastewater markets in Russia with networks currently leading investment and demand owing to the significant need for infrastructure re-building and facilities development across the region. A majority of investment is therefore targeted at refurbishment works, which considering the acute need for such upgrades, bolsters market potential considerably.
Given the nascent stage of development within this segment of the treatment equipment market, a similar emphasis on equipment and civil construction is evident. Emerging interest in advanced solutions, such as technologically advanced filtration systems, specifically membrane systems has presented interesting opportunities for international competitors. Figure 2 presents growth rates for water and wastewater treatment in the Russian municipal market over the period 2002-2012.
Wastewater is expected to experience greater investment and higher growth rates over the forecast period. This trend is mainly because wastewater treatment is a relatively newer market wherein most cities don't yet have an established infrastructure to cater to effluent treatment norms while demand for water is supported primarily by the need for refurbishment and upgrades. Investment at wastewater level is therefore focused on establishment of new infrastructure, while water investment is focused on upgrading existing purification systems to bring advanced treatment technologies.
The way forward
Evidently, Russia presents attractive growth opportunities over the medium and long term as revenues and growth rates in the market pick up. Much will depend on the government's ability to keep pace with growing demand, direct investment towards appropriate channels, and to enforce legislative compliance in the region. Success in the local market involves a combination of many factors for international players including facilitating project financing, strategic partnering with local players, and potentially the ability to face stiff price competition.
Challenges in the Russian market are quite significant owing to the very nature of market development. The geographic area is widespread and local conditions vary extensively with current demand centered on the main cities of Moscow and St. Petersburg where investment and international competition is concentrated. Accordingly, suppliers have also focused on these parts as entry points into the Russian market. Local players continue to control the majority of market shares in these regions, up to 70 percent of total market revenues in 2005.
The main strategy adopted by international players to gain advantage in this market development includes evolving strategic partnerships with local players, some of which are already in practice. For example, these international companies include: Biasi (Italian manufacturer of boilers); COES (Italian manufacturer of plastic pipes and heated floors); Thermaflex (Dutch manufacturer of piping systems); Vaillant (German manufacturer of gas water heaters); and Valsir (Italian manufacturer of water supply complexes and fittings). Joint manufacturing is another successful strategy for entry into the Russian water markets, exemplified by the Russian-Italian joint venture company, Valtec, specializing in metal-plastic pipes.
The chief stumbling block international companies face in this market is the continued apprehension and reluctance of local authorities and companies to integrate these players into the market. Potentially, as the market expands and long-term involvement and stability of international players are ensured beyond just the current key regions of Moscow and St. Petersburg, market confidence and openness to integrate newer and more players will gradually rise. An improved understanding of local business practices, which are quite distinct, will further support this integration process.
The promise of future growth in Russia, a relatively new market recently opened up to international competition, has much of the water market quite keen and eager. Sustained investment and interest in this complex market will assist suppliers to make the most of these opportunities and successfully integrate with local market conditions.
Author's Note
Suchitra Padmanabhan is an industry analyst for Frost & Sullivan, an international growth consulting company headquartered in Palo Alto, USA.
For more information about the following research "Strategic Snapshot of the Russian Municipal Water and Wastewater Markets" please send your details to Magdalena Oberland, Corporate Communications, Frost & Sullivan by email to: magdalena.oberland@frost.com.