Alpine resort leads the way in wastewater treatment
An advanced wastewater treatment and management solution from Air Products helps a popular French ski resort manage dramatic seasonal demand changes in its wastewater system.
Apr 1st, 2006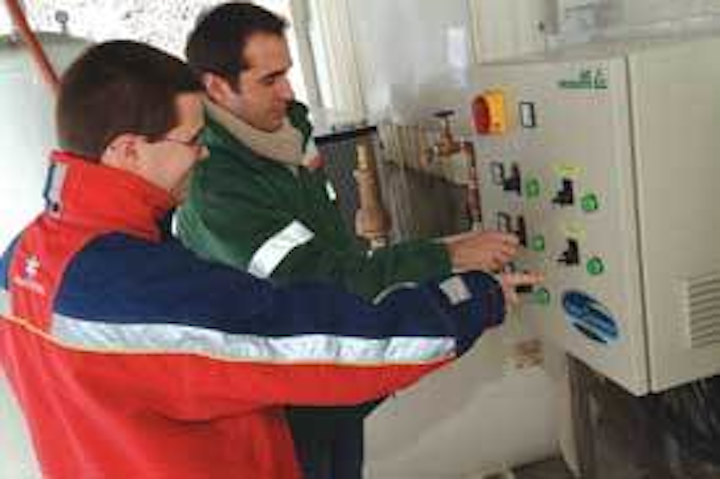 An advanced wastewater treatment and management solution from Air Products helps a popular French ski resort manage dramatic seasonal demand changes in its wastewater treatment system.
One of the world's most popular ski resorts, Courchevel in the French Alps, introduced a wastewater treatment system that can manage a massive increase in capacity needed during the busy winter months.
From December through to February, an influx of winter tourists boosts the population of Courchevel more than threefold. The local authority, the Syndicat Intercommunal d'Assainissement de la Vanoise (SIAV), currently relies upon the wastewater treatment facility at nearby Bozel to manage and treat biological and chemical effluent from Courchevel and the surrounding area. A brand new purification plant is currently under development to serve the area beginning in 2007.
The traditional aerated wastewater treatment system at Bozel had been using surface aeration to boost its capacity during the winter months; however, this was becoming increasingly difficult. The facility's oxygenation limit peaked at 2,400 kg per day and an estimated 30% increase in capacity - 3,180 kg per day - was needed to meet seasonal peaks in demand.
While the new purification plant would address the under-capacity in 2007, SIAV needed to find an interim solution while minimizing any environmental impact. In particular, SIAV officials were concerned that expanding the facility would create a local transport issue, requiring more deliveries of liquid oxygen at a time of year when road conditions can be treacherous.
Working with Air Products, Marc Pelissier, manager of Bozel's wastewater treatment facility and Eric Chaumaud, the SIAV director general of public services, opted for an advanced wastewater treatment and management solution, known as the OXY-DEP® VSA system, which works by extracting oxygen from the atmosphere for use in the aeration process. The system increases facility capacity, is easy to install, and eliminates the need to store oxygen supplies on site.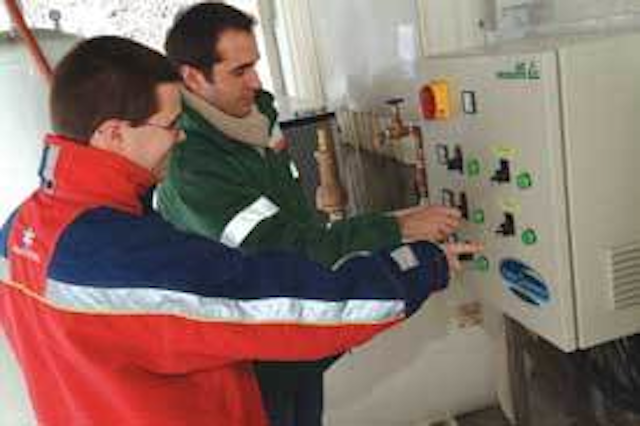 Samy Sablayrolles of Air Products (right) joins SIAV Plant Manager Marc Pellisier (left), to test Air Products' OXY-DEP® technology.
Click here to enlarge image
Traditional aerated wastewater treatment systems work by reducing the oxygen demand of the wastewater by dissolving the oxygen found in the air as much as possible to encourage the growth of natural micro organisms or bacteria that cleanse the water and remove organic and other contaminants. The new system works in the same way, but uses high purity oxygen to aerate the wastewater, providing increased capacity due to the faster rate of oxygen dissolution. Installed as a compact, modular unit, complete with two 5.5-kW mixer-oxygenators, the new system at Bozel can reduce oxygen demand by as much as 875kg a day - a population equivalent of more than 14,000.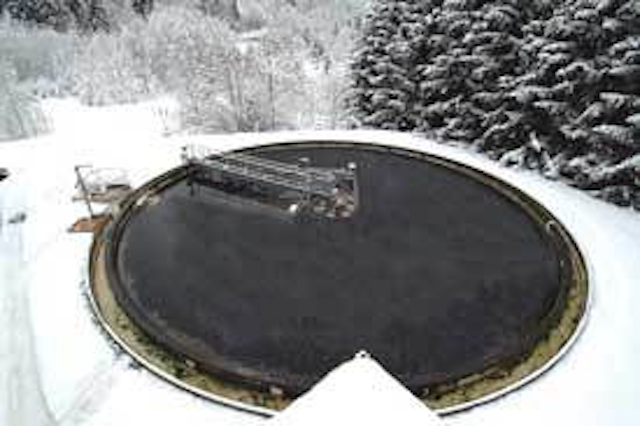 A clarifier is used in the final stage of the process before wastewater is discharged.
Click here to enlarge image
Marc Pelissier commented: "The system is highly flexible and can be adjusted to increase the flow of oxygen to meet seasonal peaks in demand easily. As all the oxygen is now effectively produced on site we do not need bulk liquid oxygen deliveries to the facility and this has meant reduced running costs and improved plant sustainability."
The exceptionally cold weather conditions pose another challenge. During the winter months, when temperatures in Courchevel dip to below 0OC, discharge levels of some contaminants such as ammonia can increase. The use of pure oxygen can increase the process temperature slightly in order to help reduce emissions by keeping key bacteria at a preferred temperature.
According to Samy Sablayrolles, Air Products' environmental project engineer, "Courchevel and the surrounding villages provided us with an extreme case study for our OXY-DEP VSA system. Not only does the wastewater treatment facility at Bozel experience massive variations in demand, the climactic conditions and in particular the cold temperatures are challenging. The system has proved successful on all counts and its flexibility means it is ideal as a means of updating and increasing the capacity of wastewater treatment facilities in other ski or summer resorts in Europe and beyond."
Plant managers can assess the efficiency of an existing wastewater treatment system using an online process risk assessment tool at www.airproducts.co.uk/environmental.
Author's Note
Peter Barratt is the manager of Air Products' European Environmental & Clean Technology, based in the UK. For more information, contact the author by email at: barratpa@airproducts.com.
---

OXY-DEP VSA system features
• Control - These systems offer greater control over running costs by taking oxygen from the air and avoiding the need to store supplies.
• Efficiency - These high performance systems are highly efficient and are capable of reducing oxygen demand by 250kg a day or as much as five tonnes a day from a single, modular unit.
• Simplicity - Tried and tested technology, based on the traditional aeration system, the new oxygen systems are easy to install and don't require existing tanks to be drained down.
• Flexibility - Designed to be flexible to variations in demand and can be adapted for more specialist wastewater treatment..