Framework equipment contracts avoid competitive tendering problems
Equipment suppliers contend that framework contracts resolve costly mechanical plant problems, build client trust and ensure repeat business.
Oct 1st, 2004
Equipment suppliers contend that framework contracts resolve costly mechanical plant problems, build client trust and ensure repeat business.
Framework contracts can resolve problems caused by competitive tendering for mechanical engineering equipment in the water industry, such as unnecessary and cumulative price increases, distrust between supplier and purchaser, and less-than-optimum equipment design.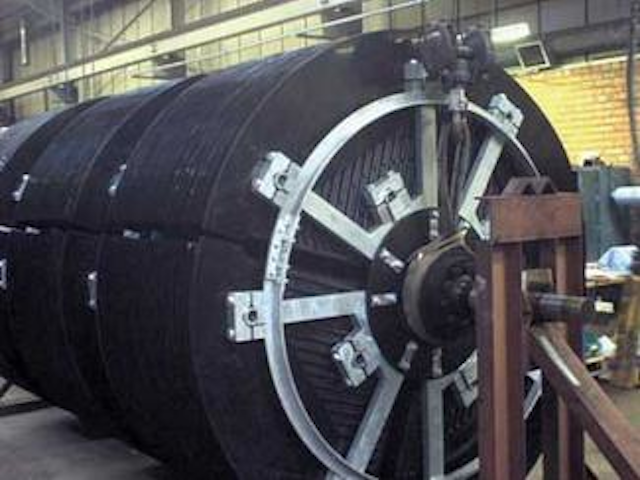 A completed rotor, manufactured by Copa Ltd for use in wastewater treatment plants.
Click here to enlarge image
Historically, purchasers invited competitive tenders from a maximum of six suppliers to get the most value for their money, but purchasers and mechanical contractors are discovering the advantages of employing framework contracts.
Competitive tenders clearly define the nature of the works and compel suppliers to look very carefully at their submission to ensure it is cost-effective. Generally, tender documents give little opportunity for the contractor to influence or change the design. If the tender specification is not carefully prepared, experienced contractors have the opportunity to increase final accounts through variations and claims.
The engineer has to some extent controlled this practice and contractors have had to modify their approach by becoming less aggressive or risk losing tendering opportunities, but claims are still the norm.
Incredibly, mechanical contractors have not been subjected to the same degree of scrutiny, particularly in an industry so dependent on mechanical plant. The engineer simply procures plant and suppliers tender against known competitors, leaving open the opportunity for unscrupulous mechanical contractors for contractors to reduce the size of components.
Regardless of the specification, clause 31(xii) of the General Conditions for Water Industry Plant Contracts-Form G / 90 assists contractors who wish to design for a lesser life than specified. The contractor's liability is limited to three years from the date of take over. Any defects after the three-year period are the responsibility of the purchaser. This policy holds true in regards to all mechanical plant but is particularly relevant to rotating biological contactors (RBCs), commonly used in small wastewater treatment facilities.
No sensible contractor would wish to rigidly adhere to a three-year design policy since they would inevitably find their commercial opportunities restricted. In many cases, however, operators may feel eight to ten years is acceptable. A small additional increase in the capital cost could provide a much longer life with significant financial advantages but invariably this bid will be rejected.
Any supplier submitting a tender document is aware that the engineer is likely to accept the lowest capital price, so any statement that the additional cost will increase the life of the plant would have to be well justified. Not all suppliers choose to market high quality and robust plant, such as the Cranfield University-accredited RBC design. Some suppliers prefer to offer cheaper capital cost options relying on the engineer and purchaser's lack of knowledge when selecting mechanical plant. This practise will continue until such time as contracts are correctly awarded on a true whole life cost basis.
Suppliers are usually viewed as having a beneficial interest and being not trustworthy, although suppliers may have more information on equipment than the engineer. Unfortunately that cynicism has been responsible for many unnecessary increases in costs and could have been easily resolved if the engineer had better understood the supplier's design to the same level as his own or had a relationship of trust with his supplier.
Suppliers are not blameless for this lack of trust. Until recently, suppliers refused to disclose their design details to customers claiming commercial sensitivity. In certain instances this may be a valid reason, however design copy write and patent provisions equally protect their interests.
On various occasions, the UK company Copa Ltd has advised clients that the specification was not appropriate in certain areas of design, but rarely is the specification revised. Suppliers obtain a wealth of knowledge by installing and commissioning plant, which is invaluable to the industry, but rarely is their opinion sought. Copa manufactures a range of sewage treatment equipment including rotating biological contactors used in wastewater treatment plants.
Similarly, where RBCs are tendered, the specification frequently omits any reference to key parameters determining life and whole life costs. True tender evaluation is absolutely impossible when these parameters are absent and choices include a wide range of mechanical plant with different working life spans.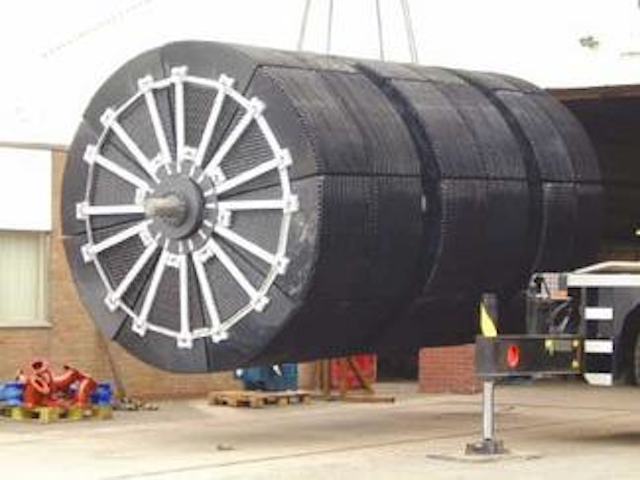 A rotor is being loaded onto a truck.
Click here to enlarge image
Competitive tendering for mechanical engineering equipment in the water industry not only risks the provision of equipment, which may prove unsatisfactory to the operator, the process risks unnecessary and cumulative cost increases. Framework contracts have solved some of these problems; therefore providing a better system of procuring equipment and services than competitive tendering for the UK water industry.
Framework contracts first started to appear in the UK in 1999. They benefit the purchaser by reducing cost, building trust between parties and providing an opportunity to educate. Their objective is to build a long-term working relationship based on trust, open and honest dealing and a commitment to work with the client in a co-operative manner in order to improve quality, reduce costs and achieve continuous improvement without compromising health and safety.
To achieve these objectives, the supplier must effectively behave as if he was the water industry's direct labour contractor, albeit privately owned, and therefore financially independent of the water company. The supplier must be totally dedicated to achieving the objectives of his framework partner. By developing a culture based on teamwork and trust, then he can reasonably be assured that future work will follow, provided his client is completely satisfied with the end product and overall service.
Clear lines of communication are essential with constructive criticism and praise being an important part of teamwork.
The client must be more than just a silent partner. He must be keen to work with the supplier, learning, innovating and providing a regular and constant flow of work. His role must be one of friendship and openness, sharing wherever possible information regarding his plans for future expenditure.
These commitments enable the supplier to produce a quality product with zero defects and to earn a reasonable profit for his endeavours. It enables a full understanding of the supplier's design and the client's needs.
The engineer should fully understand the design, but he must observe normal contractual good practise since the supplier's knowledge base is likely to be greater and his understanding of mechanical philosophy better.
Framework contracts avoid the need to tender each individual contract, thereby saving money for the purchaser and supplier. For example, in the case of combined sewer overflow (CSO) screens, there are significant advantages to considering the whole catchment and not merely the localised problem, and to work with the client's consulting engineer to reduce costs, and educate him on layout, machinery design and selection.
Similarly, costs for RBCs are commonly higher than necessary due to elaborate process designs and site layout considerations fuelled by lack of understanding.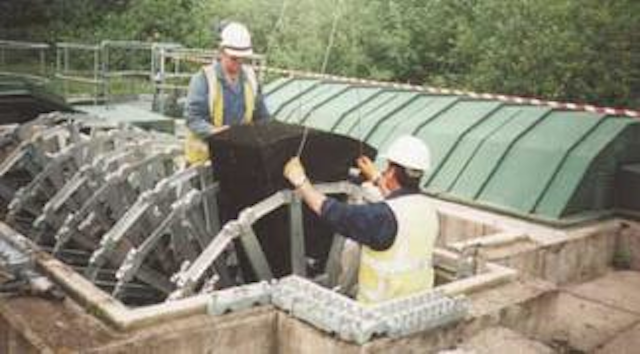 A rotor section of a rotating biological contactor is being installed.
Click here to enlarge image
Severn Trent Water Ltd developed a number of innovative techniques to substantially reduce costs and improve quality, which are available to all Copa's RBC clients. Occasionally an engineer or operator believes his process knowledge is better and rejects the STW philosophy; however where there is a framework, or just trust, advice is accepted, repeat business is assured, and efficiencies are achieved.
Grouping schemes together is advantageous. The supplier can achieve significant savings not only within his own factory but also throughout the supply chain by adopting a "flow process" approach to production methods. Savings can be passed on to the purchaser in target cost contracts that are linked to framework contracts.
Copa Ltd reduced the number of suppliers from more than 300 to less than 100, preferring to enter into long-term framework arrangements with key suppliers, some of which are open book, target cost agreements. In this way, Copa benefits from a fully committed and flexible supply chain focussed on delivering first class service and products. All the benefits of the supply chain are passed on to clients.
Some water companies choose to have a minimum of two suppliers, thereby seeking security should one contractor fail to deliver. Others elect to place their works with the most cost-effective contractor, whom they trust.
Regardless of the adopted method, the supplier must ensure that the client obtains value for money and that prices are robust and sustainable. The supplier must also ensure that the framework client obtains preferential treatment, which may result in selective tendering of competitive bids when a framework is not in place.
The correct supplier must be chosen to avoid unnecessary costs and delays. There can be no greater disadvantage to a purchaser than to embark upon a framework agreement only to find that the resultant plant or service does not meet expectations. This may occur after several plants have been installed and are not working satisfactory. If this happens, the only option is to rethink the policy or to default to a secondary supplier and obtain a replacement often with unnecessary cost implications.
Adopting a framework approach can only serve to resolve such difficulties, encouraging the industry to raise the quality of design and seriously consider the old adage that "the good engineer is the gentlemen who can do for a penny what a fool can do for a pound!"
Authors' Note
D A Scale is the director of Copa Ltd, and Professor G Eric Findlay is the RBC of Copa Ltd, based in West Bromwich, United Kingdom.