Auckland's sludge yields more biogas, reduced biosolids
Purac's sonix™ technology saves money by generating up to 75% more biogas, reducing sludge volumes and ultimate disposal costs.
Oct 1st, 2004
Purac's sonix™ technology saves money by generating up to 75% more biogas, reducing sludge volumes and ultimate disposal costs.
The New Zealand company Watercare Services Ltd and UK process engineering specialists Purac Ltd. improved the secondary sludge digestion process in the country's largest wastewater treatment plant by using sonix™ technology, which significantly reduces the amount of biosolids produced.
The Mangere Water Reclamation Plant serves the majority of the city of Auckland in North Island, with a population of around 800,000 people. For several months, the two companies have been collaborating to find the best value, most sustainable solution to optimise digester performance following recent extensive upgrades to the plant. This is the world's largest cell lysis plant with 432 kW installed ultrasonic treatment capacity, with provision to extend to 480 kW.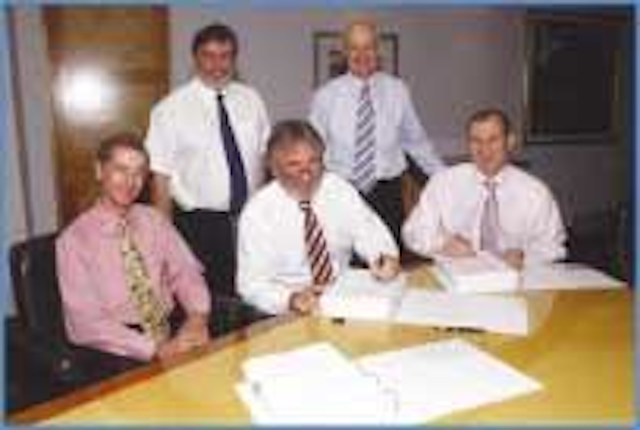 Official signing ceremony in Auckland included (back row, l-4) Mike Crane, Purac; Derrick Adams, Watercare Services Ltd; (front row) Kevin Beesley and Mark Ford of Watercare Services; and Malcolm Wilkinson, Managing Director of Purac Ltd.
Click here to enlarge image
"The plant at Mangere has undergone recent extensive upgrades to intensify and enhance the treatment processes thereby reclaiming valuable wetland habitat and land area previously used as large oxidation ponds," said Malcolm Wilkinson, Purac's managing director. He explained that the upgrades improved final effluent discharge quality to meet new, more stringent consent levels.
Wilkinson commented: "By improving the digestion process using sonix ultrasound technology, Watercare Services will be able to realise greater quantities of biogas, making better use of the co-generation facilities on site and significantly reduce the quantity of biosolids produced. Better digestion stability will make the plant easier to operate, minimising chemical usage for activities such as sludge dewatering, lime stabilisation and foam control."
Improvements brought about by the use of the sonix technology will be available almost immediately. The anticipated payback period for the investment meets Watercare Services stringent investment criteria, making this a cost effective, environmentally attractive solution for the advanced treatment of secondary sludge problems.
Watercare Services' Chief Executive Mark Ford explained: "When it opened in April 2003, the Mangere plant was the most sophisticated wastewater treatment plant in the southern hemisphere, featuring banks of pathogen-killing ultraviolet lights. Now with sonix ultrasonic cell lysis, we have yet another layer of protection for public health, and the ecological health of the Manukau Harbour. The improved energy efficiency is consistent with the company's sustainable business development policies."
What is sonix?
The use of ultrasound to enhance anaerobic digestion has been studied at laboratory scale for decades, but Sonico, a joint venture company between global engineering consultancy W S Atkins Consultants Ltd and leading process engineering firm Purac Ltd, developed the technology to a full-scale plant capable of delivering exceptional performance in "real world" scenarios. The technology uses high-powered, concentrated ultrasound to condition wastewaters and sludges prior to further treatment.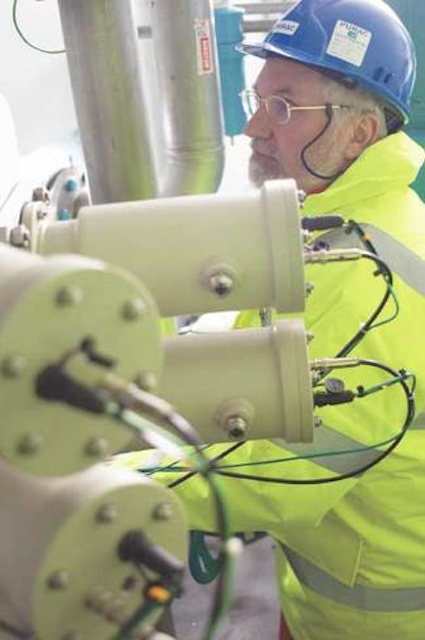 A Purac engineer fine tunes a sonix system in situ.
Click here to enlarge image
The sonix technology focuses ultrasound through a radial horn - or Sonotrode. The intense energy focused by the horn causes significant cavitation within the fluid. The cavitation generates extremely high temperatures and pressures rupturing cellular material, massively improving the degradation of secondary sludges thereby enhancing gas production.
The sonix reactor can easily be retrofitted into existing pipelines and its small footprint, low operating costs and ease of operation provide treatment managers with a means to increase Secondary Activated Sludge (SAS) proportions to greater than 70% in the digester feed and achieve typical dry solids destruction levels of more than 55%.
The use of sonix saves money. The sonix process reduces the mass and volume of sludge, resulting in far lower disposal costs, and because sonix substantially improves the degradation of secondary sludges, it provides greater gas yields, up to 75% more. The amount of energy released in the process can be up to 20 times the power absorbed, making it an extremely green technology. Operated in conjunction with combined heat and power systems, for example, as it will be at the Mangere plant, the technology becomes even more attractive. The waste produced by the process is more stable and produces fewer odours. Because of the dewatering effect of the process, fewer transport activities and less land is required for ultimate recycling, reducing costs still further.
Author's Note
Mike Crane is the director of engineering and technology for Purac, based in Kidderminster, West Midlands, England.