Flood grouting tool solves inflow and infiltration problems
Municipal sewer management teams could employ the sewer sealing process, Sanipor, using their own maintenance crews, rather than hiring authorised local contractors, says one satisfied municipal client.
Oct 1st, 2004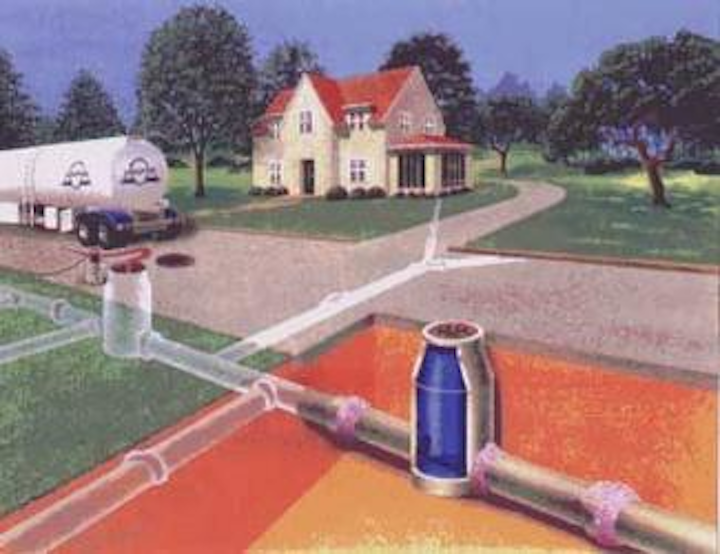 Municipal sewer management teams could employ the sewer sealing process, Sanipor, using their own maintenance crews, rather than hiring authorised local contractors, says one satisfied municipal client.
Flood grouting, a form of soil injection and stabilisation, has sealed sewers for many years in Europe; however recent applications of the sewer sealing system Sanipor in Lafayette, Louisiana, USA, indicate that this proven technology can be used by municipal sewer management teams in system maintenance projects, and as a tool to reduce serious inflow and infiltration problems.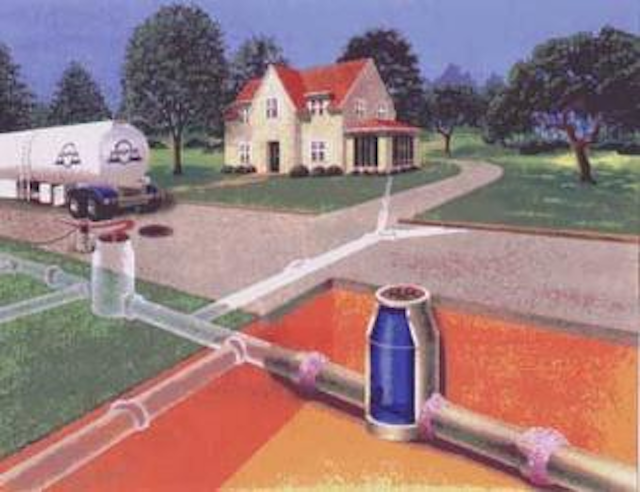 Process schematic of Sanipor
Click here to enlarge image
Flood grouting was developed at the Hungarian Academy of Sciences in 1965 and has been successively improved through three generations of product. Little is known about Tamas Szekely's original Supersilic development, replaced in 1975 by Ferenc Csanda's Super Aqua. Super Aqua was widely used to stop infiltration in sewers in Hungary and Poland before it was applied in the UK in 1986. Sanipor, using chemical components selected for their environmental suitability, was developed at the Hungarian Academy's Research Laboratory for Inorganic Chemistry in 1987.
Engineers from the UK company Southern Water were pioneers in trenchless technologies, who set up development contracts to evaluate fledgling processes in the mid-1980s. One contract in 1986 evaluated Super Aqua, which sealed 3.55km of 150-mm to 300-mm sewer, 1430 laterals and 65 manholes for US$ 90/m in only ten weeks. According to Supervising Engineer John Reynolds, now at Portsmouth University, the acceptance tests were "all 100% at completion" and the project was reported in the 1987 No Dig Conference Proceedings.
UK contractor Warings was involved in the trial and was quick to secure a licence for the emerging Sanipor system. They built strong relationships with regional water companies, district councils and local industries, sealing more than 60 kms of pipe and lateral in their first seven years in business. At the same time, immediately post- privatisation, the UK's sewer renovation programme targeting critical sewers went into a steep decline losing 60% volume from which it has only slowly recovered. Meanwhile Sanipor entered the market in Germany and the USA.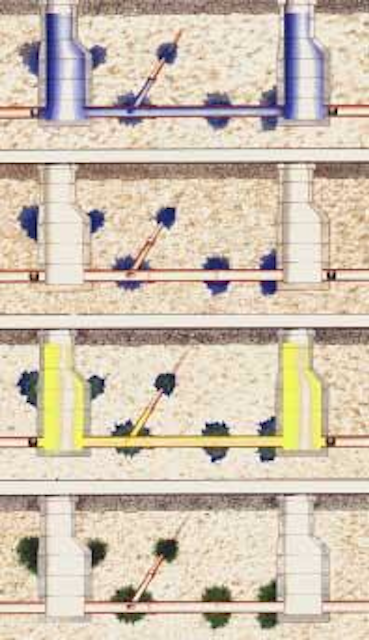 Sanipor process stages.

Stage 1. Flood the network with S1 to saturate the soil surrounding leakage paths.

Stage 2. Pump out surplus S1

Stage 3. Flood the network with S2 to combine with S1 at leakage sites.

Stage 4. Pump out surplus S2 leaving the gel mass surrounding leakage sites.
Click here to enlarge image
The Sanipor system can isolate and seal an entire local sewer network, including the main pipe, laterals and manholes in one operation. Sanipor uses silicate-based chemicals to permeate through leaking joints and cracks to form a stable and durable gel mass with surrounding material that stops infiltration and exfiltration, and strengthens the bedding of the pipeline. The system can usually complete a length of sewer main section complete with manholes and service laterals in a day. The process targets structurally sound sewer (Grade 3 and better) subject to joint leakage and minor cracking.
The use of silicate-based grouts for ground stabilisation in civil engineering is well known, and has been used since 1886. Independent laboratory testing has confirmed the chemical stability, strength and impermeability of the gel combined with sand and granular materials commonly used for pipe bedding. The chemical components have been shown to be harmless to the environment.
Examples of durable flood grouting are not hard to find. In 1994, Sanipor GmbH sealed sewers in Berlin that were suffering gross infiltration through 88 leakage points in 460 m of 350- to 500-mm sewer, sufficient to block the pipes with sand and generate significant settlement at ground level. These same pipes examined by CCTV in January 2004 exhibited only four points of minor leakage. Sewers in Germany are regularly examined and tested for leakage. Sanipor has matured in one of Europe's most demanding sewer market, in which permitting sewers to leak is deemed a criminal act.
Sanipor has not been widely used in the USA in recent years, but in 1992 the sanitary sewers serving Boca Siega Island at St. Petersburg Beach, Florida, were experiencing extreme salt water infiltration, estimated at 167,420 gallons per day. Sanipor stopped most of the leakage, sealing the 3,286 feet of eight-inch pipe and associated laterals and manholes and eliminating the chloride contamination of the sewage. The sealing costs were fully recovered by the subsequent reduction in pumping costs. In March 2002, minor leakage was identified in 5% of the joints during a re-examination of three of the worst sewers in this catchment.
Reynolds again explored Sanipor's cost effectiveness in 1995 when he reviewed the performance of Thames Water's Lambourne Valley Project undertaken in 1990 when 11,676 feet of six 12-inch sewer pipes and 5,840 feet of four-inch lateral were sealed. He examined the records of three pumping stations serving the catchments in the Lamborne Valley and discovered that those stations fed by sewers in the treated areas enjoyed a marked reduction in pumping hours. He concluded that Sanipor had reduced the wet weather flows, mainly infiltration, by more than 90%.
European experience suggests that Sanipor has great potential in helping to solve the inflow and infiltration (I/I) problems of sewers in the USA as cities turn their attention towards Capacity Assurance, Management, Operation and Maintenance (CMOM) and General Accounting Standards Board (GASB-34) programmes. Recently, the Trenchless Technology Center at Louisiana Technical University scrutinised an application of Sanipor by the Wastewater Collection Division of the Lafayette Utility System (LUS) as a case study for their Water Environment Research Foundation (WERF) funded project "Identifying Methods for Cost Effective Rehabilitation of Private Lateral Sewers." In April 2003 the Lafayette project sealed five lines comprising 1,473 feet of eight-inch main clay pipe, 26 four-inch clay and PVC service lines totalling 1,752 feet, four 48-inch and three 36-inch manholes, six to eight feet deep.
Lafayette has serious problems with I/I in areas with clay and concrete sewers; leakage occurs through brickwork in manholes, through pipe joints and particularly service laterals. LUS cleaned the pipes and undertook preliminary CCTV surveys to assess structural condition and severity of infiltration. Two way clean outs were installed close to houses so that the sections to be sealed could be isolated using inflatable plugs. Service lateral lengths ranged 20 to120 feet from the clean out to the sewer main. Sewer lengths were selected according to severity, isolated and given the Sanipor treatment.
The sections were flushed and flooded with water and monitored to measure the leakage rate prior to treatment. The next day, the isolated section was filled to street level with chemical solution S1 from a tanker vehicle. The hydrostatic head forced the S1 material into the leakage paths and cracks and saturated the pipe surround, S1 levels were topped up as necessary. After a due period the surplus S1 was pumped back into the vehicle and the quantity of material used determined. The line was flushed with water to remove any excess S1 and then filled with S2. The S2 solution reacted with the S1 material residing in the cracks, leakage paths and surround bedding to form a strong, dense and impermeable gel mass around the pipe. The flow of S2 into the surround determined whether it was necessary to repeat the procedure. If so, the residual S2 was pumped back in to its tanker vehicle and the cycle repeated. On completion the isolated network was flushed out and returned to service.
The final S2 cycle was the determining quality control test; stable levels indicate complete sealing. Leakage rates from the initial water exfiltration test and the final S2 cycle measured the extent of seal. In the event the project was undertaken in ten sections, six were sealed in a single treatment, three required a second cycle, and one needed a third treatment. Measurements on the four main sections treated, covering 90% of the main eight-inch pipe and all the service laterals, indicated that an average leakage rate of 0.285 gallons per minute dropped to 0.02 gallons per minute, a 93% leakage rate reduction.
This substantially improved I/I rate, significantly better than the leak rate permitted in EN 1610:1997, and the Greenbook SSPWC 306-1.4 was achieved at a cost of $72,800. LUS estimates that sealing by other means, lining the main, service laterals and manholes would have cost $111, 256. The TTC monitoring team reported that this was a first time project for the subcontractor and noted that a number of problems were encountered with inadequate equipment, incomplete survey and heavy rain prior to Sanipor treatment. With improved preparation and greater experience, treatment costs could fall to $55,000.
LUS Manager Steven Rainey is seeking further opportunities to use the process. He demonstrated that it is possible to seal the whole system, including badly deteriorated manholes and service laterals, and to work in the street and on private property with a minimal inconvenience to customers. He described Sanipor as a great alternative, the most cost effective method to seal the total system and observed that it could be regarded as maintenance work that the City of Lafayette could undertake using its own employees instead of private contractors.
In making this statement, Rainey may well have heralded a whole new approach to the use of this proven technology. The process uses equipment that most municipalities hold in their inventory, such as jetting and inspection equipment, tankers, inflatable plugs and all the usual sewer access and safety equipment. The procedures and calculations are quickly learned and well within the purview of the city sewer management team. The processing cost can be directly equated with wastewater treatment costs as Reynolds has earlier shown and in future Sanipor may come to be regarded as system maintenance project and a tool in the municipality's CMOM strategy.
Author's Note
Dr. Dec Downey is a principal of Jason Consultants Group and is located in Tilbrook, Huntingdon, UK. For more information, contact him at the by email at: dec.downey@jasonconsult.com