Software helps utilities solve water issues in Latin America
Latin American utilities turn to Haestad Methods' water resources software to meet Millennium Development Goals.
Jun 1st, 2004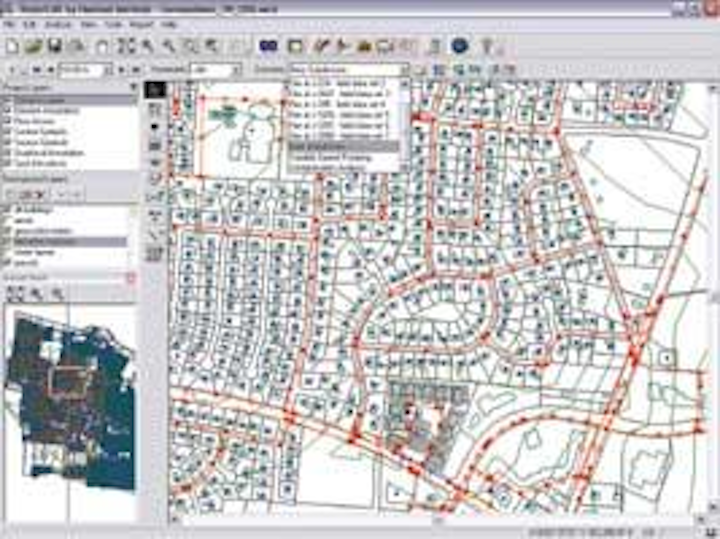 By Christine Byrne
Latin America's largest utilities are using Haestad Methods' water resource software to help meet and comply with the United Nations' Millennium Development Goals (MDGs) Target 10 and regulatory requirements.
In September 2000, 189 heads-of-state adopted the MDGs, which set clear, numerical, time-bound targets for making progress by 2015 in tackling the most pressing issues faced by developing countries. One target is to cut in half the proportion of people without sustainable access to safe drinking water and basic sanitation.
Several countries in Latin America have made significant progress in water resources management, but an estimated 76 million people in this region still do not have access to safe water. Clean water is in short supply in towns and cities where people depend on complex systems of aqueducts, pipes, treatment plants, and pumps to get their water. In addition, poorer countries are faced with more serious problems such as main failures, leakages, and power shortages, which prevent water-pumping stations from supplying water in adequate quantity.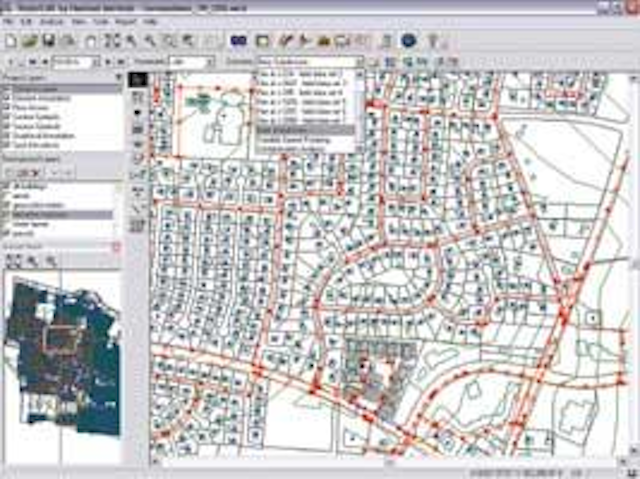 Haestad Methods' WaterCAD water distribution modeling software
Click here to enlarge image
Utilities in Latin America have turned to Haestad Methods' WaterCAD and WaterGEMS for ArcGIS for water distribution modeling; SewerCAD for design and analysis of sewage collection systems; and StormCAD for storm sewer design and analysis. Recently, Hidrolara and Hidrocapital, two of Venezuela's biggest utilities began using Haestad software to improve the efficiency and quality of their potable water and sanitation collection systems. Other clients in this region include SABESP (Companhia de Saneamento Básico do Estado de São Paulo), Brazil; Aguas Andinas, Chile; Aguas de Manizales, Colombia; AYA (Instituto Costarricense de Acueductos y Alcantarillados), Costa Rica; Interagua, Ecuador; SIAPA (Sistema Intermunicipal Para los Servicios de Agua Potable y Alcantarillado), Mexico; SEDAPAL (Servicios de Agua Potable y Alcantarillado de Lima), Peru; and Tahal Consulting Engineers on behalf of CAASD (Corporación del Acueducto y Alcantarillado de Santo Domingo), Dominican Republic.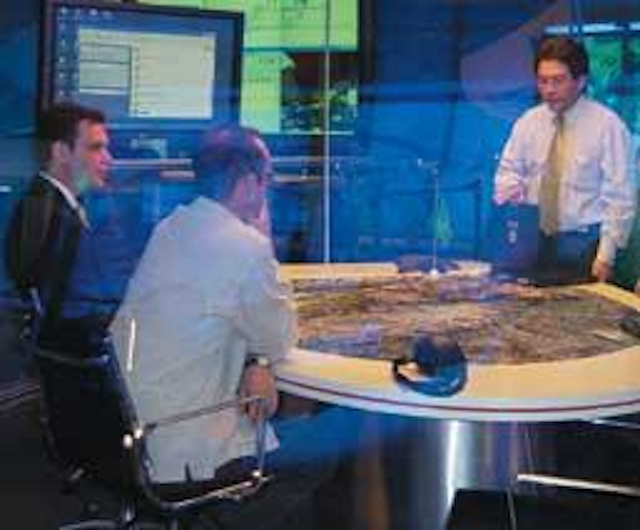 Haestad Methods representatives discuss products and services options at the facilities of Aguas Andinas in Santiago, Chile.
Click here to enlarge image
WaterCAD will replace the existing modeling system at Hidrolara and WaterGEMS at Hidrocapital, providing each utility with a complete GIS-based solution for modeling and managing their drinking water infrastructure. "Haestad Methods' SewerCAD modeling software allowed us to quickly learn where analysis and redesign were needed in our wastewater network," said Rafael Alvarez Fonseca, General Manager of Hidrolara. "As a result, we migrated to WaterCAD to improve the operation of our water distribution system. We also enrolled in Haestad's ClientCare maintenance and support program to continue receiving the latest software updates and upgrades, technical expertise, and maintenance to sustain the highest levels of efficiency for both our systems."
Hidrocapital will use WaterGEMS to improve the performance of its pumping systems and to interconnect its networks. This utility provides water and wastewater services to more than five million people in the capital city of Caracas, which spans over 200,000 km2.
Hidrocapital draws water from the Sistema de Produccion Tuy dam, which is one of the most complex hydraulic constructions in the world. Its infrastructure includes 11 treatment plants and 147 pumping stations. One of the main challenges of this network is to maintain adequate water pressure over large variations in altitude and to increase the efficiency of pumping operations to reduce energy-intensive operational costs.
With WaterGEMS, Hidrocapital's engineers will construct a hydraulic model of its water distribution network including all the connections to its pumping stations. To understand the current operating characteristics, an extended-period simulation will be developed to examine how the system will behave over time. Using a complete calibrated model of the system, Hidrocapital will be able to determine ways to improve operations, increase efficiency, create strategies to ration water, improve pumping schedules, and reduce leakage.
Aguas Andinas, serving the water and wastewater needs of over five million people in Santiago, Chile, is using water resources modeling software as a key planning tool in meeting Millennium Development Target 10. Aguas Andinas uses WaterGEMS to model everyday activities and develop operation and planning procedures for over 100 hydraulic sectors. Each sector includes approximately 10,000 pipes and spans about 11,000 km. The utility's hydrology research team prepared the WaterGEMS models, which can be accessed through the central server by the planning, development, operations, and engineering departments. The majority of the models were developed by extracting critical data from the utility's GIS system with the remainder completed by hand.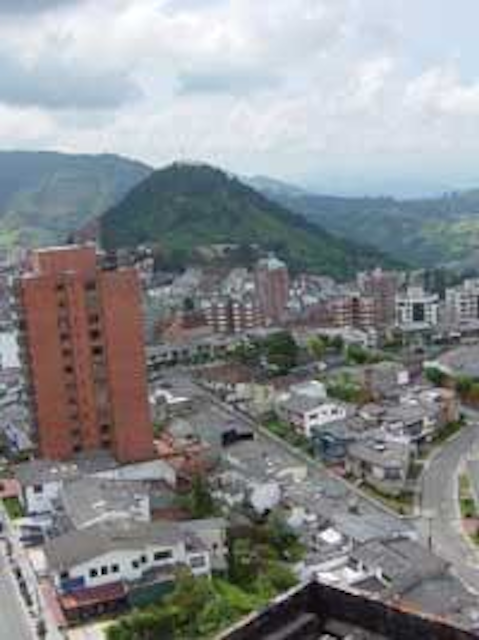 Manizales, Colombia
Click here to enlarge image
Smaller models were created using WaterGEMS' Skelebrator, a powerful network skeletonization tool, to analyse and simulate change to a particular sector, such as changes to the diameter of a pipe, alterations to the settings on a valve, or the addition of a new water facility. Mega-models are used to analyse the effects of operational manoeuvres to the entire network. Using WaterGEMS' Active Topology capability, Aguas Andinas can continuously study the effects of extensions and new subdivisions on the entire system. The utility uses small and mega-models to track water quality measurements, detect bottlenecks, and analyse pumping schedules. The incorporation of water resources data into the WaterGEMS models by field crew and various departments throughout Agua Andinas allows more insightful results in allocating water tariffs and in meeting state regulations and MDG requirements.
Many utilities and consulting firms in this region are also using Haestad Methods' software as the core planning technology for building master plans. Specifically, the Peruvian state-owned utility SEDAPAL has developed a WaterCAD model to plan, develop, and comply with state and World Bank regulations for more than 136 districts and a 9,000-km water network in the city of Lima and the Callao area.
Interagua, a private company that provides services to the state-owned company ECAPAG (Empresa Cantonal de Agua Potable y Alcantarillado de Guayaquil), Ecuador, will use WaterGEMS, SewerCAD, and HAMMER transient analysis software to develop a 30-year master plan for the water, wastewater, and drainage systems for the city of Guayaquil, including an expansion program for installing over 55,238 water and sewer connections and an action plan for reducing the current 75% rate of unaccounted-for-water (UFW). Interagua is a private company that provides services to the state-owned company ECAPAG (Empresa Cantonal de Agua Potable y Alcantarillado de Guayaquil),
AYA plans to use WaterCAD to develop a 25-year plan to optimise and plan the development of their water network, which serves more than 3.7 million people in Costa Rica. Currently, the utility created a model of the town of Quepos and developed scenarios for the next five years to analyse the demand growth and the physical expansion of their network. As a result, they detected an under-metering problem and have since increased their rate of return by 40%.
Tahal Consulting Engineers on behalf of the utility CAASD in the Dominican Republic will be working on a US$ 50-million project for the city of Santo Domingo to develop a master plan. The capital city has a population of 2.3 million. The master plan will include the following steps:
• Create a GIS model of the water distribution network for an area of over 400 km2;
• Create a hydraulic and GIS model using WaterGEMS' powerful Model Builder, LoadBuilder and TRex capabilities in order to create the model, load demands, and assign elevations;
• Calibrate and optimise the hydraulic model using the Haestad Methods' Darwin Calibrator to match real-world observations;
• Develop a projection for expansion and subdivisions, rehabilitation of pipes , rationalisation strategies, pumping schedules, and other improvements;
• Implement an operational control system tying together SCADA, GIS, and hydraulic model data onto a unique platform.
"As utilities are faced with meeting new and stringent demands, they will continue to look to Haestad Methods for the most efficient and cost-effective solutions to upgrade and replace their applications," said Leandro Rodriguez, Regional Manager for Latin America, Haestad Methods.
---
New book tackles sewer system problems
Haestad Press' latest civil engineering textbook "Wastewater Collection Systems Modeling and Design" guides readers through the model-building process and provides real-world applications to address a variety of wastewater challenges, including designing new systems, detecting and correcting inefficiencies, and minimising pumping costs in systems.
The textbook includes the latest versions of Haestad Methods' SewerCAD software, a package used for wastewater collection system design and analysis. Engineers and students can use this software with the book to perform sanitary and wet weather loads, gravity and pressure hydraulics, and analysis of multiple scenarios.
Authors of the book include Thomas M. Walski, Thomas E. Barnard, LaVere B. Merritt, Eric Harold, Noah Walker, Brian E. Whitman, and Haestad Methods' engineers. Contributing authors include Stan Plante, Rick Hammond, Christine Hill, Gordon McKay, and Barbara A. Schmitz. For more information, visit the website: www.haestad.com/library.
---
Author's Note
Christine Byrne is the public relations manager of Haestad Methods, based in Waterbury, Connecticut, USA. The company provides more than 130,000 civil engineers in 170 countries with hydrologic and hydraulic modeling software, services, continuing education workshops, and publications. For more information, e-mail info@haestad.com, or visit www.haestad.com, www.watersecurity.org, or www.civilquiz.com.