Technologies & Products
Fluid Components International's FlexSwitch FLT93 Flow/Level/Temperature Series Switch with Dual Port Enclosure received approval from the European Community's KEMA organisation...
Apr 1st, 2004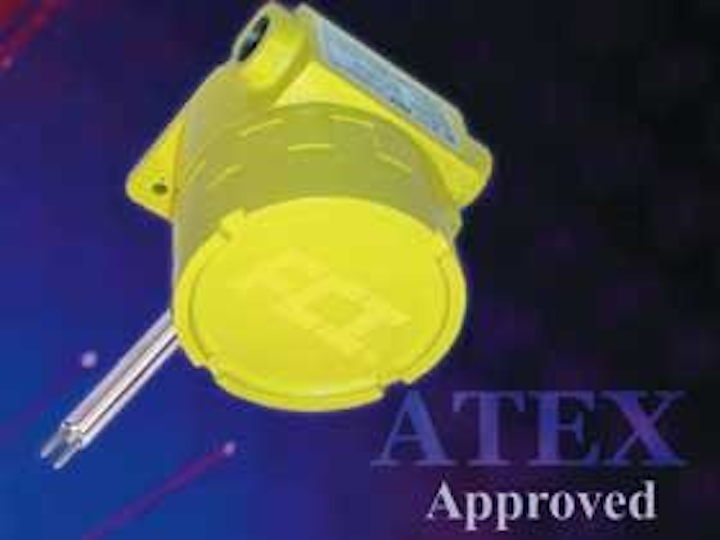 EC KEMA approves FLT Series for potentially explosive environments
Fluid Components International's FlexSwitch FLT93 Flow/Level/Temperature Series Switch with Dual Port Enclosure received approval from the European Community's KEMA organisation for use in potentially explosive environments.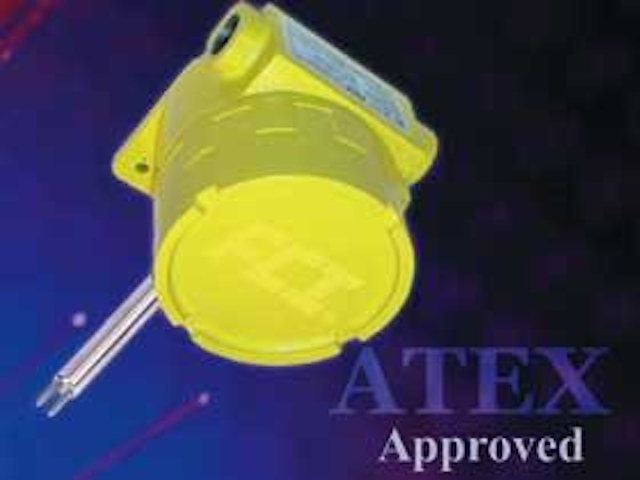 Click here to enlarge image
The thermal mass FLT Flow Switch performs flow or level sensing along with temperature measurement simultaneously. The FLT93 FlexSwitch circuitry has two independent 6-amp relays for precise switch point setting along with two voltage outputs — one for flow and one for temperature monitoring.
This instrument complies with process industry precision requirements as a flow switch or a point level and interface sensor in liquid, gas or foam. Applications for these switches include flow switch pump protection, valve leakage detection and chemical additive verification.
Fluid Components International
San Marcos, California, USA
Diagnostics experts in a box
Brüel & Kjær Vibro introduced the first of a new generation of measuring and diagnosis systems in the field of machine protection - SIMS (Smart Integrated Monitoring System). SIMS can be configured to continuously monitor the specific failure modes of any machinery configuration, claims its exclusive UK distributor Cepstra (UK) Ltd.
IMS enables the machine operator to take appropriate action or corrective measures to be taken on the machine without the need for any delay while a vibration expert is called in to analyse the source of the fault. Another option is that the monitoring department needs to have a continuous display of the values being monitored, can dynamically interface to the XMS software package, which displays the value. Flexible communication and full network capabilities enable a number of SIMS to be connected for plant-wide protection.
Brüel & Kjær Vibro Cepstra (UK) Ltd.
High Wycombe, UK
Check valves prevent start-up problems in wells
The new series "H" or Heavy Service Series check valves eliminate start-up problems in water well systems due to sand and debris, according to its manufacturer Danfoss Flomatic Corporation. This new series complement Danfoss models 80E and 100E check valves.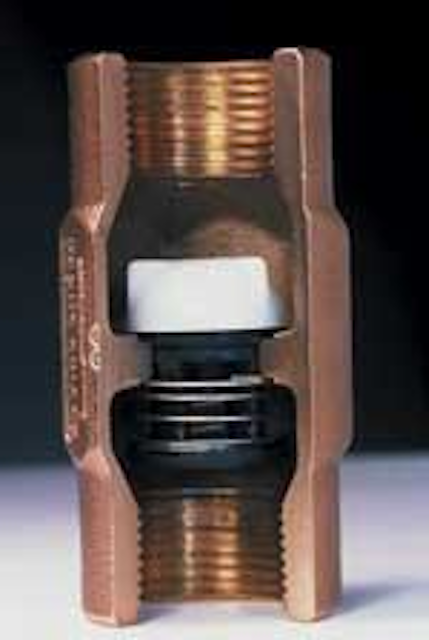 Click here to enlarge image
Well water pumped from new water wells soon after construction often contains debris, such as residue from drilling mud and particles from penetrated soil and sand. This debris, when pumped out of the well, can cause potential failure to the check valve. The new patent pending design of the H check valve does not allow debris to collect, which sometimes causes poppets to stick open. If the valve fails, then the valve would either need to be cleaned of debris, replaced or in some cases, have the entire pump replaced.
Danfoss Flomatic Corporation
Glens Falls, New York, USA
Dow licenses arsenic removal technology
The Dow Chemical Company licensed a patent-pending technology from HydroGlobe that removes arsenic III and V from drinking water. Developed by Stevens Institute of Technology in Hoboken, New Jersey, USA, Dow plans to use the technology to create new adsorptive media for removing arsenic and heavy metals from drinking water.
Dow claims that the titanium-based adsorbent will increase the efficiency of point-of-use and point-of-entry water treatment applications, and will help municipalities meet the new US Environment Protection Agency arsenic standard of 10 ppb that takes effect in 2006.
The Dow Chemical Company
Liquid Separations
Midland, Michigan, USA
Decentralised treatment provides water reuse with minimal costs
Biological wastewater treatment processes based on providing complete mineralisation of organics form no surplus sludge due to advanced trophic relations of fixed-film microorganisms, according to Resetilovs un Co.
Their wastewater treatment process is divided into modules of mechanical treatment; primary sedimentation; biological treatment; secondary sedimentation; wastewater disinfection; sediments processing and sediments dewatering. The modules are designed as aboveground containers and subterranean packages.
Mechanical treatment modules are offered with a range of mechanical screens chosen according to wastewater concentration and specifications. Screenings can be dewatered and washed. Grit is removed by thin-film separation and dewatered, and can then be washed.
Biological oxidation in aerobic conditions takes place by microorganisms fixed on the special plastic carriers. Oxidation takes place successively in isolated chambers of the aeration tank. The multi-stage treatment process allows significant intensification of the oxidation rate and provides trophical interrelations that develop in the biocenoses of biofilm, facilitating wastewater treatment without surplus sludge and with highly efficient biological disinfection. Secondary sediment formed from phosphorous coagulation does not require stabilisation, and sediments are dewatered on gravity-type plants or belt presses.
Resetilovs un Co
Riga, Latvia
Partnership launches low waste nitrate removal system
Christ-Kennicott signed an exclusive agreement with chemicals manufacturer Rohm & Haas to introduce a new nitrate removal system with a low-volume waste stream. The two companies cooperated in designing a system that overcomes common problems in removing nitrates from potable water. These are the disposal of a high volume waste stream, or the capital and operating costs of zero waste stream plants.
The agreement covers the supply of technical information and equipment relating to the use of ion exchange resin and fractal distribution technology from Amalgamated Research Inc. (Ari).
More than 90 sources of raw water with peak nitrate levels above the 50 mb/l limit are found in England and Wales. This system is suitable for almost every nitrate removal application and is recommended for waste streams of less than 0.4% throughput.
The fractal distribution system creates plug flow conditions in the ion exchange vessel, allowing separation of effluent fractions, thus minimising the waste stream volume. Christ-Kennicott's nitrate removal plants, assembled using the Fractal technology and nitrate-selective resin, are available as standard units in 40-ft road containers or as bespoke designs.
Christ-Kennicott
Wolverhampton, UK
Leakproof seal for fire hydrant nozzles
The HYDRA-EZE synthetic, food grade, non-drying anti-seize compound provides a leakproof seal for the lifetime of a connection, whilst maintaining its anti-seize capabilities, according to Assured Flow Sales, Inc. The product is formulated with a blend of Teflon® and other lubricating solids, homogenised into a non-melting grease carrier. The compound is used for threaded meter connections.
Assured Flow Sales, Inc.
Sarasota, Florida, USA
Dumpster-Veyor reduces labour costs
The Dumpster-Veyor, a patented container handling system, evenly distributes material into a roll-off container, according to D. R. Cordell and Associates, Inc. The container is unloaded from the truck onto the Dumpster-Veyor with no modifications to existing methods or equipment. Once unloaded, the container is moved forward/reverse under power to achieve even distribution of material.
The gear motor is a 1.5-hp TENV motor connected to a cycloidal gear reduction operating the drive carrier at 18 FPM. Controls can be pedestal- or wall-mounted.
D. R. Cordell and Associates, Inc.
Chalfont, Pennsylvania, USA
Centrifugal pump designed for sewage applications
Thompson Pump added the ST Series of pumps to its line of construction and public works pumps. This new line of self-priming centrifugal sewage pumps from Varisco Pumps, based in Milan, Italy, is designed for use in sewage applications - sewer bypasses, lift stations, treatment plants - and other applications with liquids having a high concentration of solids in suspension. The pumps are suitable for portable pumping as well as permanent installations.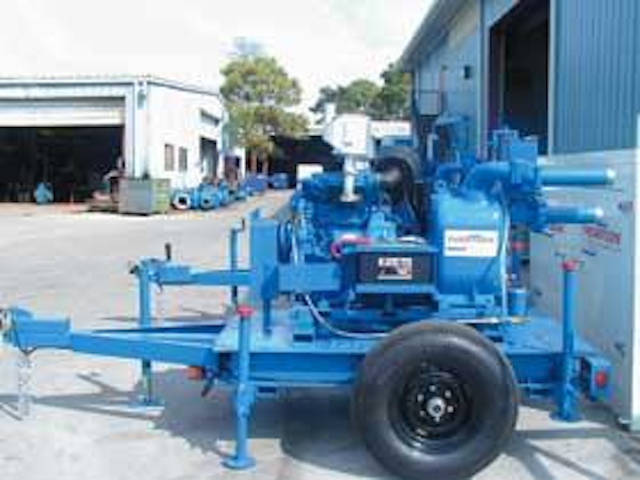 Click here to enlarge image
Available in 3", 4", 6" and 8", the ST series can handle up to three-inch solids. The pumps discharge in flows of up to 1,500 gallons per minute, and at heads of up to 120 feet. The pump casing is made of heavy-duty class 30 cast iron and has a built-in volute. Covers for clean-out, drains, and priming can be removed with fitted wrenches. The ST series also has a self-aligning mechanical seal, front and rear rubber coated wear plates and external wear plate adjustment.
Manufactured by Varisco Pumps, of Milan Italy, the ST pumps will be marketed for construction and wastewater applications by Thompson Pump and its distribution throughout the USA.
Thompson Pump
Port Orange, Florida, USA
Tool absorbs mercury in waste streams
A nanostructured sorbent material developed by scientists at the US Department of Energy's Pacific Northwest National Laboratory has proven effective in absorbing mercury from low-volume waste streams.
Thiol-SAMMS, a derivative of Self-Assembled Monolayers on Mesoporous Supports integrates a nanoporous substrate with an innovative method for attaching monolayers, or single layers of densely packed molecules to the pore surfaces throughout the substrate. Ninety-nine percent of thiol-SAMMS' mercury-absorbing action takes place in the first five minutes. "Thiol-SAMMS can absorb 60% of its weight in mercury, making it an efficient scavenger for mercury," said Shas Mattigood, a staff scientist who manages the project for the laboratory.
At the Applied Process Engineering Laboratory, a research and development facility in Richland, Washington, PNNL scientists tested thiol-SAMMS on 160 litres of waste solution containing about 11 parts per million of mercury. Thiol-SAMMS reduced mercury concentration in the solution to 0.06 ppm. "We estimate that it will cost about US$ 200, including material, analysis and labour, to treat similar volumes of this waste solution," Mattigod said. "That would save US$ 3,200 over more traditional disposal methods."
Pacific Northwest National Laboratory
Richland, Washington, USA
Low-cost ultrafiltration system designed for small communities
The HF-4 Packaged Water Treatment System features hollow fibre membranes in a self-contained, automatic, pre-engineered ultrafiltration (UF) system. The membrane cartridges, tanks for backflushing and cleaning the membranes, the pumps, instrumentation, piping and valves are all mounted on one steel frame.
The low-pressure UF membrane technology facilitates cost effective compliance with drinking water regulations, and produces higher quality water than is possible with conventional media filtration, according to its manufacturer Koch Membrane Systems. Tiny membrane pores reject giardia, cryptosporidium and virus while reducing turbidity to less than 0.1 NTU. When combined with chemical pretreatment, ultrafiltration can remove or reduce iron, manganese, arsenic, nitrate and perchlorate in drinking water.
This standardised, low-cost design provides UF technology for small communities that require flows of 20 gpm to 65 gpm. Koch Membrane Systems offers several larger packaged water treatment systems for municipalities with higher flow requirements.
Koch Membrane Systems, Inc.
Wilmington, Massachusetts, USA
Hong Kong deploys lab data software
The Hong Kong Water Supplies Department (WSD) will install an Enhanced Security (ES) version of the Labworks™ Lims software to manage critical laboratory data in more than ten of its sites.
Water quality in the major metropolitan area of Hong Kong requires a large monitoring infrastructure that measures hundreds of samples daily. The laboratory information management system software, claims its developer PerkinElmer, Inc., improves laboratory efficiency and productivity while ensuring data integrity by scheduling sample test requests, collecting information from various analytical instruments in the labs and controlling the flow of data so that activity in the lab is carefully documented and the information obtained properly recorded and disseminated to authorised users for decision making.
The Labworks ES Lims software to be installed in Hong Kong helps users develop more efficient processes and meet regulatory requirements that identify users, login and track samples, and audit workflow. The software facilitates information gathering about groups of samples to reveal trends or flag results outside specifications for quality and require rapid response to assure water purity.
PerkinElmer, Inc.
Wellesley, Massachusetts, USA
Trench depth meter saves time, labour
The new Ditch Witch® Trench Depth Meter (TDM) enables equipment operators to read the depth of the trench from the operator's station, eliminating the need to manually measure trench depth.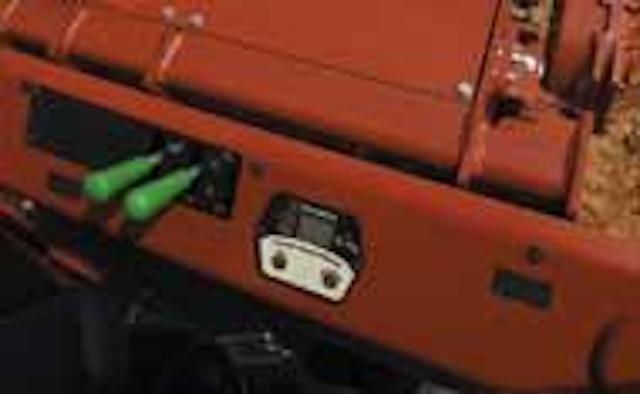 Click here to enlarge image
The TDM has two main components - a set of sensors mounted to the tractor and digging attachment, and a monitor in the operator's station that displays the reading. As the trench is dug, sensors send real-time measurements to the monitor. The unit's memory stores depth information for future use.
The Charles Machine Works, Inc.
Perry, Oklahoma, USA
Flow resistance study results in useful data
HR Wallingford just completed a two-year project on flow resistance in pumping mains. Data collected from 23 working systems owned by Thames Water and United Utilities across the United Kingdom enabled researchers to compile a new table of recommended values for the hydraulic roughness of wastewater pumping mains.
Pumping stations must overcome flow resistance of pipes transporting wastewater to function properly. Flow resistance depends on pipe roughness, which is influenced by the thickness of the biological slime layer that builds up on the inside of pipes. This, in turn, can depend on the size and surface texture of pipes and on the flow velocity of the sewage travelling through them. Most of the existing estimates of flow resistance in working pumping mains are based on figures gathered during the 1960s and 1970s. Since then, pipeline technology has changed considerably and it has become necessary to review the figures. Under- or over-estimates of pipe roughness can result in the incorrect sizing of pumps and pipelines, which, in turn, leads to an increased risk of pipe fracture, sewer overflow and pollution.
Researchers at HR Wallingford found flow velocity to be the main factor affecting flow resistance in wastewater pumping mains. Hydraulic roughness decreases as flow velocity increases. A new predictive equation for hydraulic roughness was derived, based on flow velocity.
A new table of recommended design values for the hydraulic roughness of wastewater pumping mains was compiled, based on these findings. Drainage engineers can use this data to identify optimum solutions of pumping head and pipe size for a required flow capacity in a pumping main.
HR Wallingford's publication "Tables for the hydraulic design of pipes, sewers and channels," is currently being revised, and the new edition will incorporate these study findings.
HR Wallingford
Wallingford, Oxon, UK