Second wave of mergers and acquisitions change competitive field
A new wave of mergers and acquisitions brings great change to the competitive landscape of the international water industry, Frost & Sullivan reports.
Aug 1st, 2004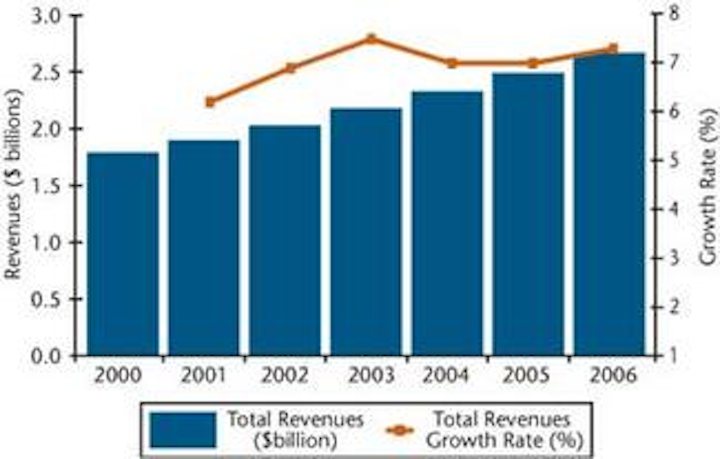 By Matthew Barker
The competitive landscape in the international water industry has changed significantly since early 2003 when Vivendi-owned USFilter and Ondeo Degrémont, including Ondeo Nalco, headed the pack of giant water companies.
Water & Wastewater Treatment Equipment Markeet Revenues Forecast (United States) 2000-2006
Click here to enlarge image
Not until later in the year did General Electric (GE) purchase the US company Osmonics and announce a restructuring of its groups under the new name GE Water Technologies. Now GE Water Technologies, Siemens-owned USFilter, ITT Industries, Pentair and Ionics have moved into the top tier of competitors. It will be interesting to see what the next few months have in store.
Few failed to notice German conglomerate Siemens AG announce its plans to purchase the systems and services businesses of USFilter Corporation from Veolia Environne-ment for around US$ 993 million. The deal, scheduled to close by the third quarter of 2004 following approval by antitrust authorities, will make Siemens the largest water-services company in the USA.
From Veolia Environnement's point-of-view, this disposal is a major step in the strategic refocusing of its water activities in North America towards long-term contracts for municipal and industrial clients. This is Siemens' first major deal since signaling it was ready to spend some of its US$ 15 billion in cash to expand its portfolio. Siemens stated that the water business will play a critical role in its industrial activities. The addition of USFilter will provide an increase in revenues of around 25% to its Industrial Solutions & Services (I&S) group, which made US$ 4.8 billion in fiscal 2003 (to September 2003). Water treatment and supply's main activities are concentrated in Siemens' Automation and Drives (A&D) and I&S Groups; however I&S manages most of Siemens' water-related businesses and will lead USFilter activities. Veolia has for the past year been selling assets relating to USFilter, a legacy from former parent Vivendi, which cost it US$ 2.6 billion in write-downs in the first half of its fiscal year. The company acquired USFilter for US$ 8 billion, including debt in 1999.
The company, with such a wide array of service capabilities, particularly, financial services, homeland security, construction services, and now water equipment capability can provide a "one stop shop," parts and services to municipalities. The danger with such a monopolistic approach is price hikes and dissatisfaction with certain services of the company leading to negative perceptions about the whole company.
GE is another company with extended technology capabilities in light of some recent acquisitions, but through its other divisions related to homeland security and financial services will provide a similar mix of services, although its product capabilities are not as extensive as USFilter.
What now for Culligan?
The Siemens deal did not include USFilter's Culligan group, which has been publicly for sale since the latter half of 2003. USFilter's parent company Véolia told analysts it expects to achieve g640 million or US$ 768 million for Culligan International Company, eight times its expected 2004 earnings before interest, taxes, depreciation, and amortisation (EBITDA) . Some analysts believe the company could even fetch up to 11 times EBITDA, or g900 million (US$ 1.081 million).
Possible buyers that have been touted for Culligan include the French company Danone SA, which has been purchasing businesses in home and office water delivery; Coca-Cola Co.; and Nestlé SA. Also, investment firms are showing increasing interest in the water industry. A number of private equity firms are expected to bid, including Apollo Management LP, Blackstone Group, Carlyle Group, Kohlberg Kravis Roberts & Co. and Warburg Pincus LLC. One of the biggest sales in 2003 in the water industry was the sale of Nalco by Suez to a private equity group consisting of The Blackstone Group, Apollo Manage-ment L.P., and Goldman Sachs Capital Partners for U$ 4.2 billion.
In mid-April 2004, RWE Thames Water sold The F. B. Leopold Co., Inc. to Leopold's executive management team and Pittsburgh-based private equity group, PNC Equity Partners. FB Leopold has been a leading supplier of filtration and clarification systems for the municipal water and wastewater treatment industry for more than 80 years. RWE Thames Water has owned Leopold since 1992, and cites the reason for the sale as a shift in its core business strategy to the delivery of water and wastewater services.
Author's Note
Matthew Barker is a Frost & Sullivan programme manager, based in San Antonio, Texas USA, for the water and wastewater sector. For more information, contact the author at Email: mbarker@frost.com.