Wastewater-fueled device produces electricity
Environmental engineers at Pennsylvania State University (USA) removed and replaced one of the most expensive parts of their prototype microbial fuel cell (MFC)...
Aug 1st, 2004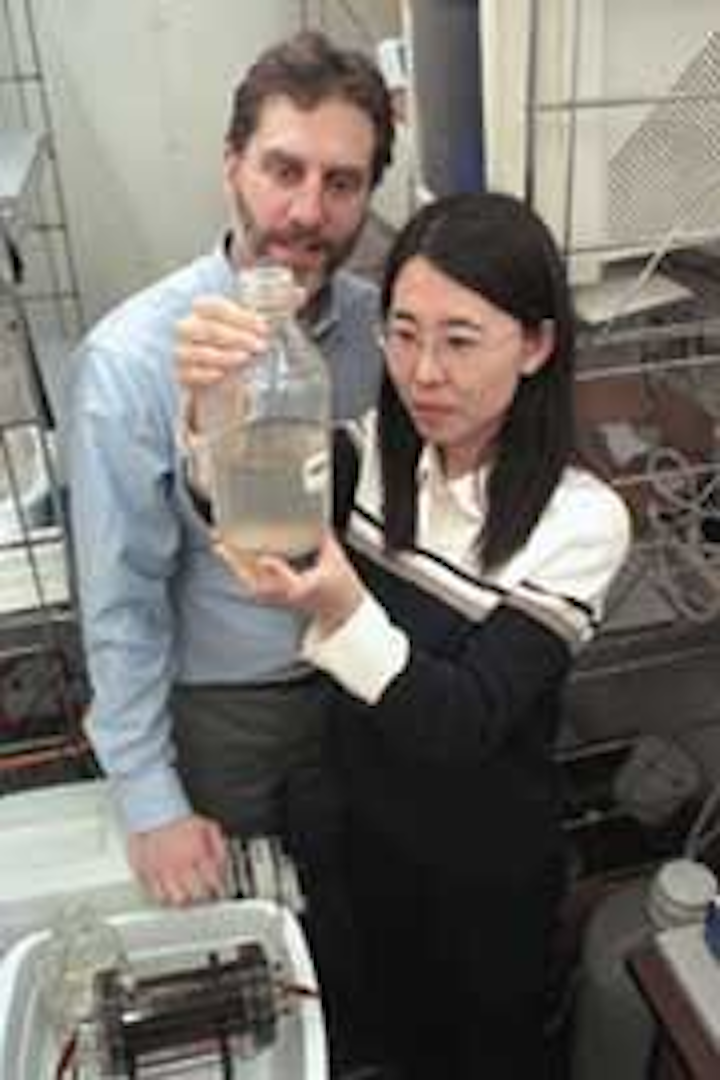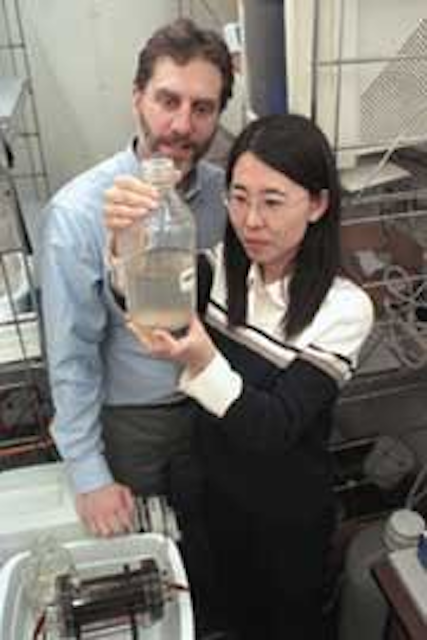 Click here to enlarge image
Environmental engineers at Pennsylvania State University (USA) removed and replaced one of the most expensive parts of their prototype microbial fuel cell (MFC), so the device now costs two-thirds less and produces nearly six times more electricity from domestic wastewater.
In February 2004, the Penn State team first developed a MFC that can generate electricity while simultaneously cleaning domestic wastewater skimmed from the settling pond of a sewage treatment plant. Two months later they demonstrated that by modifying their original MFC to reduce the cost, they can also boost electricity production from about 26 milliwatts per square metre to about 146 milliwatts per square metre. The team modified their original fuel cell by removing the polymeric proton exchange membrane (PEM) that previously was bonded to the cathode and substituting carbon paper for the electrodes.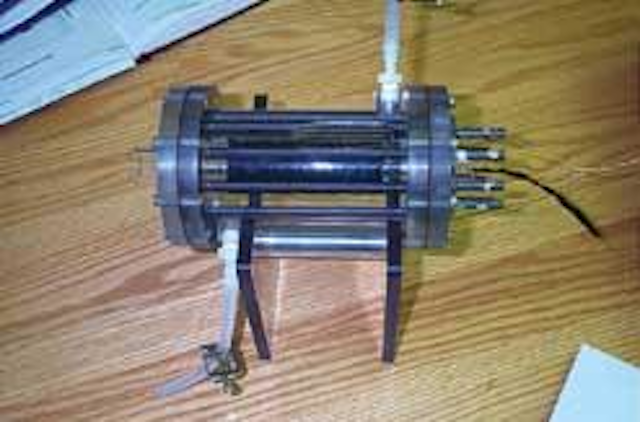 Click here to enlarge image
"The new design moved the technology closer to our goal of 1,000 milliwatts per square metre," said Dr. Bruce Logan, the Kappe professor of environmental engineering who directs the project. He noted that the team hooked up an MFC built on the Penn State design principles to run a three-milliwatt fan. Calculations show that a typical wastewater treatment plant that had a Penn State MFC in place could power the fan with only 5.5 ounces of wastewater or a reactor smaller than a teacup.
The advance is described in a paper, "Electricity generation using an air-cathode single chamber microbial fuel cell in the presence and absence of a proton exchange membrane," authored by Dr. Hong Liu, postdoctoral researcher in environmental engineering and Professor Logan (www.psu.edu).
Microbial fuel cells work through the action of bacteria, which can pass electrons to an anode, the negative electrode of a fuel cell. The electrons flow from the anode through a wire, producing a current, to a cathode, the positive electrode of a fuel cell, where they combine with hydrogen ions (protons) and oxygen to form water.
Logan noted that in MFCs currently under investigation in other laboratories, various kinds of bacteria are typically added to the system; however no special bacteria are added in the Penn State approach. The naturally occurring bacteria in wastewater drive power production via a reaction that allows them to transport electrons from the cell surface to the anode. In addition, a reaction (oxidation) that occurs in the interior of the bacterial cell lowers the biochemical oxygen demand, cleaning the water.
The new prototype consists of carbon paper placed on opposite ends of a plastic tube about an inch and a half long and a little over an inch in diameter. Carbon paper on one end is the anode and carbon paper, which also contains a small amount of platinum, forms the cathode on the other end. Platinum wire completes the circuit. The carbon paper allows oxygen in air to directly react at the cathode, so there is no need to bubble air into the water at the cathode as required in a typical two-chamber MFC.
Logan explained: "We bring down the cost significantly by eliminating the PEM, which was one of the most expensive components. Substituting carbon paper for graphite rods further reduces the cost. I'm optimistic that MFCs may be able to reduce the US$ 25 billion annual cost of wastewater treatment in the USA and provide access to sanitation technologies to countries though the world." A National Science Foundation grant supports the project.
Pennsylvania State University
University Park, Pennsylvania, USA
Decanter features improve life cycle benefits
The USC755 high performance "g-force" range of decanters designed for dewatering wastewater and sludge achieves the maximum dewatering and clarification efficiency to minimise the cost of solids disposal and recover as much water as possible, claims its manufacturer Westfalia Separator Ltd.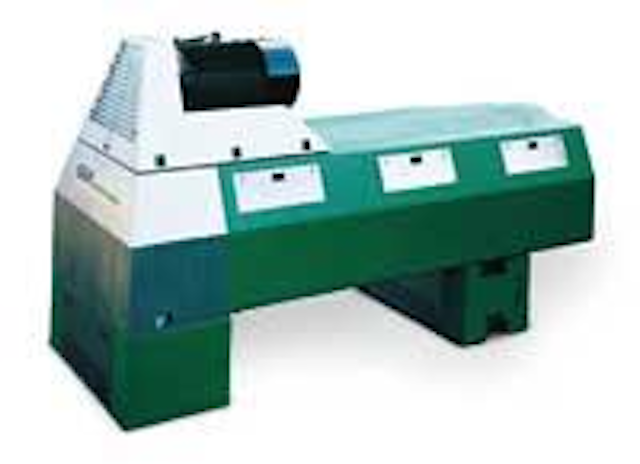 Click here to enlarge image
The UCD755 features include energy-efficient primary and secondary motors in the Westfalia-patented twin drive system that develops a high g force of 2,900g to ensure rapid settling for clarification and produce a high compressive force on solids. This, coupled with the deep pond design, creates a greater compressive weight of solids with longer retention time for maximum dewatering.
The Duplex steel construction for contact surfaces provides high wear and corrosion resistance properties and reduces stress within the rotating parts, such as the bowl and scroll.
Similar to all Westfalia decanters, a three-phase variable frequency motor drives the decanter bowl. An adjustable fluid clutch keeps start-up power low in the motor. Power transmission is through the two-gear drive system and automatic torque regulation that continuously adjusts the conveyor differential speed to compensate for consistent solids drying even with a fluctuating feed concentration.
Westfalia Separator Ltd.
Milton Keynes, UK
Flygt portfolio covers all sludge pumping applications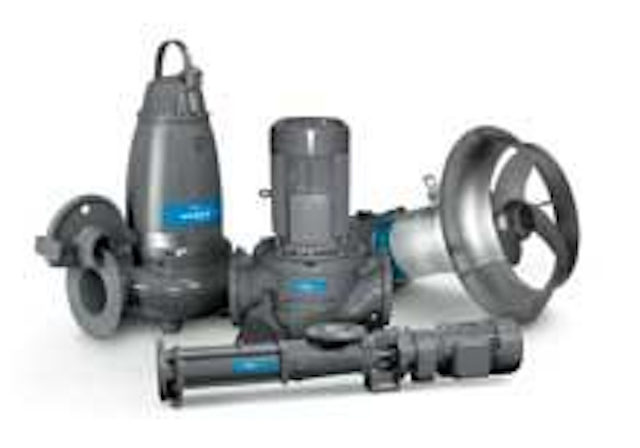 Click here to enlarge image
Flygt's new series of progressive cavity (PC) pumps and macerators, combined with its range of mixers and N-pumps, completes a product portfolio that now covers all sludge pumping applications, which creates a strong base for further growth in the sludge market, according to Flygt President Per-Inge Birgersson.
The sludge market in Europe is expected to grow as more wastewater treatment plants are built or upgraded to meet strict European Union directives. Currently, more than 300 million cubic metres/year of municipal sludge are produced in Western Europe.
The nature of sludge can change rapidly in a sludge processing system, and it is difficult to find the right pump to cope with varying demands, especially as different head losses are created in some sludge treatment processes when sludge is pumped through a pipe network.
The clog-resistant impeller design of the N-pump enables the pump to handle between 60% and 70% of sludge pumping requirements. Flygt's range of self-priming, rotary displacement PC pumps can be used for tougher applications. These pumps have a thick, blunt, corkscrew-like spiralling shaft rather than an impeller, which forms a series of cavities that progress uniformly from the suction point to the discharge, transporting the liquid and any solids within them. This design resists clogging and produces an accurate constant flow.
A Flygt macerator can be fitted upstream of a pump to further reduce the threat of clogging. This grinding device crushes rags and fibres into manageable sizes for pumping in liquid. Once the sludge has been transported to holding tanks, Flygt submersible mixers keep solids in suspension. The mixers can be placed directly in the tank and aimed in any position to provide optimal mixing results.
ITT Flygt
Sundbyberg, Sweden
Flow switch sets new industry benchmark, says FCI
The NuTec™ FS2000H Flow Switch monitors the flow of water-based liquids, syrups, lubricants, coolants, highly viscous or adhesive materials, in addition to air and gas streams. The new flow switch sets a new industry benchmark for performance and economy in demanding applications, claims Fluid Components International.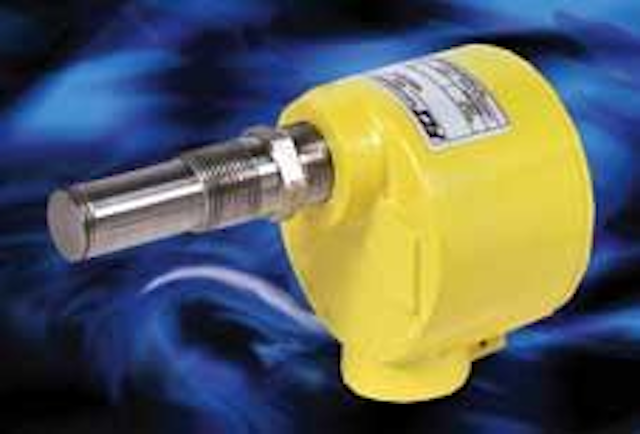 Click here to enlarge image
Designed with an insertion-style non-invasive flow sensor, the flow switch performs in clean and dirty media and is unaffected by entrained particles or bubbles. The FS2000H installs in minutes as an insertion-type flow switch, which never clogs or impedes flow because its sensor does not protrude into the media. No pressure-drop occurs.
Accurate control of liquids and gases is often problematic within many industrial processes. Flow switch sensors placed directly into the process media often either reduce flow or clog over time, which can degrade their responsiveness. Contact with the media also frequently requires repair or replacement of mechanical sensors, such as paddles and floats.
The FS2000H solves these problems with its flat-face, no-moving parts sensor design that is installed flush to the inside of the pipe inner diameter. It supports raw liquid materials delivery, mixing and transfer, in addition to adhesive or chemical injection, machinery lubrication or cooling automation, hi/low/no flow alarming or shut-downs, relief valve flow detection, seal leak detection and safe pump shutdown.
Fluid Components International
San Marcos, California, USA
HYD offers hydrostatic level measurement
The submersible pressure transmitter HYD offers high precision hydrostatic level measurement for pressure ranges from 1 m water column (100 mbar). The HYD level probe features compact stainless steel housing, incorporating a flush-mounted laser-welded diaphragm suitable for use with viscous media. The HYD series achieves long-term stability of <±0,1% FSS/year.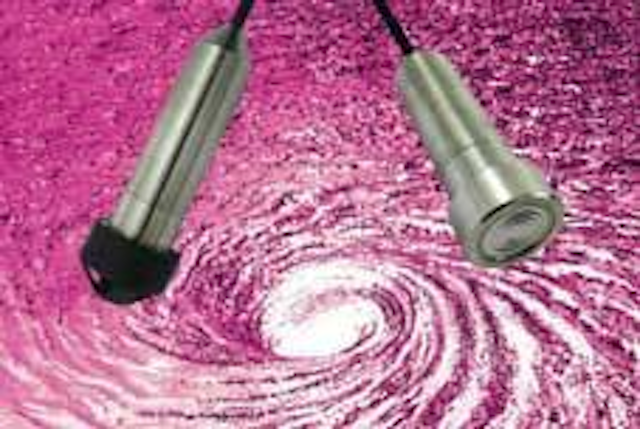 Click here to enlarge image
The HYD transmitters are temperature-compensated and provide a 4...20 mA output signal. A special cable with an integrated vent tube allows a true reference pressure to the sensor element and thus eliminates errors due to barometric pressure changes. Custom-specific calibrations and different cable lengths are available on request.
HYD transmitters can be used for level control applications, such as level measurement in waterworks, deep wells, tanks and reservoirs.
Sensortechnics GmbH
Puchheim, Germany
Submersible pump handles super-thick sludges
Heidra 150VSG, a hydraulic-driven submersible pump, handles thick liquids with solids up to 125 mm in diameter. A remote-actuated "slurry gate" enables the pump to be used as a mixer in applications where sludges are so thick they are initially unable to be pumped. Once mixed to a "pumpable" consistency, the gate can be closed and the sludge pumped away. Uses include municipal and industrial wastewater treatment plant sludge tank cleaning and emptying.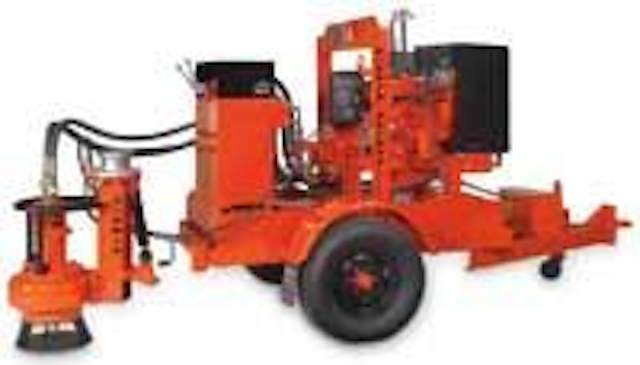 Click here to enlarge image
The Heidra pump is designed with a cast iron pump end and a cast chromium steel vortex impeller. A double oil bath mechanical seal gives this unit unlimited dry running capability, a feature designed for intermittent flow conditions. This 150-mm pump handles flows up to 363 m3/hr and heads up to 34 m.
Godwin Pumps
Bridgeport, New Jersey, USA
Digital panel meters read in sunlight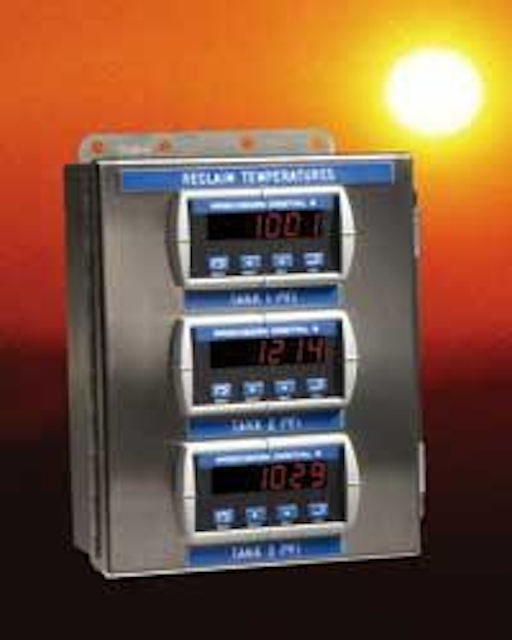 Click here to enlarge image
A new series of universal digital panel meters feature user-adjustable, sunlight-readable LED displays for outdoor applications. The Trident Digital Panel Meter is a solid-state unit with a Type 4X, NEMA 4X IP65 front that features a four-digit, seven-segment sunlight readable LED display that provides eight levels of brightness for day or night viewing. Users can make LED brightness adjustments at the front panel, along with full function programmability, which can also be done remotely using a computer.
Precision Digital Corporation
Natick, Massachusetts, USA
Trenchless rig expands berstlining use
The Grundoburst 1250 G rig develops a maximum pulling force of 1270 kN or 127 tons, which now makes possible the use of static berstlining to renew old pipes with an inside diameter of 150 mm to 600 mm over a maximum length of 300 m. The static pipe bursting method is used for the trenchless rehabilitation of gas and potable water lines in sensitive soil conditions where other external lines and buildings are within the immediate vicinity.
The work sequence is similar to the Grundoburst 400 G and 800 G in which the bursting operation is carried outside the pit via remote control. The rig uses adjustable props at the sides and at the rear for support against the pit wall.
Tracto-Technik GmbH
Lennestadt, Germany
ProActive solves odour control problem in treatment works
ProActive destroys odours in all anaerobic liquids, sludges and sludge cake by targeting and instantly oxidising odorous sulphidic compounds, according to Probe Industries.
It selectively oxidises ionic sulphides whilst still in the liquid phase prior to emission into the atmosphere. The pro-duct also eliminates the "cabbage-smelling" mercaptans and dimethylsulphide, which remain if sludge is dosed with permanganate.
ProActive was installed in a large wastewater treatment works that serves a population equivalent of 1.5 million. Hydrogen sulphide levels around the Aquabelt of the dewatering building frequently rose to 60 ppm, yet levels had to be below 3.6 ppm to achieve a safe working environment. Following installation, the demonstration kit on one of the Aquabelt dewatering streams immediately eliminated all measurable hydrogen sulphide emissions from the Aquabelt process. Subsequently, the operating company ordered the installation of a full-scale Probe ProActive dosing plant for all five Aquabelt presses.
ProActive eliminated not only hydrogen sulphide but also the mercaptans and dimethylsulphide. The results radically changed the working environment, reduced delays due to maintenance and improved the health and safety of the workforce.
Evidence of the environmental change was seen in a less conventional way. Probe Industries' Managing Director Phil Rutherford explained "During a site visit, one sludge operator showed a silver chain, which he wore around his neck. He said that he could not wear this chain prior to ProActive dosing because the silver went black after a single shift. Now he wears his chain all week without any discolouration."
Probe Industries
Tyne and Wear, UK
Software directs StarPac valve
Flowserve Corporation released the software package StarTalk XP for Windows® that directs the Flowserve StarPac®, an industrial valve that controls and measures flow in oil and gas, refining, chemical, steel and industrial gas applications.
StarPac uses sensors mounted on the valve body to measure flow, eliminating the need for downstream metering piping. It measures fluid flow rate over the entire operating range of the valve opening.
As a controlling interface for StarPac, StarTalk XP's Windows-based user interface employs a single, simplified screen for configuration and operation of the valve's functionality, directing up to 255 StarPacs on a daisy chain network using direct Modbus access.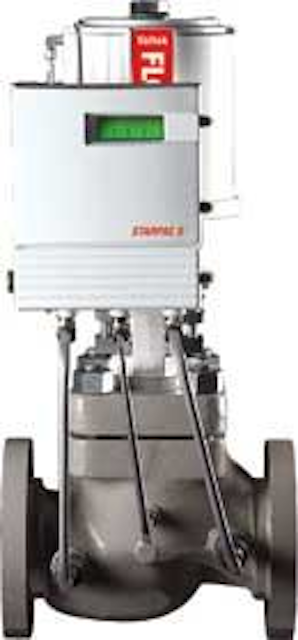 Click here to enlarge image
StarTalk XP also features graphical proportional integral derivative (PID) control that enables proper valve response to process errors; a tuning screen to view and configure controller variables; alarm explanations; and a configurable security setup offering support for passwords and user authorisations. With virtual register support, StarTalk XP provides complete integration with a facility's distributed control system (DCS) or programmable logic controller (PLC) supervisory computer system.
Flowserve Corporation
Dallas, Texas, USA