Product Focus: Tanks & Storage
A line of fabric buildings to incorporate structural steel beams instead of open web trusses has been offered by Legacy.
Jan 21st, 2015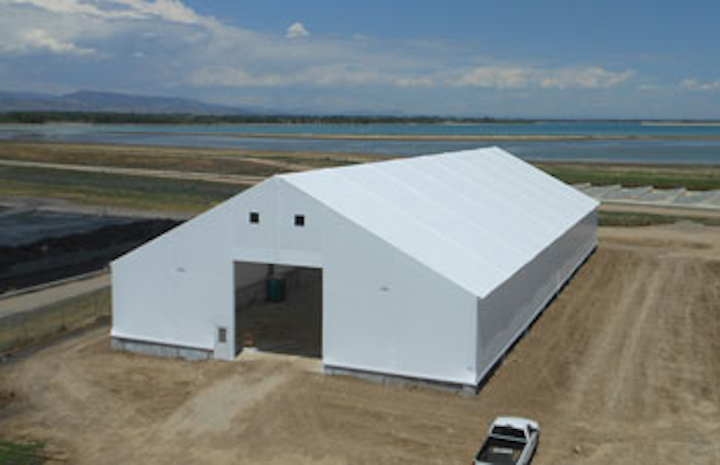 Tension fabric buildings with rigid frame designs
A line of fabric buildings to incorporate structural steel beams instead of open web trusses has been offered by Legacy. The engineering concept is designed to provide flexibility for a variety of building applications, including wastewater treatment plants, public works facilities, and general storage.
A durable rigid frame is used in place of the hollow-tube, open web truss framing traditionally used for fabric buildings. Additionally, the structural steel has multiple coating options, including hot dip galvanizing, red oxide primer and powder coat paint. Structures can be modified to provide desired eave extensions and interior columns. They can also be engineered to handle additional loads for conveyors, sprinklers and other systems. The buildings feature high-quality polyethylene fabric roofs that eliminate the corrosion concerns associated with metal-constructed facilities. A wide variety of PVC fabrics are also available. www.legacybuildingsolutions.com
Sludge cake storage contract awarded in the UK
BioEnergy and bulk materials handling specialist Saxlund International, part of the Opcon energy and environmental group, has secured two UK water industry contracts to provide sludge cake loading and storage handling solutions for wastewater treatment plants (WWTP). With a total contract value of over £750,000 the projects include the design and construction of flat bottomed silos with Saxlund sliding frame technology to discharge material via screws or sludge pumps, together with integrated control systems.
In a project for KMI Plus on behalf of United Utilities, Saxlund will deliver a 454 m3 sludge cake storage and process feed silo, supplying an on-site Thermal Hydrolysis system at Leigh Wastewater Treatment Works in Wigan. The work is part of £30 million investment to facilitate smoother and more efficient waste water processing at Leigh and follows a previous project for United Utilities and KMI Plus at Fleetwood WWTP. A second project includes a truck reception and sludge cake silo for Anglian Water at their Whitlingham Water Recycling Centre in Norwich. This also incorporates Saxlund's sliding frame technology. www.saxlund.co.uk
US tanks help expand Saudi's potable water supplies
Saudi Arabia's National Water Company (NWC) undertook the enormous project of developing 43 wells and 46 water purification stations in 27 separate locations to provide sustainable potable water systems near Riyadh.
At each of the 43 developed well sites, drills bore down up to 2,000 m to sub groundwater, pumped it to the surface, cooled it through cooling towers, then treated it through reverse osmosis plants before storing the potable water in tanks and distributing it through the existing water network. Significant amounts of storage were required for the drilled and treated potable water created.
Selected to provide durable storage tanks, CST Storage provided 17 Aquastore glass-fused-to-steel coated modular tanks from its DeKalb, Illinois facility. In addition, CST Covers in Rincon and Conroe, Texas, were used to manufacture 17 aluminium geodesic domes to cover the tanks. The CST Storage tanks were identical in size, storing 5,000 m3 with dimensions of 31.5 m diameter and 6.9 m height. Altogether, CST Storage tanks and CST Covers domes today provide protected storage for 85,000 m3 of potable water in Riyadh. Respected Saudi contractors, SSEM and NESMA, oversaw the acquisition and installation of the storage tanks and covers for the NWC.
Site worked crews up to 16 hours per day and construction of the tanks and covers was completed within 60 days of the material arriving on site. Once construction was completed, water fill tests were performed on all the CST tanks and covers. www.cstindustries.com
Prestressed concrete tanks
DN Tanks specializes in the design and construction of AWWA D110 prestressed concrete tanks used for potable water, wastewater, chilled water and other liquids worldwide. The company has over 130 years of experience, and over 2,500 tanks ranging in capacity from 40,000 gallons (151 m3) to 40 million gallons (151,000 m3) . Manufactured tanks are designed to meet varying requirements with the ability to withstand seismic activity, extreme climates, and severe conditions.www.dntanks.com
More Water & WasteWater International Current Issue Articles
More Water & WasteWater International Archives Issue Articles