Water's Highs & Lows: 2014 Year Review
Although 2014 may have been quiet on the municipal contract activity, it's the industrial activities providing room for growth. WWi provides an overview of the major contracts won over the course of 2014, region by region.
Jan 19th, 2015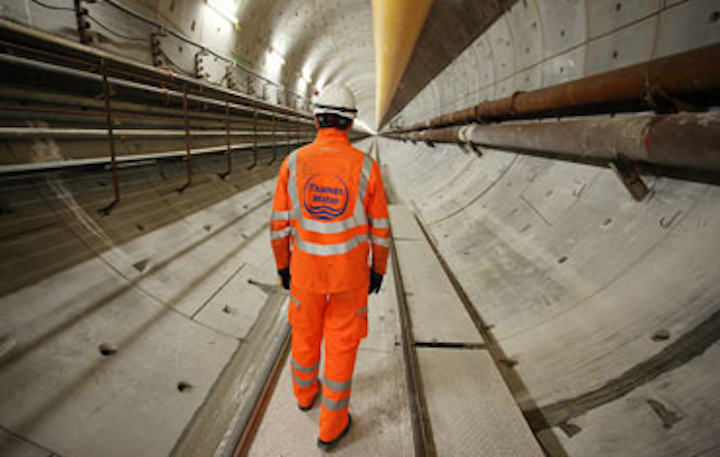 In the UK, Thames Water's massive and controversial London Tideway project is undoubtedly the largest around

Although 2014 may have been quiet on the municipal contract activity, it's the industrial activities providing room for growth. WWi provides an overview of the major contracts won over the course of 2014, region by region.
The global picture for water and wastewater projects reveals some key markets starting to make good on their promised potential and various interesting niches being exploited, while activity in some of the more mature markets remains relatively flat.
Consultancy Envisager's David Lloyd Owen, who for many years produced the much-missed Pinsent Masons Water Yearbook, notes that it has been a "fairly quiet" year for water and wastewater contracts. "There doesn't seem to have been any great change in recent trends on the municipal side," he observes. "There has been a little bit of progress in size and scope in the private sector."
Much of the action has been taking place outside Europe, he adds, although the giant French players, Veolia and Suez Environnement, have been very active and continue to expand. India and China are a strong focus for water and wastewater activities, and he sees more impetus coming from locally-based companies.
The industrial sector is also more active, Lloyd Owen notes, and it is here that innovation is taking place. "It has been a waiting year, generally speaking," he says.
However, quiet ground is often an ideal place for interesting developments to take root. Lloyd Owen observes: "At the development stage, there is a remarkable amount of innovation taking place: things like smart water and low energy wastewater treatment." This makes 2014 an interesting year, he adds – somewhat lacking in major headlines but exciting behind the scenes.
He observes: "We are living in most exciting times, but whether utilities will be adopting these technologies is another question altogether."
Europe
In this extremely mature marketplace, Lloyd Owen tips Ireland as a market to watch. "There have been massive demonstrations against paying for water. There doesn't seem to be any give and take from the government – if they had said yes, you must pay for your water but we will take something off the tax bill, that would have worked, but they haven't."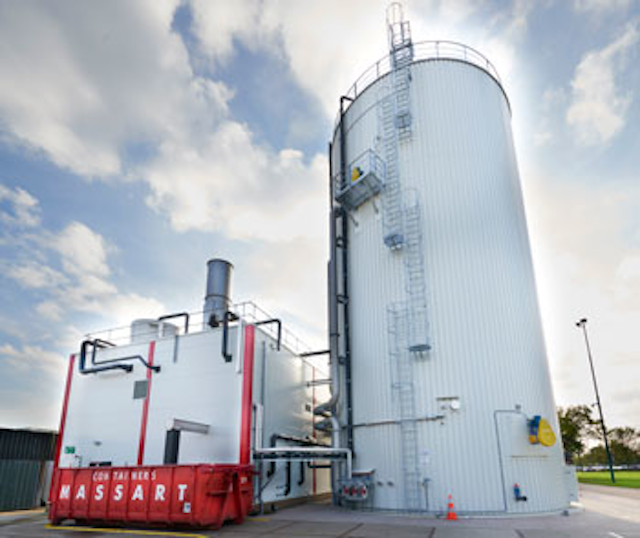 The world's largest chocolate factory in Veghel, the Netherlands will soon have 99% of its organic pollution turned into biogas, using MBR technology
There has already been significant investment on the wastewater side, but smaller schemes for smaller towns - comprehensive refurbishment and extension - are needed. "The practical emphasis has to be on smaller schemes," Lloyd Owen says. "If they are going to charge for water, people will want to see better services for their money."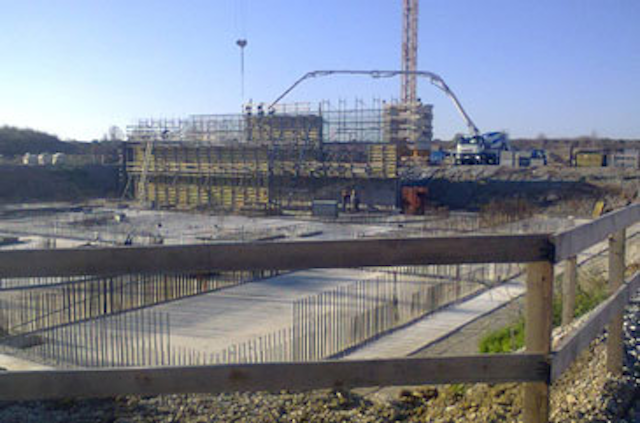 A $20.9 million contract in Slovenia will see Veolia deliver MBR municipal treatment technology
A number of significant contracts have nevertheless come through elsewhere in Europe. In April Suez Environnement, via its subsidiary Safège, won a five-year, €17 million ($21.3 million) contract to project manage long-term partner Syndicat des Eaux d'Ile de France's (SEDIF's) drinking water supply structures. Safège will project manage potable water plants and recovery, storage and transfer facilities, and will also project manage long-term programmes to renew distribution pipelines between 2015 and 2017 in the Oise and Marne areas, representing 102 municipalities and €60 million ($75 million) worth of work.
A municipal contract for Nova Gorica on Slovenia's Italian border awarded in January sees rival Veolia undertaking a $20.98 million contract to provide an EU-financed wastewater treatment plant using its Biosep® MBR treatment plant with a sludge dryer treatment line capacity of 52,000 PE. The main consultant is Slovenia's Projekt.
Veolia has also won a contract to supply an anaerobic wastewater treatment plant for a new Paulaner brewery on a greenfield site in Langwied, near Munich - by far the largest project for a brewery in Germany for the next few years. The plant capacity is 2800 m³/day, with a COD load of 23,500 kg/day.
In the Netherlands, the company recently commissioned a sweet contract for the Mars plant in Veghel, the world's largest chocolate factory. The solution involved building and operating a wastewater treatment facility equipped with Veolia's Memthane™ anaerobic MBR technology (combining Veolia's Biothane anaerobic biological wastewater treatment and Pentair's X-Flow ultrafiltration membrane separation process), which can turn 99% of organic pollution into a source of biogas. The solution – in its first use in Europe - will cut the Veghel plant's energy bill by 10%. Veolia was main contractor on the project.
In the UK, Thames Water's massive and controversial London Tideway project is undoubtedly the largest around. Thames's key contracts commissioned in 2014 support its ambitious strategy to minimise wastewater discharges to the tidal Thames.
These include the £712 million ($1116 million) Lee tunnel, which was scheduled to complete in December, and major upgrades to its Beckton and Crossness wastewater treatment works, worth £222 million ($348 million) and £220 million ($344.8 million) respectively.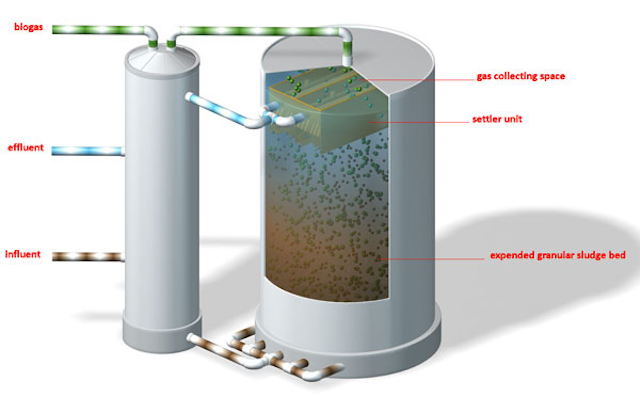 Top brew: Veolia will supply a 2800 m3/day AD plant for a new Paulaner brewery on a greenfield site in Langwied, near Munich
Black & Veatch provided its services to another recently commissioned major contract, helping United Utilities unlock a valuable source of renewable energy at its massive Davyhulme wastewater treatment works. The upgraded Manchester facility uses biogas to generate green energy - enough to meet its own power requirements and export to the National Grid.
Somewhat further south, a Modern Water Services/Northumbrian Water joint venture won preferred bidder status in October for a new wastewater treatment plant serving Gibraltar. The £22 million ($35 million) DBFO project will treat urban wastewater and stormwater flows for the entire territory.
MENA
The Middle East – North Africa region will once more be a key area of interest in the near future, Lloyd Owen predicts. "We are forecasting a big uplift from next year onward," he says. Desalination may be losing some of its favoured status while wastewater recycling gains favour as a less resource-intensive option for irrigation, but activity is by no means at an end.
For example, in Saudi Arabia, the Saline Water Conversion Corporation recently announced plans to increase desalination capacity to cope with rising demand, and contracts coming on stream soon in the kingdom include Jubail 3 and the Jeddah 3 desalination facility. The country is also increasingly turning towards membrane solutions, and there are a few solar desalination trials taking place. "It's all a question of scale and cost, in the long run it could be very interesting," says Lloyd Owen. "Once the capex spend is over, it could have quite an interesting impact on operating costs."
One important traditional project in the region teams Japan's Hitachi with Veolia Environnement through its subsidiary OTV. Together with Egyptian engineering firm Arabco, the consortium recently won an engineer, procure and construct (EPC) contract for a pre-treatment system and ancillaries including the river water intake and water transport facilities for a desalination plant in Basrah, Iraq.
The order, from the Iraqi Ministry of Municipalities and Public Works, is worth Y24 billion ($203 million) in total, of which the Hitachi/Veolia share is around Y10 billion ($84.5 million).
Construction was set to begin in October and completion is scheduled for April 2017.
Suez subsidiary Degrémont won a major contract to design, construct and operate the desalination element of the new Mirfa independent water and power project, 160 km west of Abu Dhabi city, which is worth a total of €146 million ($182.8 million). South Korea's Hyundai Engineering & Construction chose the Suez subsidiary to build the RO plant as part of an Abu Dhabi Water and Electricity Authority (ADWEA) contract.
Mirfa will have a 140,000 m3/day capacity and will use SeaDaf filtration technology to pre-treat the algae-rich Arabian Gulf water, followed by a double RO system. This contract will be followed by a €29 million ($36.3 million) contract for the plant's operation and maintenance, awarded to Degrémont by the Mirfa International Power & Water Company.
In Morocco, Biwater International recently commissioned a new wastewater treatment works for the city of Khenifra, incorporating trickling filters to improve odour control and the quality of the effluent discharged. The client was the Office National de l'Electricitéet de l'Eau Potable – Branche Eau (ONEE), and the project benefits around 150,000 residents.
Americas
"What has been happening in the American market is most interesting – it has seen the development of much more focused contracts, with companies taking on aspects of water management rather than the whole," says Lloyd Owen.
On the municipal side it has been "business as usual" he says, with more progress on the specific outsourcing side. The reason, he notes, is that there is "less political risk involved. It is simpler."
America remains a fascinating place, he adds – the bastion of free enterprise, but with attitudes towards water that run counter to this principle. "It is a big challenge for the water industry," he says.
The significant projects for MWH Global this year are good examples of the move towards more focused solutions, as they include some major environmental creation and restoration activities and a significant CSO alleviation contract.
MWH is providing engineering and design services for the Easterly tunnel dewatering pump station project, one of the largest CSO pump station projects in the US and a critical element in addressing CSOs for the city of Cleveland and surrounding communities in northeast Ohio.
The 605,000 m3/day project for the Northeast Ohio Regional Sewer District will involve constructing a massive pump station 240 ft underground to house nine pumps. This will enable the city's stormwater storage tunnels to capture flows in a controlled way - these would otherwise have been discharged to surface waters, causing urban flooding and discharges of sanitary sewage to the environment. This project is due to complete in late 2016. Engineering design cost on the project is $6.94 million, and the total construction budget is $73.2 million.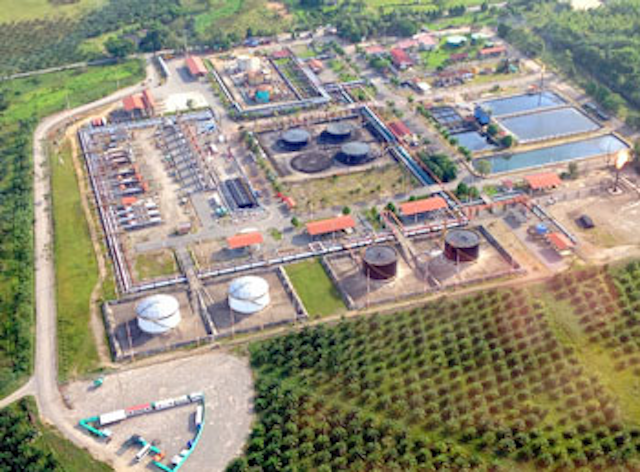 Ecopetrol America's Castill oilfields in Colombia will see a $73 million contract remove and recover oil from produced water
Several high profile environmental improvement projects have also started up: the South Florida Water Management District awarded the high-profile Everglades restoration project in mid-June, for which MWH will provide construction management and engineering services to help implement the $880 million Restoration Strategies Regional Water Quality Plan.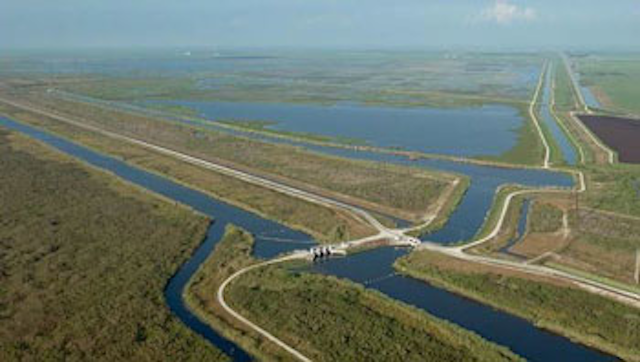 The Everglades project was awarded in South Florida to help implement a $800m restoration plan
California's drought has led to much tighter restrictions on groundwater use, and this is also generating opportunities for projects. For example, CH2M Hill was awarded a $141.2 million contract by the Woodland-Davis Clean Water Agency for the cities of Davis and Woodland to develop and operate a system to treat surface water from the Sacramento river. The project, which has a 2016 deadline, will replace existing groundwater sources.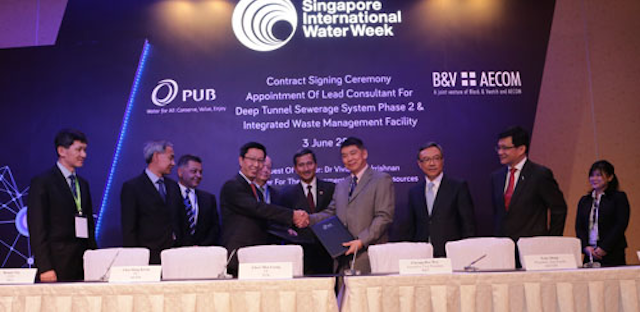 Teamwork: Labelled as one of the most significant water projects in Asia, Phase 2 of the Deep Tunnel Sewerage System (DTSS) was awarded to a B&V+AECOM jv
A number of interesting contracts have been awarded in South America, including Degremont's €30 million ($37.6 million) EPC contract to provide water treatment facilities for Klabin, Brazil's biggest packaging paper exporter. Degremont will provide a 5900 m3/hour process water plant equipped with its Densadeg technology followed by Aquazur filters, and a boiler feedwater plant with an ion exchange system.
Asia
"China is clearly the place where things are happening," says Lloyd Owen. "It stands out above all others. Water problems there are now at the point where they are affecting development, which provides the incentive to make progress."
The country also now has a true national player, Beijing Enterprises Water Group (BEWG), which provides water and environmental services to around 70 million people. "Three to four years ago there were no Chinese players serving more than 13 to 14 million people. BEWG is the first company with customers across China rather than a regional player," Lloyd Owen says.
The company has also expanded its activities to Portugal and Malaysia, and recently announced it has won preferred bidder status for the second Changi NEWater plant DBOO project in Singapore.
China has a national strategy to improve wastewater treatment by 90% over five years, which has given tremendous impetus to improvements. BEWG recently signed a $288 million B-loan agreement with the Asian Development Bank (ADB) to upgrade and operate wastewater treatment plants across the country to meet the 1A standard, the country's strictest requirements for wastewater treatment.
Treated wastewater will be reused for industrial and urban environmental uses including machine cooling, boiler operation and construction site cleaning.
The country's Water Pollution Prevention and Control plan is expected to be introduced this year or next, and investment in the water sector is forecast by analyst Barrons to increase to CNY2 trillion ($326.7 billion) between 2016 and 2020, with tighter policy enforcement and government monitoring as well as stricter discharge standards.
Underlining the market's buoyancy, the joint venture Yangzhou Sino French Environment Company won a 20-year contract in February worth €24 million ($30.1 million) to operate the Yangzhou sludge drying plant in Jiangsu province. The contract will start in 2015 and involves drying 300 t/day of sludge, rising to 500 t/day, mainly from Yangzhou's Tangwang and Liuwei facilities, which serve 4.5 million inhabitants.
Sembcorp has been carving its own niche in the burgeoning industrial wastewater treatment market – it was chosen by the Jiangsu Environment Protection Department to acquire and upgrade a 20,000 m3/day industrial wastewater treatment facility for the Lianyungang Lingang chemical industrial park in Jiangsu province. The upgraded plant will be able to treat highly concentrated industrial wastewater and will serve as a model for other industrial parks in the province.
Meanwhile, Veolia has also been making inroads in China. In the oil and gas market, it signed a key project in May for the Veolia/Sinopec operating jv, Beijing Yanshan Veolia Water. For this project, Veolia's proprietary OPUS technology will be used to reclaim 200 m3/hour of brine and enhance recovery from an existing UF/RO refinery wastewater recycling system. Main consultant on the project is Sinopec Ningbo Engineering Company and the main contractor is Beijing Yanhua Construction Engineering Company.
In Singapore, a joint venture between Black & Veatch (B&V) and AECOM was chosen in June by PUB, Singapore's national water agency, to provide engineering services for Phase 2 of the Deep Tunnel Sewerage System (DTSS). The B&V+AECOM jv will work with PUB to shape one of the most significant and anticipated water projects in Asia.
The Drainage Services Department (DSD) of the government of the Hong Kong Special Administrative Region (HKSAR), has awarded Black & Veatch (B&V) a feasibility study project to relocate Sai Kung wastewater treatment plant to caverns. The effort is part of the HKSAR government's policy to boost land supply for long-term development needs. The company is also celebrating completion of a 10-year programme to improve drainage works in East Kowloon. Construction of the 46,000 m3/dayPasay wastewater treatment plant in Manila was a January win for Veolia that involves a $25 million DBO contract with a one-year O&M period (for process proving).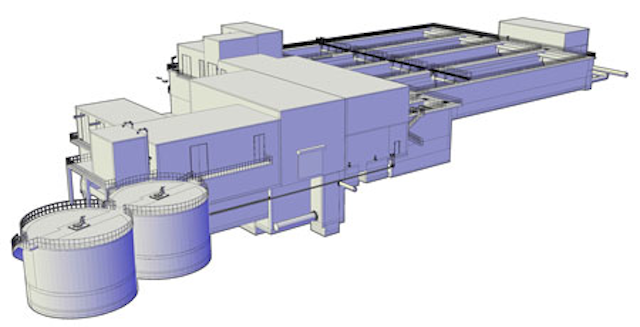 Construction of the 46,000 m3/day Pasay wastewater treatment plant in Manila will include primary settlement - activated sludge – UV solution.
The plant design and layout take into consideration a future upgrade to meet future standards, which are expected to be stricter. The plant will incorporate Veolia's primary settlement - activated sludge – UV solution.
The main consultant was Arup at tender stage and OEC at construction stage, which started in May. Commissioning is due in early 2015.
The Indian market is also finally taking off in spectacular fashion. "We often forget about India," says Lloyd Owen. "One of the most interesting things is a culture shift – a lot of utilities until recently said that as long as we deliver water regularly we don't need to deliver it continuously."
Wastewater contracts are also finally beginning to appear – Prime Minister Narendra Modi recently made a "swatcha" (cleanliness) pledge that aims to create a "clean India", a concept that includes ending open defecation by the 150th birthday of Mahatma Gandhi on 2 October 2019.
Austria's Va Tech Wabag won a Rs250 Cr (€40 million) JICA-funded contract from BWSSB at the beginning of the year to design and construct a 90MLD wastewater treatment plant at Bellandur Amanikere in Karnataka, with a seven year O&M period.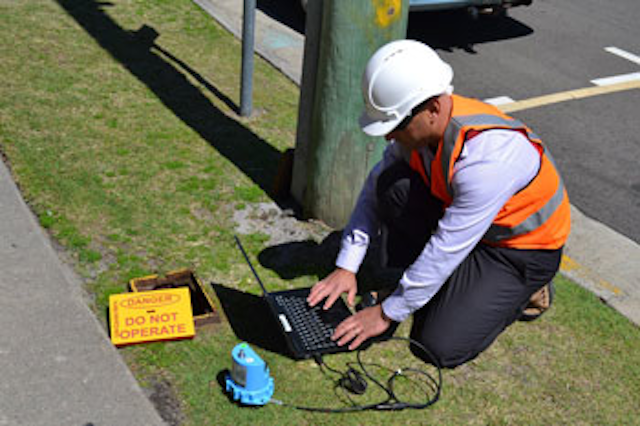 Leak detection: TaKaDu won a contract extension Quensland utility UnityWater. The trial installation in 2013 claimed to have saved nearly a billion litres of water (equivalent to AUD$2 million)
SPML Infrastructure has picked up a number of contracts across the country. One example of the company's impressive workload being a recent R372.70 Cr ($60.2 million) order from the Public Health Engineering Department (PHED), Jodhpur, for a water supply scheme for 256 villages and the town of Bhinmal, with a 10-year operation and maintenance phase. Other recent awards include a Rs164.60 Cr ($26.6 million) order from Bangalore Water Supply and Sewerage Board (BWSSB) to improve the city's water distribution system, reduce unaccounted-for water and undertake leakage control, topped by a five-year O&M phase.
Australasia
Municipal desalination has lost its impetus in most urban areas apart from Perth with the easing of Australia's "big dry" – with more abundant rains. Many of the country's landmark projects including the Melbourne, Sydney and Gold Coast plants (and shortly Adelaide, when its two-year trial period is completed in January) have been mothballed.
"The practicalities remain pretty unimpressive," Lloyd Owen remarks. "Now that dams are filling up again, the one area of change may well be in considering private investment in maintaining and managing dams as well as pondering new ones."
On the industrial side, he notes that Queensland is pondering offering 50-year leases for 16 industrial water pipelines operated by Sun-Water.
Some of the biggest contracts this year have involved supplying water to remote mining and industrial sites. GHD undertook a key element of a major AUD$300 million ($258.3 million) contract to construct the Mundaring water treatment plant in Western Australia, a 165,000 m3/day facility expandable to 240,000 m3/day.
Helena Water will operate and maintain the plant for 35 years, and further contracted Acciona and Trility to design, construct and commission the facilities, with the design undertaken in collaboration with GHD. State utility Hunter Water Corporation also awarded Veolia a contract this year to operate and maintain 25 of its water and wastewater treatment plants in New South Wales's Hunter region.
The €193 million ($241.8 million) contract is the largest ever awarded by the utility and involves Veolia operating and maintaining the plants, which supply services to over half a million people in the region.
In New Zealand, Mott MacDonald won a contract from Watercare Services to design the NZD63 million ($49.5 million) expansion of Auckland's Rosedale wastewater treatment plant, one of a series of projects intended to cater for predicted population growth.
The expansion includes a new 3 km pipeline and pump station, an additional primary sedimentation tank, digester and feed tank system, and a modified Ludzac k Ettinger reactor to treat wastewater. The project is due to complete in 2019.
Meanwhile, TaKaDu won a contract extension from Queensland water utility Unitywater on an expansion of a trial project to improve the utility's operational visibility and efficiency and reduce costs and water losses. Jacobs, TaKaDu's Australian technology partner, managed the deployment.
The contract extension will increase the amount of network being monitored by the TaKaDu solution – since its trial installation in 2013, nearly a billion litres of water (equivalent to AUD$2 million, or $1.7 million) has been saved, the company reports.
The article was produced by WWi magazine with assistance from David Lloyd Owen, managing director of consultancy Envisager. The article can be found online at www.wwinternational.com. For more information, email: tomf@pennwell.com
More Water & WasteWater International Current Issue Articles
More Water & WasteWater International Archives Issue Articles