Celebrating the Water Industry's High Fliers
The global water/wastewater industries have spoken! From Nobel Laureates, to water reuse pioneers and engineers who have grown billion dollar businesses in less than a decade: the water industry is full of innovators and thought leaders. Here we take a close look at the top 24 before an interview with the winner.
Jan 20th, 2015

The global water/wastewater industries have spoken! From Nobel Laureates, to water reuse pioneers and engineers who have grown billion dollar businesses in less than a decade: the water industry is full of innovators and thought leaders. Here we take a close look at the top 24 before an interview with the winner.

25 Li Guoying, former Commissioner, Yellow River Conservancy Commission, China (now vice minister of water resources)
From 2001 to 2011, as commissioner for the Yellow River Conservancy Commission (YRCC), he helped to transform China's second longest river. YRCC overcame natural and man-made challenges through innovative and sustainable policies to enable the Yellow River to flow unabated over the last 10 years. Improved water supply from YRCC's efforts are said to have benefitted and enhanced the quality of life for over one hundred million people. Life and vitality were cited to be restored to the river, according to the Lee Kuan Yew Water Prize nominating committee, who awarded YRCC the 2010 prize in Singapore.

24 HON Ek Sonn Chan, Cambodia Under-Secretary of State for Water (former General Director, Cambodia Water Supply Authority - PPWSA)
Decades of conflict left Cambodia's capital's water supplies running low. In 1993 Chan was appointed as general director of PPWSA. He oversaw the utility's dramatic turnaround. A total of 1,500 kilometres of new pipelines were laid, helping to expand water output by 600%. By confronting VIP nonpayers and cutting supplies after refusal to pay, he achieved a collection rate of 99% by 2003. Water losses due to leakage in pipes and pumps declined from 72% in 1993 to 6% in 2008.
23 Dr Jim Birkett, Proprietor (retired) West Neck Strategies, USz
Widely considered one of the desalination industry's most respected professionals, Dr. Birkett has more than four decades of experience in the study of desalination, advanced water treatment and membrane separation industries and technologies. He was the first elected President of the International Desalination Association (IDA). He later served as Treasurer and was a director for many years. From 2009-2013, he served as Chairman of the Editorial Boards for the IDA Journal of Desalination and Water Reuse.

22 Neil Macleod, Former CEO, eThekwini Municipality, South Africa
Macleod demonstrated how to turn a struggling utility into a profitable business. Since 2000, he oversaw eThekwini Water & Sanitation to connect 1.3 million to piped drinking water while helping to generate $520 million per year. This is as well as connecting over 700,000 citizens to wastewater services. Winner of the 2014 Stockholm Industry Award, he was credited with helping eThekwini to serve as a "sterling example for the many communities worldwide facing similar challenges". Not content with fully retiring, Macleod is now travelling the world to promote driving down water losses.
21 Paddy Padmanathan, CEO, ACWA Power International, UAE
A civil engineer with 30 years of experience, Padmanathan built ACWA Power to become a leading developer of privately financed power generation and desalination water production plants in the GCC and MENA region. Over eight years, he grew the business into a $1.3 billion company to deliver 2.4 million m3/day of water and 13,000 MW of power. An engineering graduate from the University of Manchester, UK, he started his career with a British Consulting Engineering practice, before moving onto Black & Veatch.


20 Leon Awerbuch, President, Leading Edge Technologies, US
Known as the "hybrid desalination pioneer", Awerbuch has been involved in the desalination business for 40 years. He was also one of the early pioneers of desalination aquifer storage and recovery. Past president of the IDA and chairman of six IDA World Congresses, he holds 23 patents including the MED-MSF-RO-NF integrated hybrid technologies and has published over 80 technical papers. He received a Masters Degree in Chemical Engineering and Chemistry from Warsaw Technical University.

19 Munir Cheryan, Founder and President, Munir Cheryan, US
Dr. Munir Cheryan is founder and president of consultancy Munir Cheryan LLC which provides consulting services in bio-separations, particularly membrane technology. He has been a consultant to and/or served on technical advisory and/or management boards of over 55 companies, from multinational giants to start-ups, as well as government organisations and the UNDP-FAO. He has been founder, chief scientific advisor and/or president of three start-up companies since 2001. He has 16 issued US and Canadian patents and is the author of the best-selling Ultrafiltration Handbook.
18 Kazuo Yamamoto, Professor, University of Tokyo, Japan
Yamamoto was the inventor of the submerged membrane bioreactor concept in 2008 and led research and development into membranes for advanced water treatment and reclamation. He received the Sidney Loeb Award from the European Desalination Society for invention of the submerged membrane bioreactor concept. He graduated from the Faculty of Pharmaceutical Sciences at the University of Tokyo in 1979.


17 Khoo Teng Chye, Former CEO, PUB, Singapore
Chief executive of Singapore utility PUB from 2003 to 2011, Khoo can be credited with turning Singapore's water utility into a world leader: reducing its reliance on water imports from Malaysia and making direct wastewater reuse publically acceptable. Beginning his career at the Urban Redevelopment Authority, he helped transform Singapore's urban planning and regulatory regime. A graduate in civil engineering from Monash University in Australia, he also holds a Masters of Science in Construction Engineering from the National University of Singapore.

16 Neil McDougall, Former Executive Chairman, Modern Water, UK
A qualified chartered accountant, Neil McDougall co-founded Modern Water and was jointly responsible for helping to bring a university R&D project on forward osmosis through to commercialisation and installation in Gibraltar and Oman. A chartered accountant, McDougall was formerly chairman of Mid Kent Water Group and chairman and CEO of Cascal NV and a director of Biwater. He has worked extensively with private equity investors and infrastructure funds.

15 Dr Andrew Benedek, CEO, Anaergia, Hungary
A leading authority on global water issues, Dr Benedek founded Zenon Environmental in 1980, growing the business to become a leader in membrane treatment before being sold to GE. With over 30 years experience in wastewater treatment, he won the Stockholm Water Industry award in 2003 and the Lee Kuan Yew Water Prize in 2008. Chairman and CEO for Anaergia, Dr Benedek graduated from McGill University with a Bachelor of Chemical Engineering and PhD from the University of Washington.

14 Boris Lesjean, R&D Program Manager, Berlin Centre of Competence for Water, Germany
A well-respected researcher in Membrane Bioreactor (MBR) technology, Lesjean has been working since 1997 in R&D related to urban water management. For the past 10 years he has been with the Berlin Centre of Competence for Water, where he initiated, developed and coordinated applied research and development projects, with a focus on membrane technologies. He has coordinated several European projects, including the FP6 project "AMEDEUS", dedicated to the development of membrane-activated sludge processes. Since 2006 he has been developing the MBR-Network.
13 Professor Tony Fane, Director, Singapore Membrane Technology Centre, Singapore
A chemical engineer with a PhD from Imperial College in London, Professor Fane has developed membrane theory and application since 1973 when he joined the University of New South Wales in Sydney, Australia. He is a former director of the UNESCO Centre for Membrane Science and Technology and the director of the Singapore Membrane Technology Centre (SMTC) at Nanyang Technological University in Singapore. SMTC has a group of over 80 researchers dedicated to applied research into membranes for the water cycle.
12 Olivia Lum, CEO, Hyflux, Singapore
It was in 1989 when Olivia Lum left her corporate life as a chemist with Glaxo Pharmaceutical to start up Hydrochem, the precursor to Hyflux. Managing the group for 25 years, she has helped Hyflux expand into an international business, winning major projects in Singapore and overseas in Algeria and recently Oman. A true entrepreneur, Lum won the Nikkei Asia Prize for Regional Growth 2006 and the Ernst & Young World Entrepreneur of the Year 2011. She holds an Honours degree in Chemistry from the National University of Singapore.
11 Dr William Muhairwe, senior team leader, 2ml Consulting (Former CEO, Ugandan National Water & Sewerage Corporation - NWSC), Africa
Having managed public companies in Uganda and abroad for more than 19 years, Professor Muhairwe has received many international awards, including from the International Water Association in 2010. In 1998 he took over the National Water and Sewerage Corporation (NWSC) as managing director – a state organisation that was almost collapsing due to mismanagement. He was then responsible for one of the African water industry's greatest success stories. Over the course of 13 years he grew NWSC to become one of the most successful and profitable utilities in Africa.
10 Lisa Henthorne, Chief Technology Officer, Water Standard, US
Holding three patents in water treatment, Henthorne has more than 25 years of experience in the desalination and water treatment industry. The first female president of the International Desalination Association from 2007-2009, while heading the desalination business for CH2M Hill, she acted as technical advisor on many challenging projects in the Middle East, Australia, US and Asia. Henthorne graduated from the Colorado School of Mines with a Masters of Science in Chemical Engineering and Missouri State University with a Bachelors of Science in Chemistry.

9 Amartya Sen, Professor, India
A Nobel Prize winner in 1998 for his "contributions to welfare economics", Sen is seen as one of the key thinkers in international development and helped to shape the Millennium Development Goals (MDGs). Educated at Presidency College in Kolkata, he went on to receive a B.A, M.A and PhD from Trinity College, Cambridge. In 1998 he was appointed master of Trinity College, Cambridge - a position he held until 2004, when he returned to Harvard as Lamont University Professor. His views and published work have helped shaped policy maker's decisions.
8 Dr Boris Liberman, Chief Technology Officer, IDE Technologies, Israel
Active in the field of desalination for 20 years, Dr Liberman developed the Pressure Centre desalination concept, Direct Osmosis Cleaning, 16" membrane arrangement in a vertical position and has overseen some of the largest projects in the world. He has pending applications in reverse osmosis for power generation. A graduate of the Institute for Scientific Research in Water Supply, Moscow, he holds several granted patents in the field of reverse osmosis desalination.
7 Miriam Balaban, Secretary General, European Desalination Society, US
A chemistry graduate from the University of Pennsylvania, Miriam Balaban has served as the secretary general of the European Desalination Society (EDS) since its founding and has authored more than 9,000 papers over 40 years of desalination research. In 1966 she founded the journal Desalination: The International Journal on Science. In 2009 she was awarded the EDS Lifetime Achievement award for her contributions to the field. She also helped establish the School for Science Communication, Mario Begri Institute for Biomedical Research in Italy.

6 Dr Adil Bushnak, CEO, Bushnak Group, Saudi Arabia
Dr Bushnak helped establish the International Desalination Association (IDA) and led the private Saudi effort to commercialise the use of direct seawater for irrigation to produce food crops. He has played a key role in promoting water desalination technologies such as reverse osmosis, ultrafiltration and membrane filtration for seawater desalination, helping the Kingdom of Saudi Arabia (KSA) become the largest desalination country worldwide. He is chairman of Bushnak Group headquartered in the KSA, which has several companies active in water, environment and energy services.
5 Professor Simon Judd, Professor of Membrane Technology, Cranfield University, UK
Professor Judd lectures at Cranfield University in the UK and Qatar University in the Middle East. He has 22 years' experience in teaching the fundamentals of water and wastewater technologies and has completed over 30 post-graduate research student project programmes. He has managed over 15 large industrially-funded projects for UK and overseas water utility and technology suppliers, and has provided consultancy and training to clients in North America, Europe, the Middle East and the Far East.
4 Mike Markus, Manager, Orange County Water District (OCWD), US
Markus joined OCWD in 1988, overseeing construction of many water facilities. In 2002 he was tasked with managing a $481 million Groundwater Replenishment System (GWRS). As a result, he has helped OCWD pave the way for public acceptance of water recycling for indirect potable use, replicated in countries such as Australia and Singapore. Under his leadership, GWRS won 21 awards, including the Stockholm 2008 Industry Award and Lee Kuan Yew Prize 2014.

3 Dr James Barnard, Global Practice and Technology Leader, Black & Veatch, South Africa
Winner of the 2011 Lee Kuan Yew Prize in Singapore for "revolutionising used water treatment", technologist Dr James Barnard was recognised for his ground breaking invention of Biological Nutrient Removal (BNR) technology, an environmentally sustainable, biological method to treat used water. Internationally recognised as the "Father of BNR", Dr Barnard began exploring the possibility of removing phosphorus and nitrogen from used water when faced with water quality challenges in his native South Africa and arid Namibia in the 1970s.
2 Professor Asit Biswas, Founder, Third World Centre for Water Management, India
Acknowledged universally as one of the world's leading authorities on water management, Professor Asit K. Biswas has been a senior advisor to 19 governments, six heads of the United Agencies and secretary general of OECD. Professor Biswas also advises four multinational companies in the top 50 of the Fortune 500 companies. He is a past president of the International Water Resources Association and co-founded the World Water Council. Author of over 80 books, his work has been translated into 37 languages.

Leader of the Pack--Australia's Desalination Guru Claims Top Spot

WWi readers have had their say. Your votes have been added up to decide the winner of this year's Top 25 Industry Leaders. Please step forward, Neil Palmer, CEO, National Centre of Excellence in Desalination Australia (NCEDA). Tom Freyberg caught up with the CEO while on his travels across the US.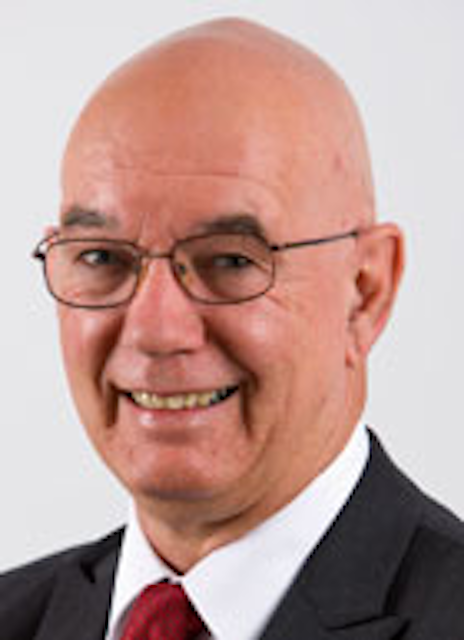 Top spot: Out of 25 nominated leaders in the global water industry, Palmer was voted number one by WWi readers
Water & Wastewater International magazine (WWi): Congratulations on taking first place in WWi magazine's 25 Industry Leaders. How do you feel about that accomplishment?
Neil Palmer, CEO, National Centre of Excellence in Desalination Australia (NCEDA): I'm very humbled. I would consider it a very significant honour to be regarded as one of the industry's top leaders. I've been in the water industry for 40 years now. One does try to make sensible decisions, recommendations and findings. I've met a lot of people in that period and I'm delighted and humbled that people feel that I've achieved some recognition for my work in water.
WWi: No need to be so humble – you've clearly had a fruitful career. We last spoke to you at the IDA World Congress in Perth about the formation of the NCEDA. How is this developing?
Neil Palmer: The NCEDA has been established five years now. It is now completing its 50th project of a wide range of activities in order to improve desalination efficiency and provide solutions for people, particularly in remote and outback areas of Australia. The achievements have seen a big international recognition of the centre's work. We've made good progress within this period. One of the interesting challenges is to continue the work given the financial constraints in Australia. NCEDA comprises 13 Australian universities and CSIRO and our base is at Murdoch University in Western Australia.
WWi: But you've just travelled 36 hours to be in America? That's a long way from home…
NP: Correct. I'm now in Tucson (Arizona) with Professor Wendell Ela of the University of Arizona, who has accepted the position of desalination and water treatment professor at Murdoch University. He starts in January. We're very excited to see this establishment of desalination research and teaching at Murdoch University as a direct outcome of the activities of the NCEDA.
WWi: Desalination is gearing up in the US, particularly California. There are perhaps some similarities with Australia before your big desalination push in 2004?
Tomorrow I'll actually be in California. There's been a lot of scaremongering and wildly inaccurate statements about desalination in California. I'm here to provide some factual information. It's important that people understand.
WWi: So you're sharing lessons from Australia on how to deal with negative publicity?
NP: We have some experience to share – we had to build plants quickly. Between 2004 to 2012 we delivered six large seawater desalination plants over the eight year period. That's AUD $12 billion dollars' worth of investment. So we were able to fast track them because we were facing the drought. Had the drought continued, we could have run a major city out of water, it was that serious. No government can stand back and do nothing when that scenario is approaching. There will be more droughts and [desalination] provides tremendous security. And frankly, the cost for Melbourne residents for this insurance is AUD$0.40 per day per person. That's not an unaffordable cost. It's probably a lot less than you pay for house and contents insurance. It's small price to pay for no future water restrictions.
WWi: When you wrote an article for WWi three years ago, the theme was "desalination has come of age" in Australia. Things have changed considerably since. What's the current situation with the built desalination capacity?
NP: In the eastern states, it seemed to follow a pattern: build a desalination plant and then the rains fell. However, Australia has a very variable climate and two things are certain: there will be droughts in the future and population and water demand will grow. So some of the desalination plants that aren't being used at the moment are essential to provide future water security, particularly to Sydney and Melbourne. Melbourne is growing rapidly and is expected to double in population by 2050. There's no other new water supplies that are available. So while the Melbourne plant is not being used now, in its design life - which is more than 50 years – it will be relied upon to provide water security and avoid future restrictions in water supply. This is as well as making sure Melbourne remains one of the world's most liveable cities.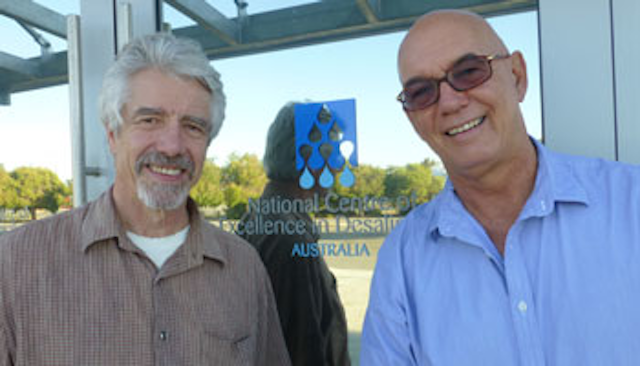 Teamwork: Palmer (right) with Professor Wendell Ela (left), who has accepted the position of desalination and water treatment professor at Murdoch University
WWi: Talking about the future, how important is leadership in the water industry to attract younger generations of engineers?
NP: One of the exciting aspects of water and desalination is the use of renewables to power desalination and provide fresh water in places where they never had it before. I think the use of renewable desalination will attract young minds. I think it has already. All the Australian desalination plants have their energy completely offset by wind energy. You could argue that the desalination plants are carbon neutral in their operation phase. That's something we are proud of. It's more expensive but it is something that people are conscious of and the utilities that built the plants recognise this. Certainly for myself, it's not the desalination process that's fascinating, it's creating the fresh water and the possibilities this brings.
WWi: How is the Desalination Discovery Centre helping to spread the word on some of this work you're doing?
NP: Over the years, the Desalination Discovery Center has reached out to more than 6000 children. It's been a very effective means of explaining desalination issues such as energy usage and the impact on marine environment. For example, we have a desalination plant in Perth that's been operating for eight years at 100% flow into Cockburn Sound – a confined body of water. There has been no adverse impact on the environment on the intake or the outfall.
WWi: You say you've had 40 years in the business – I can't imagine you will want to eventually retire quietly with all your desalination knowledge. What are your plans?
NP: I'll be around for a few more years yet Tom! There are many new adventures to be had. What I've learned over the 40 years has been put to good use with sensible decisions. And in that case a sensible decision means that places like Perth have a number of supplies, but desalination is part of the portfolio to make sure you get optimum use of the water and you get water security. That's a message I've learned. Also, we've had some of the technical research projects, which may bring water security to indigenous communities in Australia. That's a very worthwhile objective. There are health benefits for the people in the long-term. To be involved in projects that benefit local people who have had unreliable and poor quality water supplies is something I would like to continue to help with.
WWi: That sounds like a worthy cause. Thanks for your time Neil and again, congratulations on being crowned the winner of WWi magazine's Top 25 Industry Leaders series.
Bio Box - Neil Palmer
Palmer has degrees in civil and public health engineering. His professional experience includes the South Australian Engineering and Water Supply Department, the Fiji Public Works Department, the South Australian Environment Protection Authority, United Utilities Australia and general manager, technical services at Osmoflo, the largest Australian desalination company. He is currently the CEO of the National Centre of Excellence in Desalination Australia, a partnership of 14 Australian universities conducting desalination research. Palmer is the vice president of the Asia Pacific Desalination Association, a director of the International Desalination Association and life member of the Australian Water Association.
Choosing the Top 25 – how we did it
You may be thinking that selecting only 25 individuals out of the thousands, millions that work in the global water industry was a tough job. It was. So to help we put together a small advisory committee of experts to submit their nominations.
With the list of 25 compiled, we then surveyed WWi readers to vote on who they think deserves to top this list of 25. After two rounds of voting, the results (and the winner) were clear. Readers from Canada all the way to Australia voted. We would like to thank the following individuals for their help on the committee:
Jean-Michel Herrewyn, CEO, Veolia Water
David Lloyd Owen, managing director, Envisager
Yeo Sheng Wei, assistant director, PUB (Singapore)
Jim Southworth, CEO, Jim Southworth Consulting
Ann Seamonds, president, Seamonds & Company
Patricia Burke, director general, IDA (International Desalination Association)
Dr Graeme Pearce, principal, Membrane Consultancy Associates
Angela Godwin, chief editor, WaterWorld magazine
Peter Cartwright, president, Cartwright Consulting.
More Water & WasteWater International Current Issue Articles
More Water & WasteWater International Archives Issue Articles