News
County commissioners have approved a $24.5 million project to expand the wastewater treatment plant at the Brooksville-Tampa Bay Regional airport.
Oct 15th, 2014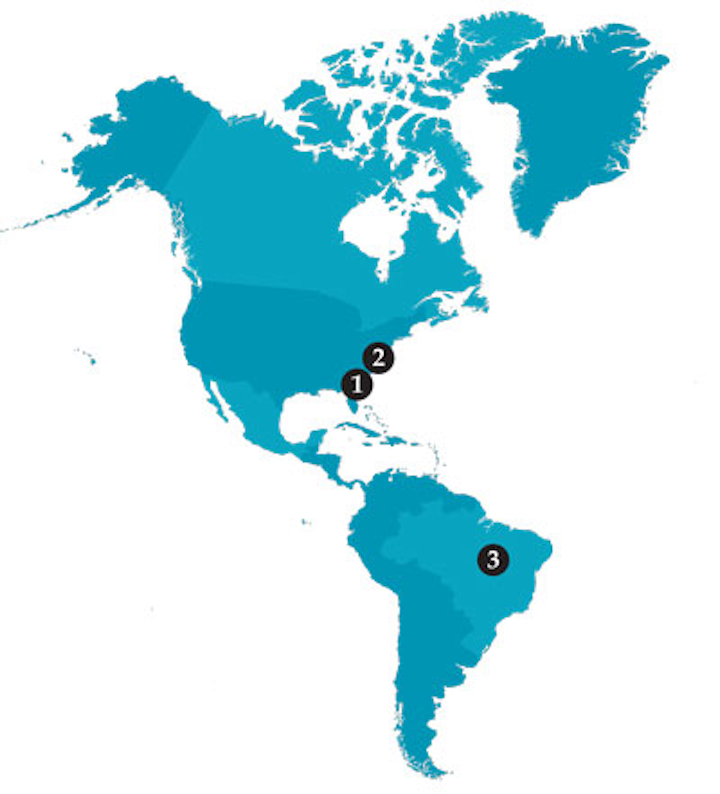 WORLD NEWS

1) US - Florida
County commissioners have approved a $24.5 million project to expand the wastewater treatment plant at the Brooksville-Tampa Bay Regional airport. Won by Garney Construction, the new plant will divert wastewater and alleviate flow from the Spring Hill WWTP. Built in 1969, the plant has reportedly suffered odour problems recently due to high volumes. Existing capacity was 3,800 m3/day, operating at 75% and the expansion – done in two phases – will add 9,500 m3/day.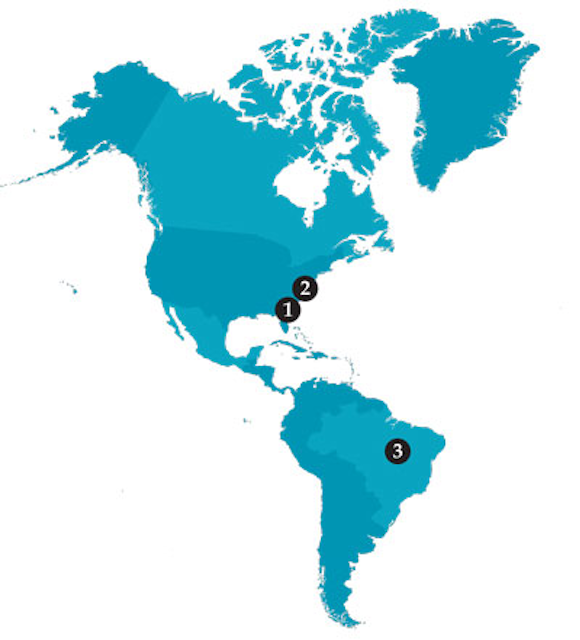 2) US - Washington
The National Association of Clean Water Agencies and the National Milk Producers Federation have signed a Memorandum of Understanding (MOU) to promote increased cooperation and communication between the two organizations and make watershed-level water quality improvements. The agreement aims to encourage clean water agencies and nearby dairy farms to work together. Potential projects include cooperation on building anaerobic digesters and controlling nutrient discharges.
3) Brazil
Following raised concerns about water pollution in a bay where 2016 Olympic sailing events will take place, organisers have responded in an attempt to dismiss fears. Brazilian officials told the media that recent tests in Guanabara Bay "meet international" standards. The first official test event was reported to carry on below the Sugar Loaf mountain. However, as reported by the BBC, athletes who competed at the location previously said they bumped into floating debris, including "sofas and a dead dog".
4) Bahrain
A US$8.6 million contract has been awarded by Bahrain's Arab Shipbuilding and Repair Yard (Asry) to complete and upgrade a 7000 m3/day reverse osmosis (RO) seawater desalination plant in the capital, Manama. Under a build-operate-transfer deal Spanish engineering firm, Inexa, will construct the plant.
The original desalination project had a capacity of 3000 m3/day and was managed by GEMSIL Aquatech Services.
5) Afghanistan
A decade of work between the US Geological Survey (USGS) and the Afghanistan Geological Survey has resulted in the development of a regional groundwater flow model to assist with water planning in the Kabul Basin.
Data from 150 wells monitored over ten years indicated that water levels were decreasing in the city of Kabul. USGS said it assisted a World Bank effort to restore approximately 127 historical streamgages in Afghanistan.
6) Tanzania
A total of $252 million has been earmarked by the UK for Tanzania's water and sanitation sector programmes between 2014-2019. The funding compliments the second phase of the Water Sector Development Programme and will be used to support the country's Big Results Now initiative. This focuses on water, energy, agriculture, transport and others to help Tanzania to transition from a low to middle-income economy.
7) China
Promotion of the desalination industry to counter water shortages has meant that in 2013 China increased its plant capacity by 16%. The country reportedly added 125,500 cubic metres of desalination capacity last year, bringing the total to just under one million cubic metres. A statement by the State Oceanic Administration said that China's northern city of Tianjin and Hebei and Shandong Provinces have the largest desalination capacity.
8) New Zeland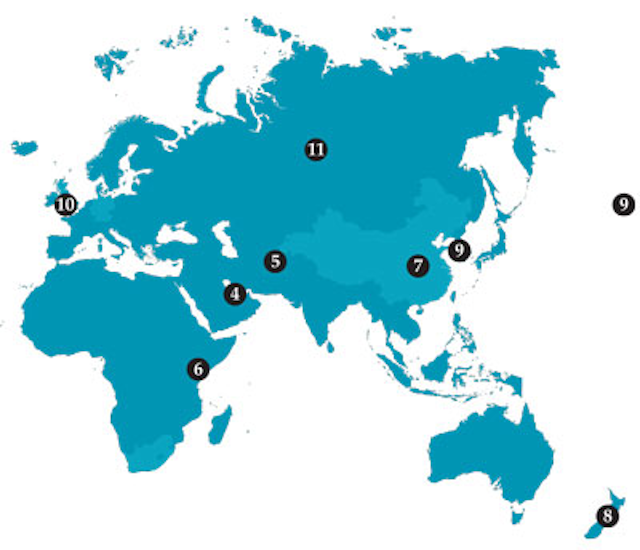 A report into the health impacts of water fluoridation has found "no adverse effects of any significance" and concluded that fluoride "does not pose appreciable risks of harm to human health". The review was commissioned by New Zealand chief science advisor Sir Peter Gluckman and the Royal Society of New Zealand president Sir David Skegg.
The findings showed that the only side effect from fluoridation was mild dental fluorosis (minor mottling on teeth). This was under the levels used in New Zealand (between 0.7 and 1 mg/l). Flouridation is undertaken by 21 of the country's councils and not used by 44.
9) South Korea
The newly merged LG NanoH2O has set out the ambitious goal of becoming the world's number one supplier when it comes to RO membranes. Speaking to WWi in the leader focus interview (see page 14), president Chul Nam said: "When we launch a new business our objective is always to be the number one globally." It was in May that South Korean chemical company LG Chem acquired Californian membrane company, Nano H2O, for a reported 200 million dollars. In 2013 LG Chem generated a turnover of $22 billion dollars.
10) Wales
Welsh Water has invested £1.5 million in its Pontsticill Water Treatment Works to install a new water management system into its 15 billion litre capacity reservoir. The upgraded system uses "large stirrers" (approximately 5 metres in diameter) to circulate the water in the reservoir to improve the quality of the raw water before it enters the works for full treatment. Water is currently investing over £200 million to upgrade and expand water treatment works throughout Wales between 2010 and 2015.
11) Russia
The Aquarion Group has formed Aquarion Russia to focus on providing advanced water and wastewater treatment solutions to industrial customers in Russia and the Commonwealth of Independent States (CIS). One of Russia's most populous cities, Kazan is the capital of one of the most advanced and largest industrial regions of Russia, the Republic of Tatarstan. One of the major shareholders of Aquarion Group is the Green Gateway Fund, which has a sub-sovereign wealth fund of the Republic of Tatarstan as an anchor investor. This development followed the acquisition in July of German water treatment company Hager + Elsaesser.
***************
Water Scarcity Could Potentially Limit Hydraulic Fracturing Development
Nearly 40% of the world's shale resources face high to extremely high water stress or arid conditions, a new report has found.
Called Global Shale Gas Development: Water Availability & Business Risk, the report by the World Resources Institute (WRI) ranked water stress across the 20 countries with the largest shale resources.
In 40% of these countries, future shale production could happen in arid conditions or under high water stress.
Seven indicators were used to evaluate water availability and the associated business risks for shale development: water stress, water-supply variation among months of the year, drought severity, groundwater depletion rates, largest water user, population density and depth of shale reserve.
The report shared four recommendations to protect water security while minimizing business risks, including conducting water risk assessments.
Earlier this year, however, a report from the Chartered Institute of Water and Environmental Management (CIWEM) painted a different picture.
It's study found that "compared to other fossil fuels, the overall water use intensity of shale gas is low" and "claims by some opponents that the industry represents a threat to the security of public water supplies are alarmist".
Estimates show that to meet 10% of the UK gas demand from shale gas over 20 years would require 1.2 - 1.6 million m3 water per year.
When compared to the volume of water that is licensed to be taken from the environment each year in England and Wales, it equates to less than 1/10th of 1% of total abstraction.
It was in December 2013 when water industry body Water UK and the UK Onshore Operators Group signed a Memorandum of Understanding (MoU) to cooperate throughout the shale gas exploration and extraction process.
A key aim of the signed MoU was to give the public "greater confidence and reassurance that everything will be done to minimise the effects on water resources and the environment".
***************

Cambi Enters China via Beijing
Beijing Drainage Construction Co. has awarded Cambi UK a contract to supply Thermal Hydrolysis Process (THP) technology to one of the largest sludge treatment projects in China.
The installation will be at Beijing's largest wastewater treatment plant in Gaobeidian, which has a wastewater treatment capacity of one million m3/d, serving a population of about 3.2 million people.
The facility is owned and operated by the Beijing Drainage Group and Cambi's THP technology will be fitted and operated by 2016.
As part of an ongoing strategic cooperation, another four large-scale sludge projects could also be potentially signed between 2016-2017, using THP and high dry solids digestion and high dry solids dewatering.
When operational, all five sludge plants could treat 6000 tonnes/day of sludge. The Gaobeidian Advanced Digestion Plant (above) consists of a 20-reactor Cambi Thermal Hydrolysis plant with four process trains followed by Advanced Digestion and high dry-solids dewatering.
Eight of the old digesters will be demolished to make space for the THP and the Anammox process for treatment of the liquid from dewatering the digested sludge.
Cambi said: "The THP-plant will process all the sewage sludge produced at the plant and thereby double existing digester loading and freeing eight of 16 existing anaerobic digesters."
THP Thermal hydrolysis is a two-stage process combining pressure cooking followed by a rapid decompression. This combined action sterilizes the sludge and is said to makess it more biodegradable.
It was in May last year when Cambi announced its first contract in Spain, to deliver its THP technology to a new WWTP in Vigo, to eventually process 22,000 tons of dry solids per year.