Taming the Power of Falling Water
As climate change experts warn that extreme and intense volumes of rainfall are likely to become more frequent, ensuring surging water flows can be controlled without harming drainage and sewer networks is essential; both stormwater and wastewater drainage may be at risk.
Oct 17th, 2014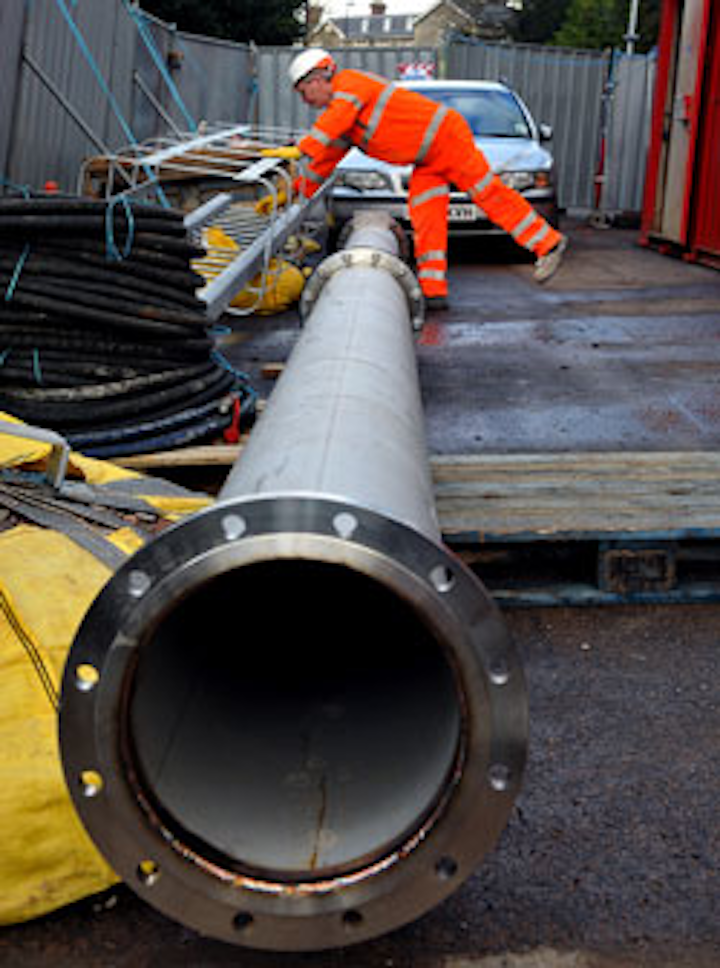 With heavy rainfall putting additional strains on stormwater systems, utilities must protect their assets from vertical water drops. Drop shafts using a vortex to "brake" falling water may not be new, but their use is changing, from the Middle East to the UK. Here's how.

By Keith Hutchings
As climate change experts warn that extreme and intense volumes of rainfall are likely to become more frequent, ensuring surging water flows can be controlled without harming drainage and sewer networks is essential; both stormwater and wastewater drainage may be at risk.
A major potential problem occurs in pipework infrastructure where significant abrupt level changes release water's potential energy. A vertical drop of only a few metres results in potential destruction of pipework through vibration and stress from 'water hammer' and "glugging' of entrained air.
Conventional solutions have focused on gradual water energy dissipation methods such as spillways, weirs, flumes or cascades. But as space constraints and the cost of construction increase in urban environments, such solutions can be practically impossible to locate and sometimes uneconomic to build. In many cases, finding a solution which combines safe water control within a vertical drop becomes a priority.
Typical challenges
One solution developed decades ago offers water engineers a different approach that still feels refreshingly leading-edge. This is the concept of a vertical drop shaft using a vortex to safely "brake" the falling water.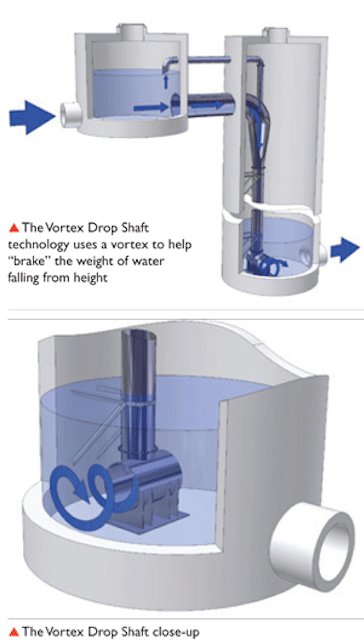 More recent enhancements mean the technology now delivers high performance within a much more compact space than previously. Retrofit applications can be installed within an existing vertical access shaft construction, aiding safe personnel access and minimising additional construction.
In the UK city of Bristol, the existing drainage network was backing up after heavy rainfall due to the volume limits of the original discharge sewer. One solution available to Wessex Water to increase sewer and drainage capacity would have meant constructing a new 50 metre shaft through limestone bedrock.
Wessex Water project engineer Andy Roberts explains: "The existing sewers within the area were struggling during heavy rain. Excavating a new 50 metre shaft through the limestone bedrock to reach the sewer would have cost hundreds of thousands of pounds.
"Through the engineering contractors on the project, we discussed the concept of a drop pipe with Hydro International," he says. "They suggested inserting a Vortex Drop Shaft through the access shaft and constructing an Energy Dissipation Unit at the bottom."
A 'ship-in-a-bottle' solution was devised to construct the drop shaft via the existing access shaft, avoiding major construction and minimising neighbourhood disruption.
The solution worked like keyhole surgery; all the components were flat packed and inserted down the hole to be re-assembled inside at the bottom; then the pipework was lowered down from above. The Drop Shaft is now discharging up to 680 litres/second (l/s) down a 50m vertical drop from a newly laid local sewer to the Northern Intercept Sewer.
Improving safety on new Middle East highway
For a new build stormwater handling application, as part of multimillion dollar infrastructure development in advance of the 2022 FIFA World Cup in Qatar, the same drop shaft technology is being employed to support drainage on the four-lane, 81km Salwa International Highway.
The drop shaft has been installed to control stormwater runoff over a drop of more than 6m from the expressway at Doha's Industrial Interchange.
While Qatar is overall a dry climate, winter rain storms can be intense and quickly cause localised flooding. To reduce the danger of surface water on the expressway at the interchange, large volumes of water falling from height must be controlled and drained away rapidly to avoid localised flooding.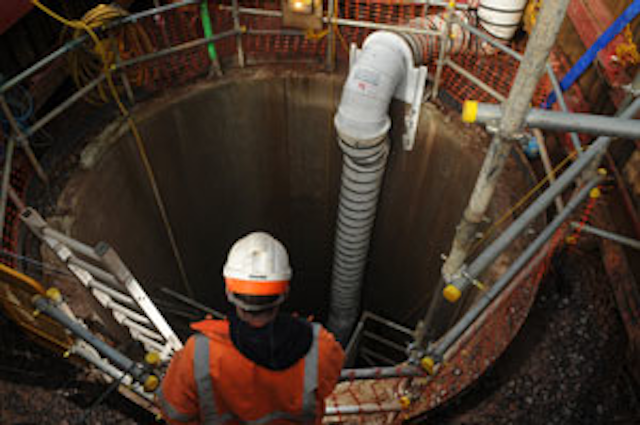 The Whiteladies drop shaft in Bristol. Here the utility faced existing drainage network backing up after heavy rain
Stormwater drained from the overhead roadway has to fall more than six metres to the receiving stormwater microtunnel. With this drop and the expected peak volumes of water, rapid erosion and significant vibration damage from vertically falling water could occur. The drop shaft's vortex technology dissipates the energy of tonnes of water falling many metres with a maximum design flow for the Industrial Park Interchange unit at 1700 litres/sec.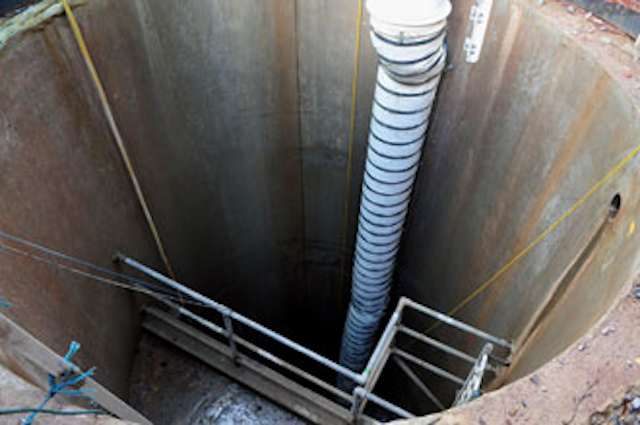 The drop shaft during installation, with the vortex now discharging 680 l/s
Features in the supplied drop shaft design enable a significantly smaller pipe diameter to be used when compared with alternative drop shaft designs. In addition, as a self-contained unit, the drop shaft can be installed within a shaft of concrete ring sections. Any construction workers were separated from the danger of unexpected falling water and allowed safe escape via ladders.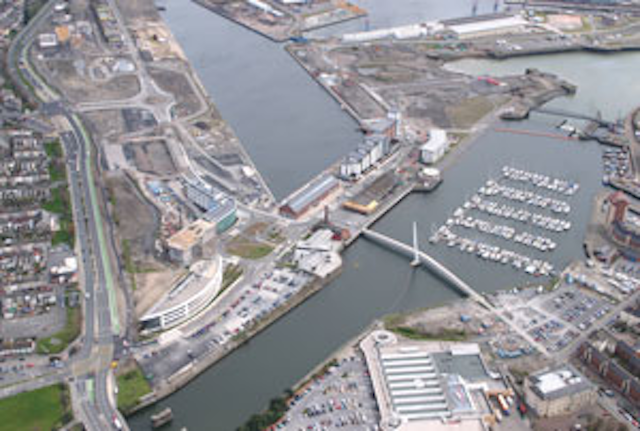 Swansea Waterfront redevelopment: utility Welsh Water faced a two-year challenge to upgrade infrastructure

Environmental flow solution
Meanwhile, back in the UK and one of Britain's largest road schemes, drop shaft technology provided vital, low-impact surface water control as part of the construction of the new 7km Church Village bypass built in South Wales.
The challenges in managing surface water and minimising its effect on the countryside and the local environment meant careful planning was required.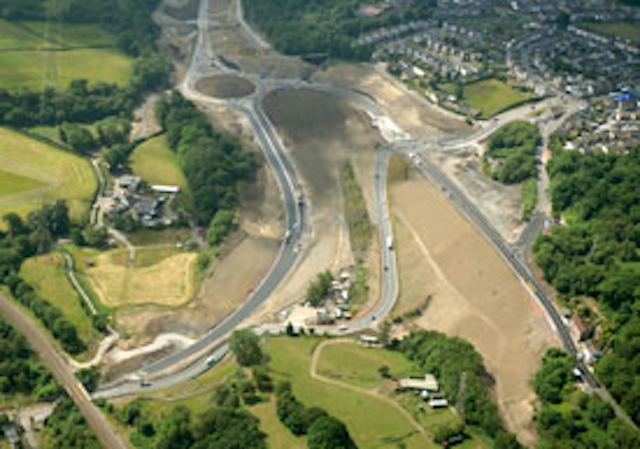 The Church village project, which included a 7km by-pass to manage surface water
"We decided to divert the ground water [at one point] under the new bypass along a culvert built over an old rail track bed," comments Simon Edwards, principal engineer, water and environment, for Atkins, the consultant on the project. "From there, the water had to descend around four metres to a small local stream bed and then into the River Taff.
"Uncontrolled, this drop of water would have scoured away the stream bed, and caused unacceptable environmental damage."
An alternative solution to the vertical drop shaft had been to build a cascade to take the flow down over successive weirs. This would have involved considerable and expensive earthworks through the rail embankment; it was deemed much simpler and incurred less visual impact to install the drop shaft.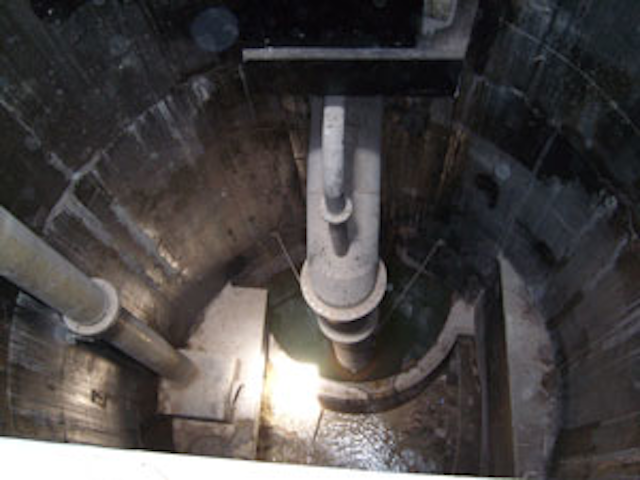 The drop shaft in Doha, Qatar was installed to control stormwater runoff over a drop of more than 6m from the expressway at the city's Industrial Interchange

Swansea waterfront redevelopment
In the multi-million pound brownfield Swansea Waterfront re-development in the UK, Welsh Water's two-year challenge to upgrade the wastewater infrastructure was facilitated with a cost-saving solution that enabled construction to be completed within a tight 14-week project window.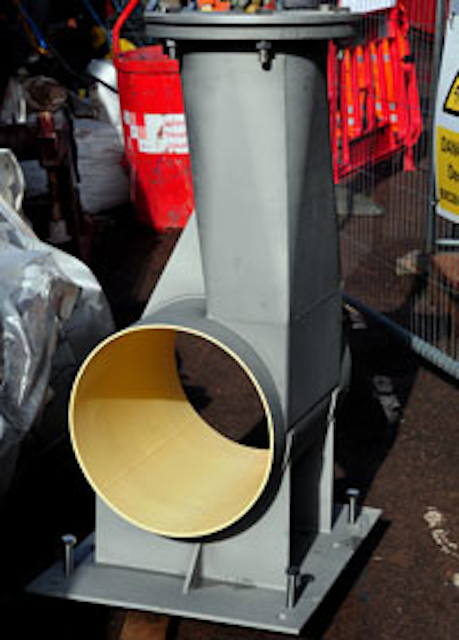 An energy dissipation unit, installed using a 'ship in a bottle' type approach to advoid major construction
"The solution involved installing the Hydro Vortex Drop Shaft in an existing 4m bore access shaft within the dock," said Len Burgess, project engineer for Hyder Consulting. "It takes the sewage 14 metres from street level down to the existing main sewage line below water level in the dock."
At Swansea, the 150mm bore Drop Shaft is designed for a maximum flow volume of 20 l/s. It is sited in a 4m bore foul access shaft which had been located in the dock structure to access the sewage outflow pipeline installed following renewal of the area's sewage infrastructure in the 1990s.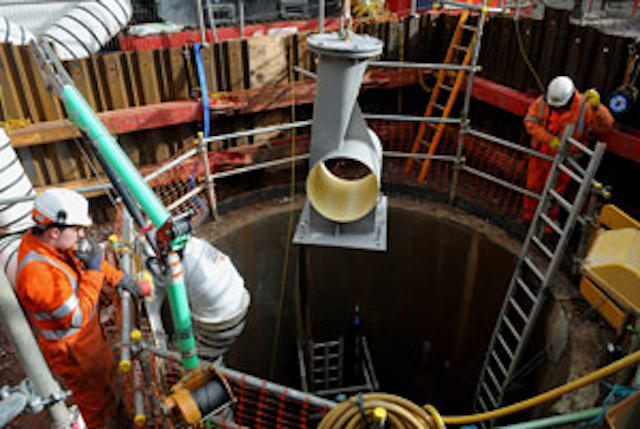 Installation of the energy dissipating unit in Bristol
Barry Louth, contract manager for civil engineering company Alun Griffiths adds: "The main sewer is now around eight metres below the mean tide level which complicated the overall installation. The Drop Shaft was installed during a 14 week window within the two year sewage infrastructure project.
"Meticulous planning between ourselves, Hyder Consulting and Hydro International enabled successful installation."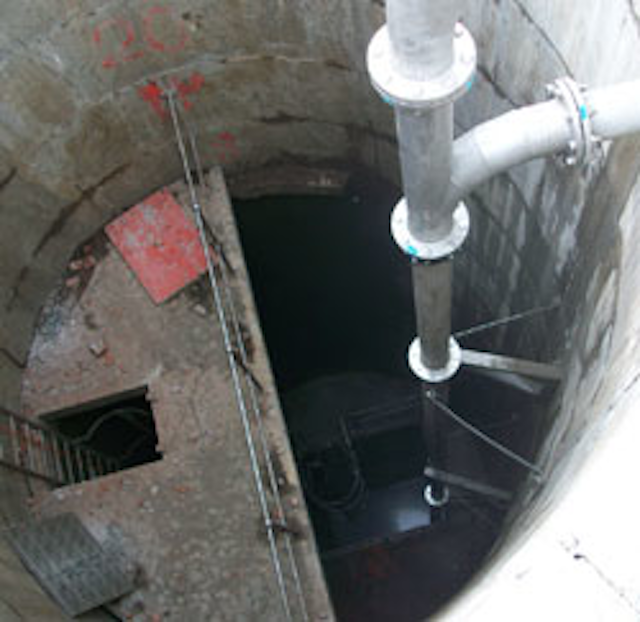 The Hydro drop shaft installation at Swansea Waterfront
Offering a proven solution to the potential damage to drainage pipework and water courses caused by uncontrolled vertical water fall, this technology has demonstrated its suitability in a wide variety of schemes, where conventional approaches are too expensive, too large and time consuming or at risk of failure.
Keith Hutchings is group product manager for Hydro International. For more information, email: enquiries@hydro-int.com