Tanks and Water Storage
US based manufacturer Fibrelite has seen a tremendous increase in inquiries for their lightweight composite access covers ...
Oct 17th, 2014


Lightweight composite access covers
US based manufacturer Fibrelite has seen a tremendous increase in inquiries for their lightweight composite access covers from industries keen to move away from the traditionally used metal and concrete and change specifications to composites. One application in which Fiber reinforced plastic (FRP) is being widely adopted worldwide and changing specifications away from metal is with manhole access and service trench covers. Lightweight composite covers that provide safe and easy access eliminating unsafe manual handling issues are replacing aging concrete and heavy cast iron access covers all over the world. By using lighter materials, operational injuries are prevented, work sites are made safer and ease of installation and maintenance is made available to utility workers and contractors.
The design of these lightweight covers incorporates up to two lifting points for specially designed lifting handles. These allow th
e operator to remove the cover without trapping fingers or bending over thus maximising the safety of the lifting technique. The weight is kept close to the body preventing back injury; one of the main causes of absence from work and personal injury claims.
By introducing the pigment directly into the resin system during the molding process, Fibrelite ensures that the color is not merely applied on the surface of the cover. Instead, the coloring is evenly and completely infused throughout the composite cover and will not fade or wear over time.
FRP composite manhole covers are ideal for problem areas, particularly those prone to skid related accidents. Traditional cast iron covers quickly become polished and therefore provide a poor level of grip which can lead to serious accidents through increased risk of skidding and slipping, even more so when wet.
Fibrelite's access covers are lightweight, durable and very strong. They are manufactured using high-technology Resin Transfer Moulding (RTM) production methods to create a highly engineered, monolithic composite product.
Technical experts from Fibrelite will be on hand at this year's WEFTEC to demonstrate new product innovations. Visit Stand 7913, Hall 11, and find out just how lightweight Fibrelite covers are!
visit www.fibrelite.com

Material decisions for bioenergy
Since its initial development, the Lipp tank system has been used to construct over 50,000 tanks in various industries and more than 80 countries across the world. The Tannhausen farm in Germany is a mixed enterprise with both arable and livestock production and the AD system was designed to match the substrates produced by the farm. The "Verinox" material arrived on site as a large roll of sheet metal. This was fed into a series of rolling machines positioned around where the base of the tank is.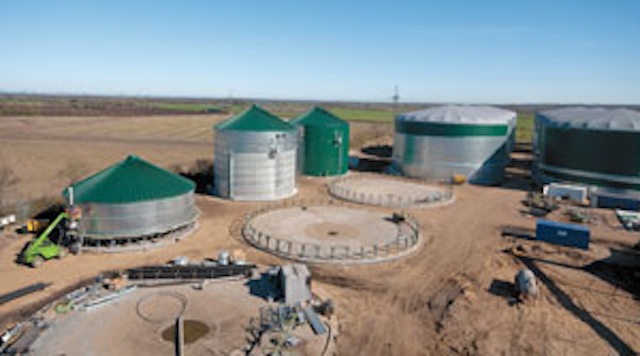 The rollers start to form the tank by forming the lower edge to a certain profile, then, as the leading edge completes the first lap, the lower edge is folded together with the top edge of the next layer. Once the tank reaches about 2m in height, the top ring is cut level and the roof is installed. At the same time a gas hood can be installed in the digester to capture the biogas before it is piped away to be burnt or stored. As the tank continues to gain height, any pipes or valves that are required can be installed from ground level rather than using access equipment, which would be the case in a conventional tank build. Once the design height has been reached, the bottom edge of the tank is cut level and the rollers are reversed, which lowers the finished tank into position on the foundations, where the ground fixings are installed. This allows the insulation and exterior cladding to be installed along with the pipe work, valves, pumps and agitators.
The whole project was completed on time and on budget, with the completed plant capable of producing 570 kWh of electricity, sufficient for 80 households.
visit www.lipp-system.de

Pressure system in Australia
Urban water corporation Wannon Water has chosen Mono's InviziQ™ pressure sewer system for the Dutton Way project in Portland,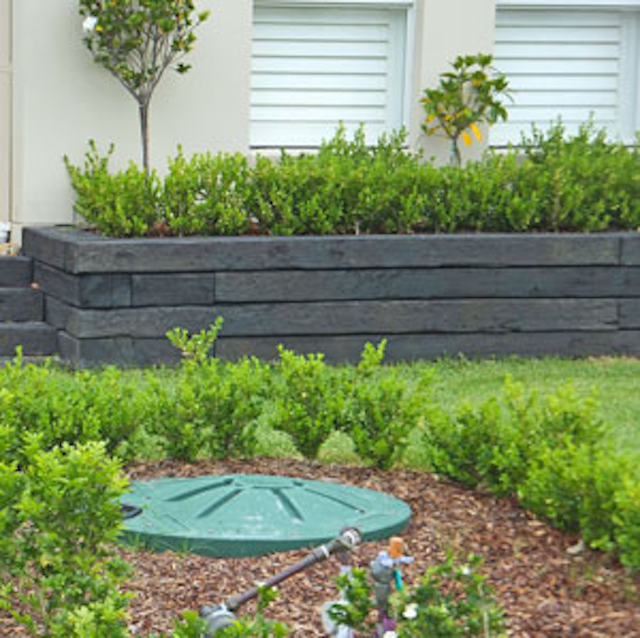 Victoria. The Dutton Way residential project currently houses 180 properties which are serviced by septic sewage tanks. This figure will increase to 314 homes, all of which will have the option to install the sewage pumping system that feeds into the existing Portland sewer network.
Designed as an alternative to conventional gravity sewering options, InviziQ™ provides controlled transfer of sewage, but because it does not rely on gravity it offers the freedom to install sewers in any area, irrespective of the terrain, slope, environmental sensitivity or topography. It features a network constructed from small diameter pipe, and can be installed either in narrow trenches or via directional drilling.
The system uses advanced PCB-based control technology and versatile software allowing it to self-monitor and run diagnostic tests to ensure that the system is operating efficiently. It can also support two-way telemetry for remote monitoring, and multiple InviziQ™ systems can be linked to enable centralised network management
www.monopumps.com.au