Product Focus: Pumps & Drives
Following its Verderflex Dura 45 hose pump, Verderflex has expanded the range to include the Verderflex Dura 55.
Nov 25th, 2014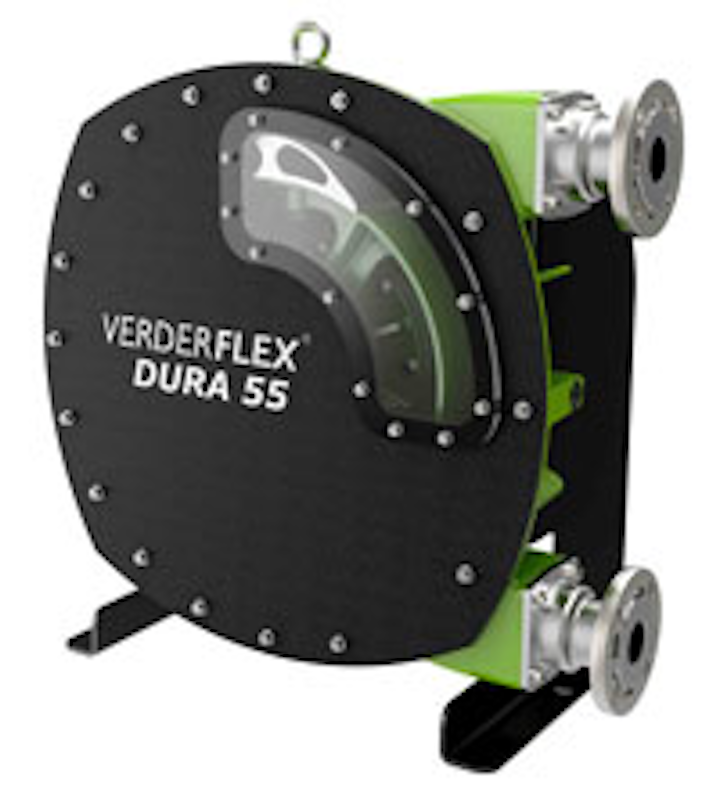 Industrial hose pump for medium flow applications
Following its Verderflex Dura 45 hose pump, Verderflex has expanded the range to include the Verderflex Dura 55. Designed to deliver over 20% more flow, the Verderflex Dura 55 expands the Dura range's flow rates from <1 l/hr to 15.3 m³/hr at pressures up to 16 bar.
The Verderflex Dura 55 has been designed to solve pumping problems associated with dry running liquid streams, shear sensitive polymers, high viscosity sludge and pastes, variable speed dosing, abrasive solids in suspension and off-gassing fluids. Applications include biogas production, brewing, fly ash recirculation, chemical manufacturing, industrial processing, mining and water treatment.
Verderflex said: "The Dura 55 delivers more flow per revolution. This significantly increases hose life by decreasing the number of revolutions to pump a given volume for longer hose life and expanded maintenance intervals. A key attribute behind lowering user's life cycle costs is the renowned, premium quality Verderflex hose. Like all Verderflex hoses, the Dura 55 hose has the optimum design to maximise strength and longevity."
A patent pending port flange that encloses the hose includes a quarter turn lock system, halving hose change times to maximise plant uptime. Normally, supplied in 316 Stainless Steel, this flange design also has optional PP & PVDF inserts for aggressive chemical duty options.
Heavy duty design guards against blockages and chokes with its advanced stalled rotor protection technology, including visible slippage indicators. The manufacturer said this advance eliminates potential rotor, rotor shoe or gearbox damage when the pumped liquid settles out or a line chokes, reducing both maintenance costs and production downtime.
The pump's casing and rotor is made from high tensile strength SG iron with the pump's rotor shoes fully supported, eliminating potential stress weak points.
www.verderflex.com
***************
Multipump control solution
The VACON® 100 FLOW is an AC drive specifically designed to improve flow control for multi-pump applications in which several pumps are used in place of a single one. Multiple pump solutions are desirable to lighten the load by spreading it across several pumps, thus providing greater energy efficiency and system redundancy – if one pump fails, the others can take up the additional load. For operations in which demand fluctuates throughout the course of the day, such as a municipal water system providing peak water consumption in the morning and minimal usage at night, the VACON 100 FLOW has been designed to offer control of flow and pressure for a maximum of eight pumps (or fans) without the need for an external controller — communication between drives is provided by integrated RS-485. The VACON 100 FLOW AC Drive is equipped with built-in Ethernet, eliminating any additional options or gateways needed to communicate with process automation. www.vacon.com
***************
More food waste at AD plants prompts demand for better pumps
Incorrect pump specification is rapidly catching up with AD plant operators who are trying to make their agricultural digester perform like an industrial chemical reprocessing plant by using food waste as a feedstock, said pump and mixer manufacturer Landia.
The company said that the abrasiveness of acidic food waste, especially liquid food waste, is causing increasing problems for AD operators hampered by repeated clogging and blockages.
"We have found Ph levels as low as 3.8 on food waste digesters in the UK," said Landia's Paul Davies. "This creates a challenging environment for any mechanical equipment. Agricultural-spec cast iron pumps are not uncommon for AD, but as soon as food waste is brought into the equation, solid cast 316 stainless steel units are a must if your AD plant is going to operate efficiently and stand the test of time".
Davies also points to the understandable appetite for higher and higher gas yields that have led to demands for thicker and thicker material.
Davies says that screening is also essential. He states that too high a plastic content in the end-product will fail the PAS 110 standard and prevent digestate being put on to land. Plastic can be pumped without blocking, but then it ends up in the digesters as a floating layer. This reduces the useable volume and may inhibit the action of the digester, as well as the pasteurisation and buffer storage tanks. www.landia.co.uk
***************
Peristaltic metering pump launched
Watson-Marlow Pumps Group has launched its Qdos 60 peristaltic metering pump designed to reduce chemical metering costs compared to conventional solenoid or stepper-driven diaphragm metering pumps. The new model expands the Qdos range to incorporate flow rates from 0.001 to 15 GPH at 100psi. According to the manufacturer, the range of pumps eliminates the need for ancillaries, boosts productivity, and cuts chemical wastage due to its highly accurate, linear and repeatable metering.
Watson-Marlow said: "Qdos pumps are ideal for disinfection, pH adjustment and flocculation of drinking water, wastewater and industrial process water, as well as reagent dosing and metering in mineral processing tasks. The Qdos 60 is especially suited to chemical metering applications found in larger water treatment plants where flow demand is greater than that provide by the existing Qdos 30 model." www.wmpg.com
More Water & WasteWater International Current Issue Articles
More Water & WasteWater International Archives Issue Articles