Case Study: Pumps in Romania
Utilities today face several interlinked challenges when it comes to the transportation of wastewater.
Nov 25th, 2014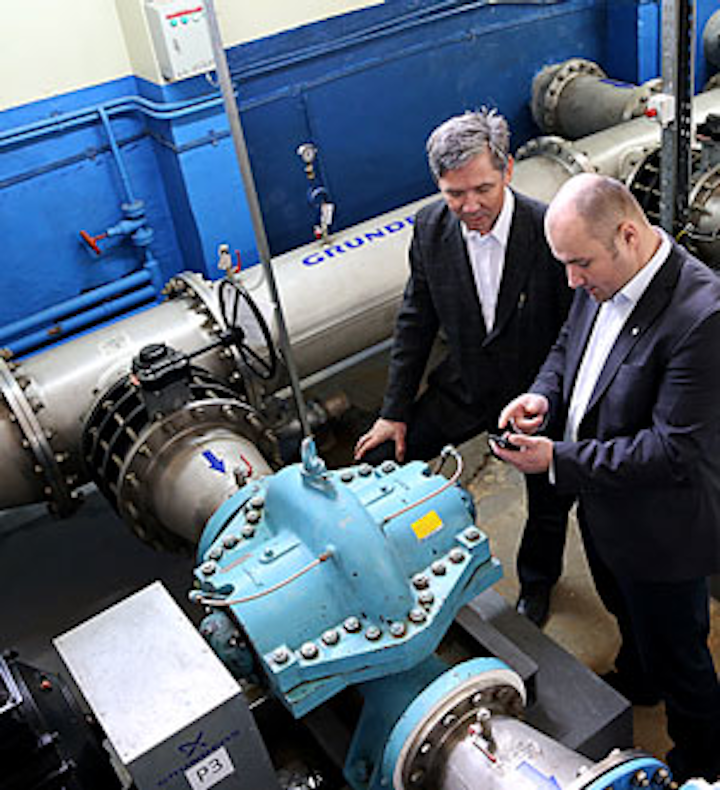 Utilities are facing the challenge of transporting more wastewater over greater distances but using less energy. An installation in Romania is proving how redesigned pump impellers are less prone to clogging and provide improved efficiencies.

By Justyn Barnes
Utilities today face several interlinked challenges when it comes to the transportation of wastewater. A core reason for utility companies to change their approach to wastewater management has been the rising cost of water. Consequently, consumers have cut down their consumption, which has meant a change in the composition of wastewater, with a higher proportion of dry solid content than before.
Government regulations, standards and directives have added further layers of complication. For instance, clause five of the European standard on pumping installations - EN 752-6:2008 states - that pumping installations should "be planned and designed taking into account" such factors as "energy usage," "operations and maintenance requirements" and "environmental impact".
Aside from stricter controls on usage, the rising cost of energy has increased the incentive to find more efficient methods of transporting wastewater. And water-saving innovations have created new problems. For example, more efficient toilets use less transportation fluid, thus increasing the risk of clogging farther down the line.
Maurice Martaud, technical support engineer of leading French water company Lyonnaise des Eaux, part of the multinational Suez Environnement Group says one of the industry challenges as the "increasing need for monitoring collection systems to prevent clogging of gravity sewers, pumps, and force mains," he says. "Clogging caused by the mixing of fats, sediments and macro-debris is an increasing problem that places a great demand on service resources. Hence, any clogging trend must be anticipated as much as possible."
The industry response to these changes and pressures has been a general trend towards centralised waste management systems where possible. Variable-speed pumping has also become commonplace as a means to save energy, but with reduced-flow velocity comes greater risks of clogging in the system, which affects both efficiency and longevity.
The S-tube impeller has been designed to offer hydraulic efficiency and free passage, preventing the pump from clogging.
Research published in the book Pump Life Cycle Costs: A Guide to LCC Analysis for Pumping Systems by the Europump and Hydraulic Institute, shows the initial purchase price rarely accounts for more than 5% of a pump's total cost over its lifetime. Power consumption is by far the most significant factor at 85% of total expenses, while service costs are likely to be approximately 10%.
Various types of wastewater impellers have been developed over the years in search of greater reliability and higher hydraulic efficiency – vortex types, semi-open or closed impeller solutions or hybrid variations on these themes. EN 752-6:2008 identifies both "optimising efficiency" and "the ability to pass permitted solids without clogging" as vital attributes of a pump.
In light of this, Danish company Grundfos designed the S-tube® impeller which features in its wastewater pumps with "hydraulic efficiency and free passage, which prevents the pump from clogging". By having a "smooth" impeller design, the manufacturer claims there is "nowhere waste matter can catch and cause clogging."
Flemming Lykholt-Ustrup, head of global WW Fluid & Mechanics at Grundfos, says: "Special features at the front and back plate of the closed S-tube also optimise the leak flow into the cavities between the rotating impeller and the stationary pump housing."
Modern wastewater management systems must be able to transport an increased volume and diversity of waste over longer distances, but using less energy and transportation fluid. This requires a centrifugal pump that does not compromise on either clogging or hydraulic efficiency and offers extended life span with minimal maintenance.
The deployment of the S-tube impeller can be seen in Romania. Utility CUP Focsani received EU funds a few years ago in order to start investments in five cities and three villages in Vrancea County, which had been divided into different tenders, depending on the specifications for each project.
For wastewater networks and wastewater pumping stations, the two tenders were won by two experienced construction companies. The main requirement for the customer was for a high efficiency and non-clogging solution, with Danish company Grundfos being selected as a supplier. The projects were used to demonstrate its SL/SE range of wastewater pumps with "non-clogging capabilities".
All 38 pumps that have been supplied are from the SL/SE range using S-tube or SuperVortex impellers, installed 1+1 in wet pits on auto coupling, except for one pumping station which proved to be the most challenging in the project. At this site, there was a requirement for 15l/s flow with a very high head of 85WCm
The solution included two SEV wastewater pumps with SuperVortex impellers installed in series; one on an auto coupling (wet) and one on a base stand (dry). The total P2 for these pumps in series connection is about 33.5kW for 15l/s at 85WCm and 49Hz compared with the best competitor offer, which had 34.3kW for 15l/s at 84WCm and 50Hz. This was below the duty point required.
Except for a few minor adjustments with the control panel, the SE and SL wastewater pumps with S-tube impellers have operated without a single clogging incident since installation.
Justyn Barnes is a freelance writer based in Denmark. For more information on the installation in Romania, email: Jackie Maxwell Sehested: jmsehested@grundfos.com
More Water & WasteWater International Current Issue Articles
More Water & WasteWater International Archives Issue Articles