Activated Sludge: 100 [years] not out
Wastewater scientists and engineers are celebrating the centenary of a major technology milestone this year. WWi joined them on a trip to the UK city of Manchester to reflect on a hundred years of activated sludge
Jul 30th, 2014


Wastewater scientists and engineers are celebrating the centenary of a major technology milestone this year. WWi joined them on a trip to the UK city of Manchester to reflect on a hundred years of activated sludge
By Natasha Wiseman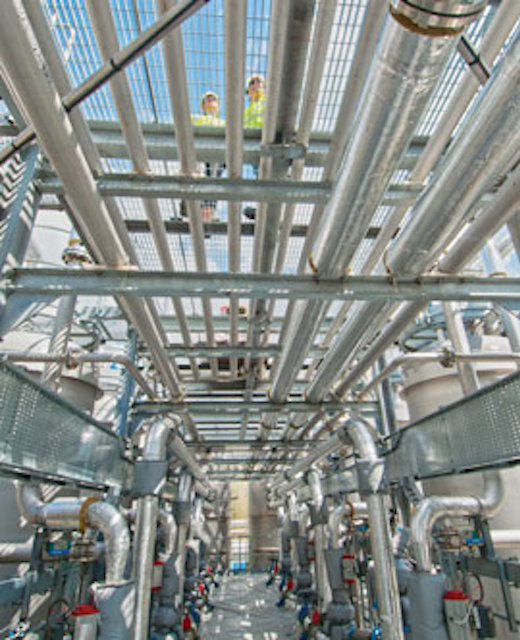 Activated sludge at Davyhulme treatment works today. Image courtesy of United Utilities
Whether it is the achievements of Manchester's football teams, its rich musical heritage or the cotton industry that spurred the world's first industrial revolution, England's third largest city can lay claim to an astonishing legacy of cultural, scientific and economic achievements. However, one of its least celebrated probably has greater global significance than any of the others – Manchester is the locus of the discovery of activated sludge.
In April nearly two hundred water scientists and engineers gathered in the city to celebrate the centenary of the discovery of the activated sludge process with a two-day conference and dinner at the city's Victorian Town Hall.
At the heart of the event was the work of two dedicated chemists – Edward Ardern and William Lockett. A presentation given by Ardern and Lockett to the Society of Chemical Industry at Manchester's Grand Hotel on 3 April 1914 is generally acknowledged to mark the discovery of the activated sludge process. The research of the two pioneers was carried out at laboratories at Davyhulme sewage treatment works, which is one of the biggest in Europe.
According to Nigel Horan, reader in public health engineering at the University of Leeds, much of the inspiration for the discovery at Davyhulme actually came from a trip to the USA by Davyhulme's superintendent and chemist, Gilbert Fowler.
One of his research assistants, E Moore Mumford, was working on a bacterium that he had isolated from local collieries, known as M7, which was able to clarify sewage in the presence of air and salts. Armed with this knowledge, Fowler's visit to the Lawrence Experiment Station in Massachusetts in November 2012 was especially fortuitous.
There he found exploration underway to aerate sewage using algae and other organisms which were being grown as biofilm on slabs of slate in an aeration basin.
In his paper, presented in Manchester in April 2014, Horan says that over a period of 24 hours of aeration, "a well-clarified and partially nitrified effluent could be produced".
Once back in Manchester, Fowler initiated similar research to be carried out at Davyhulme by Ardern and Lockett. So it was that in 1913, the researchers undertook the aeration of raw sewage in 80oz (2.3l) bottles.
A tube bent at 90 degrees piped air into the samples to provide continuous and thorough mixing and after five weeks of continuous aeration, complete nitrification was achieved. The clear liquid was decanted and further raw sewage added to the original sample.
Horan says that the great breakthrough of Ardern and Lockett was to appreciate the need for the return process to build up a population of active microorganisms. As the process was repeated a number of times, it was observed that as the deposited matter increased and the amount of time taken for oxidation reduced until it became possible to achieve full oxidation in 24 hours.
Commercialisation
In 1914, most eyes were on events surrounding the outbreak of the Great War on 28 July. However, commercialisation of the activated sludge process continued unhindered, initially through Fowler's connections with a West Midlands greenhouse equipment manufacturer called Mssrs Jones & Attwood.
In October 1913, British Patent No 19 915 had been filed for a 'Wastewater aeration device based on an airlift piping system' and plans were made to scale up the system at Davyhulme.
This was followed by British Patent No 729 in January 1914 for a 'Wastewater treatment system based on a looped-channel reactor with a fluid rotation induced through a diffused aeration unit mounted in a recessed dip chamber'.
By March 1915 Jones & Attwood had produced a 15-page booklet to market the AS process and construction of new activated sludge plants continued throughout the war.
Full-scale installation
These were the terms for the first full-scale activated sludge plant, which was built in 1916 for the city of Worcester and treated some 2,846 m3/day. So rapid was the interest in this invention that after just three years, some 200 references had been massed internationally.
In 1919, a new company, Activated Sludge Limited, was formed in London and comprised of three people: Walter Jones of Jones & Atwood; the designer of the M7 equipment in Manchester, James Alger Coombs, and Gilbert Fowler acted as consultant.
The war did hit capital investment in the UK and the first British city to apply the activated sludge process was Sheffield in 1920. In early 1921, a unit designed to treat dry weather flow of 4,546 m3/day was eventually installed at Davyhulme.
It was in the US that take-up was most rapid, with activated sludge plants often providing the first form of sewage treatment used in some places.
Ten large plants were built between 1916 and 1927, including Milwaukee (7,570 m3/day) in 1916; Houston, Texas North (20,817 m3/day) in 1917; Houston, Texas South (18,925 m3/day) in 1918; Des Plaines, Illinois (20,817 m3/day) in 1922 and Chicago North (662,375 m3/day) in 1927.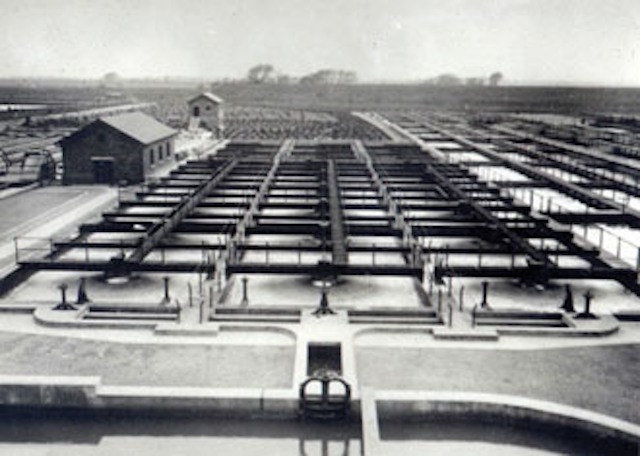 Aeration plant at Davyhulme in 1935 (now ASP1)
Process advances
The activated sludge process was continuously modified throughout the 20th century and wastewater treatment plants were successful in removing organic pollutants, ammonia, suspended solids and pathogens using the biological method. However, nutrients such as nitrogen and phosphorus could only be removed with use of chemicals.
Black & Veatch's sludge guru James Barnard is known globally as the father of biological nutrient removal (BNR), a non-chemical means of water treatment in which nitrogen and phosphorous can be removed from used water. In the early 1970s, South Africa's largest city, Johannesburg, found itself in a tough spot regarding its water supply.
Reservoirs receiving treatment plant effluent, which also served as the city's freshwater supply, had turned green due to excess algae growth. Responding to the city's determination to address the slime build-up, and being aware of some preliminary studies being conducted in nitrogen and phosphorous removal in the US, Barnard had a solution in mind. He discovered a way to remove nitrogen during water treatment using naturally occurring microorganisms.
Because his discovery did not involve the use of chemicals, which was the standard practice of the day, Barnard's method saved substantial costs and reduced sludge quantities post-treatment. While Johannesburg's BNR plant was under construction, Barnard discovered at a pilot plant how he could produce simultaneous biological nitrogen and phosphorous removal in the same system - this was the breakthrough he was seeking.
Treatment plant designer Pieter Meiring and Barnard proposed building an anaerobic zone - where water would be treated without oxygen or nitrates present - upfront of the existing tanks in order to realise phosphorous removal. While the engineers could not guarantee the plan would work, pilot tests satisfied the city that it would work.
There faith was rewarded: the plant's BNR worked well and a new technology for water treatment had been successfully created. Speaking in Manchester in April, Barnard observed that priorities in wastewater process are shifting from treatment to the use of outputs that used to be seen as waste as a resource, a change that is driven by the need to reuse water, save energy, recover phosphorus, recover heat and reduce cost.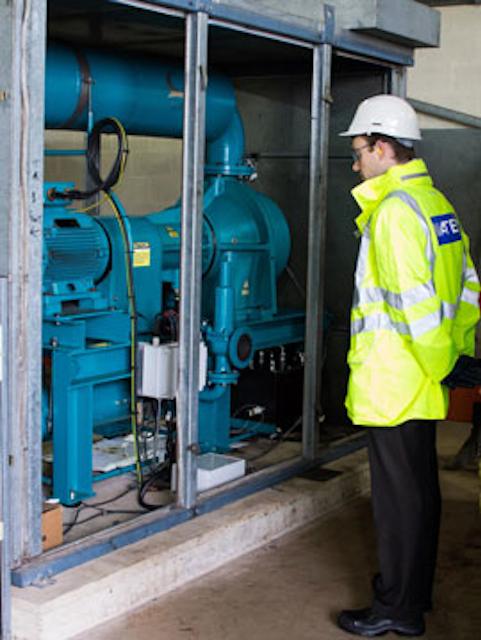 Lontra's Blade Compressor is trialled at Worcester WWTP
If Ardern & Lockett were to return to Davyhulme wastewater treatment plant today, no doubt they would be fascinated to find out about the latest developments at that site.
Energy recovery
Last year, the world's largest Cambi thermal hydrolysis plant came on line, comprising 20 reactors and with an installed throughput capacity of 121,000 tDS/a. This £100 million sludge processing and recovery system is capable of treating 60% of sludge from United Utilities' seven million customers
Speaking in Manchester in April, United Utilities' head of engineering disciplines, Marie Hart, says: "United Utilities have taken a great step forward with the newly commissioned sludge balanced asset programme project at Davyhulme."
Aeration performance
Pioneering work is continuing too at Severn Trent Water's Worcester site in the UK Midlands in a bid to reduce energy costs. The site, where a century ago the first large-scale wastewater aeration systems burst into life, has been trialling engineering technology company Lontra's new Blade Compressor in its aeration systems.
Activated sludge blowers typically use around 50% of the energy consumed in wastewater treatment. However, at Worcester, the site's instrumentation and SCADA has shown that the innovative aeration technology can demonstrate a 21% saving over conventional blowers .
"If these results continue, STW expect the technology to realise significant savings on electricity costs. Replacing our entire blower stock could result in as much as £2 million per year saved in electricity costs, with the associated reduction in operational carbon," Severn Trent Water's senior strategist – wastewater R&D, Pete Vale, tells delegates to the Manchester conference.
Uprating and resource recovery
Finite mineral phosphorus deposits in the world mean there is a practical and financial incentive to recover phosphorus from wastewater for agricultural fertiliser use, which is already happening in installations like Thames Water's Ostara recovery plant in the UK town of Slough.
New process technologies that can reduce plant footprint and capital and operating costs, like BluewaterBio's hybrid activated sludge (HYBACS) system, are being adopted, especially where space is tight. The deammonification or Anammox process from Paques has emerged as a cost-effective way to treat high-strength ammonia wastewater streams.
As the 21st century unfolds, the appetite for activated sludge is unlikely to diminish – across the world's main urban centres, AS is the principal treatment process for sanitation works. This is significant because the largest proportion of the increasing global population will be urban, rising from 50% now to 70% by 2050. Added to that equation is that over two billion people in the world still lack adequate sanitation.
However, the efficiency and energy balance of activated sludge and wastewater treatment is likely to shift dramatically. By exploiting the resource value of sludge, as a source of energy, fertiliser and water, and uprating operational parameters with improved process, automation and control, major advances can still be anticipated in this century-old technology arena.
In his conclusion, MWH Global's senior principal process engineer, Stephen Palmer says: "Activated sludge can be part of energy neutral, large plant operations for the future, and also deliver value – especially if designed as part of a resource recovery solution to municipal wastewater treatment."
Natasha Wiseman is a freelancer writer who specialises in water and the environment. For more information, email: tomf@pennwell.com