Pumps
Collection of product and news announcements  focused on Sludge Treatment - Pumps
Jul 30th, 2014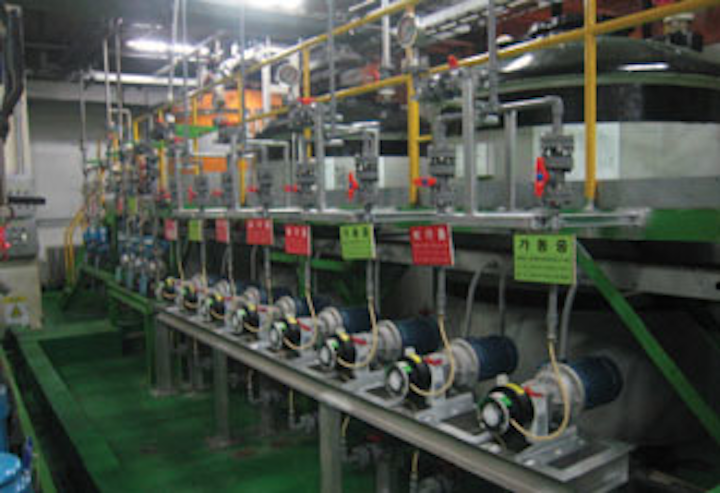 Peristaltic industrial tube pumps
A leading multi-national electronics company with numerous plants across South Korea has for many years been using metering pumps for dosing aluminium sulphate into its wastewater treatment facilities. The plant engineers approached the local Verderflex distributor Dong-Il Ent Co, looking for a solution to: inconsistent dosing of aluminium sulphate when tank levels were low; unscheduled maintenance periods and high maintenance costs. After consultation with the customer and site visits, a total of eight 8 x Rapide R2S Peristaltic tube pumps were selected to replace the existing metering pumps. The pumps currently operate at flow rates ranging from 78 ml/min to 1080 ml/min with discharge pressures up to 1.5 bar. The end user now experiences predictable maintenance patterns, whereby the service period has been increased from 600 hrs to 1000 hrs. This has reduced the process downtime that was experienced before with the metering pumps and has brought a significant reduction in the maintenance costs.

Eaton delivers best in class lead times for pumps in EMEA
Eaton has invested more than €2.4 million to enable the localisation of a regional assembly and test programme for X20 piston pumps at the Eaton Havant UK site, with the aim of providing customers with a 'best in class' delivery lead time across Europe, the Middle East and Africa.

Automatic submersible pump for rainwater harvesting
KSB has launched a fully automatic submersible pump called Ixo-Pro which is said to be an ideal solution frainwater harvesting and pressure boosting applications. Fitted with an integrated pressure switch, flow sensor and lift check valve the pump set requires neither an automatic control unit nor a pressure vessel. If a tap is opened, for example, the pressure in the system decreases, and Ixo-Pro is automatically started up via the integrated switchgear. It will remain in operation for the entire duration water is being consumed. When no more water is required, the pump stops. For dry running protection the pump is also stopped when the water level in the rainwater storage tank falls below a specified minimum. The pump comes with a 15-m long power cable, so it can be installed in rainwater storage tanks at a distance from a building. The maximum flow rate is 3.9 m3/hour.

Remote pumps managed with remote data logger
An automatic water pumping station contacted CAS DataLoggers requiring an environmental monitoring device for its remotely-located automatic pumps. Previously the station had used paper chart recorders to log various properties such as flow and pressure, but this required too much manual effort to maintain. The station manager installed a dataTaker DT80M Universal Data Logger from CAS DataLoggers, complete with integrated GSM Modem. The logger's universal inputs allowed connection with several different types of sensors including those for water level, flow rate, current and pressure.
For more product news and reviews visit us at www.wwinternational.com