Spearheading Sustainability: Bringing Desalination and Renewable Energy Together
At the end of last year, Dr. Abdullah Al-Alshaikh was elected as the new president of the International Desalination Association (IDA).
Mar 19th, 2014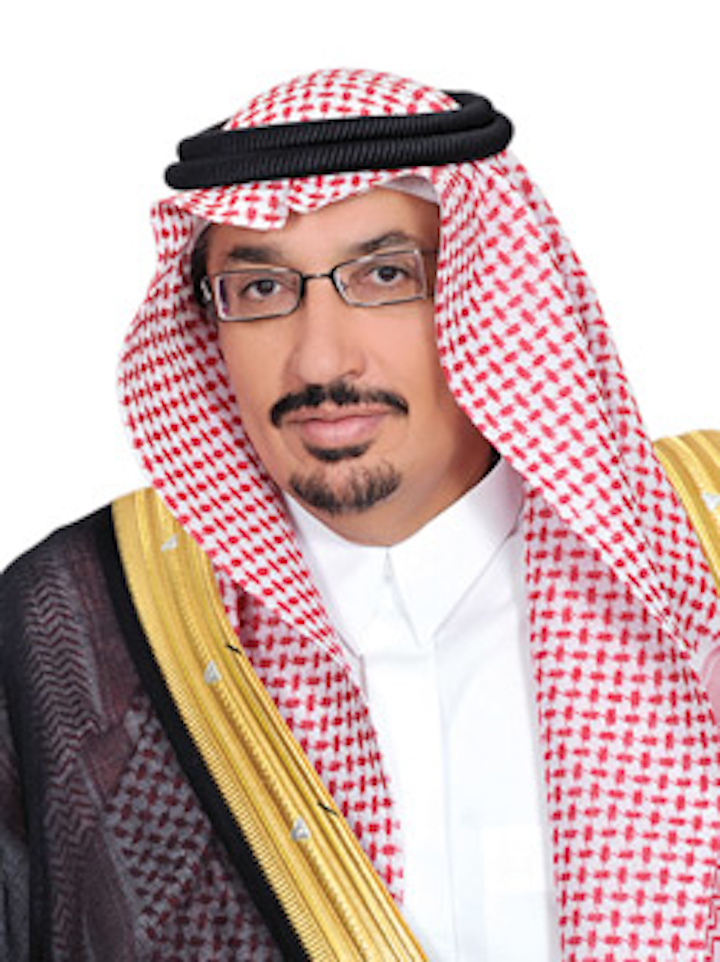 At the end of last year, Dr. Abdullah Al-Alshaikh was elected as the new president of the International Desalination Association (IDA). What are his ambitions for the organisation? Can the renewable and desalination industries really work together? How will his legacy be remembered?
by Tom Freyberg
There are three types of people in the world. Those who wonder what's happening. Those who watch what is happening. And those who make things happen. That's according to author Peter Diamandis and Dr. Abdullah Al-Alshaikh, who recently quoted him during an acceptance speech. And that acceptance speech was shortly after being announced the new president of the IDA.
Making things happen, making change happen can only be done by rolling up your sleeves, getting to work and getting the job done, according to Dr Al-Alshaikh. Clearly there will be no idleness in the global water business if the new president has his way.
He is perhaps better known for his role as deputy governor for planning and development of Saline Water Conversion Corporation (SWCC) in Saudi Arabia.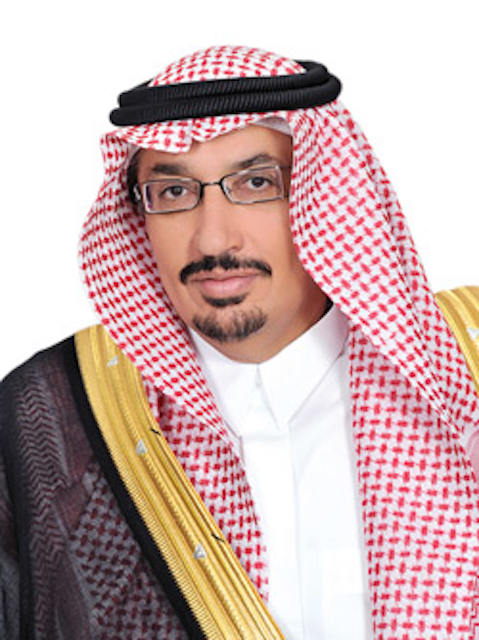 Dr. Abdullah Al-Alshaikh's two-year presidential term of the IDA will last until 2015
He began working with SWCC in 1994 as a project engineer in the Studies & Designs Department. Here he was involved in reviewing designs and technical proposals for the major Shoaiba Phase II Pipe Line Project, a 122 km long pipe line with pumping stations and storage tanks to supply water to Jeddah and the holy city of Makkah and Taif.
In 1996 he was appointed as general manager of projects in SWCC's head office. Ten years later and in 2006 he was promoted to his current role. He holds a B.S. in Civil Engineering from King Saud University, Saudi Arabia and a Master of Engineering Degree in Civil Engineering from The Pennsylvania State University, State College, USA.
In 2004, he was awarded a Ph.D. degree in Business Administration by Hull University, UK for his thesis, "A Contract Model for Private Sector Participation in Water Resources Management: The Case of Saudi Arabia". Below is an abstract from the interview between WWi magazine and the new IDA president.
WWi: What are your aims and ambitions for the IDA over the term of your presidency?
Dr. Abdullah Al-Alshaikh (AA), president of the International Desalination Association (IDA): I see two defining issues for my presidency. First is advancing the push towards sustainability in desalination, with the ultimate goal of harnessing renewable sources of energy to power our plants. I believe we have firmly set our sights on this goal, so that it is no longer just a dream.
Rather, I believe sustainability is inevitable, but we need to encourage ongoing innovation and be willing to embrace the new paradigm that sustainability will represent.
Secondly believe strongly in the power of teamwork. None of us can succeed alone. Therefore, another important aim for my presidency is to involve stakeholders from all aspects of the industry and enlist their support in a shared sense of responsibility for moving our industry forward, together.
WWi: Why should IDA members be confident you can help drive the association forward over the next two years?
AA: I believe that success in driving any organization forward depends on several things. First, you must have a clear vision of the goals you want to achieve. Second, you must be able to engage all the players in accomplishing the tasks needed to achieve those goals.
That entails the ability to motivate people and engage them in a team-based approach while making sure that everyone understands and agrees to the objectives, deliverables and timetables for specific assignments. I learned the importance of this strategy many years ago, and it remains a cornerstone of my beliefs today.
Anyone who knows me understands how deeply I believe in the power of desalination to create a sustainable supply of fresh water for our world's people and economies. My work at Saline Water Conversion Corporation has given me an enormous opportunity in this regard.
I have also been involved in Saudi Arabia's pilot program in solar desalination. This gives me a unique perspective of the challenges and opportunities at hand when it comes to renewables in desalination, and I will leverage that experience to benefit IDA and our industry.
WWi: The last president – Corrado Sommariva – was very much focused on the IDA Academy, improving technical skills and attracting young engineering talent into the water business. What do you think can be done to help with this?
AA: The IDA Desalination Academy plays a vital role in that work, as do our conferences, webinars and other activities. There are several exciting developments with the Academy that we hope to announce soon including strategic alliances with some prestigious universities. This is as well as the development of corporate training programs that address the needs of specific organizations in their staff development.
Attracting and supporting young engineering talent is an important initiative for both IDA and the desalination community. We need to be proactive in developing their talents, and there is a great opportunity to broaden awareness of desalination as a career choice. The Young Leaders Program is part of that effort, and we hope to launch quite soon a mentoring program that will pair highly experienced industry professionals with members of the YLP. The depth and experience of our membership is one of IDA's great strengths, and this program will leverage that to benefit the next generation of industry leaders.
WWi: You said in your speech at IWS in Abu Dhabi that solar power could help reinvigorate thermal desalination. Explain how.
AA: The introduction of viable renewable energy sources allows us to revisit the way we do things not only in RO but thermal as well. What has driven RO technology has been the push for reducing energy.
However, if renewable energy technology can develop to the point of creating energy abundance, it will cause us to relook at thermal as a viable option and ways to further innovate its technology. Perhaps considering solar-to-desalination process, as opposed to solar-to-power process. What I know for sure is that the wave of innovation that is hitting us now will be a game-changer in our industry and cause us to rethink all assumptions.
WWi: There seems to be race on in the Middle East to develop the "world's largest" solar SWRO plant. Utico Middle East made an announcement for a new plant in the UAE and Saudi's SWCC is working with KACST on a photovoltaic cell powered project. What future does combing solar and water production have?
AA: Solar energy offers tremendous potential, but it is not the only way to go. Wind energy is another direction, and there has been work to tap the potential of wave energy as well.
The choice of the renewable source is somewhat dependent on the location and other factors such as the amount of available land. But in general, I believe strongly in renewable power as the ultimate goal for our industry.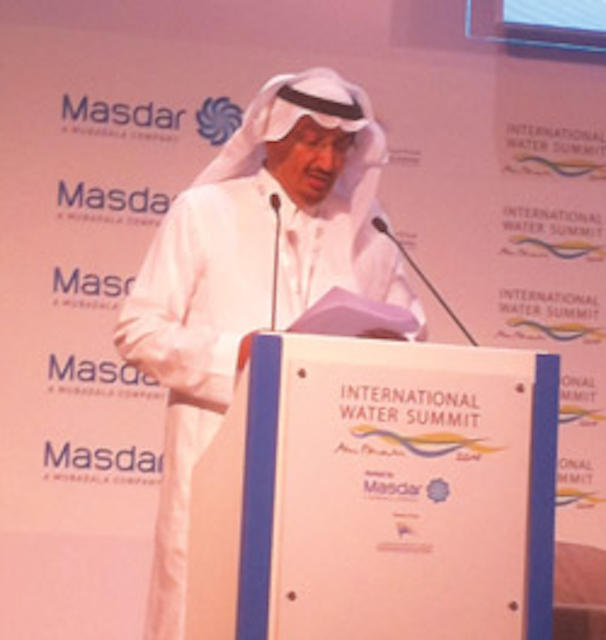 Dr. Abdullah Al-Alshaikh presents in Abu Dhabi, UAE
WWi: In 2012 installed membrane capacity was 49.9 million m3/day compared to 23.2 million m3/day for thermal technologies. How do you expect this to change and will membrane-based desalination eventually fully take over from thermal?
AA: The trend towards membrane-based desalination has been clear for several years. Much of that has to do with its greater, inherent energy-efficiency. But we have seen many new approaches to thermal desalination that also address the goal of energy efficiency. Examples include membrane distillation and low temperature distillation technologies that are powered by waste heat and are quite scalable to meet various capacity requirements. Additionally, the use of MED has been increasing, especially in hybrid configurations. So I don't envision that membrane processes will eliminate thermal technologies, but membrane processes do represent about 60% of global capacity.
WWi: The desalination market peaked in 2007. When do you expect market activity to reach this level again and why?
AA: Many experts predict that we will not reach the 2007 level as measured by annual new contracted capacity for another three to four years, but the trend is expected to show continued growth.
We have, however, seen a bit of a shift: while the data shows that demand for desalination continues to increase, a greater proportion of that growth is coming from the industrial sector.
Industrial applications for desalination grew to 7.6 million m3/d for 2010-2013 compared with 5.9 million m3/d for 2006-2009. Since 2010, 45% of new desalination plants were ordered by industrial users such as power stations and refineries, while in the previous four years, only 27% of new capacity was ordered by industrial water users.
The market has been characterized as "lumpy", with individual large projects having a significant impact on capacity during any one year. In any case, growth in desalination is not linear. It is tied to many factors including the cost of oil, prices of certain commodities, and availability of financing.
Regardless, the underlying factors that have driven the growth of desalination remain in place, including population growth, industrial development, pollution of traditional water resources, and climate change.
WWi: What will the IDA be doing to help foster and cultivate newer technologies?
AA: IDA's mission has always been to encourage technology advancement. We will continue to do that by offering tracks on emerging technologies in our World Congresses and specialty conferences, coverage in our various publications, articles in important media including Water & Wastewater International (WWi), and so forth. We are already planning to have an innovation pavilion or theatre at our 2015 World Congress in San Diego, where companies can showcase their emerging technologies.
WWi: Despite the technical gains in terms of energy and cost, desalination is still not fully understood or welcomed by the general public in some instances. What can be done to change this and what is the IDA doing?
AA: Education is the key to gaining greater pubic acceptance, and this involves not only the general public as a primary audience, but also individuals and groups whose opinions influence the public's understanding. As you know, our industry has done a great deal to enhance energy efficiency, so that energy consumption has been reduced by about half over the past couple of decades. And we continue to do more in this regard. Yet we often hear criticisms about desalination for its energy use. We need to do more to set the record straight and provide people with the facts.
The same is true with criticisms about environmental impacts. We have so many advancements in technology aimed at safeguarding marine life, reduce greenhouse gases and more, and experiences like the Kwinana plant in Australia show no adverse impacts on marine life as a result of the plant. Of course, each plant is different, so different technology strategies must be employed, and the level of acceptance – or anti-desalination sentiment – also varies by location.
I do think that one other key point that we need to better communicate is that in most locations, desalination is part of an overall water management strategy that needs to start with conservation. But desalination is truly the only new and sustainable source of water for the world's population. Sometimes I think that fact is lost.
WWi: Delays on projects like the Carlsbad SWRO in California have not been good for the desalination industry's reputation. Does the IDA have the power to help push through projects more quickly?
AA: While we cannot directly push projects through more quickly, IDA plays an important role as an advocate for desalination. We need to educate people and equip them with the facts, so they can make decisions based on accurate information and not misinformation. It takes time to change opinion and win people's trust, but that is an important aspect of what we, as the hub of the world's desalination community, must strive to do.
WWi: The IDA faced local political, cultural and geographical challenges when organising the last world congress in Tianjin, China. How does the organisation aim to make sure these don't happen with the next World Congress?
AA: IDA has always been committed to providing a first-class experience for delegates, exhibitors, speakers and sponsors. That commitment holds true for our 2015 World Congress in San Diego, California, which we are confident will be a stellar event.
It also held true for our World Congress in Tianjin, our first to be held in the People's Republic of China, which was a singular event in many ways. Nevertheless, Tianjin exceeded our expectations in terms of attendance and the scope of the Technical Program and Exhibition.
One of the hallmarks of our World Congresses is that they are held in different locations around the world. This mirrors IDA's mission as a global organization. While we have occasionally encountered unexpected challenges, we have learned from each event.
I would also point out that every one of our host locations through the years has done their best to put on a memorable event, and we thank them all for their support. Moving ahead to San Diego, the IDA team has already conducted an intensive site visit and is already planning an exceptional event. Our venue is world-class, with tremendous experience in hosting many important international events. San Diego is a superb locations and it is also the epicenter of efforts in the USA to establish a seawater desalination program, with many companies and facilities located nearby.
WWI: How do you hope your presidency at the IDA will be remembered?
AA: Each IDA president has established his or her own legacy. I hope that mine will be remembered for its success in engaging all the participants in the desalination industry in playing their part to move the industry forward as we march steadily towards achieving the goal of sustainability.
---
Tom Freyberg is chief editor of WWi magazine. For more information on the interview and solar powered desalination trials, email: tomf@pennwell.com