A Pump Lift Station for American Samoa
Challenges to upgrading municipal infrastructure in remote areas – particularly island nations – present special problems when it comes to wastewater collection.
Dec 1st, 2007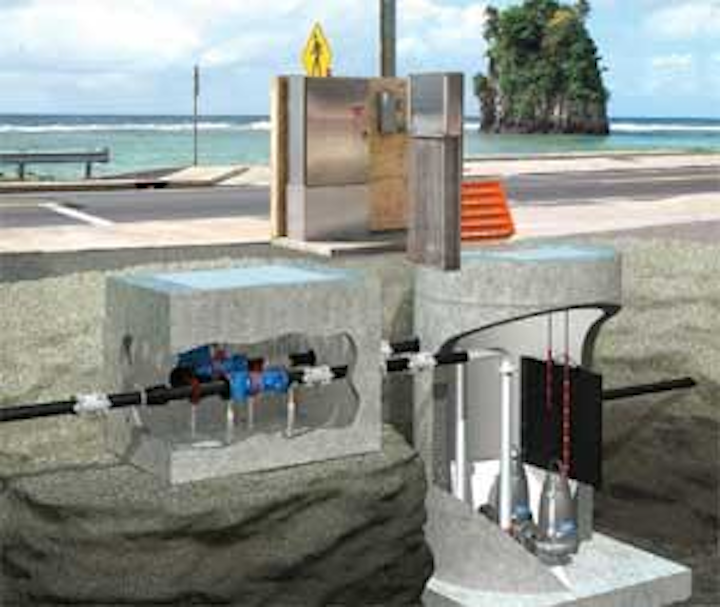 Challenges to upgrading municipal infrastructure in remote areas – particularly island nations – present special problems when it comes to wastewater collection. Thus, the village of Fatu Ma Futi, American Samoa, turned to a pre–engineered lift station.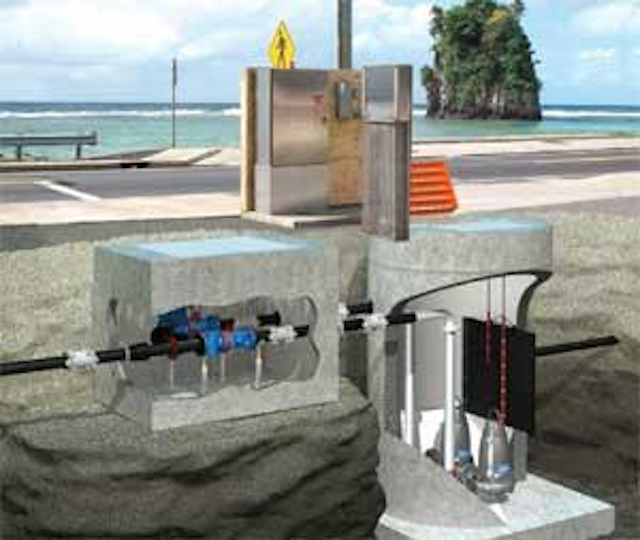 A 3D view of the finished lift station in Samoan village
Click here to enlarge image
null
By Megan Monson
The U.S. territory of American Samoa is a group of six Polynesian islands in the South Pacific, occupying an area slightly larger than Washington, D.C. Employment on the island falls into three categories, which employ about 5,000 workers each: the public sector, two tuna canneries, and the rest of the private sector.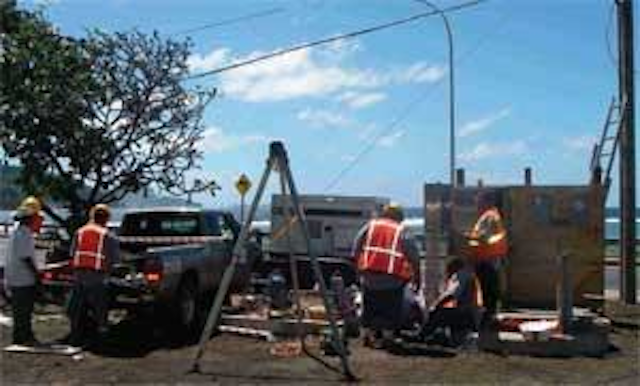 Workers for the American Samoa Power Authority install a submersible lift station near the village of Fatu Ma Futi.
Click here to enlarge image
The town of Pago Pago is on the main island of Tutuila and serves as the capital of American Samoa, which is administratively divided into three districts and two "unorganized" atolls. The districts and unorganized atolls are subdivided into 74 villages.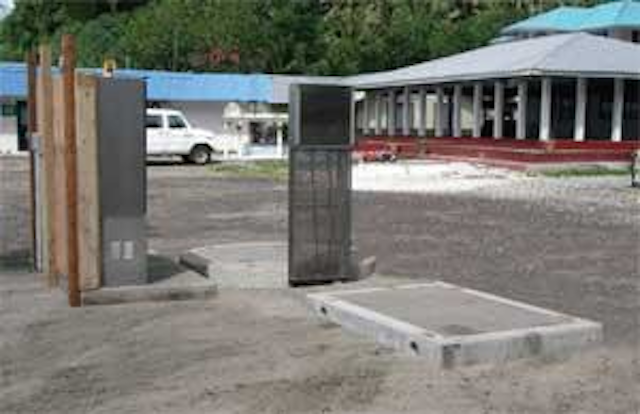 The lift station, facing inland, shortly after installaion.
Click here to enlarge image
The American Samoa Power Authority, with about 400 full–time employees, is a publicly owned enterprise responsible for electric generation, distribution and transmission; water and wastewater treatment, distribution and collection; and solid waste management. It's considered one of the area's most progressive enterprises.
The utility recently launched a major upgrade to its wastewater infrastructure. Most island residents live in villages near the coastline. Traditionally, they depend on septic systems for wastewater management. In an effort to move the effluent away from the water and consolidate its management, the Power Authority decided on a long term plan to convert village septic systems into a sewer system feeding into a treatment plant.
The community of Fatu Ma Futi
The trial project focused on the village of Fatu Ma Futi, a loose collection of houses adjacent to Pago Pago Bay named for two rock islands just offshore, Fatu and Futi. Legend is they were lovers who were turned to stone. They're commonly know as the "flower pot" islands and are just outside of Pago Pago Harbor.
The island coastline, which is where most of the villages are situated, is largely flat. Ditches for piping are limited by the water table to 5 feet deep. This situation required the utility to explore alternatives to a traditional gravity sewer system.
The solution for Fatu Ma Futi was to install lateral lines from the 11 houses in the village to the main gravity line. That line would then flow into the lift station, which would pump the effluent to the nearby treatment plant.
Logistics were a challenge in transporting lift station components from the manufacturer to the South Pacific Island. And once they arrived, utility workers – who had no prior experience installing or operating lift stations – had to be trained.
The lift station solution
The Power Authority chose a pre–engineered system from Romtec Utilities, which delivers complete lift stations with all systems pre–tested and ready to install. This eliminated the difficulty in dealing with multiple vendors over significant time differences. And, since the system was pre–assembled, workers could install it without in–depth technical training.
Fatu Ma Futi's finished lift station – which has a force main length of 1,800 feet and pumps over 100 gph – consists of a pre–cast, 6–foot wet well, top slab with safe hatch and integrated well vent/cable trench, duplex pumps with liquid level sensor and pump lifting apparatus, pre–assembled valve vault with plug valves, check valves and pressure gauge, UL–listed control panel and pump disconnect panel. Standby power is available from a portable generator that plugs into the control panel.
The complete lift station was trucked from Romtec Utilities' Roseburg, Oregon, USA, facility to Oakland, California, where it was loaded onto two 40–foot flat racks designed to fit on the deck of a barge. When the ship reached American Samoa, wheels were fitted under the rack and it was moved to the site. Romtec Utilities' applications engineer helped utility workers install the pump station over two days in May 2006. Workers were trained on operation and maintenance procedures. The pump station was operational by September 2006.
The American Samoa Power Authority is currently evaluating the success of the trial project. Engineers are now working on a plan to establish a series of lift stations around the coastline that tie into the treatment plant.
---

Author's Note:
Megan Monson is a freelance writer living in Myrtle Creek, Oregon, USA. This article first appeared in Romtec Utilities Inc.'s TechNotes Newsletter for July/August 2007. The company specializes in lift stations for wastewater, stormwater and industrial applications. Contact: 541–496–9678 or www.romtecutilities.com