Université de Montréal Develops Methods for Detecting Pharmaceuticals Products in Water
Pharmaceutical residuals are now easier to discern thanks to a customized solid phase extraction coupled with liquid chromatography and tandem mass spectrometry system from Thermo Scientific.
Aug 1st, 2007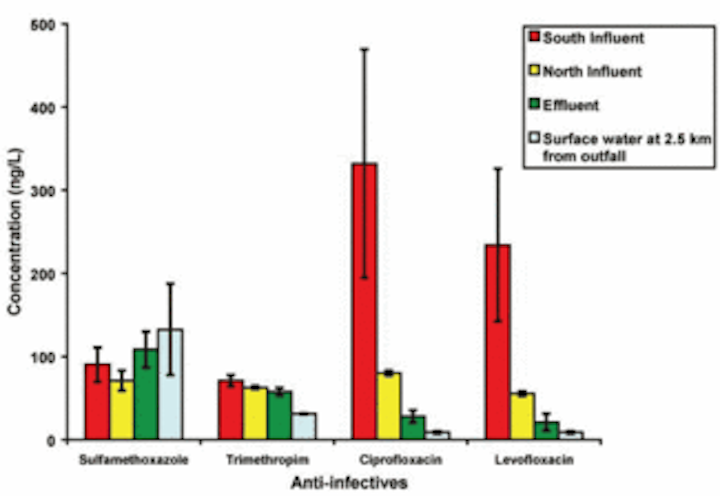 Pharmaceutical residuals are now easier to discern thanks to a customized solid phase extraction coupled with liquid chromatography and tandem mass spectrometry system from Thermo Scientific.
The city of Montreal has responded to growing concerns residual pharmaceutical products may be present in the city's wastewater and drinking water by working with the Université de Montréal, École Polytechnique de Montréal and Environment Canada to identify and quantify those of most concern. The city plans to use results of this study to determine what upgrades might be necessary for its current drinking and wastewater treatments systems. To conduct this research, the university has developed a new online sample preparation method using a customized Thermo Scientific EQuan™ system for solid phase extraction coupled to liquid chromatography and tandem mass spectrometry (SPE-LC-MS/MS) analysis. Following implementation of this instrument, the universityenjoyed major cost savings and productivity benefits.
Background
When a person or animal takes medication, the pharmaceutical compounds in that drug last beyond ingestion. Recent concern has arisen about effects of pharmaceuticals in the environment after excretion by humans or animals, particularly endocrine disrupting compounds (EDCs). Many residual pharmaceutical products can pass untreated by a sewage system simply because municipal plants aren't engineered to identify or remove them, thereby releasing them into the environment where they can eventually be ingested in minute quantities by people further downstream through drinking water or foods processed with the water.
The University of Montreal's Department of Chemistry has been working on identification and quantification of pharmaceutical products of most environmental concern present in the St. Lawrence River, used as a source of drinking water by Montreal. This academic analytical chemistry laboratory - composed of about 20 researchers, mostly graduate and post-doctoral students - focuses on finding the best analytical method for environmental studies. About half its research efforts are aimed at pharmaceuticals in the environment.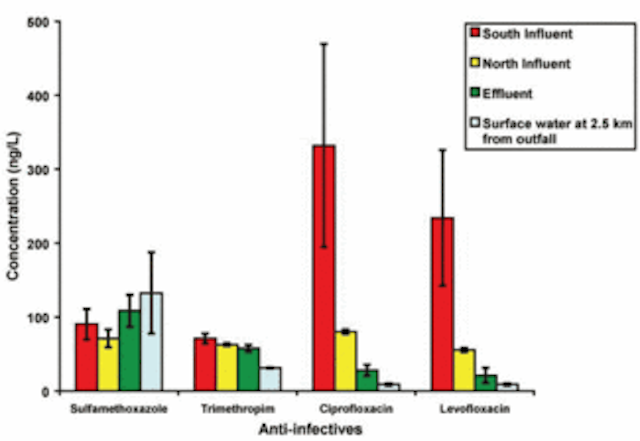 Figure 1
Click here to enlarge image
Sébastien Sauvé, associate professor with the University of Montreal, Michèle Prévost, co-holder of the Drinking Water Research Chair at the École Polytechnique de Montréal, and Christian Gagnon, at Environment Canada, and their team are working with Montreal to identify pharmaceuticals of concern so the city may determine new technology required during future upgrades of its drinking water and wastewater treatment systems. The study's goal is to identify which compounds the city should be concerned about removing.
In 2005, Sauvé purchased a customized Thermo Scientific EQuan system for his lab's research on pharmaceuticals in the environment. This system includes the Thermo Scientific Quantum Ultra™ mass spectrometer equipped with the AM (accurate mass) option, which Sauvé and his lab staff members use to accurately measure the chemical formulae of unknown compounds detected, as well as to confirm the identity of other potentially present pharmaceuticals. For known drugs and their metabolites, AM measurements enable confirmation of the elemental composition using both mass spectrometry (MS) and MS/MS spectra. With the aid of additional chemical information (e.g., the parent drug's molecular formula and an understanding of possible metabolic pathways), the plausible structure of an unknown molecule can be positively identified or possibilities narrowed to a few close fits.
In addition to the drinking water study, Sauvé's lab has used the EQuan system for its continued research about pharmaceuticals products released into the St. Lawrence river by the city of Montreal . Table 1 and Figure 1 show results of one such study, which involved extraction, detection and quantification of six of the most common anti-infectives in untreated and treated sewage.
Environmental Sample Preparation
Compounds of interest for the research project on Montreal's drinking water are present at trace levels, so the sample preparation method requires pre-concentration, which typically involves a time-consuming, complicated manual method prone to errors. Sauvé and his colleagues at the university needed to develop an online pre-concentration method for sample preparation of water samples both prior to and after treatment by the city's water treatment facility.
"We have to do the sample pre-concentration because, in spite of the excellent sensitivity of the Thermo Scientific instrument, the quantities of pharmaceuticals of interest are very low," Sauvé explained. "The biggest difficulty with the pre-concentration step is the labor - it takes a lot of labor and time to do it manually. Also, all of the sample manipulations that occur during the manual pre-concentration increase potential for errors and reduce reliability of the results."
Achieving low limits of detection (LODs) of pesticides, antibiotics and veterinary residues in drinking water is of paramount importance to monitor regulatory levels as stated by U.S., Canadian, Japanese, and European environmental and water directives. Since many of these substances pose a significant health threat, they need to be accurately detected. Traditionally, liquid chromatography coupled with tandem mass spectrometry (LC-MS/MS) was used by the environmental industry for identification and quantification of these residues. As Sauvé mentioned, though, this methodology typically requires extensive offline sample preparation that can be time consuming and expensive.
Benefits of EQuan
Sauvé worked with Thermo Fisher Scientific to develop methods using the EQuan system to optimize pre-concentation of samples online instead of offline, so all pre-concentration is done through column switching by the system before it feeds directly into the triple quadrupole instrument. This process required some customization of the system, including addition of a second pump.
The EQuan environmental water monitoring system is designed for reliable and accurate analysis of water samples and specifically developed to monitor trace levels of pesticides, hormones, antibiotics, pharmaceuticals and veterinary products in drinking water. The university lab has benefited from installation of the system because of its ability to significantly reduce sample analysis time, allowing samples to be directly injected and enriched, followed by immediate LC-MS/MS analysis. LODs also are considerably improved compared to conventional injection techniques (up to 100 times) with detection limits of 10 parts per trillion (ppt) easily achieved.
Aside from the increased reliability and improved LODs of this solution, one of the biggest benefits is the reduced personnel costs. "As we evaluate the human resources required to do the offline analysis relative to what we can save when we have an online pre-concentration method, the personnel time savings are very significant," Sauvé commented.
Conclusion
Sauvé and his colleagues have finalized several online sample preparation methods that focus on different pharmaceutical compounds and are now gathering data on the study for the city of Montreal. The laboratory is analyzing 10-20 samples a day of raw water from strategic sites around the city where water is being pumped into the drinking water treatment system. Results indicate the city can proceed accordingly to ensure safety and reliability of its residents' drinking water.
Acknowledgment
The author would like to thank Sebastien Sauvé, an associate professor of environmental chemistry at the Université de Montréal, for significant contributions to this article.
Author's Note:
Dr. Dipankar Ghosh is strategic marketing manager for Environmental & Food Safety at Thermo Scientific. Part of Waltham, Massachusetts, USA-based Thermo Fisher Scientific, a world leader in analytical sciences, its lab products headquarters are in Pittsburgh, Pennsylvania, USA. It also has offices in Canada, Europe, Asia and Latin America. Ghosh is based in San Jose, California, USA. Contact: 800-532-4752, analyze@thermofisher.com and www.thermo.com
---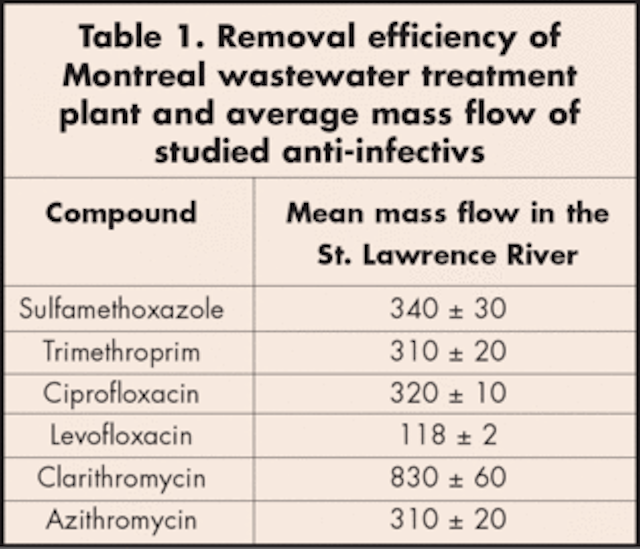 Click here to enlarge image
A Customized Approach
EQuan consists of a Thermo Scientific TSQ Quantum series mass spectrometer, two Surveyor™ HPLC pumps with a pre-concentration column, an analytical column, a CTC autosampler and an EQuan kit consisting of columns and HPLC accessories. EQuan can use any of the Thermo Scientific TSQ Quantum series instruments depending on the specific application, including the TSQ Quantum Access™, TSQ Quantum Discovery MAX™ and TSQ Quantum Ultra™. The Université de Montréal laboratory uses the TSQ Quantum Ultra