Seine Aval, Europe's Largest Wastewater Plant, Opens Nitrification Unit
Veolia celebrates late-June unveiling of submerged biofiltration Biostyr process at newest facility near Paris.
Aug 1st, 2007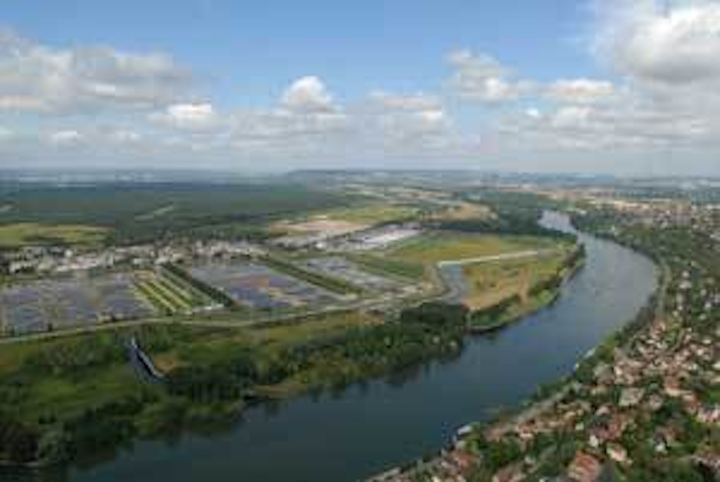 Veolia celebrates late-June unveiling of submerged biofiltration Biostyr process at newest facility near Paris.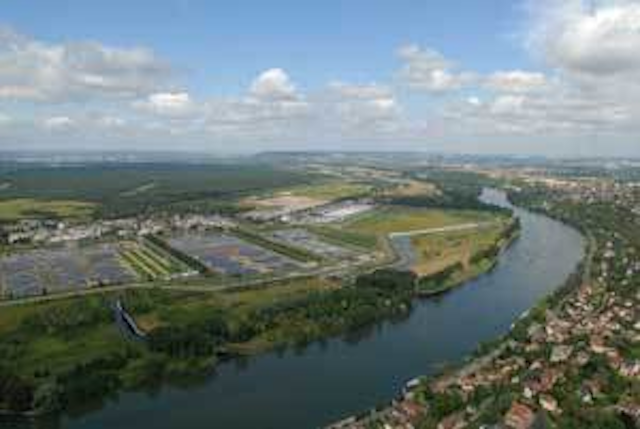 Long distance view of new facility with existing primary treatment works on the left
Click here to enlarge image
The presence of France's second most important minister in the country's new government, Jean-Louis Borloo, at the June 29 official opening of the latest phase in the development of Paris' Seine Aval wastewater treatment plant (WWTP) came as a surprise to most guests and caused a stir in French newspapers and on television.
True, Achères-based Seine Aval is important: it's the biggest such plant in Europe, taking 75% of Paris' wastewater and servicing 6.5 million people. Despite this, the sneaking suspicion remained that Mr. Borloo's interest and the media ballyhoo had more to do with the recent French elections. France has a brand new president and government, both elected on - by French standards - a right wing ticket and keen to reassure voters they'll continue to support publicly-funded, major infrastructure projects.
Surprising too is the fact the main contractor and project manager on the €392 million nitrification project (some 20 miles outside of Paris), is a subsidiary (OTV) of a company (Veolia) 30% owned by American interests. Group company, Veolia Water, operates in 57 countries, serving over 108 million people with 70,000 employees and a turnover of €8.9 billion.
SIAAP - Syndicat Interdépartemental d'Assainissement de l'Agglom - Parisienne or the Greater Paris Wastewater Treatment Authority - is France's public utility which owns and operates the Seine Aval plant and was keen to show off its new three-storey, 300-meters-long and 170-meters-wide sleek building housing Europe's biggest nitrification unit. The plant building also contains associated sludge treatment, ventilation and deodorization processes, together with office, maintenance and administrative space.
SIAAP, Veolia (OTV) and their architects have a lot to be proud of: Following Mr. Borloo and his swarming paparazzi and attendant local politicians, guests were first struck by the building's external appearance. A contour-hugging, low-slung construction, belying its height, which looked more like a fancy airport terminal than a wastewater plant. Grass along one side on the sloping roof above the sludge treatment tanks helped the building blend even more into its surroundings. Inside, the shades of grey on the walls, ceilings and walkways contrasted with exposed light brown of deep roof timber beams, interspersed with views into discrete chambers containing brightly colored pumps and filters. And only the faintest musty whiff of odor could be smelled, even when standing immediately above the nitrification treatment cells - much less, in fact, than in the Paris Metro!
Gently angling down to the banks of the River Seine, Veolia has created a 45-hectare landscaped public park, which will connect with other public spaces to provide a total of 85 hectares of parkland beside the river, including a refurbished tow path, enabling people to enjoy a stroll along the river bank.
Seine Aval was originally built in 1940 to meet the needs of the rapidly-expanding Paris area. It and consisted of two units: one for wastewater treatment and one for the sludge produced by the treatment process. The driver for Seine Aval's subsequent and more recent development has been tough new European laws. In 1991, the EU Directive on Urban Wastewater Treatment required "sensitive areas" to be identified, where more thorough treatment had to be applied. In December 2000, tightening the regulatory screw even more, the European Commission set a target for a return to "good ecological status" of waterbodies by 2015.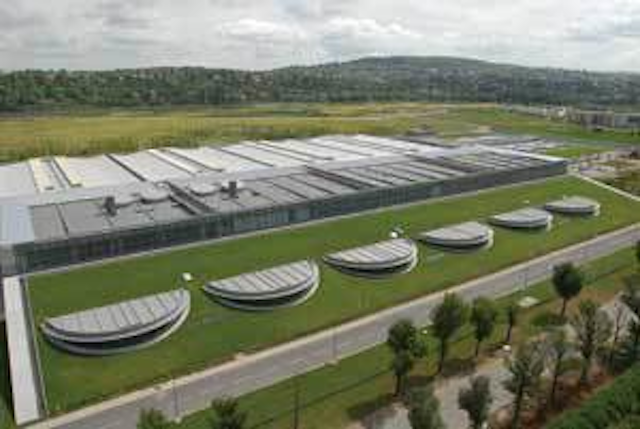 Grass roof above new sludge treatment works at Seine Aval wastewater treatment plant
Click here to enlarge image
Against this backdrop of new regulations, the SIAAP carried out a major study of the central part of the Ile-de-France region - where it's responsible for wastewater collection and treatment - and formulated a development plan to 2015. A number of long-range objectives were laid out in the plan: improve wastewater treatment performance during dry weather; reduce quantities treated at Seine Aval by creating additional capacities at other SIAAP sites; store and treat stormwater during heavy rain; and develop the intercepting sewer system that conducts wastewater to the treatment plants. One goal for 2015 was to achieve full nitrification and denitrification of all effluent from the Greater Paris area at all times.
First up, a clari-flocculation unit, using Veolia's Actiflo process, was commissioned in 2004 at Seine Aval to treat excess stormwater in rainy weather and remove the majority of phosphorus during dry weather. Benefits of this unit can already be seen in the Seine: 35 difference species of fish were recently identified, compared with only two 15 years ago.
Carrying on with the plan, since early 2007, quantities treated at Seine Aval were reduced by 400,000 to 1,700,000 cubic meters per day (m3/day) during dry weather. This reduction in effluent capacity enabled a battery of combined tanks to be demolished, freeing up ground space for further development at Seine Aval.
Nitrification-denitrification of ammoniacal nitrogen will be Seine Aval's final stage in wastewater treatment: treating the nitrogen in dry weather and refining the treatment of excess water in wet weather. After a competitive tender, the €392 million contract was awarded in September 2002 to Veolia Water's subsidiary, OTV France, leader of the consortium. Commissioning of the new facilities started in November 2006.
The project cost was split up as follows: civil engineering, €209.8 million; wastewater treatment, €177.5 million; and building works, €3.5 million. About 4.5 years will have elapsed from contract signature to end of the commissioning period. Project design took nine months, followed by 30 months' construction, and finishing with 10 months for commissioning. There have been no delays to the schedule. The facility will be handed over in November 2007.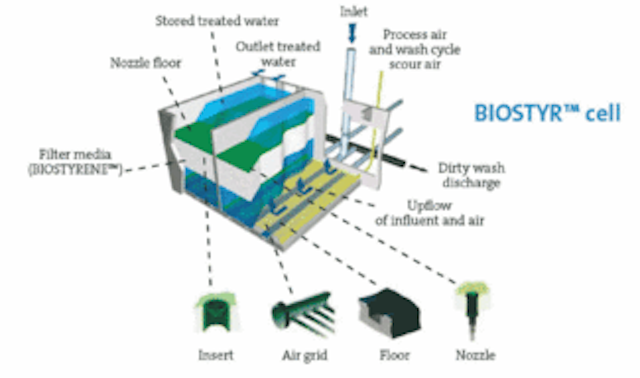 Biostyr process schematic
Click here to enlarge image
During construction, the environmental impact was minimized by using high-performance, self-compacting concrete, so construction work took less time and was less noisy. Waste was sorted and recycled on site. Pipes were installed to channel the site's wastewater to the treatment plant. Activity on the site was limited to working hours, five days a week. And the lighting was dimmed after 8 p.m. Eventually, the natural 8m fall in ground level across the site will be exploited to install an energy recovery turbine, which will produce up to 800 kW - enough to cover 10% of the new unit's energy consumption.
Seine Aval's nitrification plant uses Veolia's submerged biofiltration Biostyr process used in about 100 plants around the world and will perform 100% transformation of ammoniacal nitrogen into nitrates, and remove residual carbon and suspended solids. Seine Aval doubles the total area serviced by Biostyr units in France.
The plant has 84 Biostyr cells with a total surface area of 14,532 square meters (m2) and volume of 50,862 m3. The unit has been sized to deal with a flow of 24 cubic meters/second (m3/sec) in dry weather; 45 m3/sec in wet weather; and 52 m3/sec during exceptional peak periods. The process automatically varies in line with weather changes.
Biostyr is a process that generates very little odor. Due to the system's upflow filtration, only treated water is exposed to the atmosphere. Nevertheless, for optimal operator comfort, Seine Aval's nitrification tanks are covered by canvas tents that facilitate natural ventilation. Elsewhere in the plant, sludge treatment and denitrification units are ventilated and deodorized.
The effluent leaving Seine Aval will be partially denitrified to 30-100% by 2015 - and the residual sludge treated by flotation to achieve 4% dryness. Subsequent centrifuging will increase dryness to the required 6% level.
According to SIAAP, guaranteed treated water quality will be: 92% of TSS; 92% of DBO5; 80% of ammoniac nitrogen; 30% of total nitrogen and 80% of phosphorus. The public utility claims the improved water quality will halt the eutrophication phenomenon occurring in the Seine right up to the North Sea.
Seine Aval is an impressive achievement and appears to be on course to achieve its 2015 targets. Certainly Antoine Frérot, Veolia Water's CEO, is confident that within 10 years, "Seine Aval will achieve its targets and will also be a net contributor of power to the national grid, while producing biopolymers as a byproduct."
---

Author's Notes:
Jonathan Rush is a freelance writer and editor for online magazine Contingency Today, dedicated to the challenges and opportunities of critical national infrastructure protection and based in Cambridge, UK.