Landfill Leads the Way Toward 'Greener'Wastewater Management
Air Products pure oxygen system makes the grade for landfill leachate treatment at Bryn Posteg landfill site in Wales
Jun 1st, 2007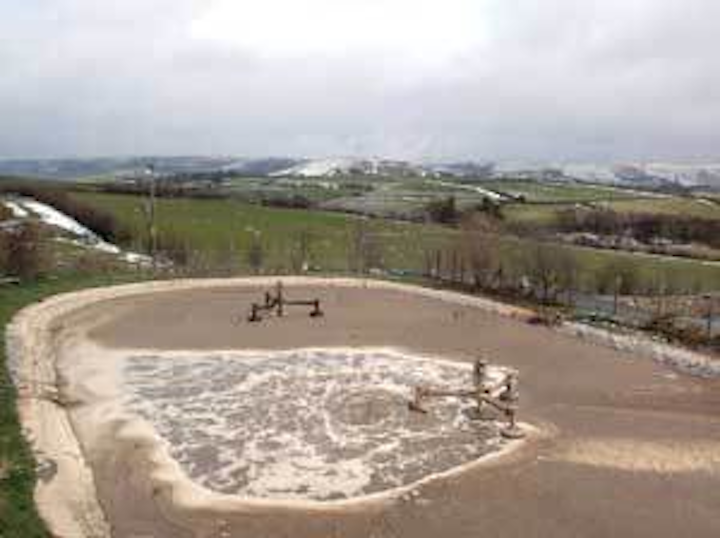 Air Products pure oxygen system makes the grade for landfill leachate treatment at Bryn Posteg landfill site in Wales
Industrial and municipal sites across Europe are striving to improve environmental performance and reduce costs, by diverting as much waste as possible from over-used landfill sites. In the meantime, landfill sites are doing a lot themselves to clean up onsite processes and reduce their impact on the environment.
For many landfill operators, leachate treatment is one of the most challenging aspects of emissions control. Agreed discharge consent limits with local water companies have in many cases been tightened and are becoming increasingly difficult to achieve throughout the year. As a result, while traditional aeration systems used to remove waterborne contaminants from the site's leachate are tried and tested, many landfill operators are looking for ways to enhance processes and increase capacity at the same time.
Full containment
In particular, a landfill site in Wales is pioneering an innovative wastewater treatment solution that uses pure oxygen to pre-treat the site's leachate and improve efficiency so it can be released safely into the sewer.
The Bryn Posteg landfill site, which opened in 1982, is owned and run by Potters Waste Management and is located close to Llanidloes in mid-Wales. Licensed by the Environment Agency for disposal and treatment of household waste, the site is a full "containment" site, which utilises the natural impermeability of the landscape, combined with engineered systems to prevent leachate from being discharged into the water environment.
Set in a remote area, the site has a 1,200-m3 leachate treatment lagoon and the landfill operator is permitted to release the treated leachate into the sewer as long as it meets standards specified by the agreed discharge consent limits.
Temperature dependent
While exploring ways to upgrade the site's wastewater treatment system, the landfill operator noted that while the lagoon was coping well with a steady increase in capacity, its exposed location meant water temperature had been dropping to levels that were making the surface aeration process less effective, particularly during winter months. As a result, it was sometimes difficult to achieve the specified discharge limits for some leachate contaminants in cold weather and an enhanced pre-treatment system was needed.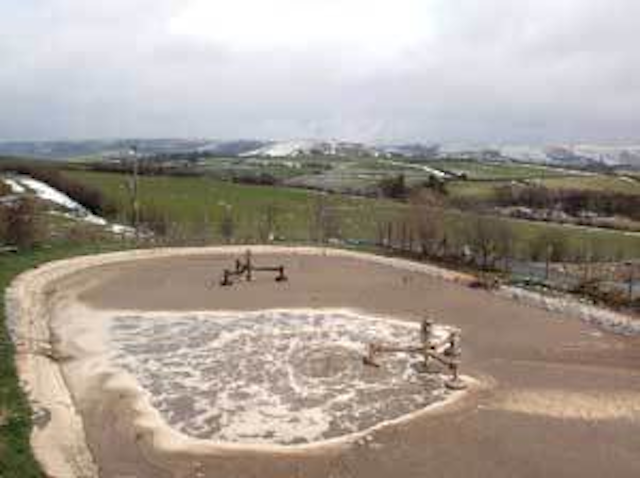 View of leachate lagoon at the Bryn Posteg landfill site in Wales
Click here to enlarge image
"Traditional aeration systems can be severely affected when the temperature dips below 15°C as nitrification of the water is inhibited and there is no ammonia removal," said Philip Whittaker, Air Products' business development lead for water systems.
"At this particular site, the leachate has a high ammonia content, with a maximum strength of around 2,000 mg per litre. Any significant drop in temperature meant that the discharge consent limit for ammonia content, set at just 150 mg per litre, became extremely difficult to achieve."
Traditional aeration systems work by reducing the oxygen demand of the wastewater in the lagoon or treatment tank by dissolving as much oxygen from the air as possible. The aeration process encourages growth of natural microbes or bacteria that cleanse the water and remove organic and other contaminants.
By using high purity oxygen, in place of atmospheric air, the new technology works in the same way, but oxygen is dissolved more quickly. By increasing the rate at which oxygen is dissolved and reducing the amount of gas passing through the wastewater, there's reduced heat loss from the process and the wastewater is also less to prone to foaming. As a result, both capacity and efficiency of the process is enhanced.
Oxygen vs. air
Whittaker adds: "Using pure oxygen instead of air can have a dramatic effect on the capacity of the process by significantly increasing the treatment rates for both chemical oxygen demand (COD) and biological oxygen demand (BOD). This makes the technology suitable for a wide range of industrial and municipal wastewater treatment plants."
Working in partnership with Potters Waste Management, Air Products specified the replacement of two surface aerators with a single OXY-DEP® VSA system, which is capable of delivering 875 kg a day of oxygen. Despite the site's remote location, the modular system was installed quickly and easily, without the need to drain down the lagoon.
"Since installing the system," David Williams, technical manager at Potters Waste Management, said, "we have been able to keep the ammonia content of the leachate well within the specified discharge consent limit. In the year following installation, we were able to treat more leachate while maintaining the same discharge quality.
"The whole process is more efficient as a result and the capacity of the process has also increased. Since upgrading the system, we are now able to treat an extra 10-15% of our leachate per day."
Forward-thinking
Achieving discharge limits isn't the only driver for landfill operators to review their leachate and wastewater treatment systems. Tightening environmental legislation, in particular the UK's implementation of the Landfill Directive and the Water Framework Directive, which has set a deadline for all surface and groundwater to achieve good ecological status by 2015, is also having an impact. In response, most forward-thinking waste management companies and landfill operators are taking action now to ensure their treatment systems are designed for optimum efficiency.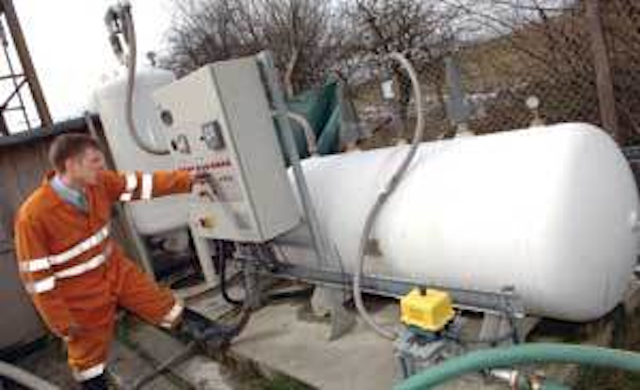 David Williams, technical manager at Potters Waste Managementmakes some adjustments to Air Products' OXY-DEP VSA system.
Click here to enlarge image
Whittaker concludes: "Operators are looking for ways to upgrade their existing systems so that they are capable of exceeding the requirements of tighter environmental legislation now and in the future. In doing so, they want to minimise site disruption; keep overheads down and if possible, increase the capacity of the treatment process too."
"Using pure oxygen instead of air can have a dramatic effect on the capacity of the aeration process by significantly increasing the treatment rates for both COD and BOD." - Philip Whittaker, Air Products' business development lead for water systems in UK.
Click here to enlarge image
Air Products PLC is the UK unit of Air Products and Chemicals Inc., based in Allentown, Pennsylvania, USA. It's UK offices are based from Hersham, Walton-on-Thames, Surrey. Contact: +800-389-0202, apbulkuk@airproducts.com or www.airproducts.com
---

Benefits of new oxygen-based aeration systems
Low emissions - Compared to typical air-based aeration, oxygen aeration systems can help plant managers to achieve discharge consent limits more consistently. They can also reduce the volume of gas leaving the surface of the treatment basin, so significantly reducing VOC or odour emissions.
High shock load resistance - Faster oxygen dissolution means faster biological treatment, which allows operation at enhanced mixed liquor suspended solids (MLSS). This means the system is resistant to shock loads that could cause a process failure in a traditional air-based system.
High efficiency - Specific oxygen transfer rates of around 2kg/kWh can be achieved using new oxygen aeration systems, which is comparable with air-based systems and won't generally deteriorate over the lifetime of the system.
High treatment rates - 10kg chemical oxygen demand (COD) per cubic metre per day can be achieved with pure oxygen systems.
Easy installation - All that's required is a flat area near to the treatment basin. The mixer-oxygenator can be installed without draining down tanks or treatment lagoons.
Building regulations may be unnecessary - As oxygen is only made when required, the innovative oxygen system doesn't require oxygen storage onsite and therefore regulatory compliance isn't usually required.