Space - The Final Frontier for Sludge Treatment?
A Black & Veatch/Costain Construction joint venture to build new £80 million wastewater treatment works for Margate and Broadstairs near Sandwich, England, sought a smaller footprint for sludge processing with Hydro International screening units.
Jun 1st, 2007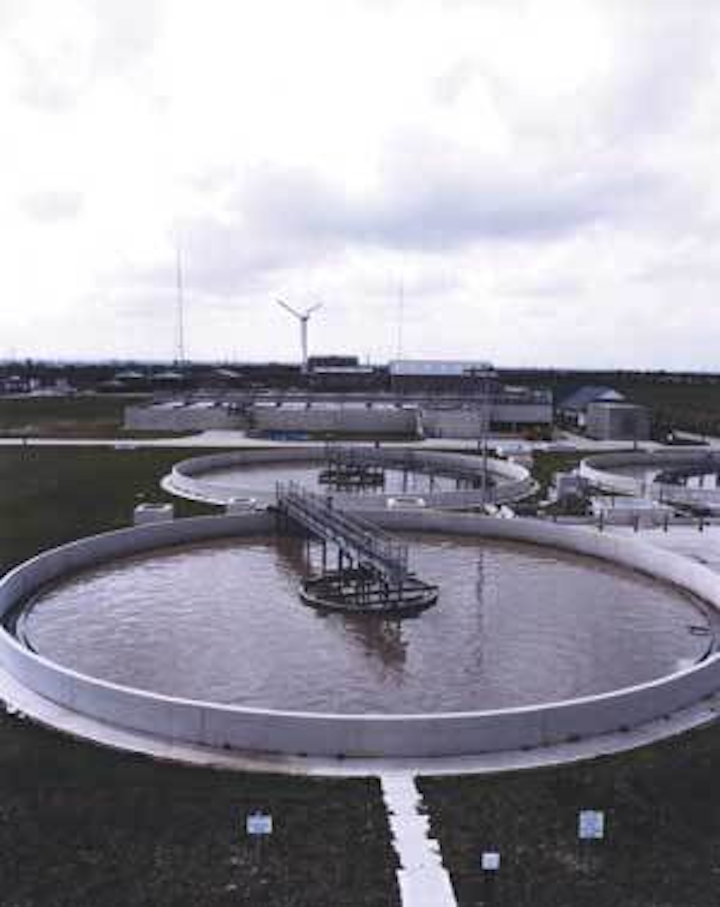 A Black & Veatch/Costain Construction joint venture to build new £80 million wastewater treatment works for Margate and Broadstairs near Sandwich, England, sought a smaller footprint for sludge processing with Hydro International screening units.
The huge investment in wastewater treatment prior to the 2015 implementation of the Water Framework Directive is bringing with it at least one headache for operators which requires a little thinking "outside the box".
UK water companies committed an estimated £15 billion from 1990-2005 and £19 billion between 2005 and 2010 to upgrade and rebuild treatment plants. State-of-the-art equipment is being introduced to meet reduced maximum accepted levels of a much wider range of substances - but these fresh approaches to the problems of waste and pollution control are putting ever-increasing pressure on limited space in wastewater treatment works (WWTWs).
Whether it's a question of incorporating new treatment processes within the boundaries of existing WWTWs or making the best use of land on new sites, the challenge is the same. Conventional treatment approaches, which require a large land footprint, may be no longer practical or affordable. Operators are increasingly turning to new technological solutions that provide "small" answers to a big problem. One clear example is use of vertical sand beds to replace large expanses of flat filter beds.
Treating sludge
Operators also are turning their thoughts increasingly to the challenges of sludge disposal against the new regulatory framework. Here again, the need for a small footprint combined with low running costs have prompted engineers to explore new technologies - in particular the potential of sludge screening and compaction equipment. But what are the alternatives?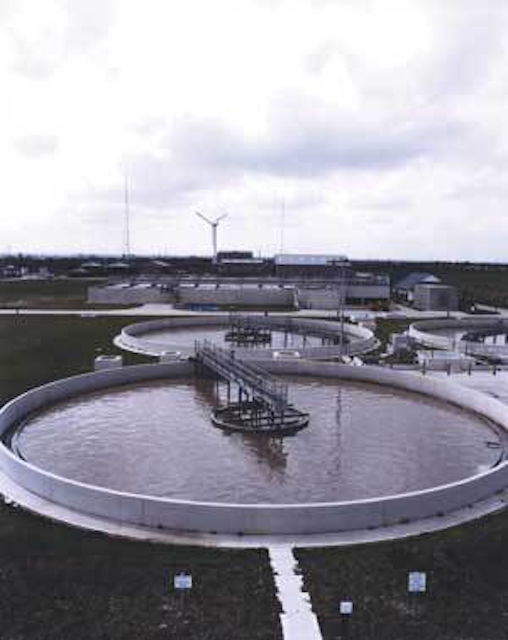 The new £80 million WWTW for Margate and Broadstairs, being built to meet the EU Urban Waste Water Treatment Directive, incorporates Hydro Sludgescreen screening units. Hydro International's
Click here to enlarge image
At one time, sludge could be pumped or tankered out to sea and dumped without additional treatment. When this was prohibited, sludge was contained in large lagoons as other approaches were developed. This method of storage has virtually ceased, although the lagoons themselves remain as another problem requiring long-term containment solutions.
Currently sludge incineration is a favoured method for disposal. This accounts for some 20% but requires extensive sludge treatment, not least dewatering to reduce the volume to manageable amounts and make it easier to burn. Agricultural disposal of treated sludge accounts for around 65%. And there are other beneficial uses for sludge that account for most of the remainder, with now only about 1% sent to landfill.
Space constraints
Space is particularly acute for WWTWs serving sparsely populated rural areas. Sludge from cesspits and other self-contained sources now have to be more extensively treated prior to disposal. In existing works, this may require extra room for treatment and mean the plant has to be upgraded to meet tighter regulatory standards.
In England and Wales, sludge as dry solids rose from 1 million tons in 1998 to 1.3 million tons in 2005, and it's expected to be 1.6 million tons by 2010. France, by comparison, had a 50% rise between 1998 and 2005 - indicative of a more agrarian society.
Many sludge sources can be relatively concentrated and contain a large amount of difficult inclusions such as rag. These characteristics also impose additional pressures on treatment and disposal.
Sludge screens
Sludge screening and compaction equipment is increasingly popular alternative solution to treating higher volumes of difficult sludge in the confines of existing WWTWs and even to build in efficient use of space in new works.
One such solution, the Hydro SludgeScreen™ from Hydro International, has a small footprint and low running costs. It provides screening, dewatering and coarse material discharge in one operation without requiring wash water. It's suitable for automatic continuous or intermittent operation and sludges of varying dry solids content and will accept any combination of tanker delivery or pumped feed, thus making it ideal for works where there are considerable differences between sources. As a totally enclosed system, it's a low-odour process, another important consideration in the environmental impact of a WWTW.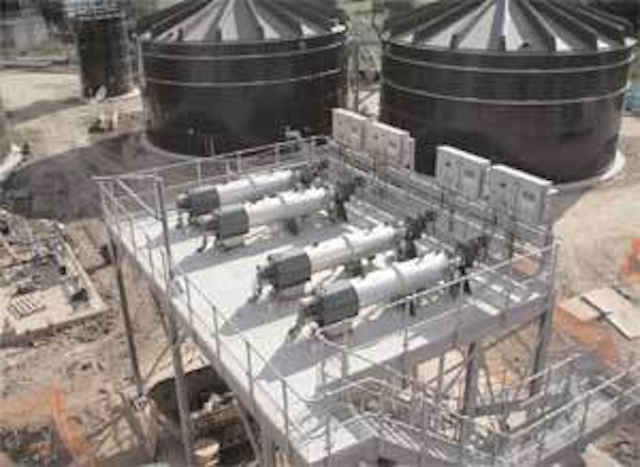 Hydro SludgeScreen's small footprint is ideal where space is critical in existing facilities.
Click here to enlarge image
Screen perforations can be specified between 3 mm and 10 mm, according to requirements and the type of material encountered. While separated solid content is discharged from the screening outlet direct to a container for disposal, sludge can be compacted at a throughput of between 120 m3 and 50 m3 per hour, with a dry solids content of between 1% and 6% respectively.
All at sea
A standard screening model t requires an operating clearance of 6.0 metres in a width of 2.5 metres. This allows several units to be easily mounted on a single platform to provide a compact sludge handling facility. A compact model, requires even less room and is popular for use in applications such as cruise liners, where strict environmental requirements in ports and some coastal waters have placed tight control on discharge at sea. The same robust construction and operational reliability make the smaller model suitable for marine applications where these qualities are key factors.
Southern installation
A typical recent application is at Southern Water's new £80 million wastewater treatment works for the Margate and Broadstairs catchment area, which is under construction to meet the stringent EU Urban Waste Water Treatment Directive. As well as bringing extensive environmental benefits to the area, it will help local beaches meet the EU Bathing Water Directive and boost the tourist trade.
The new works are being built next to the existing Weatherlees Water Treatment Works (WTW) near Sandwich, which already separately treats wastewater from Ramsgate, Deal and Sandwich. The new works will also take wastewater pumped from Foreness Point and North Foreland WTW via nearly 15 km of new underground pipeline, and will treat 20 million litres of wastewater generated daily by the 93,000 Margate and Broadstairs residents and visitors.
Project engineer Alan Coles of consulting engineers Black and Veatch commented: "The four Hydro SludgeScreens are required because some of the untreated wastewater from particular areas has a high rag content, which needs to be removed before the full treatment process. The screens operate with three screening and one on standby to minimise any downtime. They are installed on a single concrete plinth, over skips which collect the rag for disposal; their small footprint is ideal for a modern treatment works."
A joint venture consortium between Black & Veatch for design and installation, M&E and process engineering and Costain Construction for civil works, including pipelines and tunneling, is implementing the project.
Currently wastewater from Margate and Broadstairs is screened to remove grit and other debris, before being discharged through long sea outfalls at Foreness Point and North Foreland.
The new process will see the solid waste including rag content removed at Margate Headworks targeted by Hydro's SludgeScreen. The wastewater will then flow to Weatherlees Hill WTW to under go full treatment, including disinfection with UV light, before being pumped back to Margate WTW for safe release out to sea through the existing long sea outfall.
Author's Note:
Steve Tansley is Hydro International's Water & Wastewater Division director based in Ely, Cambridgeshire, England. The company has offices in the UK, USA and Ireland. Contact: +44(0) 800 269371, enquiries@hydro-international.co.uk or www.hydro-international.biz