Technologies & Products
Controller provides self-sufficient network
Apr 1st, 2002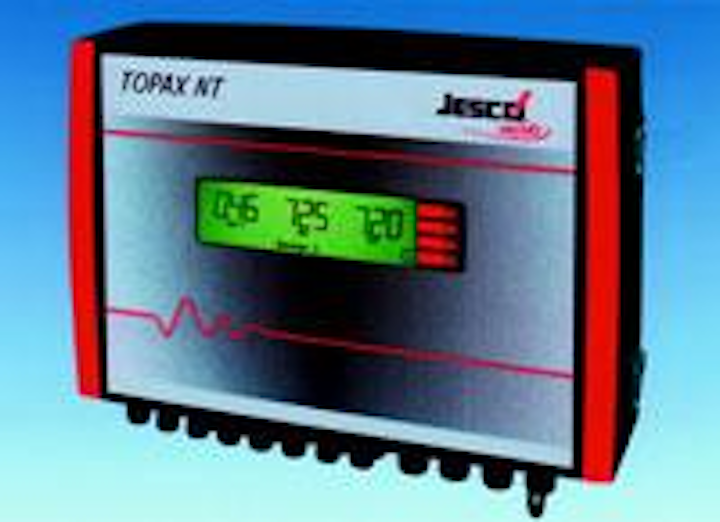 Controller provides self-sufficient network
Click here to enlarge image
The Topax NT wall-mounted controller and measuring amplifier can now access directly a printer in a self-sufficient RS485 network with up to 15 controllers. A personal computer (PC) acting as master is not required, which reduces material and installation costs and allows automatic logging of water parameters without problems caused by other PC applications.
The controller is used in water treatment applications to measure classic water parameters such as free chlorine, pH value, temperature or Redox potential. In addition, it measures and further processes combined chlorine.
The menu-driven operation uses plain text available in different languages. Trend values can be shown as curves on the display, which help the user set parameters directly. In combination with the visualisation software TopView, up to 15 networked controllers can be used for communication, remote control, setting of controllers and recording of measured values by means of only one PC.
Jesco Dosiertechnik
Wedemark, Germany
Deep-seeking metal detector locates valves
Metal covers of control valve boxes are often lost during re-surfacing of roadways or from nearby excavation work, making valve location difficult for traditional metal detectors. If the nearest line valve to a burst main cannot be easily located, the next accessible valve must be isolated, potentially affecting an additional 200 to 300 households. The Totalscan TS62 Industrial Metal Detector avoided this situation several times for Scottish Water, according to Robert Wilson of the utility's leakage detection section.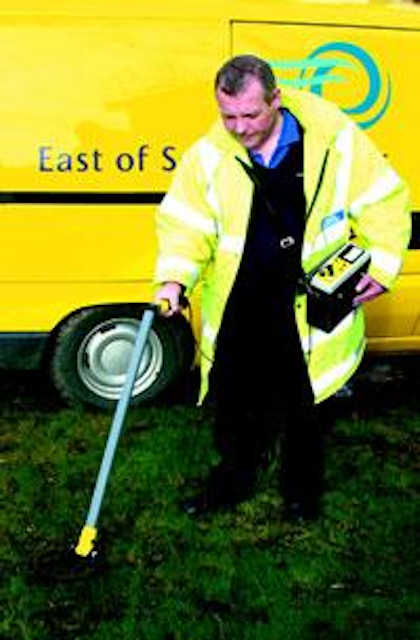 Click here to enlarge image
The Totalscan TS62 is a deep-seeking metal detector that can locate a 100-mm water main up to a depth of 118 cm, and locates valves even when the frame and cover are missing. Protovale Oxford manufactures the Imp Box Locator that detects valve boxes down to 95 cm while ignoring metallic litter.
Protovale Oxford Ltd.
Abingdon, Oxford, UK
Low-tech micro-stations treat wastewater in France
Wastewater authorities do not always have the financial resources to purchase costly water treatment plants. Low-tech techniques can offer solutions that are less costly and less demanding to maintain. Large companies have abandoned this market in recent years, preferring to sell high-tech equipment, but the market for large treatment stations is becoming saturated and market research indicates that micro-stations have a sizeable niche in the market.
Lyonnaise des Eaux (Ondeo) patented a low-tech domestic wastewater treatment technique, Rhizopur, which has been first applied in the small township of Neuvy-Bouin. Rhizopur combines two known processes not previously used together - a bacterial bed followed by reed filter beds (rhizofilters). The first stage provides treatment of dissolved and colloidal carbonaceous matter on a bacterial bed. The second stage refines and completes the treatment while filtering present matter.
Rhizopur eliminates BOD, COD and matter in suspension. "An advantage regarding the hydraulics is that as the bed operates continuously at a constant flow rate, variations in hydraulic load do not have an impact on the operation of the installation. Nor is any loss of sludge possible: all sludge is trapped on the rhizofilters and can on no account be discharged into the natural environment," according to Roger Pujol, technical director of Lyonnaise des Eaux France.
The process is compact with a land area 10 to 15 times smaller than for a natural lagoon. It uses two to three times less energy than with activated sludges.
Lyonnaise des Eaux France (Ondeo)
Paris, France
Decanter handles 600 gpm of wastewater
Alfa Laval's new series of decanters designed for use in municipal and industrial wastewater treatment plants can handle dewatering requirements up to 600 gpm. The Aldec 700 Series can be adjusted to suit individual sludge dewatering and thickening needs. The decanters are open, non-pressurised decanters with solid horizontal bowls and scroll-type conveyors with counter-current flow. The centrifuge is designed for continuous operation at a standard operating bowl speed of 2,410 rpm. All parts of the centrifuge in contact with the process media are made of 316 stainless steel with the exception of O-rings, seals, abrasion-resistant materials, feed tube and frame and cover assembly.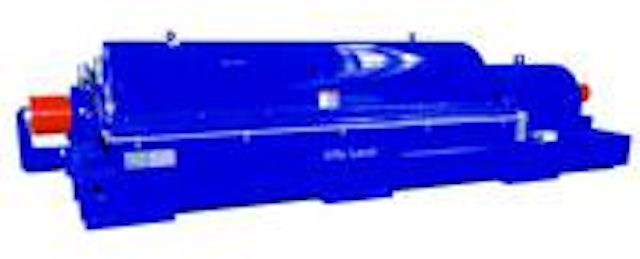 Click here to enlarge image
Aldec decanters are compact, modular designs with automatic control and continuous operation. They treat high throughputs of sludge with solids content ranging from very low (<1%DS) to very high.
Alfa Laval's spiral heat exchanger, used in the sludge digestion process, helps maintain optimum temperatures to avoid thermal shock to bacteria. The spiral heat exchanger can decrease cake weight up to 25% and reduce polymer costs.
Alfa Laval Inc.
Richmond, Virginia, USA
Automatic microdilutor avoids pre-use preparation
An automatic microdilutor and sample preparation unit, the AMD2000 from Burkard Scientific, eliminates preparation of sets of standards from a stock standard solution; daily preparation of sets of calibrants by pipetting and making up to volume; and overnight storage of prepared standards under refrigeration.
The unit is designed for use with Burkard's Series 2000 range of segmented flow and flow injection analysers. It operates as a stand-alone unit or as an integral part of a more extensive system.
Burkard Scientific Ltd.
Uxbridge, Middlesex, UK
---
Correction
The Spaix PumpSelector, available from VSX-Vogel Software of Dresden, Germany, helps companies select and configure centrifugal pumps, including the preparation of complete quotation documents. The February issue of WWI incorrectly stated that the pump software is available from SX Vogel Pumpen.
Vogel Pumpen, a pump manufacturer based in Stockerau, Austria and a member of ITT Industries, selected the Spaix PumpSelector from VSX-Vogel Software. Vogel Pumpen and VSX-Vogel Software are separate companies with similar names.