Water sector problems call for urgent changes in China
Foreign investors can help China solve its serious water supply problems, but substantive financial, legal and sectoral changes must be made in the water sector before investors will venture into this market.
Dec 1st, 2002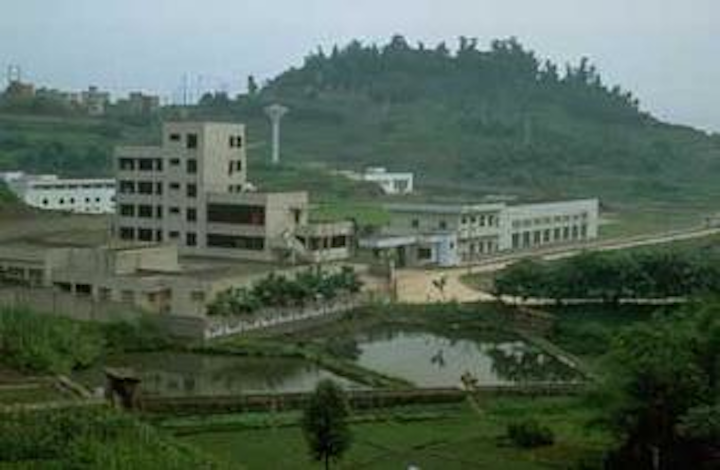 By Katherine Whitman, Zhou Linjun, Peter H. Antoniou
Foreign investors can help China solve its serious water supply problems, but substantive financial, legal and sectoral changes must be made in the water sector before investors will venture into this market.
Dismal realities about the water sector in China call for immediate upgrading and increased foreign involvement to accelerate the process.
Historically, China has experienced much difficulty in supplying its people with adequate safe water. Its water supply measures the second lowest in the world, and its water resources are unevenly distributed. North China has 65% of the arable land, 50% of the nation's industry but only 20% of the country's water supply. Rivers in southern China flood with disastrous results. Sixty percent of urban areas face water shortages and 80% of rivers and lakes are polluted. Wastewater treatment capacity is only about 32% and wastewater reuse at 40% is well below the 75% to 80% average in developed countries.
China's water problems are a major threat to its modernisation drive. In June 2002, the central government reiterated its welcome of foreign enterprises to participate in the construction and operations of municipal water resources projects. China invests US$25 billion annually in developing urban infrastructure but domestic financing cannot provide enough capital to construct and develop urban wastewater systems. Additionally, inefficient management, outdated production technology and the tendency not to recycle water will require China to increase its water supply capacity by 25% by 2010. This is equivalent to building roughly 600 to 800 new water treatment plants with a capacity of 400,000 cubic metres per day (m3/d).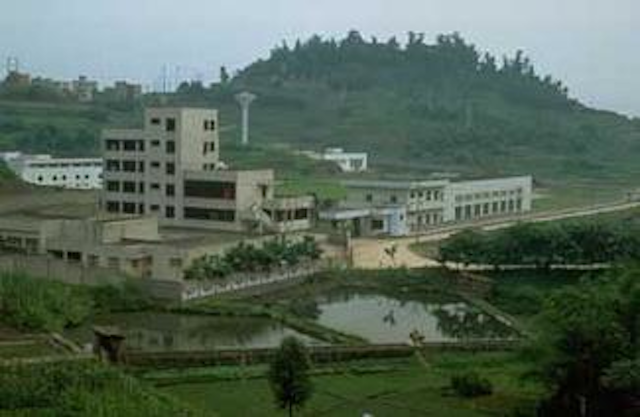 Ondeo drinking water plant in Chongqing, China. Photo by: Ondeo
Click here to enlarge image
Foreign investors help China meet this challenge by bringing financial capital, new technology, modern management and human expertise into the water sector. Major foreign water companies such as Vivendi, Berlin Water and Thames Water have already invested in the sector via technology transfer, training and technical assistance, water and wastewater management and wholesale ownership of treatment facilities.
Earlier this year Suez SA won two major projects in China. In Shanghai, it won a 50-year effluent management contract. In Chongqing, Suez won a contract to supply and manage a drinking water system in an area of the main city. The Novo Group of Finland will jointly build a flood protection system including a flood modelling IT system for the Changjiang (Yangzte) Valley.
However, the scope and scale of foreign participation has barely made a dent on the surface of the enormous potential demand, which is in marked contract to the power and energy sectors that has received large-scale foreign investment for many years.
Some water sector issues help to explain this disparity. For example, numerous administrative approvals lead to long delays. More than 25 different approvals by central, provincial and local levels can be required for a water project. Different agencies do not necessarily follow the same criteria or evaluation methods, so this lengthy process can lead to high development costs and, in turn, higher tariffs.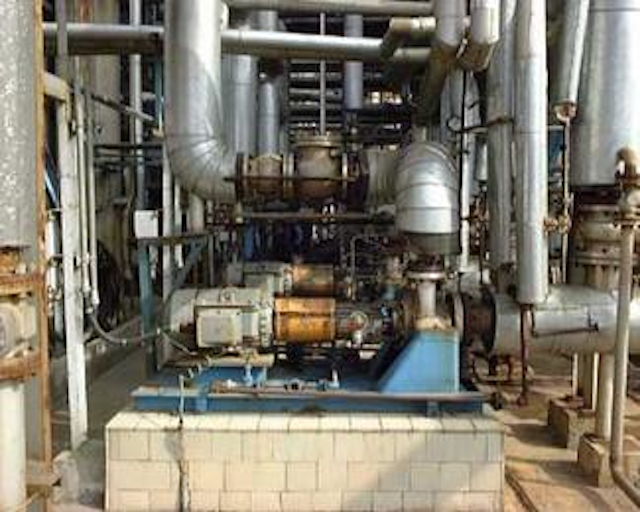 ITT Industries has three Fluid Technology sites in China, including Goulds Pumps facilities in Nanjing and Shanghai, and a Flygt site in Shenyang.Photo by ITT Industries
Click here to enlarge image
Subsidised water rates threatens the commercial viability of projects, especially those involving foreign investors whose goals include an acceptable rate of return. Chinese consumers generally pay less for drinking water than the real cost of production and distribution.
Municipal and local risk is another serious issue. The local water utility is key to the success of the foreign-invested plant, but the lack of financial transparency in most state-owned enterprises along with subsidised tariff and sometimes-inefficient management make issues of credit and performance uncertain.
Some constraints on foreign participation in the distribution sector discourage investment. In the absence of deregulation in the water sector, some projects guarantee revenue by dedicating a portion of the local water company's revenue from water customers solely to pay the foreign company. This method, however, has its own structural and legal risks.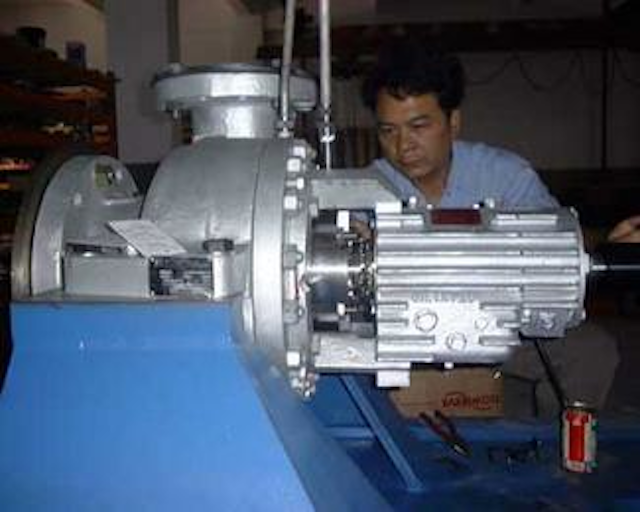 A technician inspects a pump at an ITT Industries' Fluid Technology facility in China.
Click here to enlarge image
China experiences shortages of raw water, and with the problems of falling water tables and industrial pollution, the quality of raw water has declined.
Uncertainty about the best way to invest also prevents foreign investors from entering the Chinese water market. The usual models of foreign investment have been either joint venture (JV) or build-operate and transfer (BOT). The JV model has challenges associated with managing the relationships and issues of control both from a financial and operational standpoint. The BOT model had benefits arising from clear risk allocations, competitive bidding and cost-based tariff structures; however BOT is really only viable for large-scale projects over 300,000 m3/day.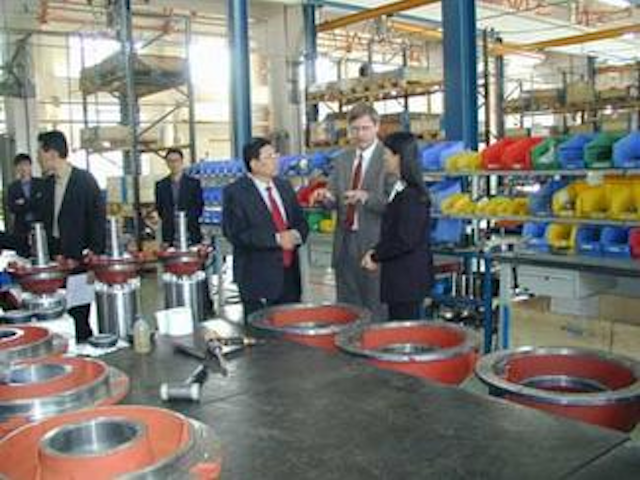 Per Inge Birgersson (centre), general manager of ITT Industries Flygt pump operation in Shenyang, China, meets with Mr. ZhangXiangziang, vice governor of the Liaoning Province and his assistant. Photo by ITT Flygt
Click here to enlarge image
China must make some changes to attract private capital to infrastructure on a large-scale basis given the enormous need and demand for foreign investors to help China achieve its goal of providing reasonably priced quality water resources. The Public-Private Infrastructure Advisory Facility (PPIAF) is a multi-donor technical assistance facility aimed at helping developing countries improve their infrastructure through private sector involvement. The PPIAF worked on a study with the State Development Planning Commission in China, which resulted in key findings and recommendations for promoting foreign investment in China. The study focused on three sectors: legal, financial and sectoral.
Legal sector
Chinese laws and regulations are a major obstacle to broader private participation in infrastructure. A comprehensive legal framework is necessary to consolidate various legislative bills. The legal system leaves many important, routine decisions to authorities through an approval process that should be streamlined. The rules, instructions and instruments of independent regulation have not yet been developed.
Financial sector
Most private investment in China's infrastructure has been foreign and primarily equity with little debt financing. Several issues need to be carefully addressed to mobilise domestic financing and to ensure sustainable capital inflows. The need for sustainable financing for infrastructure requires that risk be balanced between public and private parties. Private financing measures need to be better defined.
Although the Security Law has played a crucial role in China's efforts to provide an enabling investment environment, its implementation should be strengthened. Domestic banks and the bond market play only a limited role in financing infrastructure projects, something that must be addressed to ensure sustainability.
Sectoral issues
Although the water sector has had some degree of private participation, four common themes arose.
The need to insure financial viability of projects.
The need to clarify government policy.
Consideration of greater participation involving a move away from BOT-style approaches to opening networks to private partners.
The need for greater support from the centre for local municipalities and provinces that must undertake the majority of reforms.
These findings were prepared last November 2001 at a conference attended by more than 60 representatives of key national ministries and provincial authorities in addition to 70 representatives of domestic and international financial institutions, private infrastructure operators and donor organisations. The State Development Planning Commission signalled its intentions to move forward in line with many of the study's recommendations. Issues, such as the possible opening of water distribution networks to private operators, are now being studied in the Pudong area of Shanghai.
Authors' note
Zhou Linjun is the director of the Chongqing Project Management for the World Bank's Capital Utilisation Office and the Foreign Economic and Trade Division of Chongqing Planning Commission. Katherine Whitman is a Professor of Economics at Mount St. Mary's College in Los Angeles, California.