South Korea's Four Rivers Restoration
A lack of targeted investment, as well as drought and flood cycles has meant that pollution levels in South Korea's rivers have been increasing over the last decade. WWi looks at how a three-phase project aims to restore four Asian rivers back to their former glory, generate electricity and boost the economy.
Jan 1st, 2013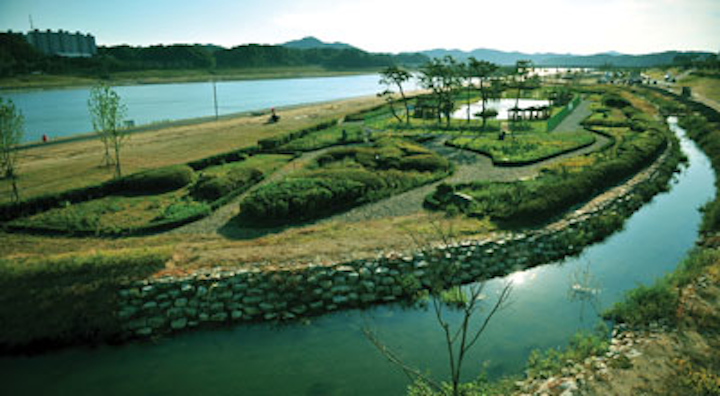 Hard Engineering to Restore Soft Nature
A lack of targeted investment, as well as drought and flood cycles has meant that pollution levels in South Korea's rivers have been increasing over the last decade. WWi looks at how a three-phase project aims to restore four Asian rivers back to their former glory, generate electricity and boost the economy.
The $18 billion Four Major Rivers Restoration project in South Korea is "hard engineering" at its most ambitious. The restoration focused, as its name suggests, on four of the country's biggest rivers – the Han, Nakdong, Geum and Yeongsan, as well as hundreds of miles of tributary streams.
This has been a labour of love for Jae "Jim" Park, a professor of civil and environmental engineering at the University of Wisconsin-Madison and a native of South Korea.
Professor Park explains: "I was interested in the restoration of rivers in Korea. In the 1970s they were heavily polluted and I was hoping some day Korea would do river restoration. In 2008, the Korean government started the river restoration project and I got involved, providing all the theoretical background."
The work is part of South Korea's "Green New Deal" policy, which aims to stimulate the economy after the 2008 financial crisis. Like rainwater harvesting initiatives being carried out elsewhere in South Korea, the Four Major Rivers project has several aims: securing abundant water resources to protect against potential water scarcity, comprehensive flood control, improving water quality and restoring river ecosystems, creating multi-use open spaces for people in the many communities along the rivers and their tributaries.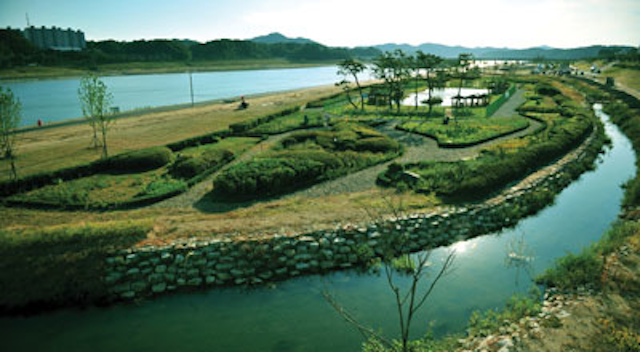 The Four Rivers Restoration is part of South Korea's Green New Deal policy to stimulate the economy
Professor Park acknowledges that the vast scale of the project, which is just being complete, has brought opposition. "Some Korean environmental NGOs were not in favour of doing river restoration and I had to justify it." But, he observes, Korea has particular issues that require significant solutions. "Korea is now suffering a drought. Probably next month there will be flooding. Korea has been experiencing drought and flood every year, because the government didn't invest enough money to cope with that."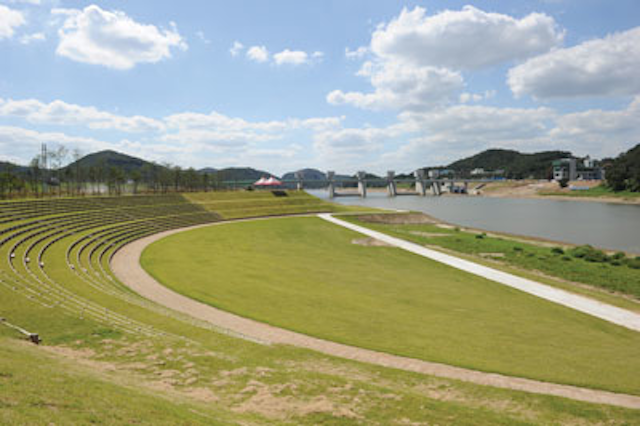 Centre stage: The amphitheatre shown above has been constructed to enhance the use of waterways
The project has three phases – the first, critical phase involved restoring the four major rivers of the project's name. The second phase, which has just completed, involved restoring the 14 tributaries to these rivers.
Phase three of the project will revitalize the many small, local streams that feed into the larger river systems. In all, the project will revitalize 929km of Korea's entire national river system, and subsequent projects at regional level will restore a further 10,000km of local streams and over 39 riparian wetlands.
The first aim of the project has been met by dredging riverbeds and installing two types of weir at 16 sites – one a fixed form to maintain water levels, and the other a movable weir to prevent floods. The weirs are designed as local landmarks, and incorporate fish migration routes and wetlands. Cutting-edge management technologies are combined with IT systems for flood control and water management at multi-purpose dams upstream that also incorporate movable water gates and estuary dyke systems. The water supply capacity is being expanded by 250 million cubic metres by installing a series of small dams. Elevating the banks of existing agricultural reservoirs at 94 sites will create a further 240 million cubic metres of storage.
The flood prevention aspect of the project was tackled by creating floodplains. The Ministry of Land, Transport and Maritime Affairs has also been dredging sediments from the river channels, strengthening old levees and building small dams to secure 920 million cubic metres of flood control capacity. Rapid intervention against floods and significant reductions in flood levels are being achieved by increasing the number of water gates along the estuary banks.
The ecosystem improvements are another critical aspect of the project – all 34 river basins involved are in areas where Chemical Oxygen Demand (COD) and pollution levels have been increasing for a decade. An investment plan to increase environmental facilities for the basins is due to be in place this year, ahead of the original target date of 2015. The basins will be divided into three hierarchies – high, medium and low priority depending on the level of pollution and potable water uses.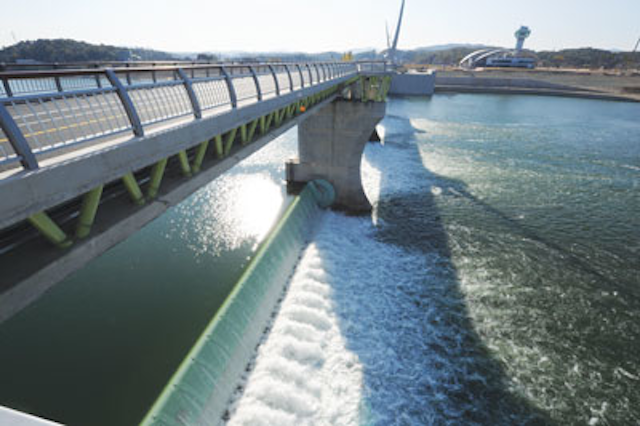 Weir we go: The dredging of riverbeds was followed by the installation of two types of weir at 16 sites, to maintain water levels and prevent floods
Standards for discharges from wastewater treatment works are due to be revised this year and by the end of 2012 wastewater treatment in the river basins will have increased by 91%. In all, 3599 km of sewer overflows are being improved, and almost 40 industrial wastewater treatment facilities have been built.
Many of the NGOs protesting against the project focused purely on the ecosystem restoration aspect, Professor Park notes, arguing that rivers should be left as they were. "But Korean rivers were never systematically dredged. Korea has insufficient water resources – through the river restoration project Korea could get the equivalent of 5% extra water. One dam is providing drinking water to Seoul and Gyeonggi province, a population of 25 million."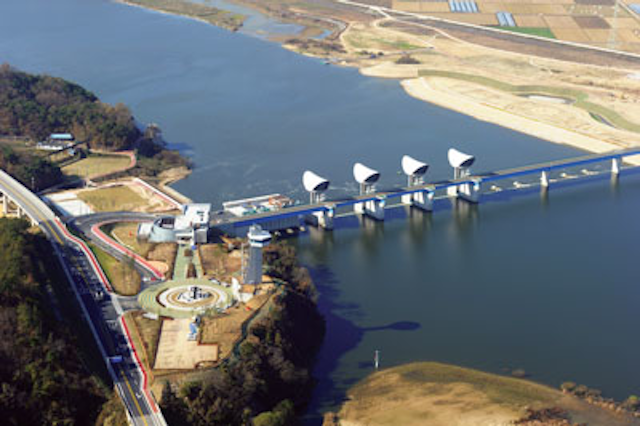 The Baekje Weir's hydropower plant generates electricity for 58,000 households
He also argues that with the country's extreme flood/drought cycle, many rivers did not have sufficient water for much of the year to support an ecosystem. "Now many are filled with water, and we have recreated wetlands."
Of the NGOs opposing the plans, he notes that "they were very aggressive", adding that they "were not scientifically reasonable, and did not promote an alternative solution. Korea has the highest population density in the world – 70% of the country is covered with mountains. What would you do?"
One obvious response is that first-world nations generally already have extensive flood defence systems in place, and have spent hundreds of years happily altering and polluting river courses, whereas Korea's efforts to improve its situation are very recent, and it may be that others should hesitate to criticize.
Even with the new system in place, the country has flood defences based on a one in 200 year return period, which compares to some European countries where the return period is into the thousands of years, so Professor Park concludes that South Korea's efforts were fully warranted. "Compared with Europe and the US it is not sufficient," he notes. "But it was all we could do at the time." He describes it as a "huge project" over a demanding two-year time span.
One early sign of the project's success is that last year South Korea had two and a half times its average rainfall and the flood damage was minimal. This year, despite a serious drought, most of the country has coped thanks to its enhanced water storage capacity.
Professor Park says: "I worry that Korea will have more severe drought and flooding cycles and will need more water resources and water management projects. The Four Rivers Restoration Project is just the beginning. In the last 40 years, investment in rivers has been fairly minimal compared to road and rail – Korea now has a very good road and rail system, so it is a timely project."
South Korea is also not blessed with many natural lakes – around ten – so the enhanced river habitat is proving extremely popular already. "If you look at the culture of Europe and the US, it all started along the rivers," adds Professor Park.
"In Korea, the rivers are so violent because of the flooding that many cities are built away from the major rivers. Now a lot of development will be along the rivers, like in Europe and the US."
Not many countries have embraced such significant, major civil engineering projects in parallel with substantial rainwater harvesting on this extraordinary scale, and certainly not over such a relatively short period of time. Such projects, under equally dedicated and high-profile proponents, intelligently combine a range of aims that include resolving the two most pressing issues facing the country – flooding and water scarcity.
The work undertaken certainly gives weight to the view that South Korea is taking a global leadership role in facing these challenges.