Co-digestion Charge: Is Waste Water's New Best Friend?
Anaerobic treatment of wastewater and organic wastes usually take place separately. Given the similarity of technologies, is co-digestion one way for water utilities to tap into another valuable resource?
Sep 1st, 2012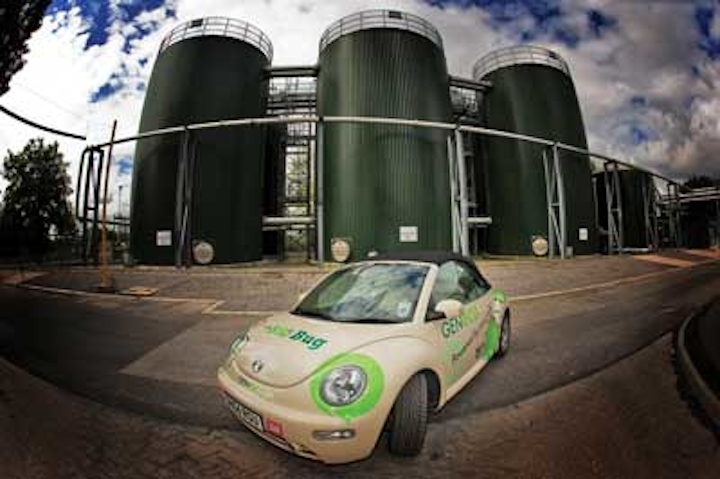 Anaerobic treatment of wastewater and organic wastes usually take place separately. Given the similarity of technologies, is co-digestion one way for water utilities to tap into another valuable resource? Charlotte Morton discusses the potential for competition.
The volume of organic wastes that need to be treated in the UK is growing due to an increasing population and more stringent regulations designed to reduce organic wastes being sent to landfill. Consequently, it is important that growth in the organic waste treatment industry is promoted. As in other areas, there is also increasing momentum behind making the best use of the resources we currently throw away.
Defra's Waste Review (June 2011) identified that, for the treatment of food waste, Anaerobic Digestion (AD) offers the greatest environmental benefit of any treatment option. Making household and business waste available for digestion – by segregating the organic fraction at source – also increases the value of other recyclables in the waste stream by removing sources of contamination.
In addition to the 16 million tonnes of food we throw away each year, organic waste comes from two other sources. These are agricultural wastes, such as slurries and manures (around 90 million tonnes in the UK in 2008), and sewage sludge (around 1-2 million tonnes dry weight). Most sludge (60% - 65%) is treated in sludge treatment centres located at wastewater treatment works, and governed by one of ten Water and Sewerage Companies (WaSCs). Other organic wastes tend to be treated by a large number of companies and farms of various sizes and structures.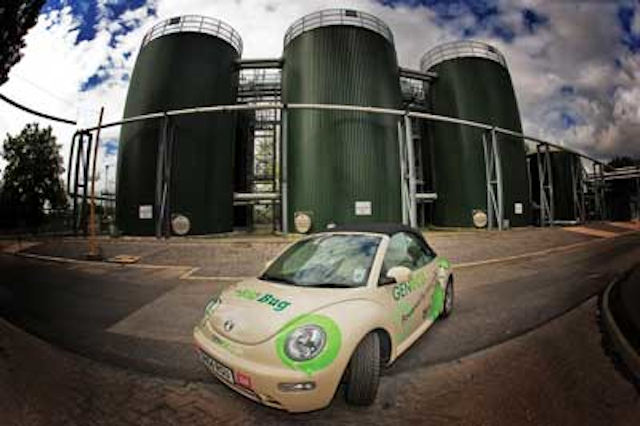 Getting the bug: The OFT says that increased competition beween the water and solid waste industries could lead to increased efficiency. Many water companies are starting to take advantage of this area. GENeco, a subsidiary of Wessex Water, operates a biogas-powered VW beetle from gas generated from its Avonmouth plant
The Office of Fair Trade (OFT) Market Study, commissioned by water services regulator Ofwat, identified that Ofwat regulations were inhibiting competition in sludge treatment between water companies. This was as well as reducing the likelihood of water companies and other waste companies becoming involved in wider organic waste treatment.
The OFT has put forward recommendations for Ofwat to review economic regulations and design a framework that can deal with the issues that discourage competition and provide WaSCs with a cost of capital advantage over other waste companies for treating organic wastes.
Government incentives
Although anaerobic digesters have been a feature of sewage treatment sites for decades, there is a renewed level of energy and interest behind the sector. By using bacteria to break it down, AD is able to treat organic waste and produce a digested fertiliser as well as renewable energy, which allows WaSCs to gain access to Government incentives for renewable energy generation. In the financial year ending in 2011, 73% of sludge treatment was through AD and WaSCs obtained a total of £27 million from incentives.
The potential to gain access to Government incentives is also likely to increase with the recent introduction of the Renewable Heat Incentive (RHI) and the growing opportunities to develop gas-to-grid injections as pioneered in the water industry by Didcot Water Treatment plant. These gas-to-grid injections could be replicated at large facilities all over the country, resulting in hundreds of megawatts of power, in the form of gas, being pumped into the national grid.
From the perspective of the UK's future energy mix, this is of huge significance. While renewable electricity generation has the greatest prominence, it is often forgotten that a third of the UK's final energy consumption is of gas. Decarbonised energy therefore cannot be a reality without low carbon gas: even with their existing facilities, water and sewerage companies could be at the forefront of this energy revolution.
AD has been less commonly employed to treat other organic material (there are only 72 non-water AD plants in the UK), with slurries typically spread straight to land and food waste sent to landfill. However, recent policy developments have made the sending of organic waste to landfill more difficult, with escalating landfill tax creating a strong incentive for local authorities and businesses to find other treatment options.
Consequently, waste companies now have to consider alternative ways of treating and recovering or disposing of organic waste.
Competition needed
To date AD plants designed to treat other organic wastes have typically been built either on farm or industrial sites. The sewage sludge treatment market, as a monopoly for local water and sewerage companies, exists in isolation from it. However, the OFT Market Study noted that "given the similarities in the technologies and systems used to treat, and recover or dispose of, sewage sludge and other organic waste, there is clear potential for competition between suppliers of treatment for each type of waste."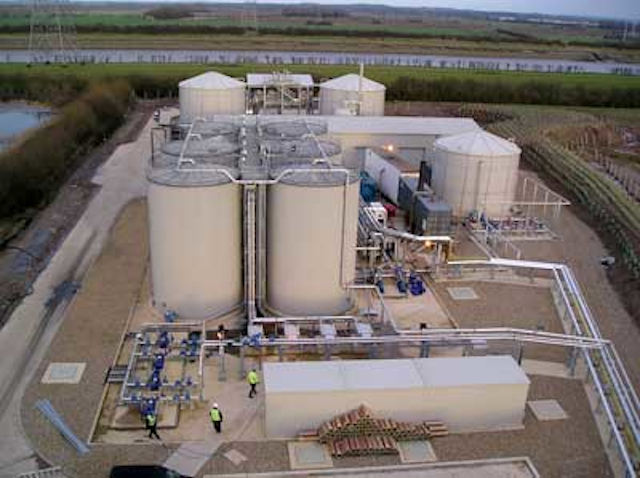 Right: Sludge fit for a Kings Lynn: Anglian Water's advanced digestion facility with a capacity of 20,000 tpa capacity. The main barrier the OFT identified as inhibiting competition or organic waste are the economic regulations of Ofwat
Competition within and between industries can be an inexpensive way to increase efficiency and innovation, providing significant benefits to consumers through lower prices and better quality of goods and services and/or greater choice. It could make use of existing assets and locations, and ensure that waste does not have to be transported long distances at great carbon and financial cost.
However, the Market Study observed that currently there is limited competition between WaSCs to treat sludge, and between WaSCs and waste companies to treat either sludge or other organic wastes.
The study identified a number reasons for the lack of competition in the treatment of organic wastes, including differences in environmental regulation. This was with there only being limited existing spare capacity (about 20%) for WaSCs to expand and there being a need for competition to exist locally as organic wastes can only be transported short distances (sludge can be transported at most around 50 km, while for other organic waste the distance which it can be transported economically depends on the energy potential of the waste).
However, the main barrier the OFT identified as inhibiting competition in the treatment of organic waste are the economic regulations of Ofwat.
Regulations
Under the current regulations, if WaSCs are to carry out an unregulated activity (such as processing other organic wastes) but use their regulated business assets to carry out these activities, WaSCs are required to allocate some costs to the unregulated activities or to charge a 'transfer price'. Stakeholder engagement by the OFT demonstrated that this was perceived as complicated and time-consuming and thus very few WaSCs have undertaken the procedure.
The Avonmouth Solution
A state of the art food waste processing facility that will have the capacity to receive up to 40,000 tonnes of food waste per year is now under construction at GENeco's 300 million litre per day Bristol Sewage Treatment works in Avonmouth. The plant will begin accepting food waste deliveries from autumn 2012.
AD specialist, Monsal had previously upgraded the digestion plant for sewage sludge using an advanced pre-treatment technology that now generates 4 MWe from biogas. The process optimises the conditions for sewage sludge digestion in two separate vessels; thereby optimising gas production and making it one of the most efficient digestion plants in the country. GENeco has chosen to build on its digestion expertise by constructing a new food waste treatment facility.
The latest development will be the first large scale food waste treatment facility in the UK located at a sewage works. It will offer supermarkets and other local producers a cost effective and sustainable solution for treating their packaged and unpackaged food and catering waste.
The GENeco food waste plant is based on the Monsal technology platform which is also operational at the Deerdykes plant for Horizons Environment.
Key facts about the Avonmouth site:
- Sewage sludge capacity PA 40,000 Tonnes Dry solids
- Food Waste capacity PA 40,000 Tonnes Wet solids
- Number of digesters 10
- Renewable power capacity 5.75 MWe.
Ofwat's economic regulations also discourage other waste companies from investing in facilities to treat waste other than sewage. Regulations enable WaSCs to borrow at a lower cost of capital than is available to waste companies, creating a potential market distortion. Capital costs for WaSCs building new facilities for other organic waste treatment at sewage treatment centres are also often lower.
Also, planning permission and public agreement easier to obtain for WaSCs than for other waste companies as the infrastructure would be built on an already approved site and the public believes the treatment of sludge is necessary, whereas the treatment of other organic wastes is considered a business venture. It is therefore vital for Ofwat to create a balanced regulatory environment to ensure that competition between water and waste companies is fair.
The OFT Market Study identified changes to economic regulation as the "crux of any package of remedies", if the necessary competition within, and growth to, the organic waste treatment industry is to be realised. If Ofwat decides to follow the advice of the OFT and review economic regulations, WaSCs would be able to look into expanding their facilities to treat other organic wastes as well as sewage sludge (either separately or co-digested).
This would not only aid the government in reducing waste but would increase the incentives brought in by the WaSCs as other organic waste tends to have a higher energy content than sludge, so generates more biogas.
The future
Many water companies have already started to act to unleash their potential in this area. GENeco, a subsidiary of Wessex Water, operates a biogas-powered VW beetle from gas generated at its Avonmouth plant and Northumbrian Water will commission its second advanced digestion plant in the summer, on the banks of the Tyne at Howdon.
A change in Ofwat's economic regulation could lead to substantial growth in the renewable energy generated by water companies. It could cause a fundamental shift in the relationship between water and waste companies, and open up huge potential for novel projects and joint ventures. Organic waste is a hugely valuable resource, and the UK needs to get the most out of it. Expanding the use of anaerobic digestion both inside and outside the water industry is the only way to do this.
Author's note: Charlotte Morton is chief executive of the UK's Anaerobic Digestions and Biogas Association (ADBA). For more information, please visit: www.adbiogas.co.uk.