Water Utility Efficiency Priorities: What are they?
The European water industry is predicted to spend $64 billion in 2012 but finds itself in the middle of a wider prolonged economic slowdown.
Sep 1st, 2012
The European water industry is predicted to spend $64 billion in 2012 but finds itself in the middle of a wider prolonged economic slowdown. So what are the main objectives when it comes to efficiency in Europe's top five water utility markets? Seth Cutler looks at France, Germany, Italy, Spain and the UK.
The Big Five water utility markets in 2012 are predicted to account for almost $50 billion of CAPEX and OPEX spending in Europe. As such, they are leaders and crucial testing grounds for new technologies and innovative practices. Water utility investment has not collapsed in these countries but is instead getting smarter and looking at opportunities that provide greater confidence in returns. At the broadest level there are seven market priority areas for innovation and efficiency within water utilities: chemical management, decentralisation, energy efficiency and production, leakage and non-revenue water, sludge, smart water technologies and water charges.
Chemical management
Over $346 million is being spent on coagulants, flocculants and disinfection chemicals in Europe by the Big Five this year and this market will continue to be needed in the water industry to ensure quality and safety. This market, however, is changing and seeing different investment trends and in some cases a decline in demand on account of disruptive technologies. Direct investment in chemicals is decreasing slightly due to non-chemical technology alternatives in disinfection, through UV and membrane use. Furthermore, a decline in overall volumes of water and wastewater treated with early adoption of green chemical alternatives has started in Germany. While chemical alternative is an established and steadily increasing trend to the water industry, they have great potential to move water utilities away from reliance on traditional chemicals that are at the mercy of fluctuating oil prices. At the same time innovation in the sophistication and effectiveness of chemicals, along with the price tag, has grown for flocculation processes which means the overall market will remain relatively steady over the coming years. It is worth noting in the marketplace that traditional chemical companies, such as BASF, are making moves into chemical alternatives and membrane technology.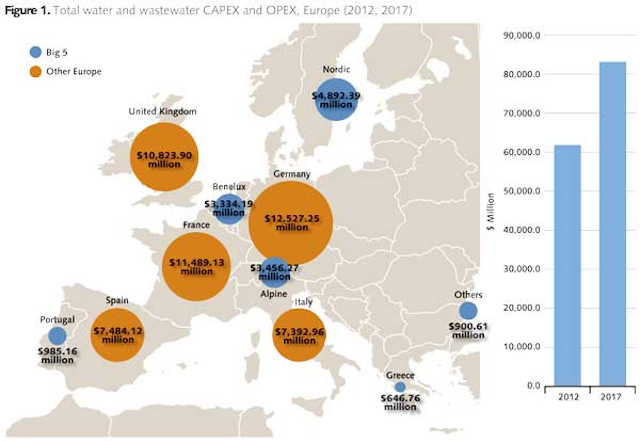 Decentralisation
Decentralisation is increasingly seen as an answer to changes in service requirements in Europe. In the UK, for example, while there are 6,400 sewage treatment works, only 76% of those serve populations of two thousand or less. This occurs at the same time as the dramatic shift in many European population centres towards urban shrinkage. While the urban development process began with compact cities and subsequently leading to urban sprawl, more recently a contraction and perforation of the urban core has occurred .
This has serious implications for large capacity European water networks, developed to satisfy a period of intense urban growth; water networks are increasingly unfit for purpose and, as a result, inefficient. There is also a growing recognition that relatively simple source to consumer to discharge water systems neither provide the greatest benefit nor account for differences in urban and rural supply and demand patterns. The requirement for smaller, localised, decentralised water supplies, but especially for decentralised wastewater treatment plants is therefore growing.
Energy efficiency and production
The total electricity consumption of Germany's 10,000 urban wastewater treatment plants in 2009 was roughly 4,400 GWh/year. In the UK, the 2009/10 energy use by the water industry rose to 9,012GWh, representing a 10% increase over the previous eight years. In a business as usual scenario it is likely that energy prices will continue to rise and demand for electricity will continue to grow. This has major implications for the water industry as energy consumes, on average, 28% of water utility operating costs.
Within this pumps account for up to 60% of energy needed for water distribution and aerators consume 55% of energy used in wastewater treatment. While this exemplifies the importance and dependence of water utilities on pumps and aerators, it also exposes specific targets for greater efficiencies in energy consumption.
Indeed, the sixth World Water Forum sets a target of 20% reduction in water utility energy use. Innovations that help reduce energy consumption will have direct relief for utility budgets. We are currently seeing this through energy saving pump initiatives by Grundfos and i2o and also in aerators through Israeli company, DIffusaire.
The complimentary advancement is to see wastewater treatment plants and water distribution networks as untapped sources of energy. The wastewater to energy movement has very strong potential to reduce energy demands and carbon footprints, to reduce waste volumes and to move further towards net zero energy and energy positive water utilities. An example of this is Sydney Water in Australia that has committed itself to being carbon neutral in energy use by 2020. France is now home to the world's first carbon neutral wastewater treatment plant, Aquaviva.
Leakage, Non-Revenue Water and Smart Water Technologies
A key concern of the Big Five water industry markets is leakage, which averages 22.2% across the region. Often labelled as an element of non-revenue water, this is essentially synonymous with leakage as theft in this region can be considered quite low, as can permissible non-billed water use. The leakage average means that almost one quarter of billable water is lost, which produces both financial and environmental consequences that sometimes result in highly inefficient water distribution networks.
Considering the total length of water distribution and wastewater pipes, almost 1.2 million km in France alone, there is a vast pipe surface area and geography to monitor for leaks and bursts. Water utilities in the Big Five will continue phased pipe replacement schemes and also more urgent replacements as they appear. Ongoing replacements, however, are likely to use enhanced materials, such as polyphenlyether, and coatings to ensure pipe longevity and install acoustic and other sensors to detect leaks and limit burst events.
Installing sensors and data communicating devices in water networks to produce near-real time control is the essence of smart water technologies. A central factor that increases the attractiveness of smart water technologies is that it is not requiring a fundamental reconfiguration of water industry processes, but instead enhances and makes more responsive system operations and management. By attaching sensors and telemetry to key pieces of water utility infrastructure, data is produced and relayed to central servers where algorithms and analysis generate information, relationships and indicators to enhance the decision-making process.
This has the ability to make day-to-day operations and management, investment and business planning, reporting standards and understanding of historical performance much more accurate and insightful, producing a better run utility that maximises financial investment. Data analysis and information production can be handled internally to water utilities, but increasingly options for software-as-a-service are emerging. Outsourcing data management can enhance the drive for operation efficiencies of water utilities.
Bio-solids/Sludge Management
Sludge volumes are on the rise in Europe, in large part due to stricter legislation that is estimated to increase volumes by 50% alone. As a result sludge management practices are advancing mainly on two fronts: first, the implementation of biogas and nutrient recovery systems; and second, the development of sludge volume reduction solutions such as ozonation and ultrasonic irradiation.
Nutrient recovery is, like wastewater to energy, a natural step forward to reduce sludge volumes, to remove harmful elements and to produce a new sustainable revenue generation stream by selling nitrates, phosphorous and other minerals taken from wastes to sell in raw form or turned into fertilizers. A contract signed between Canadian firm Ostara and UK utility Thames Water highlights this opportunity. Ultrasonic irradiation is similar in that it has proven to reduce the volume and weight of sludge generated in wastewater treatment plants, along with a host of other benefits including increased biogas production, which can subsequently be harnessed for further energy generation. Working to implement better sludge management techniques helps to reduce sludge as a waste product and turn it into revenue generating stream through recovered nutrients and fertilizers, decreased waste volumes and increased energy production.
Water Tariffs and Cost Recovery Principle
During the eight years from 2003 to 2011, water charges in the Big Five markets have increased an average of 4.8%. Rates by country, however, vary widely with Germany home to the highest charges through implementation of full cost recovery.
Water tariffs are a controversial tug-of-war between essential rights of public access and the full cost of recovery principle, to not only cover operating costs but enable sustainable investment for the future. Unlike other utility commodities of electricity and gas, water is a prerequisite to life and as such must remain affordable to all. This understanding often keeps the cost of water low and below market rate through public subsidies.
As service costs rise (through regular inflation, necessary investments, stricter legislative requirements and inefficiencies) the costs must be borne by customers or further paid for through subsidisation. Considering the tough financial situation faced by many water utilities in Europe, the cost of water for customers is set to increase over the coming years. Going forward business models will need to change to ensure water charge rises are aligned with the cost recovery principle and better appropriately communicated to the customer.
Funding Opportunities
While the areas for investment outlined above vary in attractiveness at national and local level, it shows a clear movement towards technologies and services that provide quantifiable financial, operational and sustainable returns for water utilities. With the ongoing economic and capital problems in the Eurozone, how likely is it that the Big Five markets will make strong advancements over the next five to ten years?
The answer, of course, is complex. It is easiest to talk at a regional or national level, but practically-speaking these areas for investment will require creative business models that are aligned more towards performance based payment schemes. As a result, development will be erratic and based on the strategies of individual utilities. At the utility-level there continues to be funding available and it is not a case of whether there will or will not be investment, but how well businesses have aligned their products and solutions with evolving utility requirements to be seen as part of the solution to their priority challenges.
In order to increase access to capital, which is likely for ambitious and leading utilities, there are creative financing tools at their disposal. Public private partnerships are likely to viewed with renewed interest in the water industry due to their secure, albeit slower, returns. Remondis, for example, is active in Germany providing water and wastewater treatment services for utilities.
Design, build, operate and finance models will go ahead in the industry as it gives investors greater say in the day-to-day operations concerning their investment. This level of access will provide greater confidence and security to stakeholders who might traditionally overlook the water sector.
A second likely action by water utilities in countries like Spain and Italy will be the consolidation of small, local utilities into larger operational structures that provide greater critical mass for financial investments. This is likely to help bring advanced innovations into rural areas.
Thirdly, securing a better balance between capital expenditures and operational expenditures will also help further the penetration of innovative technologies. For companies to shift capital investment into longer-term payment schemes or pay-back through the leasing of equipment can help alleviate any issues with access to large fund reserves in the near-term, with confidence in the long-term availability of capital.
Finally, a less likely scenario would be the growth in privatisation of the water industry. Currently the UK, and to a lesser extent France, have majority shares of private water and wastewater services, but the other three countries have an overwhelming system of public operation.
Countries like Italy and Spain could see investment benefits through this practice, but face stiff opposition from the public. Evidence of this from Italy is the recent attempts to push through regulations that would open up and encourage privatisation of the water industry being strongly rejected in a referendum.
Times are not all doom and gloom in Europe's water industry, but efficiency remains a top priority for water utilities and is set to create a favourable environment for innovation and innovative solutions as well as creative finance and business models.