Technology Round-up: Pumps, Motors & Drive Systems
Collection of product and new announcements focused on Pumps, Motors & Drive Systems
Nov 1st, 2012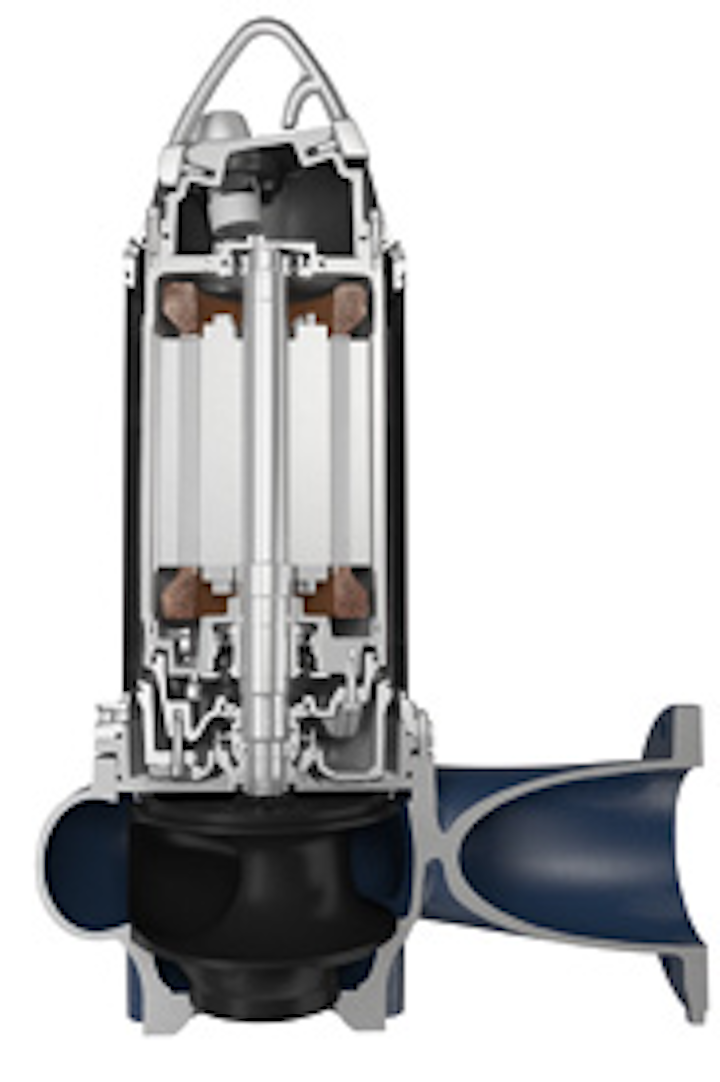 Multi-vane Contrablock Plus pump impellers
Sulzer Pumps has increased its range of pump impellers available. The single-vane Contrablock Plus impeller was launched with the ABS submersible sewage pump XFP in 2009. Now, both 2-vane and 3-vane impellers have been added to the series. Contrablock Plus impellers are designed for handling and blockage resistance, providing free solids passage of at least 75 mm (3 inches) through the impeller.
With the addition of multi-vane impellers, the Contrablock Plus series extends from 1.3 kW (1.8 HP) / DN80 (3 inch) up to 400 kW (536 HP) / DN400 (16 inch) models of the ABS submersible sewage pump XFP. All of the impellers are open and all feature an adjustable bottom plate that lets the operator easily maintain efficiency and reliability throughout the pump lifetime, according to Sulzer.
Grundfos says don't compromise with its S-tube impeller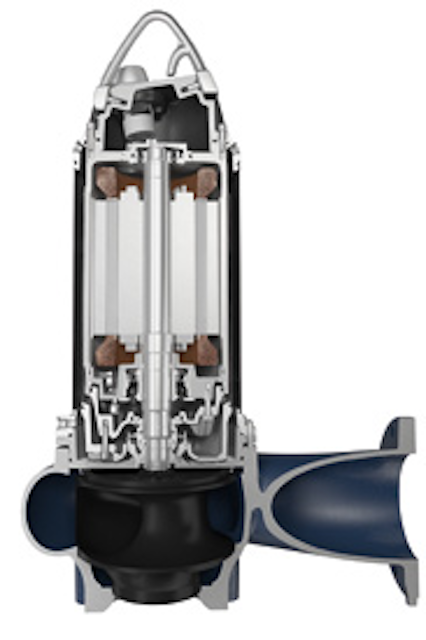 Grundfos has now released its S-tube impeller to the American market following a launch at the recent WEFTEC 2012 exhibition.
Grundfos said its channel impeller, the S-tube, offers greater hydraulic efficiency than its peers without compromising free passage. The impeller has been designed to meet the challenges of handling wastewater, including difficulties with sealing, vibrations, abrasive wear and clogging.
Its design eliminates edges, dead zones and cutting functions that wear over time, relying instead on a patented labyrinth and sealing system that will provide years of trouble-free operation. The impeller's tube shape has been designed to eliminate the need for "advanced and costly add-on assemblies that are designed to cut, shred or treat the wastewater as it flows from the pump".
Meanwhile, a new balancing method results in less vibration and noise, said the manufacturer. Smooth, quiet operation is indicative of greater reliability and a longer lifespan for bearings, shaft seals and other components. The S-tube's hydraulic design ensures less abrasive wear, enhances anti-clogging capabilities and reduces costs over time. www.grundfos.us
Drum pump handles acids, caustics and slurries
The portable, non-metallic Flex-I-Liner rotary peristaltic pump from Vanton Pump and Equipment Corp. evacuates drums and totes containing acids, caustics, salts, chlorides and reagent grade chemicals, without corrosion of the pump or contamination of the fluid.
The self-priming design has no seals to leak or valves to clog, and is designed to run dry for extended periods without damage.
Compact in size with integral handle, it fits on drum lids without protruding, and has sufficient lift characteristics to operate from the floor, skid, or stand.
Only two non-metallic parts contact fluid: a thermoplastic body block and an elastomeric flexible liner that can be replaced in the field without special tools. The rigid body block is of solid polypropylene, UHMW polyethylene, or PTFE, and the molded flexible liner of natural rubber, Neoprene, Buna-N, Hypalon, Viton or Nordel elastomers, eliminating corrosion or contamination associated with metal pumps.
A rotor mounted on an eccentric shaft oscillates within the flexible liner, imparting a progressive squeegee action on the fluid trapped in the channel between the liner and the body block. Flanges on the flexible liner are pressed to the side of the body block by concentric grooves on the bracket assembly and the cover plate, isolating the fluid to the channel. The pump is suitable for flows from .33 gpm to 40 gpm (1.25 to 151 liters/h) and pressures to 45 psig (310 kPa) at temperatures to 250°F (121°C).
Centrifugal pumps part of £1.25m wastewater facility refurb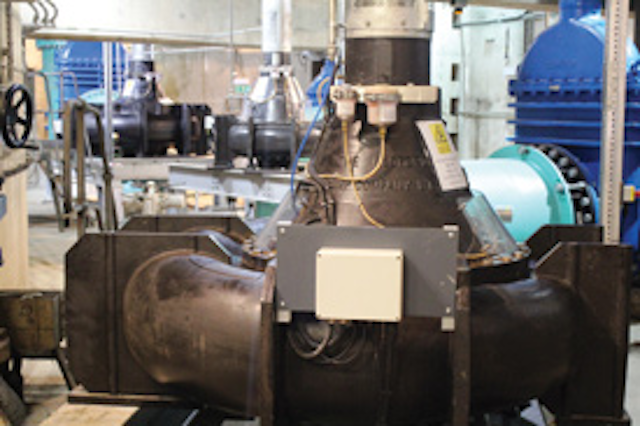 Submersible and conventional pumps manufacturer Bedford Pumps has just completed a contract in excess of £1.25 million with Yorkshire Water for the refurbishment of the Don Valley Sewage Pumping Station, UK.
Don Valley SPS is part of a £78 million investment from Yorkshire Water for Blackburn Meadows Wastewater Treatment Works. The Don Valley Pumping Station site originally housed five A P E Allen mixed flow vertical spindle units to lift sewage 21.4m to the inlet works. These pumps were at the end of their working life and no longer able to cope with the demands of the pumping station. As a result sewage debris often entered the River Don during heavy rainfall.
Bedford Pumps replaced the original units with six conventional shaft driven volute pumpsets.
The pumps are of a centrifugal, mixed-flow design and the largest of the six pumps can handle up to 215mm spheres of untreated raw sewage.
The station has been designed within a wet well sump that is divided into two halves. Each half is a mirror image of the other and is designed to function with one half operational and one half isolated. Bedford Pumps units must therefore provide sufficient total pumping to achieve full FFT from one half of the wet well only.
Bedford Pumps said it achieved this criteria by suggesting that each half of the sump houses an identical set of three pumps, of varying sizes. The pumps are installed in a vertical configuration.
The largest pump has a duty of 2 m3/second at 26m head driven by 645kW 6.6kV motors. The next size down operates at 1.5 m3/s at 27.4m head powered by 505kW 6.6kV motors. The smallest pumps run at 0.85 l/s at a head of 28.4m from 300kW 6.6 kV motors.
Xylem expands Flygt and Godwin mine dewatering pumps business
Xylem said it has expanded its range of surface-mounted and submersible pumps through its Flygt and Godwin pump brands for mine dewatering capabilities in Brazil, Australia, Vietnam and Panama this year
The company said this expansion will include its slurry pumps, MSHA and CSA certified pumps and starters, portable high-head drainage pumps as well as pump system engineering, contingency planning and turn-key water management.
www.flygt.com
www.godwinpumps.com
Sodium hypochlorite pump for wastewater applications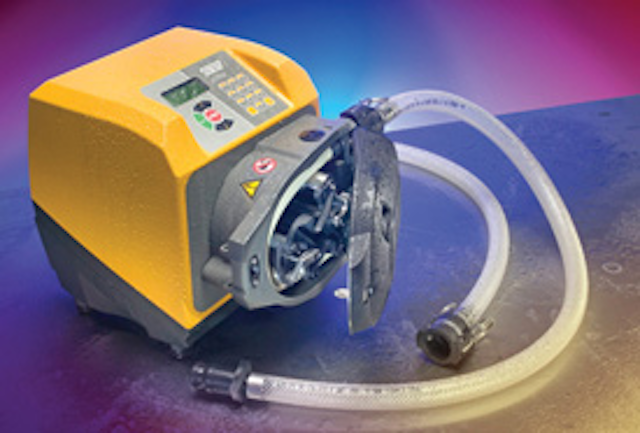 Peristaltic pumps manufacturer Watson-Marlow is now offering its 620 series pump for Sodium Hypochlorite, combining power and control for wastewater treatment applications. The 620 hypochlorite pump can run dry so off-gassing chemicals will not cause the pump to vapor lock, the company said.
By maintaining +/- 0.1% accuracy in hypo metering the pumps yield increased savings on chemical usage. Watson-Marlow claimed that with its extended performance, it can reliably deliver 50% more flow with one tube compared to other peristaltics.
The 620 reliably handles harsh chemicals in the water and wastewater treatment industry, including sodium hypochlorite, ferric chloride, sodium bisulfate, aluminum, fluoride, carbon and lime slurries, polymers, aqueous ammonia, potassium permanganate and caustic slurries.
With no valves or seals to clog, it requires minimal maintenance, resulting in reduced downtime, providing a cost-effective alternative to other pump technologies.
Maintain-in-place pump range expansion by NOV Mono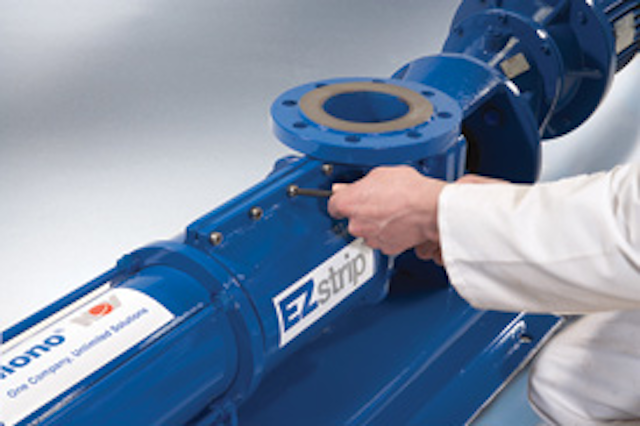 NOV Mono has expanded its range of maintain-in-place pumps. The largest EZstrip transfer pump now has a 225m3/h capacity, designed for an even wider range of wastewater applications.
The EZstrip transfer pumps were designed to incorporate all the best aspects of NOV Mono's Compact C Range pumps.
According to the company, the EZstrip technology on which they are based provides a quick and easy way to disassemble, de-rag and maintain the pump in-situ, according to the company.
This is designed to dramatically reduce the time needed to replace a rotor, stator, coupling rod and drive train by up to 95%, cutting the typical day-long maintenance operation down to just 30 minutes.
"Before we designed and launched the original EZstrip pumps we listened very carefully as our wastewater industry customers described the typical problems they faced," explains NOV Mono's group sales and marketing director, Simon Lambert.
"They told us that ragging was becoming a serious problem because of an increasing volume of unsuitable items finding their way into the sewers. They wanted a pump that would minimise downtime in a significant way and the new EZstrip range was our response.
"Those customers then went on to tell us that they needed EZstrip pumps with a greater handling capacity, and once again we have responded with a proven and highly effective answer to their requirements."
The three new models added to the EZstripTM range offer handling capacities of 94m3/h, 140m3/h and 225m3/h. (The previous largest capacity pump in the range was able to handle 165m3/h).
"Many of our customers can't believe that it is possible to de-rag and maintain a pump as quickly as the EZstrip range allows," added Lambert.
The pumps can be installed in new plants or retrofitted into existing Compact C applications.
Electrical disconnection is not required, while suction and discharge pipes remain untouched. No special tools or skills are required for normal de-ragging operations.
All pumps provide dry run protection, during which operational parameters remain unaffected. Both cast iron and stainless steel versions are offered, plus an option to incorporate WRAS-compliant elastomers, a pre-assembled drive train and a two-year warranty.
Patent awarded for peristaltic pump safety switch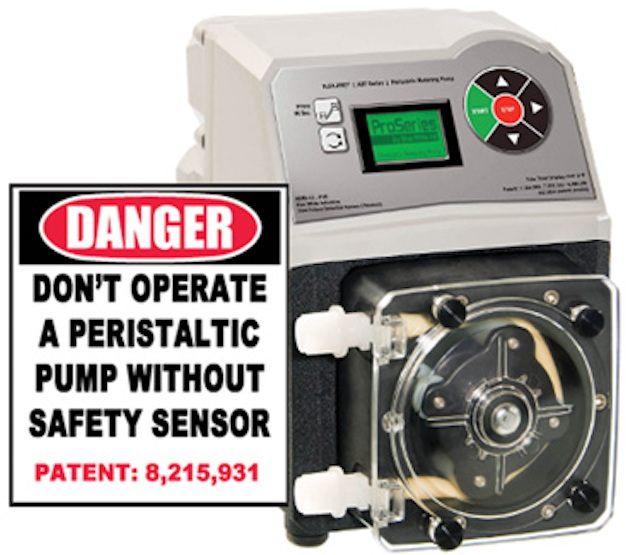 Blue-White has been awarded a patent, U.S. 8,215,931, for the new Peristaltic Pump Safety Switch. The Safety Switch stops the pump when the front cover is removed and the pump will only operate in maintenance mode (a set RPM) while the front cover remains off, protecting the operator while routine pump head maintenance is performed.
The Patented Safety Feature will be included on all Blue-White Flex-Pro and ProSeries-M Peristaltic Metering Pumps.
Additional Flex-Pro features include: Blue-White's Exclusive built-in, Patented Tube Failure Detection System; Continuous Duty; NEMA 4X/lp 66; brushless Variable Speed Motor.