Untroubled Bridges Over Chilean Waters
With a thriving economy, Chile is faced with the challenge of nurturing its mining sector while meeting increasing water regulation.
Jul 1st, 2012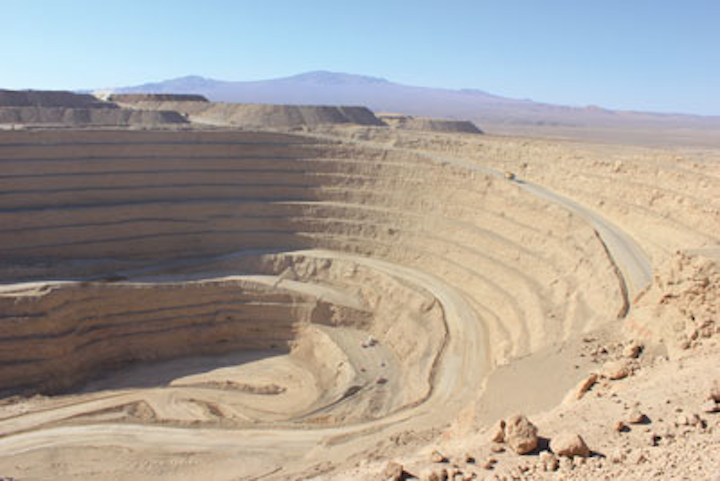 With a thriving economy, Chile is faced with the challenge of nurturing its mining sector while meeting increasing water regulation. Jeremy Josephs provides an update on the country's water sector and how home grown wastewater treatment company BioFiltro is developing internationally.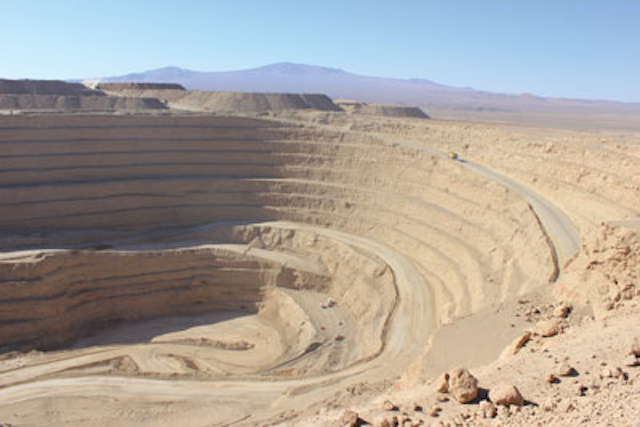 Increased desalination activity is helping to provide water for mining activity in the Norte Grande region
For most people the notion of chilly water is not terribly appealing. Tinker with the spelling slightly, however, and Chile water immediately becomes a much more attractive proposition. Or at least it should do.
Whereas Latin America in general has not had a favourable press in recent years in respect of the water sector (one thinks immediately of Bolivia's Cochabamba protests of 2000 in response to the privatisation of the city's municipal water supply) — both water supply and sanitation in Chile are in fact characterised by high levels of access and first class service quality.
And for those who might be opposed to the role of the private sector for ideological or political reasons there is further and additional bad news. Chile's water and sanitation sector distinguishes itself by the fact that every single one of the country's twenty urban water companies is privately owned or operated.
Of course one hesitates to put in a good word for the late Chilean dictator General Pinochet but it would surely be churlish not to take note of the fact that it was under his entirely autocratic watch that Chile's so-called milagro económico (economic miracle) took place. A key ingredient of this was the concept of privatization in general (hundreds of state-owned industries were sold off to the private sector) and of the privatization of the water sector in particular.
While academics continue to dispute the legacy of Pinochet's reforms (how, precisely, does one factor in rampant human rights abuses?) there is nevertheless no getting away from the fact that Chile is now not just thriving but the best-performing economy out of the twenty nation states which together constitute the continent of Latin America.
Chilean water success story
This positive economy has helped foster home grown water treatment companies. Chilean company BioFiltro, with its commercially proven (and US patented) biological reactor technology for the treatment of household sewage and liquid industrial organic waste, has been considerably successful, not least because its technology uses 80% less energy and require no chemicals at all.
It also claims to be a third of the cost of competing solutions. "BioFiltro reactors mimic mother mature", says Matias Sjogren, the company's CEO and founder, "because inside each BioFiltro reactor there is an army of earthworms and billions of other select microbes able to process the organic matter present in the wastewater". This in turn converts into their own body mass and earthworm castings, one of the richest organic fertilizers available.
It's a Chilean success story - the company now has close to 100 installations worldwide, providing sewage treatment for communities from six to 16,000 people, and liquid industrial waste treatment for large-scale industries, handling flow rates of over 8,000 m3 ( 2,104,000 gallons) per day. Biofiltro might well be meeting with some success but it is dwarfed, as are all other service providers, by Águas Andinas, which provides services to more than six million customers in the Greater Santiago area alone - thus making it one of the largest wastewater companies in Latin America. Peel back the layers a little and it's not at all difficult to see the continent's colonial history unravel before your eyes.
Águas Andinas
For Águas Andinas might well be Chilean run with revenue of over $750 million — as is its parent company Inversiones Aguas Metropolitanas (IAM), with an equally impressive revenue of $698. But IAM is in turn owned by the Barcelona-based Grupo Agbar — which is itself a subsidiary of the Spanish and French conglomerates Criteria and Suez Environnement respectively.
Not that Águas Andinas has been sitting on its laurels when it comes to ecological issues. The company recently gave what might legitimately be referred to as the green light to use three 2.7 MW ecomagination-approved J620 Jenbacher biogas engines for their wastewater treatment plant expansion and a renewable energy project near the Mapocho River.
In the plant, these engines will actually be fuelled by the methane-rich biogas created by wastewater collected at the plant, thus allowing less greenhouse gases to escape into the atmosphere.
Privatization might well have won the day but its critics have not been silenced altogether, arguing that when the drive for profits looms so large on the agenda there is likely to be an over-allocation of water to industries such as mining and agriculture.
Unearthing Spanish solutions
It is difficult to overstate the importance of mining, in particular, to the Chilean economy. It is one of the pillars of the country's growth, with copper exports alone representing more than one third of government income.
The greatest concentration of mines is to be found in the Norte Grande region which spans most of the Atacama Desert. And where there are veritable treasures to be found - copper, gold, silver, molybdenum, iron and coal — to name but a few. But how to exploit these precious resources and bring about industrial development in an area of water scarcity? Why, desalination, of course — with the mining sector spearheading a wave of new projects in the north. Cue opportunities for foreign operators. Prime amongst them was Acciona Agua, one of Spain's leading corporations listed on the Madrid Stock Exchange's Ibex-35 blue chip index, with a workforce of around 30,000 professionals, posting nearly 6.3 billion euros in revenue in 2010 and, as such, clearly a formidable force to be reckoned with.
In May of last year it won a contract to build and operate a seawater desalination plant for the group's mining operations in the Copiapo Valley, with an initial capacity of 200 litres per second (17 million litres a day). The project is scheduled for completion in the Spring of next year.
The new plant will use reverse osmosis technology and according to Elena Reyna Monasterio, the company's director of communications, "will be subject to the toughest environmental and quality standards".
Acciona Agua's presence in Chile goes back to the early nineties, however, since which time it has built four wastewater treatment plants in Valdivia, Osorno, La Ligua and Temuco. The company has also just been awarded a 106 million euro extension to its Copiapo project, the company developing solutions for transporting iron concentrate, conducting water through a steel pipeline and pumping in series from the desalination plant.
Chile-Australia synergies
If Acciona Agua's presence in Chile is predictable for historical, cultural and linguistic reasons, the leading Australian desalinisation company Osmoflo's presence certainly is not. The Adelaide headquartered reverse osmosis specialist only won its first contract in January of this year. Its brief has been to provide potable water for workers and demineralised potable water at the Minera el Tesorao open cut copper mine, located some 1350 kms north of the capital Santiago at an elevation of 2300 metres in Chile's copper-rich Antofagasta region.
Osmoflo might well have delivered over 300 projects during the last twenty years — but none of them in Chile — which of course begs the question of how they came to be involved in projects so far away from home.
Marc Fabig, managing director of Osmoflo, explains that "there are in fact remarkable synergies between the water challenges faced by Chilean miners, the solutions required and our Australian experience. That local know how is standing us in good stead in both."
Osmoflo came to be involved in Chile when, in 2011, the Marubeni Corporation of Japan made a minority investment in the company. They were already a long-term investor in Chile and introduced the Australians to the market.
Adelaide immediately made an assessment and concluded that Chile was in fact a similar market to Australia, with many mining projects and a welcoming attitude to foreign investors. But what has been Osmoflo's experience there to date?
"Chile is an open market with good regulatory and legal systems that make it a good entry point for Latin America", Fabig affirms. "The language is a challenge and we've found other differences. But our initial view has not changed and we see Chile as a good place to do business. It really helps that there are two airlines offering flights between Chile and Australia. I would say that the main challenge is the language. Chileans themselves admit that they speak very quickly and with a strong accent — that's a big issue but one we're finding okay. We've a Chilean partner and that makes life a lot easier."
Osmoflo believes that the Chilean market can sustain a long-term desalination business based upon its current activities in Australia - rentals, Design Build Operate Maintain, projects, Build Own Operate, and Operations & Maintenance. But what is the MD's response to those who criticise desalination on ecological grounds?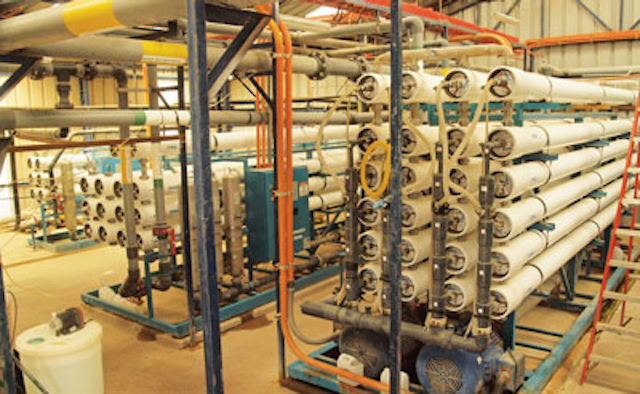 Under scrutiny: new reverse osmosis facilities coming online in Chile will be subject to tough environmental and quality standards
"We don't mind discussing the facts, which are that the capital and operating costs of developing desalination as a new water source compared with other new water sources are very similar. Often there is not an alternative. There is also talk about the outfall from desalination plants, but really people need to bear in mind that desalination is just replicating the natural cycle — rain comes from clouds which themselves are formed from the sea, no different in effect from seawater desalination.
"In many parts of Chile, and similarly in Australia, desalination is the only logical way to provide water for people and for development."
The Chilean model
Meanwhile, while the economies in the 'rich' north continue to stagnate, the euro staggers from one crisis to the next and the phrase double dip recession enters into mainstream parlance, one particular country in the 'poor' south continues to thrive: Chile. Its economy has continued to grow more than expected in results released recently by the central bank.
No wonder finance minister Felipe Larrain is upbeat, declaring that "there's an important dynamism in the construction, retail, electricity, gas and water sectors".
General Pinochet died in Santiago on 10th December 2006 at the grand old age of 91. At the time of his death there were still over 300 criminal charges pending against him for human rights abuses, embezzlement and tax evasion - to name but a few.
Still, it was under his watch that Chile's 1981 Water Code passed into legislation, introducing mechanisms which included the development of water markets and tradable water permits.
Now known internationally known as the "Chilean model", the Chilean experience in water resources management is characterized by its use of free-market forces and water markets to reallocate water to high-value use.
As today's finance minister boasts about Chile's impressive economic growth, he would do well to occasionally look back in time and remember that, like most things in life, even the legacy of a controversial dictator is likely to be both ambiguous and complex.
More Water & WasteWater International Current Issue Articles
More Water & WasteWater International Archives Issue Articles