Thirsty World of Mining: Harvesting New Water Solutions
Frost & Sullivan estimates the global opportunity for water and wastewater services in the mining industry to grow from $2.3 billion in 2011 to $3.6 billion by 2016.
Mar 1st, 2012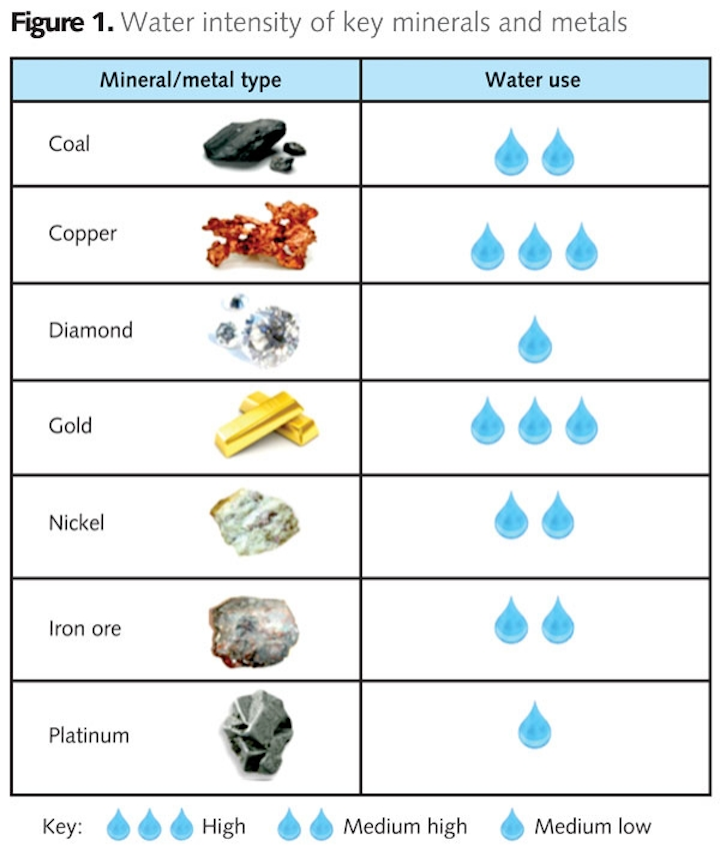 Frost & Sullivan estimates the global opportunity for water and wastewater services in the mining industry to grow from $2.3 billion in 2011 to $3.6 billion by 2016. Paulina Szyplinska looks at environmental drivers and technology solutions being applied to this growing market.
Unlike manufacturing sectors, mining operations are fully reliant on the location of ore with limited options to mitigate and adapt to regional water scarcity or quality impacts. North America, Australia, Chile and South Africa dominate in the global mineral production, with operation often in water stressed regions.
Critical water shortage issues are already a problem in many areas where natural mineable resources are abundant, creating an imperative for mining companies to consider either water trading or water recovery and reuse technologies.
There is an increasing risk of droughts in Latin America as well as in key mining regional hot-spots of Africa and Australia. Large parts of Southwest Asia are projected to face increased dry spells, including China and neighboring countries. Western Australia is considered as one of the driest area on earth and the water issue is further compounded with the mining sector using 620 million cubic meters of water annually.
It is forecasted that steady growth of the mining industry in the region will further increase water use to 1 billion cubic meters by 2030, hence mining operations need to be resourceful and innovative. Common water saving best practices of mining companies in Western Australia are dewatering and "fit for purpose" solutions, including use of lower grade sources, use of recycled water and saline groundwater.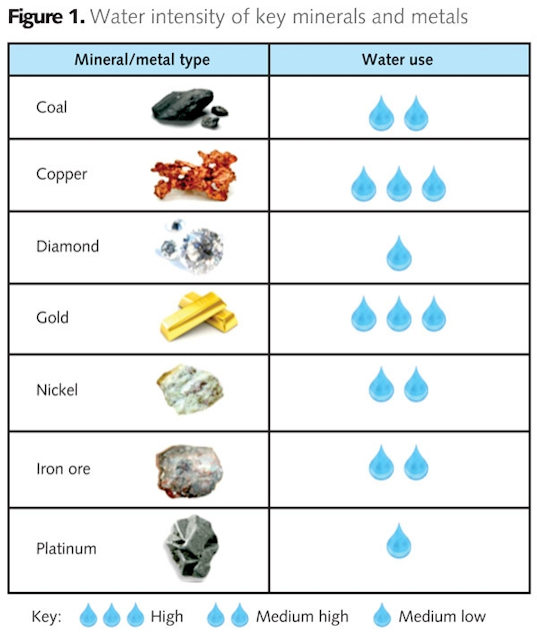 Water related issues
Estimates suggest that between three to ten cubic meters of water is used for the extraction, processing, transport, and mitigation of one tonne of coal. While creating water solutions for mining industry it is important to secure high quality of treatment process, to comply with
stringent regulations and guarantee long-term efficiency. Desalination, along with recycled water, is one of the water sources especially relevant to regions with limited fresh water supply capacities.
In water-scarce areas, water authorities often limit the daily supply of fresh water to the mining industry, which can limit production capacity. However, in some instances, this challenge is overcome by mining companies reusing process water and wastewater in mining processes: conveyance and dust control, cooling, drilling, wash-water, remediation, separation and leaching, power generation and land reclamation.
Depending on mining wastewater quality, over 90% can be reused by applying advanced treatment technologies, such as reverse osmosis and microfiltration. Water reuse combined with proper water management procedures, enables the mining industry to save up to 40% of its daily freshwater intake
Environmental Challenges
Mining companies are required to deal with Acid Mine Drainage (AMD) long after the mine has been closed. Untreated AMD enters the environment in a number of ways, including free-draining piles of waste rock that are exposed to intense rainstorms, in the process transporting large amounts of acid into water bodies. Due to the severe problem of untreated AMD that has resulted from abandoned mines in South Africa, most equipment suppliers are currently shifting towards modular wastewater treatment solutions in this region.
One of the key AMD treatment solutions for the coming years is underground mine sealing: an air-with-water replacement of sealing mine openings with impermeable grouting material (for example flue gas desulferization (FGD), a by-product from coal-fired power plants) to prevent oxidation reaction.
Efficient limitation of environmental damage resulting from mining activities requires informed control by government institutions in setting and enforcing environmental standards. Mining companies operating in the majority of developed regions are required to follow stringent environmental and rehabilitation requirements. However, in some countries, like Chile, the existing system of environmental protection suffers from clear deficiencies, which favor economic criteria over technical advantages in decision making process.
Strategic water planning should incorporate water issues into business decision-making and enhance business value by maximizing opportunities and minimizing risk of mining operations.
Applied solutions
Osmoflo is one of Australia's largest reverse osmosis desalination companies and in May 2009 it commissioned a desalination plant for Newmont Mining Corporation in one of the largest gold mines in Australia, located in Boddington. By applying a microfiltration system followed by reverse osmosis desalination and ultraviolet (UV) disinfection, the system is capable of producing 1,200 m3/day. Since then the Newmont Mining's Boddington open pit mine is one of Australia's lowest cost gold mines.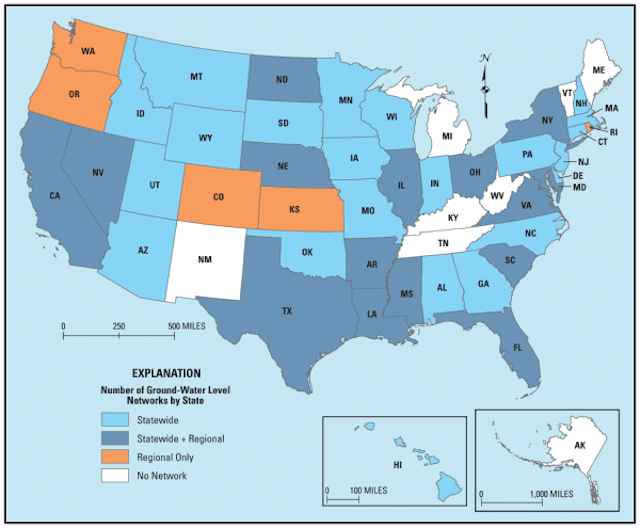 Furthermore, Brazilian-based Vale SA had increased its water reuse and recycling to 76% percent in 2010, becoming a leader in employing sustainable water resources in the mining industry. Improved reuse was a result of automating the water reuse system at the effluent treatment station. This accelerated the water treatment process and enabled a larger volume of water to be available for industrial processes.
In addition to water recovery, valuable recovered materials originating from mining wastewater treatment can be recycled and reused off-site. Most mining end-users in the United States and Canada are currently shifting towards metals recovery technologies that include sulfide precipitation.
Atoll Metal Recovery is one metal recovery services provider, for example, providing high, cost-effective recovery of saleable metals and recovery of wide range of metal alloys from mining waste streams.
Market growth potential
Urbanisation and industrialisation of developing countries are expected to continue to generate increasing demand for minerals in the future and there are no signs of slow-down in mining industry, despite the market uncertainty. Responding to growing metal prices, most of the mining companies increased their expenditure budgets in 2011.
Investment in water related services are expected to develop driven by the continuing mining industry boom. Stricter regulations, increasing water scarcity and higher commodity prices strongly influence the market that opens for new technologies and solutions. Reduction of water extraction is projected due to increasing trend of wastewater reuse in mining production. Hence mining companies are expected to increase their investments in favour of modern wastewater treatment technologies to improve on water use standards.
The strongest growth is expected to register in newly advanced economies of China and Russia. Growth in medium term is also projected for key mining African countries, such as in South Africa, Ghana and the Democratic Republic of Congo. Expansion of water and wastewater services in Australia, United States and Canada is expected mainly due to improvement of treatment, application of advanced solutions and increase water reuse.
As a result, the global mining water and wastewater market, consisting of treatment technologies, design and engineering as well as operation and maintenance services, with an overall size of $2.3 billion in 2011, is expected to grow at the CAGR of 9.5% between 2011 and 2016, reaching $3.6 billion in 2016.
Water and wastewater service competition
Companies offering innovative business models and early detection of future market opportunities can look forward to a sharp increase in demand in the years to come. Complexity and regional differences of water-related projects in the mining industry are also motivating for companies to increase its service portfolio and adjust business models and route-to-market strategies.
The market comprises companies supplying water and wastewater treatment solutions, such as Aquatech International, GE Water, Siemens Water Technologies, Xylem, Pall and Dow Water Solutions as well as companies providing services in scope of design and engineering which are for example Amec, Aecom or Poyry PLC. There are also companies specialised only in operation and maintenance of mining water and wastewater facilities, such as IT Group, Transfield Services, Fraser Alexander or Midell Water.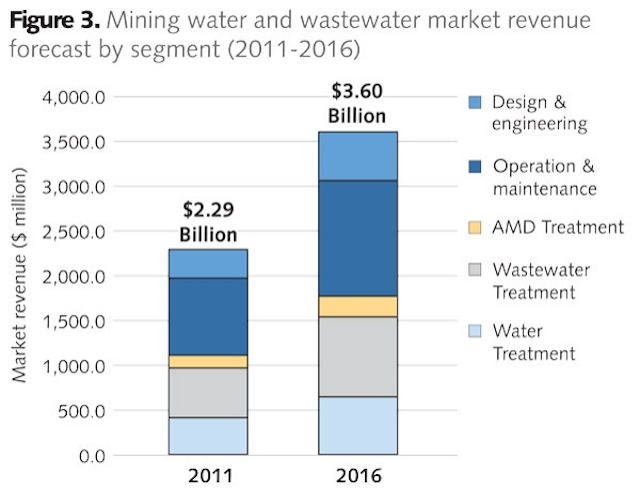 Integrated water and wastewater services for mining industry are in high demand as they eliminate the need for multiple vendors with varying standards and degrees of technological efficiency. Hence the market also comprises companies offering complex services in scope of treatment solutions, engineering and operations. Such companies include for example BioteQ Environmental Technology, Hatch, CH2M Hill, IDE Technologies, Severn Trent Services or Veolia Water.
Local players, lacking the capital and operational know-how to provide integrated solutions for mining industry and execute large-scale projects, can be looked upon as partners for the companies to enter local mining markets and increase its service capacities.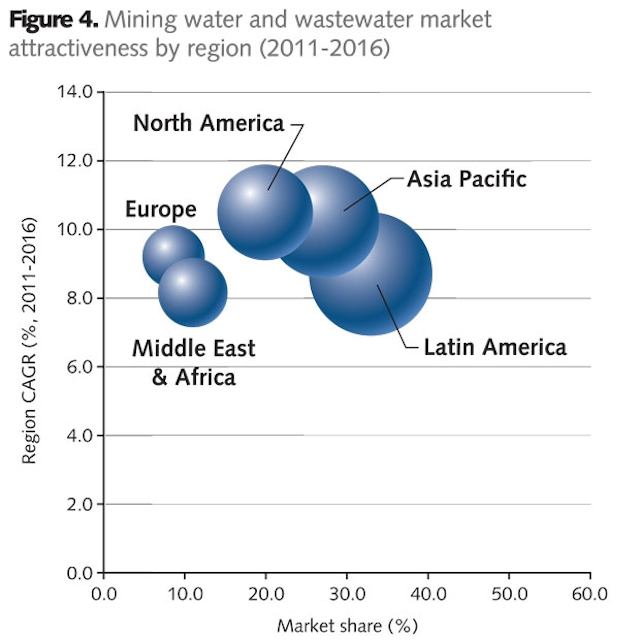 In 2011 the FLSmidth A/S, the Danish-based supplier of equipment and services to the global cement and minerals industries, acquired several companies (GL & V Process and Knelson Group from Canada, Phillips Kiln Services from United States, Darimec from Italy, Transweigh India from India and Essa Australia from Australia) to increase its scope of services and grow on local markets.
Staying ahead in the sector
The global mining industry focuses on future growth through expanded production, without losing sight of operational efficiency and cost optimization. Coming years are expected to see continuing positive investment trends in mining water and wastewater sector through improved treatment levels, resource recovery and desalination capacities.
Strong development of mining industry in emerging regions will drive demand for mine water and wastewater solutions in those regions. Developed regions are expected to focus on advanced water and wastewater treatment technologies with closed loops systems and high efficiency resource recovery devices, as well as greater water sustainability measures, such as water trading.
Companies able to guarantee long-run sustainability, focusing on reinforced research and development are expected to enjoy a global competitive advantage in the mining industry for the years to come.
Author's note: Paulina Szyplinska is a research analyst at industry analyst firm Frost & Sullivan. For more information please contact Fredrick Royan, research director for global environment (water) markets: froyan@frost.com
More Water & WasteWater International Current Issue Articles
More Water & WasteWater International Archives Issue Articles