­Future options for urban wastewater reuse
Wastewater recycling and wetlands conservation are now considered integral to water resource management.
Sep 1st, 2005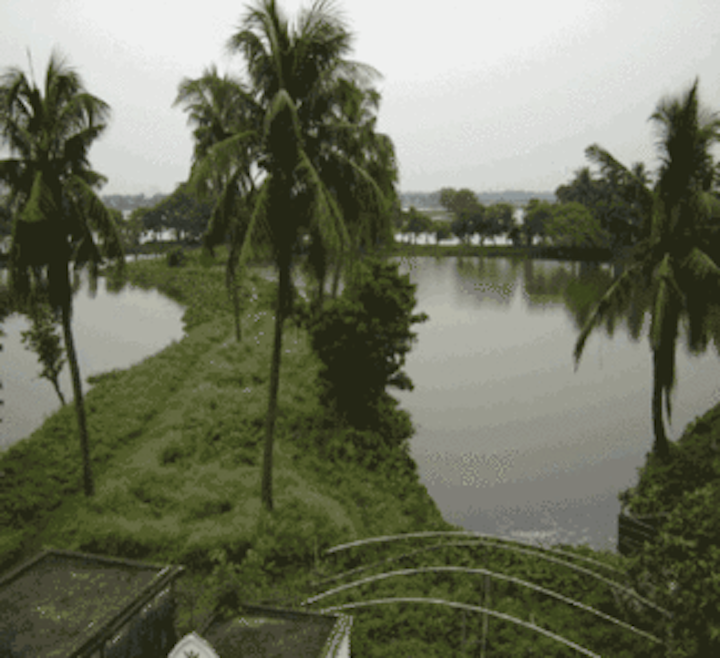 Wastewater recycling and wetlands conservation are now considered integral to water resource management. The city of Kolkata, India, provides one example of how community-based wetland ecosystems can treat wastewater and provide economic opportunity.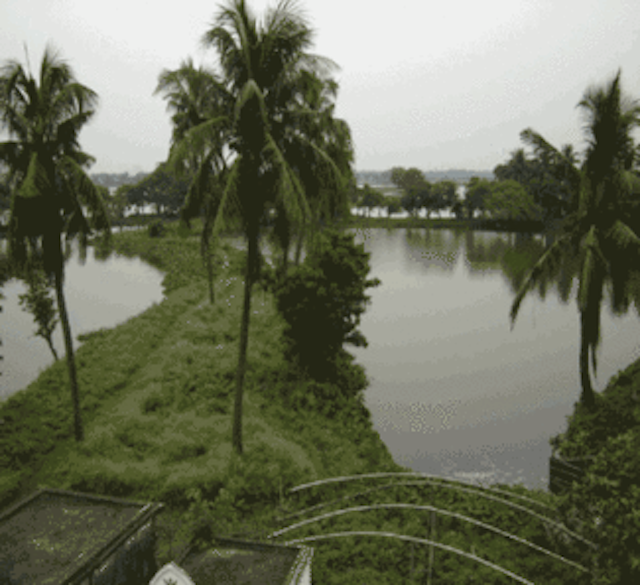 East Kolkata Wetlands
Click here to enlarge image
Waste disposal has always created financial and management problems, but waste should be regarded as a resource for sustainable development. Urban systems can become ecological systems in which waste provides resource within the same system. Unfortunately, economic growth and development of human society is increasing the volume of liquid and solid waste as lifestyles change and consumers adopt the "throw-away" practices.
Urban wastewater is now being used for aquaculture in Asia. It has been used in Germany for many years. Many countries in Eastern Europe, Latin America and even the Middle East reuse wastewater for irrigation. In the USA, wastewater treatment facilities employ approaches based on the use of natural systems and improved biological processes. In Asia, the indigenous system of recycling of sewage-fed wastewater for aquaculture and fish production is starting to become widely used in cities.
Typically, a city master plan for water supply include extraction (intake), distribution and disposal with a network of plants, pumps and pipes, and a master plan for drainage means wastewater disposal with or without treatment. This approach is still practiced in many countries, but wastewater recycling, conservation of water bodies and wetlands, aquifer recharge and rain harvesting are now becoming parts of integrated water resource management plans. Wastewater recycling of wastewater has many objectives, such as a water supply to displace the need for other sources of water in some areas, a cost effective means for the environmentally sound treatment and disposal of urban wastewater, and an incidental secondary benefit for fish production and the irrigation of agricultural fields.
In China, most municipal wastewater in cities is drained into water bodies used as fish ponds. In Korea, artificial wetlands have been constructed for aquaculture. In Hanoi, Vietnam, sewage-fed wastewater is used for fish farming and the irrigation of vegetables and rice paddy fields, producing 3,000 tons of fish and 20,000 tons of vegetables each year. Prism, a non-governmental organization in Dhaka, Bangladesh, developed a highly successful biomass duckweed cropping system for domestic wastewater treatment and the production of fish protein. Duckweed absorbs dirt, some metals and almost all chemical substances in the wastewater. Similar examples exist in India, Thailand, Cambodia, Indonesia and other countries, but Kolkata, India, operates the largest recycling district.
Kolkata wastewater recycling
The Kolkata municipal system generates about 750 million litres of sewage-fed wastewater daily, which is being treated in the wetlands in eastern periphery of the city through an indigenous system of aquaculture, managed by the fishermen. Built 315 years ago, the city of Kolkata is located on marshy land in eastern India, a monsoon region that receives 1,200mm of rainfall annually. Kolkata uses a combined system of sewage and drainage. In the 1950s, the total area of wetlands in the eastern sector of the city was 11,000 ha, but large-scale conversion of wetlands into other land uses has reduced the area to 2,500 ha and it remains under threat of encroachment.
The sewage wastewater-fed fisheries in east Kolkata wetlands, which have been operating since 1930, provide treatment through the anaerobic facultative maturation pond system. The number of fish ponds has fallen to 148; and, annual yield has fallen to 15,000 tons. Indian authorities placed the wetlands in the protected list of Ramsar Convention Bureau, Switzerland.
Several ponds each of different sizes of lagoon are used to treat wastewater in the Kolkata wetlands. These ponds facilitate natural aeration through wind action that has shallow depth, about 1.5 m to allow sufficient sunlight to reach its bottom to promote growth of phytoplankton algae and photosynthetic oxygen. This is fitted with inlet and outlet sluice boxes for periodical wastewater sewage feed exchange from the cities nearest drainage outfall or canal. Aquatic plants, such as water hyacinth (Eich-ornia Erassipes) and duck weed (Lemnacea sp., Spriodelle sp), remove dirt and some metals. Sunlight exposure and aeration (oxygeneration) purifies the water. Occasional use of lime achieves coagulation and flocculation.
Rich nutrient elements in wastewater, such as nitrogen, phosphorous, and potash, and high alkalinity stimulate production in the fish food chain, accounting for the high productivity in the fish ponds. The ponds generate an abundant quantity of algal photosynthetic oxygen at the assured rate of 1gm algae synthesized to produce about 1.25 gm of oxygen. Dissolved oxygen is found to be 0mg/l at the inlet point to 16 to 20 mg/l at the outlet zone. The biochemical oxygen demand (BOD), a critical parameter of wastewater quality is 150 to 180 mg/l at the inlet to about 15 to 32 mg/l at the outlet. Fish production is five to seven tons per hectare per year.
About 2,500 metric tons of solid waste is disposed on east Kolkata near the wetlands. The Kolkata Municipal Corporation acquired this dumping yard in 1874 where waste is naturally composted after papers, plastics and metals are separated and removed. The natural compost is used to produce vegetables (150 ton mg/day) without any fertiliser. Wastewater is used to irrigate the fields and the nutrient-rich sludge is used sometimes. The Government has declared the 12,000-ha area as a recycling zone where urban-agri-aquaculture is practiced, but slow encroachment due to urban development could not be prevented.
In southeast Calcutta, a fishermen's cooperative leases 15 ponds, 50 ha in area from Kolkata Port Trust where 25 million litres of sewage-fed wastewater is treated in the same indigenous process. The area has been declared as a nature park with micro flora, birds and deer, where the recycling of urban drainage waters has become educational for children.
Wastewater recycling has been adopted in other discharge areas. Local people, fisherman and village councils have established three community-based wetland ecosystem (CBWE) projects in the peri-urban and rural areas outside of Kolkata city. Conventional wastewater treatment plants discharge effluent into canals and rivers, but CBWEs stop the discharge and prevent pollution in these waterways.
Urban farming
Urban farming, including horticulture and aquaculture, could provide economic development in many cities experiencing losses in employment opportunities. Peri-urban agriculture offers great potential for several reasons. It creates a green and a blue buffer between urban and rural areas; improves the environment and land management; and provides employment, food and nutrition.
The concept of "reduce, recycle and reuse" can be adopted with this kind of best practice in sustainable development. In many cities, urban agri-horti aquaculture area is becoming the new land use in city development plans; however it is necessary to promote the wise use of wetlands with sustainable environment management and conservation.
Future technology trends
The World Health Organisation advocates the use of wastewater with its recommended standards and guidelines to protect the health of consumers. The Pan American Centre for Sanitary Engineering (CEPIS) in Lima, Peru, recommends a continuous monitoring and evaluation process to reduce health and environmental hazards. CEPIS developed a model for integrated wastewater treatment and reuse that test 60 parameters to ensure health and environmental quality.
The use of chemicals and pesticides in food production is being discouraged to ensure the safety of wastewater reuse practices. In Kolkata, natural compost is being manufactured and a wastewater treatment plant is being designed with resource recovery and utilisation of effluent with participatory development of all stakeholders. The Kolkata facilities illustrate the benefits of designing wastewater treatment systems that take into consideration the social, economic and environmental factors relevant to all stakeholders.
CBE organises 4rth World Water Forum session
Professor Santosh Ghosh, President of the Centre for Built Environment (CBE), is organising a session on "Coastal planning and management," which will take place during the 4rth World Water Forum, held on 15-23 March 2006 in Mexico City, Mexico. He will also be co-chairing a session on "Management of Waste Water in Cities." The CBE may present five sessions at the World Water Forum.
The internationally recognized organization is also sending representatives to the eighth International Rivers Symposium 2005 in Brisbane, Australia (6-9 September), which will focus on the theme of "Water and food security - rivers in a global context" within a programme of 215 papers representing professionals from 37 countries.
Joint-secretaries of the CBC, architects Unmesh Kirtikar and Shivashish Bose of Jadavpur University, will argue the case at the Brisbane event that faulty urban practices and uncontrolled growth have together destroyed the ecology of mangroves. Bose will present his paper "Mangroves in Sunderbans active delta - ecological disasaters and remedies." Kirtikar will present the paper "Environmental parameters of rivers, canals, streams and estuaries."
The CBE is a professional non-profit society that promotes sustainable development, particularly in architecture, human settlements and environment. Based in Kolkata, India, its members include architects, city planners and environmental engineers in the private sector, universities other institutions, government organisations and other NGOs.
The Center's activities, based upon its objective "water is key element in sustainable development," include research, education, training, organising lectures, seminars, presentations at international conferences, technical guidance to students and other NGOs, campaigning for protection of environment, and publishing. The center organizes education and training in the recycling of wastewater and aquaculture, international workshops on urban agriculture (aquaculture), urban rivers, and regional conferences on water and cities.
Author's Note
Professor Santosh Ghosh, an architect planner by profession has worked with for many years with government, university and professional societies in India, USA and the Middle East. He is the Honorary. President of the Centre for Built Environment in Kolkata, India. The Centre has made presentations on recycling of wastewater at many international conference and organised workshops. e-mail (sghoshcbe@hotmail.com).
Prof. Ghosh was convenor, of the session, Water for Asian Mega Cities at the 3rd World Water Forum, Japan in March 2003. At the 4th World Water Forum, Mexico, March 2006, his proposed session is 'Coastal planning & management". He will also be co-convenor of the session "Management of Waste Water in Cities".