Technologies & Products
Puron® submerged membrane modules for membrane bioreactor (MBR) treatment of municipal and industrial wastewater significantly improve water quality, using less space than conventional alternatives, according to the manufacturer Koch Membrane Systems, Inc.
Sep 1st, 2005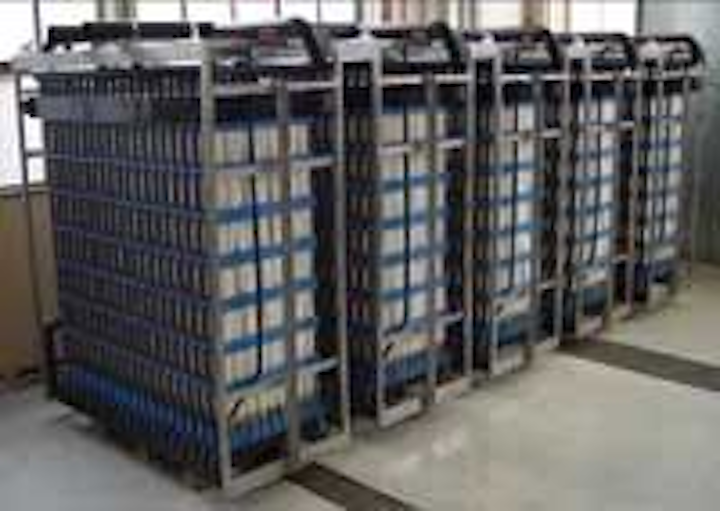 Submerged membrane modules use 50 per cent less energy
Puron® submerged membrane modules for membrane bioreactor (MBR) treatment of municipal and industrial wastewater significantly improve water quality, using less space than conventional alternatives, according to the manufacturer Koch Membrane Systems, Inc. (KMS).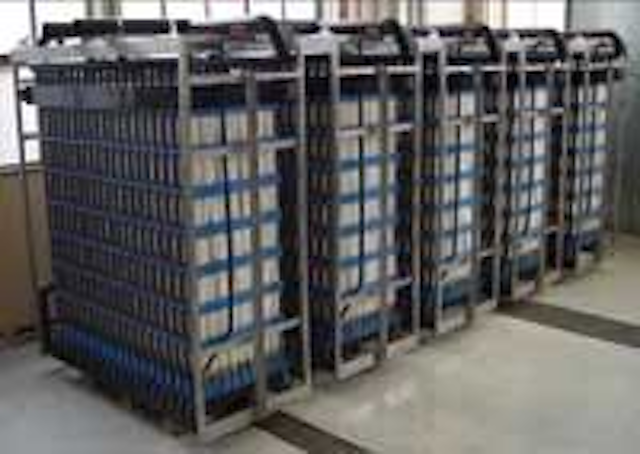 Click here to enlarge image
KMS claims the Puron aeration system ensures optimal solids management, high flow rate and reliable operation, while using up to 50% less energy than other MBR systems. Membrane bioreactors with submerged membrane modules are increasingly used for difficult wastewater treatment applications, including sewage treatment for municipalities, and treatment of wastewater for malt beverage, textile, food, paper and chemicals industries. By using MBR to recycle process water, industrial companies reduce wastewater disposal costs and freshwater consumption.
A proprietary feature of the Puron module is the air nozzle, which discharges air from the center of each fiber bundle at the base. The combination of rising air bubbles, the resulting hydraulic cross flow and the seaweed-like movement of the membrane filters comprise an energy-efficient process that dislodges sludge, hair and other fibrous components from the membranes and moves them out of the system.
The patented design of the Puron membrane module removes filtered substances. Hollow fiber membranes, two mm in diameter, with a pore size of less than 0.1 micrometers, are bundled in a single header at their lower end. Each individual hollow fiber membrane filter is sealed at the upper end and allowed to float freely. The membrane is coated on a braid increasing the mechanical strength of each fiber to ensure that the fibers will not break or delaminate during operation. Water flows from the outside to the inside of the filters. Solids and particulates, including bacteria, are blocked by the membrane and remain on the outside, while permeate is withdrawn from the inside of the fibers.
Koch Membrane Systems
Wilmington, Massachusetts, USA
Godwin features new Dri-Prime® pumps at WEFTEC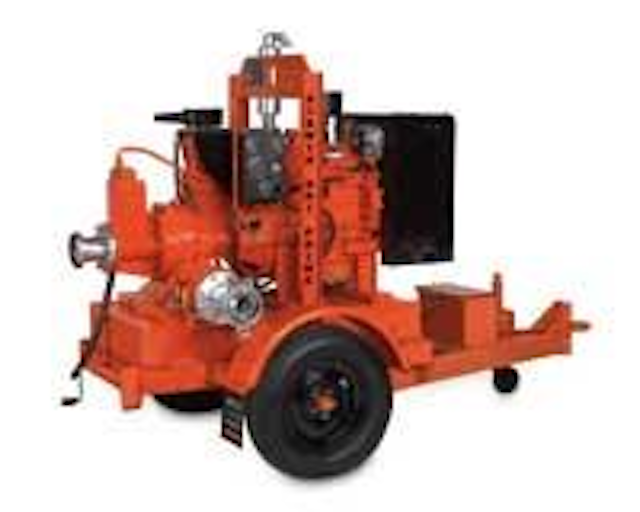 Click here to enlarge image
New Godwin Dri-Prime® pumps include a generation that has evolved from Godwin's high-volume CD series of Dri-Prime models. Four pumps are offered specifically to provide elevated heads with solids handling capabilities without sacrificing high volume pumping capacity: the 4-inch CD103M, the 6-inch CD160M, the 8-inch CD225M, and the 12-inch CD300M. The high volume pumps handle flows from 300 to 6,000 gallons per minute and are used in municipal lift station applications because of the ability to handle heads from 145 to 300 feet and solids from 3 to 3/4 inches in diameter. The pumps also are used in other water and wastewater applications including process or stormwater sewer bypass pumping, grit chamber and clarifier cleaning and empting, and bypass pumping for sewer re-lining or pipe bursting jobs.
Godwin Pumps
Bridgeport, New Jersey, USA
Nano-bubble oxygenation system introduced at 2005 Chem Show
A new electrolysis-based oxygenation system, which will be exhibited to the industrial market for the first time at the 2005 Chem Show held on 1-3 November 2005 in New York City, New York, USA, uses nano-bubble technology to increase oxygen levels in aqueous systems.
The key element of the Aqua Innovations oxygenation system is its nano-bubble technology. The AI electrolysis device produces oxygen bubbles in the 5-15 micron range, small enough to prevent breaking the surface tension of the water and escaping to the atmosphere. This ensures that all the oxygen produced is retained within the water and available to be dissolved, thus providing the maximum oxygen capacity for microbiological or chemical processes.
The system has been used in the sport fishing market for maintaining adequate oxygen levels for catch/release tournaments and other marine life applications. Its ability to control oxygen levels and to oxygenate water solutions makes the system applicable for many industrial uses.
Aqua Innovations Inc.
Bloomington, Minnesota, USA
Stroke rate controller provides accurate metering
The V300 Stroke Rate Controller provides precise control of all Fluid Metering, Inc. V-Series of Variable Speed Metering Pumps. The V300 is designed for accurate fluid metering in laboratory, research and development, test stands, pilot plants, process, and production applications.
Front panel membrane switches enable pump stroke rates to be adjusted manually in 0.1% increments. Stroke rate can also be controlled electronically through an interface that can accept 4-20mA, 0-5 VDC, and 0-10 VDC input signals typically provided by process sensors and instrumentation.
A 3-1/2 digit LCD readout displays either the percentage of flow rate in the manual position or the actual percentage of selected input signal when controlled electronically.
The V-300 can control fluid flow from 0 to 4 L/min in forward and reverse directions. In addition, membrane switches can start and stop the pump without the need for re-adjustment of stroke rate settings. The unit is compatible with the RHV, QV, QVG, and Q2V Ratio:Matic pump models providing flow ranges from 0 to 4L/min at pressures up to 100 psig.
Fluid Metering, Inc.
Syosset, New York, USACopy
In-line flowmeters offer new calibration options
Blue-White's F-400 Series Flowmeters have new calibration options. Air Flow Calibrations of 0.75 to 7.5 SCFM /1-10 M3/HR; 0.2 - 2.0 SCFM/.4-3.2 M3/HR; 1 - 12 SCFM/ 2-20 M3/HR;
2 - 20 SCFM/4-34 M3/HR; are now offered on units with 3/8" Female NPT, and 1/2" Female NPT pipe connections (F-400N Series).
Air Flow Calibrations of 4 - 45 SCFM/8-80 M3/HR; 5 - 75 SCFM/10-125 M3/HR;
10-80 SCFM / 20 - 140 M3/HR are now offered on units with 3/4" Female NPT and 1" Female NPT pipe connections (F-410N Series).
Additional features include: clear, polished machined acrylic meter body; direct reading permanent scale; sturdy adapters with high-grade Viton o-ring seals; #316 Stainless Steel floats and float guide rods, optional materials are available; acceptable indirect sunlight applications.
Blue-White Industries
Huntington Beach, California, USA
Chemical analyzers uses Xenon-based optical sensor
Royce 8500 Series Multi-parameter UV chemical analyzers, manufactured and patented by S::CAN of Austria, feature a unique Xenon-based optical sensor. ROYCE/S::CAN systems have been in use for years in Europe in the water and wastewater industries for industrial and municipal applications. The only multi-parameter UV sensor available for insitu applications today, according to Royce, the 8500 Series system has been designed and built for the rugged applications found in plant process control and environmental monitoring.
Click here to enlarge image
Designed to be mounted in-situ, with the sensor continuously in the water being sampled, these sensors can be completely trouble free if operators also use the Royce JC Series Jet Clean system. The Jet Clean system has been used for many years on all Royce in-situ optical and electrochemical sensor systems. The Royce chemical analyzers will be exhibited at WEFTEC 2005, held in Washington, DC, from 29 October through 2 November in booth 8748.
Sanitaire-Royce Technologies, ITT Industries
New Orleans, Louisiana, USA
Spectrophotometer measures low concentrations of toxic elements
The Z-2000 series of flame, furnace and tandem atomic absorption spectrophotometers determine low concentrations of toxic elements such as cadmium, mercury, lead and hexavalent chromium. The implementation of the Waste Electrical and Electronic Equipment European Union (EU) Directive (WEEE) on 13 August 2005 and the planned implementation of the EU Restriction of Hazardous Substances (RoHS) on 1 July 2006 make this technical ability increasingly relevant.
The WEEE directive is intended to minimize the effects of electronic and electrical equipment on the environment both after disposal and during its lifetime. The Z-2000 series is also suited to river water testing for toxic elements, which could end up in river water as a result of inappropriate disposal methods of electronic and electrical equipment.
Hitachi High-Technologies Corporation
Wokingham, Berkshire, UK
Grundfos' Magna pumps reduce energy use by 16 per cent
The new generation of Grundfos Magna pumps expands on the use of permanent magnetic motors, which means that no energy is required to generate the magnetic field in the rotor, saving power and reducing overall energy consumption.
The range includes two new Magna sizes - the 50-120 and the 65-120. The new range ensures flows of 5 to 35 m3 per hour and with a head of 1.2 to 12 meters. Compared to its predecessor, the new Magna reduces energy by 16% and by 78% when compared to traditional fixed speed circulator pumps.
Features include stainless steel rotor-can with permanent magnetic motor and 3D-designed impellors. The AUTOadapt function reduces energy consumption as Grundfos Magna pumps automatically register the conditions in the system it is installed in and automatically programs the Magna to continually adapt its operation to system conditions. In approximately 80% of all Magna installations, no further manual adjustments to pump settings are necessary. The Magna is officially listed as an "A" energy-rated product, according to Grundfos Pumps Ltd.
Grundfos Pumps Ltd.
Leighton Buzzard, Bedfordshire, UK
Flowmeter requires no electricity
The Mc Propeller Model MO300, a bolt-on saddle-type instrument, provides instantaneous indication and totalization of liquid flow without electrical power. The MO300 is a water management tool that helps reduce water costs, prevent over-irrigation and reduce leaching of chemicals and fertilizers into the ground.
The flowmeter consists of a rotating device, a helical-shaped impeller, positioned in the flow stream. When liquid passes through the meter, it contacts the impeller causing it to spin.
McCrometer
Hemet, California, USA
Flygt supplies new pumping equipment for CSO project
Wessex Water recently completed its US$ 54-million scheme to reduce aesthetic pollution of the River Avon during storms. The combined sewer outflow (CSO) project in Bath, UK, which formed part of Wessex Water's quality program for AMP3, will reduce storm discharges from combined sewer overflows in the Bath sewage catchment area. Consequently, the project will significantly reduce the problems of sewage-related debris in the River Avon.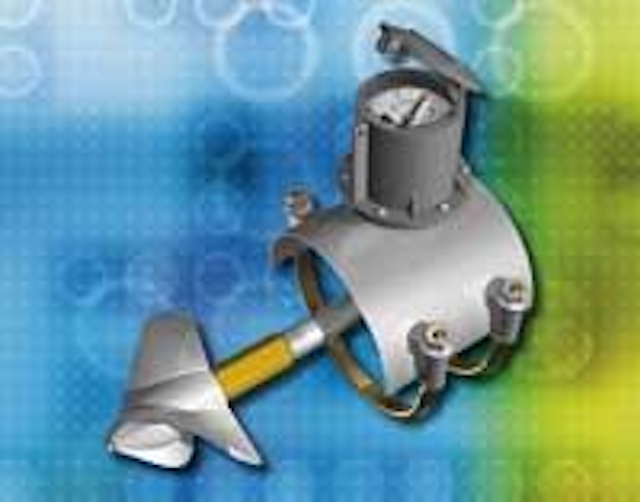 Click here to enlarge image
ITT Flygt Ltd supplied new pumping equipment, mixers and hydroejectors for the new CSOs, storm return and sludge dewatering pumping equipment, which cost in excess of US$ 539,000, working on behalf of the main contractor Costain Ltd., in conjunction with its Flygt contracting partner, Northavon Pumps.
Key areas of work implemented included increasing the pass forward rate from 520 l/s to 1,050 l/s through the construction of a new pumping station, provision of a second rising main at Midland Road pumping station and carrying out improvements to existing CSOs within the Bath area. In addition, three new below-ground CSO shafts were constructed at EA depot, Windsor Villas and Technology House, a micro tunnel provided between Norfolk Crescent and Midland Road pumping station to relieve existing CSOs locally, and the provision of two off-45-m-diameter CSO storage tanks at Saltford sewage treatment works.
ITT Flygt Ltd.
Colwick, Nottingham, UK