Latin America reawakens
Investment in the Latin American water and wastewater sector is expected to quintuple in the next five years, according to Norman F.
Oct 1st, 2005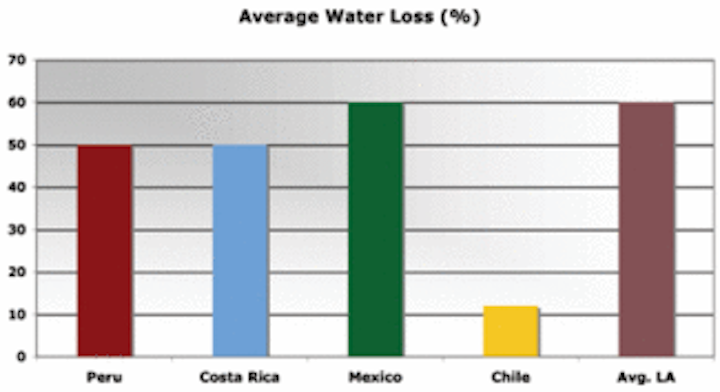 Investment in the Latin American water and wastewater sector is expected to quintuple in the next five years, according to Norman F. Anderson, president and CEO of CG/LA Infrastructure, due to an emerging, flexible public-private partnership financing model and pent-up demand for better services.
Latin America is finishing its third year of 4 percent growth, the best three-year performance since the boom years of the 1970s. Water and wastewater investments, virtually forgotten over the last 10 years, are about to grow significantly for three reasons: strong and sustained GDP (gross domestic production) performance; an emerging series of public/private partnership financing models; and very strong pent-up demand that will no longer be ignored.
Investment in the region's water and wastewater infrastructure will most likely quintuple in the five-year 2006 to 2010 period, from the current US$ 2.4 billion per year to a level of at least US$ 12 billion per year, according to CG/LA Infrastructure, a consultancy that specializes in water, wastewater and the power industry. This investment growth would take investment from one tenth of 1 percent of GDP (where it now stands) to a much more healthy .5 percent of GDP - for dreamers, the number could even be as high as 1 percent, as it has been in Spain and Chile for the last 10 years.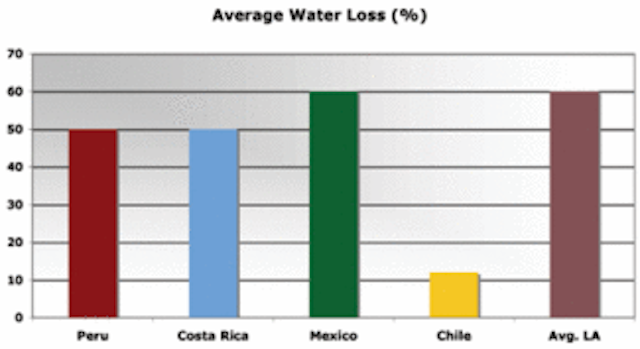 Average Water Loss (percentage)
Click here to enlarge image
The primary reason for this optimism is the emergence of a dynamic, flexible, public/private partnership (PPP) financing model. The public sector is no longer able to finance projects on its own and so is responding to partnership proposals from performance-oriented private sector firms in areas from new connections to productivity gains on current assets to full-fledged performance-based financing of potable water and municipal wastewater plants. Productivity projects alone could easily add US$ 1.5 billion per year immediately, and as much as US$ 5 billion per year by 2010; if the wastewater sector is finally included another US$ 12 billion would be added per year just to reach 50 percent coverage levels (current levels for municipalities of 50,000 and above are less than 10 percent -- total requirements, to cover 50 percent of these municipalities are US$ 60 billion over 10 years).
Current status of the water and wastewater business in the region. So, where are the specific projects? Projects are just beginning to emerge after a financial meltdown over the last 10 years when public funding ceased in preparation for an abrupt transition from public to private ownership - a transition that never happened. During this period funding virtually disappeared from the sector; one development bank, for example, now invests only 1 percent of its budget in the water sector, down from 10 percent in 1989.
The region has reached a tipping point, which is the source of CG/LA's optimism. The PPP model, if properly supported by the international financial institutions, and if disciplined internally to achieve measurable physical and financial performance goals, will yield a quintupling of investment. Work will be required of the private and public sectors in terms of persistence in physical and financial imagination far beyond, but well within reach, of current experience.
Currently two variations on the PPP model have emerged. The first, which focuses on rapid, "unbundled" investments, might be called "Asset Productivity." The second focuses on long-term, heavy investments and could be termed "Performance Based CapEx."
Asset productivity - moving from price to performance. The outstanding business fact in the Latin American water sector has never been pricing, but the extraordinary business (and public policy) opportunity represented by huge, region-wide inefficiencies. The average system in the region has an unaccounted-for-water (UAW) index of 50 percent to 60 percent, and some systems lose up to 85 percent of the only product that they sell.
The key to solving this problem is for private sector firms to identify, develop and implement performance contracts, something that they are just now being allowed to do. These contracts - PPPs with municipal water systems or state utilities - share productivity gains between the private and public sectors, by installing (or replacing) meters, pipes and/or billing and collection systems. In the projects that CG/LA examined private sector internal rates of return (IRRs) are in the 30 percent+ range, and average investments are in the neighborhood of US$ 5 million over a specifically defined period of time.
The concept is straightforward. A developer - an engineering firm, a manufacturer, a fund, or all three - identifies a municipality that is interested in increasing the productivity of its assets and enters into an exclusive agreement to prospect and "fix" a productivity problem. Agreements focus on one, or a combination, of three areas:
• Micro-metering - 50 percent of the loss in Latin American systems is commercial, and virtually no micro-metering exists. This performance contract installs meters at risk and then shares revenue gains with the public water utility;
• Pipes and connections - the remaining 50 percent of UAW comes from leaky pipes and connections. These are easily addressed through better detection, slip-lining and pipe replacement, and is particularly critical for the older urban centers of Latin America;
• Billing and collections - the third leg of the Productivity Paradigm involves performance-based improvements in the billing and collections systems including the use of business intelligence software, the improvement of billing precision (wildly off in most instances), and adoption of more effective business processes.
Note that there are innumerable additional applications of this model, especially including new connections for marginal neighborhoods, both to achieve the Millennium Development Goals (Latin America is woefully behind in sewage treatment) and to address simple organic growth in the rapidly urbanizing region).
Total market size in what CG/LA terms "unbundled opportunities" is nearly US$ 500 million a year in Brazil alone, and well over US$ 1.5 billion per year in the entire region - rising to at least US$ 5 billion by 2010. The beauty of this model is that it improves the public asset base at no cost to the public. Revenue derives from productive improvements (taking UAW from 60 percent to 20 percent, for example) and the public and private entities share this new revenue.
Countries in which this paradigm is moving forward include Brazil (with more than 300,000 connections projected to be under performance contract in the next year), Peru (with a $50 million grant from the Inter-American Development Bank for performance contracting), Colombia and Mexico.
Performance-based CapEx - moving from risk to performance in building water and wastewater treatment plants. Strong businesses, local and international, are beginning to see enormous business value in partnering with the public sector to build new projects. These businesses are taking the initiative - pleasantly surprising public sector decision-makers.
For the past 10 years major wastewater treatment projects have been developed with heavy, top-down, international financial institutions' participation in virtually every country of the region, most notably Brazil, Colombia, Panama, Costa Rica and Mexico. All of these projects have - incredibly and inexcusably - gone nowhere, falling victim to a combination of misguided oversight by international bureaucrats and internal political disputes largely over who gets the spoils of mega projects. The new model promises to mitigate this problem by assigning the protagonist's role to private actors, while reserving the direction of that energy to the public sector.
Performance contracts are projected to increase in the Latin American wastewater market within the next five years.
Click here to enlarge image
PPPs might be particularly appropriate for rapidly financing large water and wastewater treatment projects in which financial risks are extraordinarily high and varied. Here the private sector takes the initiative to develop the technical, economic and financial studies; design and execute the project; and shares profits with a public sector that limits its role to energetically and strategically facilitating the project.
The São Paulo Potable Water Project (Alto Tiete) is a good example of a CapEx PPP, one that promises to provide 15 m3/second of treated water to the Sabesp system on a performance basis. Sabesp is the public water and wastewater company for the state of São Paulo. The project is being developed, and sponsored, by two of Brazil's largest construction firms, Camargo-Correa and Andrade Gutierrez. As the public sector official in charge told CG/LA, "we didn't even know they were developing the project until they presented it to us!" The private sector partners are undertaking all economic, financial, and technical studies in close cooperation with Sabesp, and will be remunerated through a percentage of water produced and sold.
This model, straightforward, private-sector-driven, should prove to be a very rapid, replicable means for building needed water and wastewater projects throughout Latin America.
The possibilities are vast. Right on the heels of the Sao Paulo projects is the Valsequillo Lake clean-up project, for which CG/LA recently secured $1 million in feasibility study financing (US$ 800,000 from the US Trade & Development Agency and an additional US$ 200,000 from an IDB Trust Fund). "Proval," as it is called, envisions the construction of up to 30 wastewater treatment plants, a full-scale lake clean-up, the irrigation and return to productivity of 35,000 hectares of land and real estate development. The total project value is estimated at US$ 400 million.
Summary
The Latin American water and wastewater sector is about to become a significant market once again, at least quintupling in size. The driver behind this growth will be the private sector - with strong, new model, opportunities for investors, equipment firms and engineering, procurement and construction (EPC) companies. The limits are described by the business and financial imaginations, and the willingness, professionalism and speed of the public sector to respond to, and focus, private initiative.
Author's Note
Norman F. Anderson is the president and chief executive officer of CG/LA Infrastructure LLC and the Latin American Leadership Forum. CG/LA focuses on infrastructure and infrastructure projects worldwide, and on wealth creation for countries and companies. For more information contact Mr. Anderson (Norman@cg-la.com), or see: www.cg-la.com. Anand Hemnani, CG/LA's vice president, and the head of the Brazil Office, lead the client work on which this article is based.
---
4th Annual Latin American Leadership Forum
The Latin American Leadership Forum will be held on March 28th and 29th 2006 in Washington, DC, USA. CG/LA hosts the Leadership Forum - the 4th annual event will be held in 2006 - presenting the top 40 infrastructure projects in the region. The Forum is sponsored by both private firms (SAS is the Platinum sponsor, and Gold sponsors include Aon, Banco do Brasil, Taylor deJongh and others) and by public sector institutions (the Multilateral Investment Guarantee Agency - MIGA) and the International Finance Corporation - IFC), both of the World Bank Group. For more information please see: www.latinamericanleadershipforum.com