Technologies & Products
Godwin added a new model to its Dri-Prime® diesel pump offerings. The six-inch CD160M portable pump offers both elevated heads and solids handling capabilities without sacrificing flow rate.
Oct 1st, 2005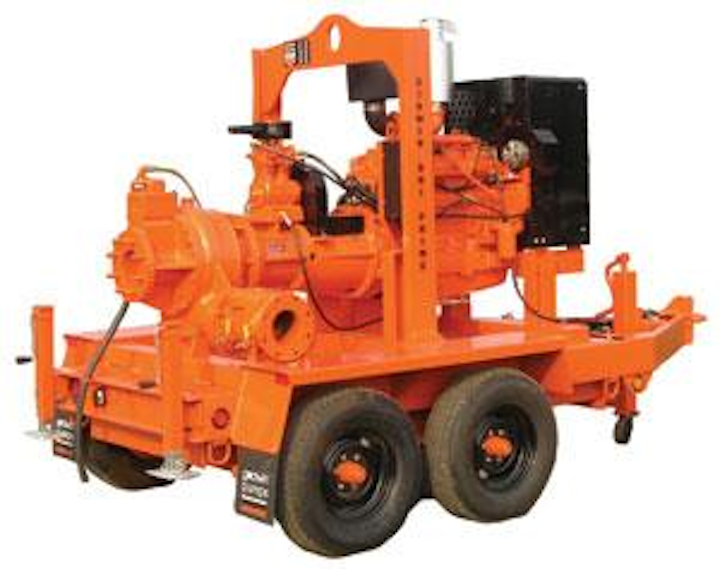 Pump combines elevated head capabilities with solids handling
Godwin added a new model to its Dri-Prime® diesel pump offerings. The six-inch CD160M portable pump offers both elevated heads and solids handling capabilities without sacrificing flow rate. The new unit achieves total dynamic heads (TDH) to 260 feet, solids handling to three inches in diameter, and flows to 1,900 gallons per minute.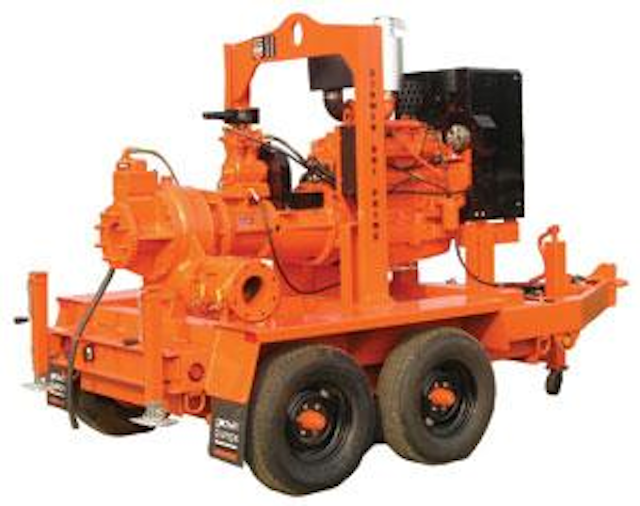 Click here to enlarge image
Like all Dri-Prime pumps, the new model is an automatic self-priming pump with dry running capabilities. It is used in municipal lift station applications and other water/wastewater applications including process or storm water sewer bypass pumping, grit chamber and clarifier cleaning and empting, and bypass pumping for sewer re-lining or pipe bursting jobs.
Godwin Pumps
Bridgeport, New Jersey
Gloucestershire, England
Digital valve positioner adds Foundation fieldbus support
The Flowserve PMV D3 digital valve positioner added Foundation™ Fieldbus support and gained ATEX EEX approval as an explosion-proof device.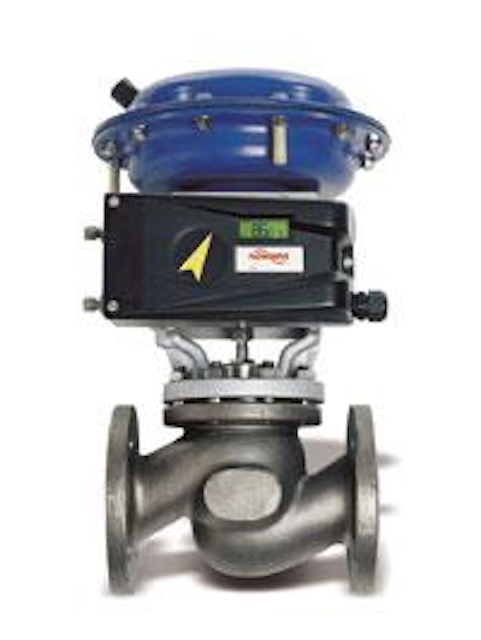 Click here to enlarge image
The high-performance D3 controls linear and rotary control valves in a variety of industry applications in which control valves are used. The ATEX EEX approval gives Flowserve further entrée into the European market for the D3. The addition of Foundation Fieldbus support means that the D3 can communicate via a fourth protocol, in addition to 4-20 mA analog, HART®, and PROFIBUS® PA.
With an onboard microprocessor, the PMV D3 offers a number of "intelligent" features, including auto-calibration, digital control of valve flow characteristics, password protection, process diagnostics, alarm settings, and multi-language menus. The combination of a computer-optimized pneumatic relay and piezo-electric valves facilitates very low steady state air consumption measuring 0.01 SCFM, for a near-zero bleed rate.
Featuring a split-spindle design and a friction coupling for its feedback potentiometer, the D3 will mount on almost any actuator and does not need to be installed in a specific position when mounted. Flowserve PMV offers more than 130 mounting kits for the D3 to fit most actuators available in the market, making the D3 a flexible positioner option for facilities with a range of actuators and valves.
Flowserve Corp.
Dallas, Texas, USA
Downloadable free CAD drawings lowers design costs
Cepex, a manufacturer of thermoplastic valves and fittings, is making available its two- and three-dimensional CAD drawings for all their PVC, PE and PP product ranges. Directly accessible from Cepex home page on http://www.cepex.com, this online CAD library is available in six languages including English, Spanish, German, French, Italian and Portuguese.
Engineers can now leverage the Cepex web site to identify, select, view and download CAD drawings of Cepex plastic components for immediate use into their designs. This free online service saves them the time and effort required to model the parts starting from paper or PDF catalogs. Designers can now rely directly on Cepex engineering materials from the source.
"TraceParts technology makes it easy for our customers to find the right product they need, without having to redraw the design, and without having to ask themselves whether they have the latest paper catalog or not," said Ignacio Elburgo, the managing director of Cepex. TraceParts S.A. belongs to the French Trace Software Group, which develops and markets software solutions for parts libraries, electronic catalogs and product configurations.
TraceParts supports all major CAD systems, ensuring that Cepex customers have access to reliable two- and three-dimensional CAD drawings regardless of the CAD application they are using.
Cepex Holding S.A.
Granollers, Spain
Fluorescence use detects organic pollutants in water
A UK partnership between the University of Birmingham and scientific instrumentation company STS Ltd is pioneering new technologies that will slash the time taken to detect and react to water pollution. A team from the university is researching the use of fluorescence to detect organic water pollutants - reducing the time it takes to analyze water quality from five days to less than a minute.
The research results will be used in a portable field device being developed by STS Ltd to help environmental organizations and businesses quickly identify the source and extent of any water pollution. The rapid turnaround of results will allow them to act on the problem at the time it occurs rather than many days later.
The research project at the University of Birmingham is being delivered through VIN Technology Services, a business gateway to the University's technology and expertise. Dr. Andrew Baker from VIN Technology Services said: "Using the fluorescence of materials for analysis is well established in other industries such as pharmaceuticals and other biosciences, but is not widely used for environmental analysis.
According to David Ward, managing director of STS Ltd, the university research is critical to the development process. STS manufactures a portable Spectrofluorimeter, which has been designed for a wide range of applications. He explained that VIN is analyzing the exact nature of the organic contaminants found in typical water pollution incidents. Once this research is completed, STS plans to produce a specialist machine, "which will do the job at a fraction of the cost and a fraction of the price," he added.
Ward commented: "This technology can help environmental organizations to locate problems and act on them at the time they occur, not five days later. It can also help potential polluters to keep their own houses in order and act on problems before they cause real damage."
VIN Technology Services
University of Birmingham, UK
Remote options improve gas detectors
Honeywell Zellweger Analytics' MIDAS® range of MDA Scientific gas detector systems provides remote communication options that alert the supervisor immediately of a gas presence or instrumentation problem.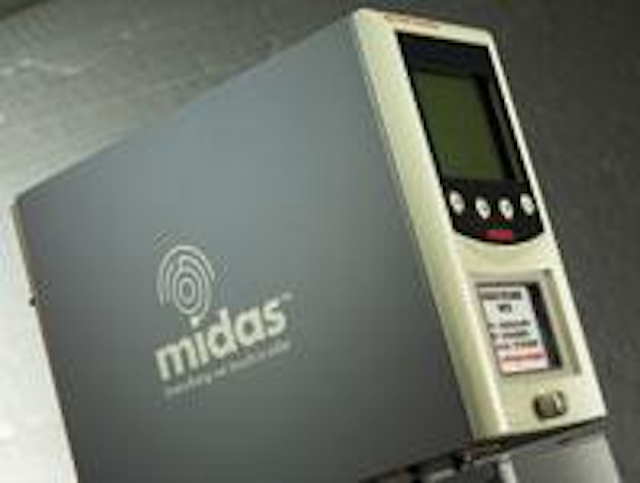 Click here to enlarge image
The MIDAS system is built with three relays, analog output and the industry standard digital Modbus TCP output as standard, providing bi-directional communications between the central control system and remote sensor units. MIDAS features a built-in Power over Ethernet (PoE) connection. PoE uses the latest IEEE 802.3af technology to enable a single Ethernet cable to provide electrical power and bi-directional Ethernet-based communication between gas detectors and the central control system.
Honeywell Zellweger Analytics
Sawgrass, Florida, USA
Zurich, Switzerland
Level sensors offer magnetostrictive technology
The Series 7330 Pro-Stik® continuous level sensor from Ametek Automation & Process Technologies takes field-proven magnetostrictive sensing technology and incorporates an intrinsic safety and a field programmable scan. The Pro-Stik II Series is used for level monitoring in a variety of liquids and tank designs.
Its submersible sensor eliminates the need for electronic housing. All probes are self-diagnostic and those 24 feet or less have patented reflectors that increase signal resolution.
Accidental changes in level measurement are prevented with the Series 7330 Pro-Stik II security code and programmable span features that make it impossible to reset a span without unlocking the program. The 4-20mA span is configurable anywhere on the active area of the probe and can be programmed either manually or using a push-button housing.
All 7330 Pro-Stik II sensors' magnetostrictive technology provides highly accurate measurements within 0.1% of the measurable span. This technology can be used on all clear liquids, both conduct and non-conductive. No calibration is required.
Ametek
Clawson, Michigan, USA
Military technology makes sludge clean-up safer
A specially built remote control Bobcat plant vehicle, used in landmine clearing operations in Bosnia, is providing a cost-effective, safe solution to removing sewage sludge from a sewage treatment works following a storm.
Click here to enlarge image
Yorkshire Water invited the UK contractor Gleeson and environmental engineering consultancy MWH to find an alternative way to clean out storm tanks at Knostrop Wastewater Treatment Works, a facility serving the entire city of Leeds. Previously, an operator manually cleaned the 10 tanks, each with a capacity of 138,000m3, by driving a modified dumper. This approach is common at many treatment works; however Yorkshire Water decided to reduce the potential safety risk to the operator working in the tanks in the event of an accident.
Other automated solutions exist to remove the sewage sludge following a storm, but they are prohibitively expensive for tanks of this size: total project cost for fitting scour pumps at Knostrop was estimated at US$ 2.3m, while the remote Bobcat solution costs US$ 595,000.
MWH explored remote control technologies, according to Philip Worrall of MWH, and found that the Merseyside Fire Brigade used a system that could work with substantial modification, as did the Army for clearing land mines. "This convinced us that the technology was up to the task," Worrall said.
The manufacturers of all appropriate plant vehicles and companies that specialized in industrial-quality remote control devices were contacted before creating a detailed functional design specification for the vehicle, that included a series of modifications to make it suitable for operation in up to 600mm of raw settled sludge.
The result, a Bobcat 753 skid steer loader with proprietary remote control technology by Joysticks Ltd, can be operated either remotely or manually. A range of fittings for the front of the vehicle mean that, in addition to clearing sewage sludge from the 3-m-deep concrete tanks, it can be used for a variety of other tasks around the site.
The remote control Bobcat also reduced labor costs. Previously, the clearance work required two operators - one to drive the dumper and another one located outside the tank as a precaution in case of a breakdown or accident. The new system, operated entirely from outside the tank, eliminates the need for an additional operator.
The Gleeson Group
North Cheam, Surrey, UK
ROV repairs deepwater leaks
The ASI Group Ltd, an underwater inspection and water and wastewater engineering company, repaired a deep ocean wastewater treatment plant outfall using a Remotely Operated Vehicle (ROV).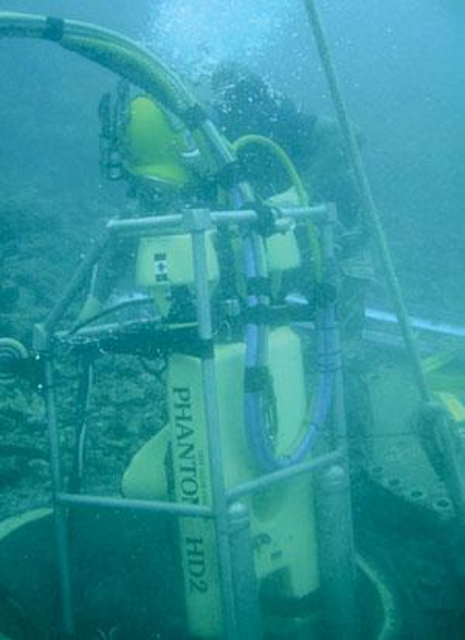 Click here to enlarge image
ASI repaired three deepwater leaks in the Ponce Regional Wastewater Treatment Plant Deep Ocean Outfall, located at Ponce, Puerto Rico. Prior to carrying out the repairs, ASI conducted a condition survey of the outfall. Company engineers located the leak sites up to 1,000 feet from the nearest access and in 380 feet of water. The outside of the joints are covered with grout-filled mattresses rendering them inaccessible for external repairs without removing the mattresses and possible pipe damage. The distance from the nearest access into the pipe and depth of the repairs eliminated conventional manned intervention without modifications to the pipe. Extensive cleaning of the outfall in preparation for the repairs included proprietary ROV deployed pumping, scrubbing and plowing technology to remove sediment accumulation from the invert of the pipeline. ASI completed this by modifying their HD2 ROV. Spot repair liners over two of the three joints were installed internally using an ROV.
Due to an offset between adjacent pipes, the spot repair methodology was not applicable for the third leak site. ASI developed a remotely deployed grout injection technology to accommodate the conditions at this joint and successfully completed the repairs.
ASI Group Ltd.
St. Catherine's, Ontario, Canada