Common-wall design saved 30% to 40% in construction costs
The patented Hexa-Ditch wastewater plants deliver savings in construction, process piping and energy costs for small communities.
Feb 1st, 2005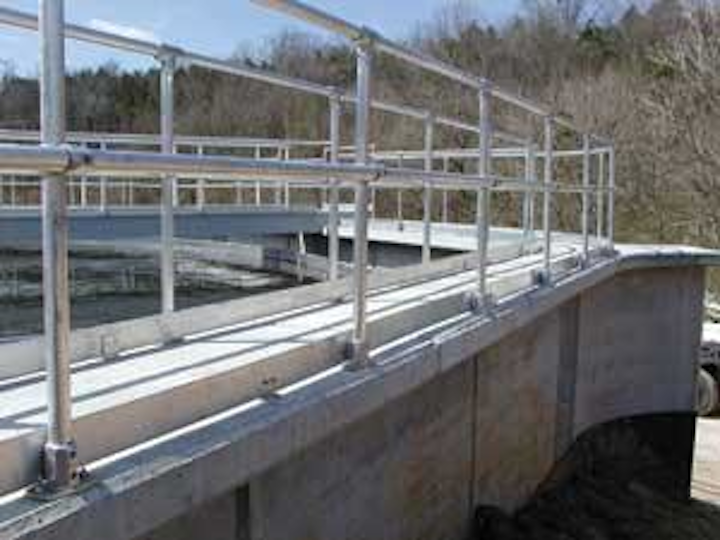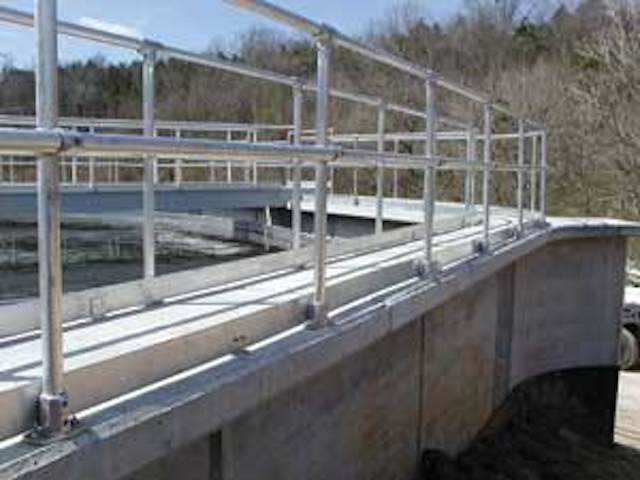 Click here to enlarge image
The patented Hexa-Ditch wastewater plants deliver savings in construction, process piping and energy costs for small communities.
The Claiborne County Utility District in Tazewell, Tennessee, USA, saved up to US$ 2.7 million when building its new wastewater treatment facility. Long-term savings in future expansion costs, necessary process piping and energy costs will further increase possible savings.
One year ago in February 2004, the Utility District went online with its new Hexa-Ditch treatment plant. The patented Hexa-Ditch plants use a common-wall design, which allows for a less expensive expansion when needed. The average daily flow in the district is four million gallons per day (mgd), but the plant had a capacity of 1.3 mgd. In addition, the treatment plant saved the Utility District 30% to 40% on initial construction of the structure, 75% to 90% on process piping, and will help save the district up to 70% on energy costs.
"To expand our old plant, the prices on a single facility were estimated at $3 million to $4.5 million," Carl Doane, general manager of Claiborne County Utility District, explained "This plant cost us $1.8 million and really has its advantages. Typically the tanks are round, but this one isn't, so when you need to expand, it's a lot easier and a lot more cost-effective."
The Hexa-Ditch design, which is six-sided rather than round, was developed by W. B. (Sonny) McNeill Jr., who has installed 600 Hexa-Ditch and Quad treatment plants in the southeastern USA, Bahamas and Haiti. "You have a 650,000 gallon tank producing 8.33 pounds per gallon, so you are looking at over five million pounds of water and getting it moving," McNeill said. "In addition to saving by using common walls, you are going to see energy savings."
The district signed a design-build contract with SKH Construction to install the plant in Tazewell." McNeill explained: "this is a design we have worked with constantly. We have built 600 treatment plants and have the benefit of having learned from our mistakes."
The new treatment plant in Claiborne County is the first Hexa-Ditch design that uses a mono-directional aerator. The mono-directional aerator features a C-shaped radial beam that stiffens the unit and distributes operating loads while providing hydraulic channelling of the pumped liquid. The liquid straightens as it exits the deflector, changing the course of the liquid to a flatter dispersion pattern. This course reduces aerosols and misting. The construction also has no potential leaking points caused by bolt or other penetrations.
The McNeill-designed plants are not only cost efficient when it comes to expansion, but longevity of the structure itself is also a plus. The structure is made of concrete and features aluminium handrails and walkways, and all parts of the mono-directional aerator are stainless steel.
The construction of a new wastewater treatment facility allows the Utility District to provide expanded service in Claiborne County. Harrogate city officials failed to get a wastewater permit from the State of Tennessee because there was no discharge point, but the facility that they could get a permit to build would have been very expensive. So the Claiborne County Utility District stepped in and offered to help.
"We installed an eight-inch force main along Highway 25E," Doane said. "The outside cost to provide wastewater service was going to be about $1.6 million. We looked at the abilities of our own people to see if we could do it. That kind of money for Harrogate is too much, so we looked at it and estimated it would cost about $400,000 for us to install a force main that would carry the wastewater to our treatment facility."
The district installed about 42,000 feet of pipe and three large pump stations along the force main. During the same time the work was going on to run the main from Harrogate, two new high schools were being constructed in the county, with one being in Harrogate. Outside contractors estimated a cost of between $300,000 and $400,000 to run wastewater service from the high school. However, the district added to its force main project, by running a four-inch line from the high school and building two pump stations to the newly installed eight-inch line for less than $200,000.